Anytime there is a book to movie adaptation by Hollywood, worry sets in and when it comes to Crazy Rich Asians (CRA), there is always the fear that a Hollywood movie would buckle under the weight of its expectations. CRA is no exception, and in many ways, the movie failed to deliver on the outrageous, soapy drama that Kevin Kwan's 2014 novel revels in.
The first in a book trilogy that tracks the wealthy elite in Asia, the novel is filled with drama, and the movie doesn't capture all of that gossipy fun. And though the direction felt uneven and falls short of adding anything to the rom-com genre, director Jon Chu and screenwriter Adele Lim and Peter Chiarellli's version of CRA is still good fun, filled with heart and affection.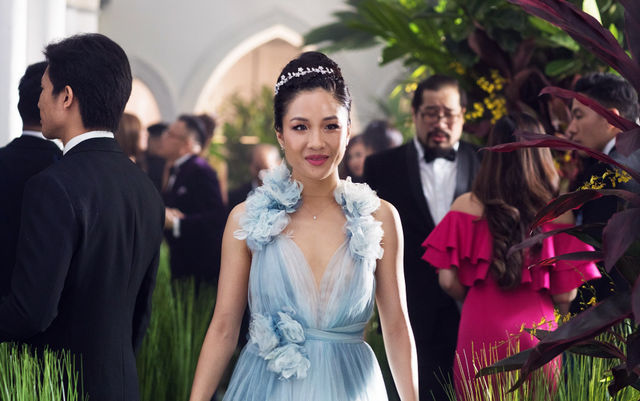 Sadly, this review cannot be written without addressing the detractors and the critics who have placed a heavy burden on this film, simply because it is the first all-Asian Hollywood movie to come out in the last 25 years. Then there is also the fact that a majority of Singaporeans do not have a connection with the book or movie, even though CRA is set there. I believe that Singaporean viewers are warranted in raising an eyebrow and feeling anxious and critical of the movie, as we cannot ignore the fact that Hollywood churns out a great deal of insensitive American propaganda.
But a movie, especially a romantic comedy, was never going to satisfyingly address some of the deep social issues that tear at Singapore's social fabric, especially since the book and the movie does not do much to help solve it. And even though this movie is marketed and described as Asian – it really only addresses a certain slice, and a very wealthy slice, of what "Asian" may represent. But please don't misplace the importance of the movie, as this movie is not just about representation. The financing, production and release of the movie is itself representation. And all the great articles that have come out since the movie was greenlit, and especially in the last few weeks, about Singapore, race, diversity and representation, proves to everyone why this movie is so important.
While I welcome the Singapore media and thought leaders weighing in on their perspectives on what how they feel like their country and people are portrayed, I'm less inclined to be so kind to Hollywood and American media outlets' sense of expectation, that Asian stories have to be held to a standard that it barely acknowledges. The narrative in this movies' behind-the-scenes story is that Kevin Kwan had to hold the line against this movie being whitewashed, and those think pieces that are quick to cite authenticity or lack of representation from Singaporean media seem to ignore Hollywood's embarrassing track record. Without this film, there wouldn't be this global attention. Whether you care for it or not, the movie version of CRA and its social media zeitgeist has given a voice to Asians, and one can only hope it lasts.
Hollywood newcomer Henry Golding is dashing as enigmatic Nick Young, never mind that he's a mama's boy and misled his smart, Asian American, "banana" girlfriend Rachel Chu, played by Constance Wu, who was going against type as this movie's lead actress. Despite its characterization as a romantic comedy, CRA was never really about this rich boy and his relationship with this simple Asian girl. It doesn't seem like this idea was really what Jon Chu had in mind when he cast and made this movie.
You don't cast the majestic Michelle Yeoh as the matriarch, and as Nick's mother Eleanor Young, to relegate her as an obstacle or villain: she is the player, and she's the one Rachel has to worry about. Even when we get the romantic resolution to the story, it is Eleanor's gesture that dominates that moment. This movie is at its most powerful when it abandoned the emotional storylines of the book, and chose to tell a story about two women who love one man: a mother, her son, and a woman, for the man she would like to marry.
That understanding is understated in the movie, simply because the story tries too hard to service the expectations that it delivers a rom-com. And Jon Chu, who is known for his youthful camera movements and his talent to elevate a spectacle, is a large contributing factor as to why the movie felt lacking in romance and soapy drama. The pacing didn't allow the camera to ever linger on a moment or a gesture, and these choices felt at odds with the earnest script.
For example, the camera work and focus was so dizzying that the wedding between Araminta (Sonoya Mizuno) and Colin (Chris Pang) felt more like a music video, and not an occasion or an emotional moment. It's obvious that Chu directed for spectacle and laughs, leaving the door wide open for some to feel uncomfortable with the caricatures and stereotypes used for comedy. But it is also a double-edged sword, as the brisk pace allow viewers to cover a lot of relationships and people, packing the movie with an extensive ensemble cast made up some of the most talented Asians and Asian Americans in comedy, including Awkwafina, Ken Jeong, Ron Chieng, Jimmy O. Yang, Nico Santos, and others.
It also gives the audience plenty of eye candy while they don't all work, the movie's third act made it all worth it. The romance is in the details of the film, and it's this audiovisual love-letter from Chu to Chinese and Chinese American culture, from the music (three English language song, and an amazing Mandarin cover of Coldplay's "Yellow"), to the coverage of the food (from Singapore's iconic hawker food to wrapping dumplings and family meals), to the languages and dialects spoken in the movie (Mandarin, Cantonese, English and Hokkien), and the delectable moments between elders and youth, that you realise the creators have shared a story that is modern, timely and relatable, even though CRA is set among the ultra-elite.
And aside from Michelle Yeoh's excellent performance, Awakwafina plays the most loveable and funniest character in her take on Rachel's bestie Peik-Lin Goh, while Gemma Chan delivered the most subtle and emotional performance as the betrayed Astrid Leong. And with the surprise at the end of the movie for Astrid (yes, please stay for a mid-credits scene), we hope that the fun can be repeated in a sequel.
*This review is based on a screening in the US.
GEEK REVIEW SCORE
Summary
Even though this movie is marketed and described as Asian – it really only addresses a certain slice, and a very wealthy slice, of what "Asian" may represent. But please don't misplace the importance of the movie, as this movie is not just about representation.
Story -

8/10

Direction -

4/10

Characterisation -

8/10

Geek Satisfaction -

8/10