Work and play definitely converged this year, as office workers were stuck at home but working. And for many of us, having a machine that is all work and play made sense as an investment, as it offers the best of both worlds and that's where the Dell G5 (5500) comes in.
Unless you're gunning for the latest AAA games, in which you're likely to invest in a high-end gaming machine, technology has allowed decent hardware to play a wide variety of video games, making them run smoothly and looking good at the same time.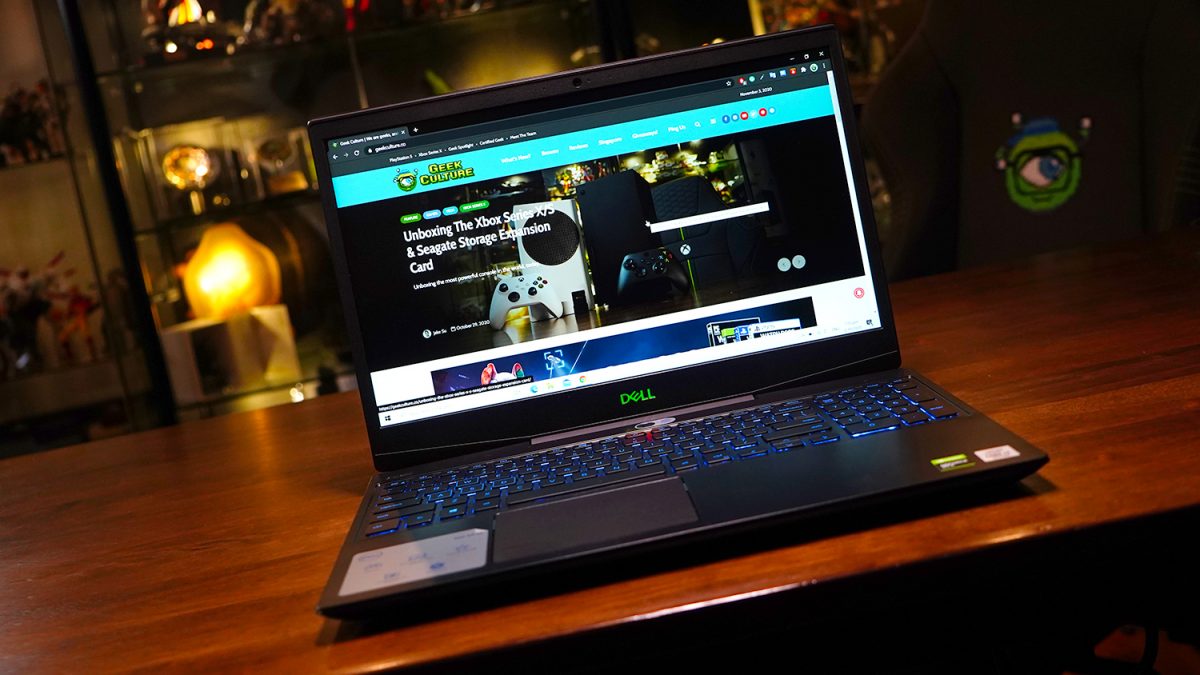 In the Dell G5 (5500), you have a solid machine built for gamers on the lower end of the budget spectrum. While it may not provide the horsepower to run the likes of Call of Duty: Modern Warfare or Death Stranding at a constant 60 fps, it can run them well enough for gamers to still have a good time, without breaking too much of a sweat.
Right out of the box, it goes without saying that the Dell G5 is one of the heftier 15-inch laptops out there. It measures 365.5mm by 254mm, runs about 21.6mm thick, and weighs approximately 2.34kg. This will definitely demand a lot of storage space in your bag, and will weigh you down quite considerably (and this is without the bulky 130W power brick already!). But if you don't plan on lugging it around on your travels, it can function perfectly as your main PC.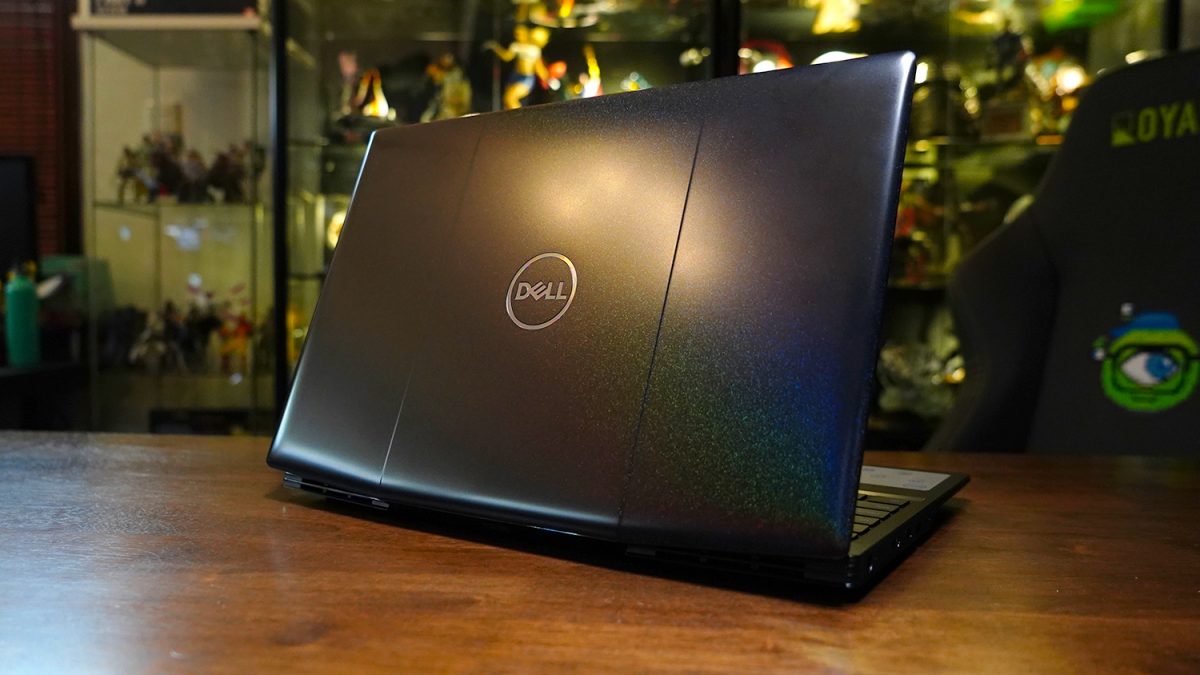 Here's an overview of the hardware present on the review unit we received:
Processor: Intel Core i7-10750H CPU (6 Cores, 12 Threads)
Graphics: NVIDIA GeForce GTX 1650 Ti
RAM: 8GB DDR4
Storage: 512GB M.2 PCIe NVMe SSD
Price: S$2,198
The Dell G5 actually does come with variants that are outfitted with graphics cards of up to the RTX 2070 with Max-Q Design, and based on what we have here, Dell is on the right track with their latest machine. The American PC manufacturer's gaming side hasn't always been known for producing the best-looking gaming laptops, and this, while not the best, is a step in the right direction. It does take a leaf out of the Alienware aesthetic, with a subtle angular, parallelogram-esque design from the side profile, but the speckled matte black paint job seems a little plain even by Dell's standards, even if it is ultimately a nice and clean look.
However, if you're the sort that doesn't like to stand out in a crowd, then this laptop will serve you well; heck, we'll even go so far as to say you could even leave it in your office cubicle and no one would notice you've a gaming laptop at your desk.
The chassis seems to be made out of a hard plastic, which does admittedly feel rather cheap, but seems to do the job in keeping the internal hardware intact. We just don't recommend that it be knocked around just in case.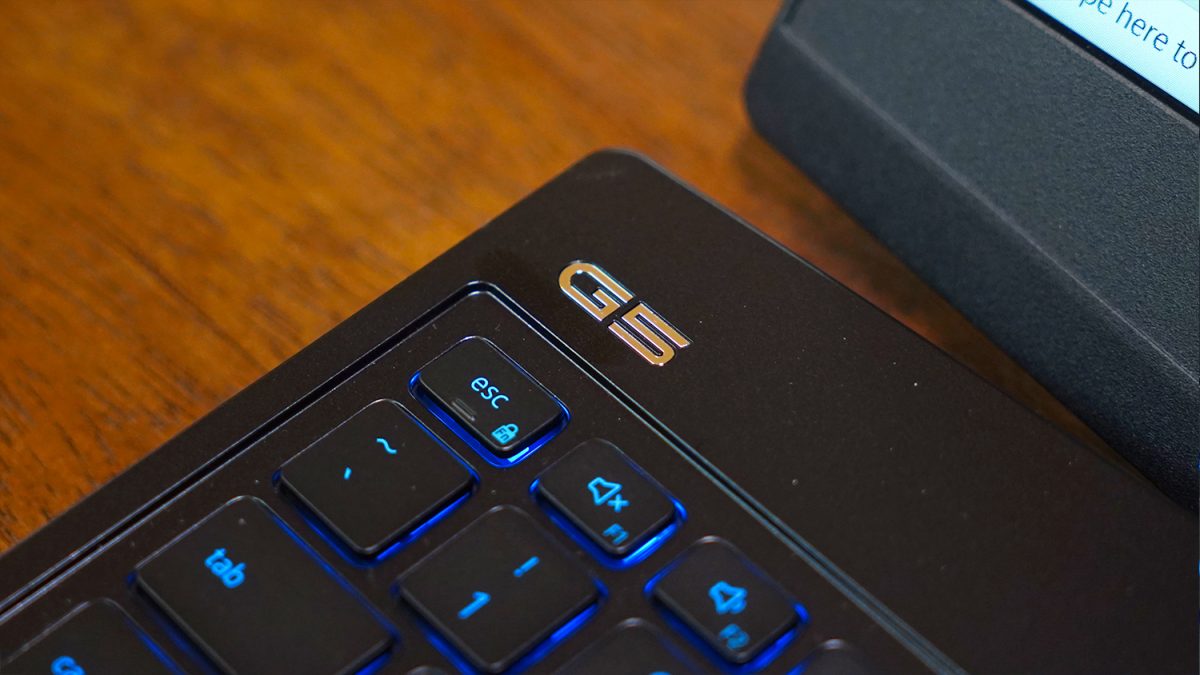 Ports-wise, the Dell G5 does come with quite a few options that allow for some flexibility. Here are the ones that are present in our review unit:
1x USB 3.2 Gen 1
2x USB 2.0
1x USB-C DisplayPort Alt-Mode
1x HDMI 2.0
1x Standard SD Card slot
1x RJ45 Ethernet Port
1x 3.5mm Audio jack
While most of the gaming laptops we've reviewed this year lacks an SD card reader, we're happy to note that the Dell G5 does come with one, which is highly beneficial for content creators who constantly need to transfer data from their cameras. This also frees up the need for a dongle, which, in turn, frees up more ports for other peripherals, such as mice or headphones that use a USB transmitter. In essence, the Dell G5 does beat out competitors of a similar price range simply for the utility it offers.
If we had to nitpick, however, loading this laptop with peripherals and USB attachments might look a little messy as all the ports are located on the side, unlike other premium gaming laptops that generally keep most of their ports on the back so it frees up more space directly in front of you.
Under the hood, the Dell G5 comes with a standard tactile membrane keyboard that feels smooth and quiet to type on, but is otherwise unremarkable. While the smooth matte finish on the keys feels great to type on, they are fingerprint and oil magnets, and will inevitably look rather messy after some time. This is the same for the touchpad (which also is nothing special to write home about), and the wrist area around it. As cheap as the keyboard generally feels, at least Dell managed to include a fingerprint sensor-cum-power button, which should be considered an essential aspect of laptops today.
While the company has found a way to trim it down to a minimum in the likes of the Alienware m15 R2 and the Dell XPS 13 (9300), that is considered a luxury, and is sadly absent on the Dell G5. Its 15.6-inch display is encased in a monstrously large bezel (compared to its aforementioned slimmer counterparts, of course), and, if you've constantly been around nigh-bezel-less displays like us, this will no doubt be a jarring change, and not in the good sense.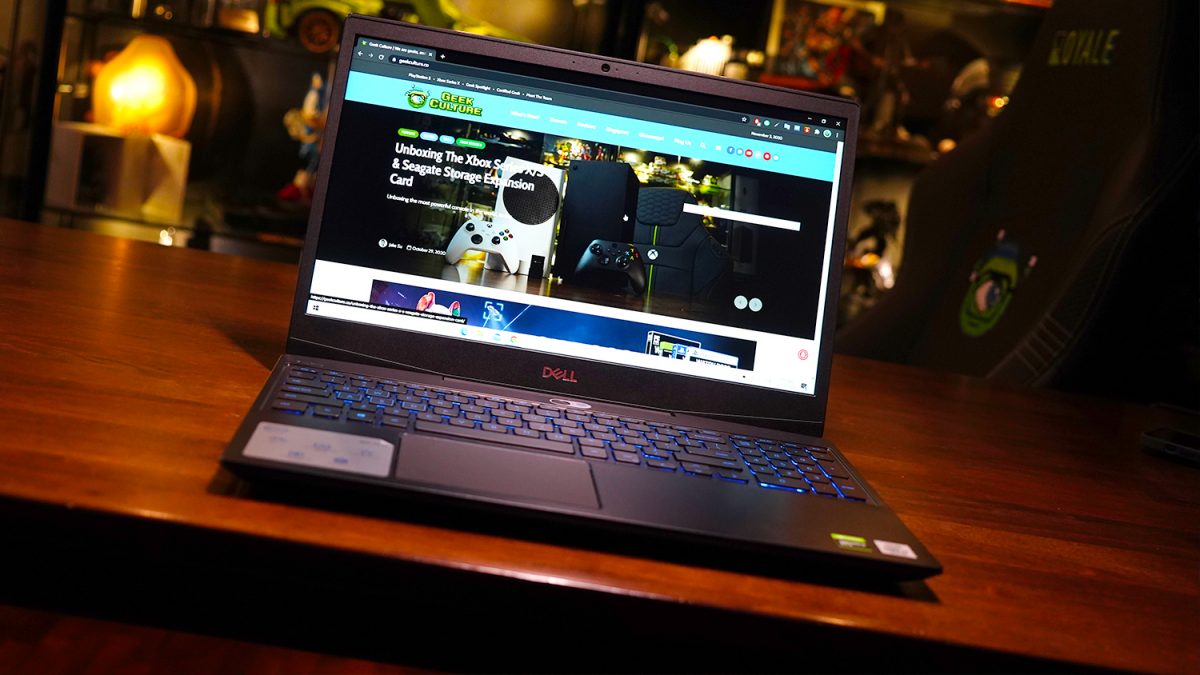 The display itself is nothing too exceptional either, being a 1080p resolution one with a 60Hz refresh rate. There's actually a variant display with a native refresh rate of 144Hz, which is absolutely perfect for gamers who frequently play shooters, so get that one instead if you need an edge in matches. Otherwise, this display works just fine. Although, it has to be said that the Dell G5 comes with up to 300 nits of brightness, which is more than enough to provide users with ample illumination in just about any light setting.
Here are our findings on the various benchmarks performed on the Dell G5:
PCMark 10

Cinebench R20
Unigine Heaven 4.0
FPS: 178.0
Score: 4483
Min FPS: 9.5
Max FPS: 316.9
In a year where the next generation of ray-tracing GPUs have launched in the RTX 30 series, seeing a GTX 1650 Ti on the Dell G5 is undoubtedly many steps back. But of course, given the target demographic of this laptops, the overall performance is actually not as bad as we thought.
It can run the likes of Overwatch, League of Legends and Final Fantasy XIV at a constant 60fps, given that these online titles don't require too much in terms of hardware. It can even run Warhammer: Vermintide 2 and The Witcher 3 rather smoothly even in Ultra settings, though expect to see some stuttering to somewhere between 25 – 35 fps when things get hairy on-screen. The 1080p display at 60Hz is, again, nothing exceptional, but it gets the job done, providing users with a good-enough mix of colour, contrast and brightness to ensure your eyes don't melt off their sockets even after long hours of gaming on the Dell G5.
For all our complaints on the Dell G5, one also can't ignore the fact that the cooling system on this machine is pretty decent. The air vents located on the rear and bottom of the laptop do wonders for airflow, and though our keyboard got rather warm after 2 – 3 hours of use, they didn't get to the point where they got uncomfortable. The whirring of the fans inside the G5 were audible even with headphones on, but not to the point where they were roaring, so using them to play games or use editing software for long periods of time actually can be done, even while on your lap.
Another surprising element to the Dell G5 was its battery life. After about two weeks of using it for both work and play to almost zero percent battery life and charging back to full, it seems to last for an average of 6 hours, give or take. That's actually pretty good compared to other gaming laptops in the market, and should definitely be a talking point for if you're deciding to get one for yourself. But of course, its massive power brick, again, is a reminder that it's better suited for home/office use rather than travel.
When all is said and done, the Dell G5 (5500) is built differently compared to the likes of the ASUS ROG Zephyrus G14. Where that laptop is more geared towards high performance and portability, the tank-like G5 is more catered towards users who don't mind using a gaming laptop as a main PC for home use, simply due to the utility it offers. And for a little over S$2,000, it really is not that bad of a deal with what you'll be getting under the hood, all things considered.
GEEK REVIEW SCORE
Summary
Rough and rugged around the edges, the Dell G5 is an underrated performer in this era of high-speed, high-performance gaming laptops. While it isn't the flashiest in terms of appearance and performance, its accessibility and affordability more than makes up for those deficiencies, especially if you're on a budget. Just be prepared to carry that weight.
Aesthetics -

7.5/10

Build Quality -

7.5/10

Performance -

8/10

Value -

8.5/10

Geek Satisfaction -

8/10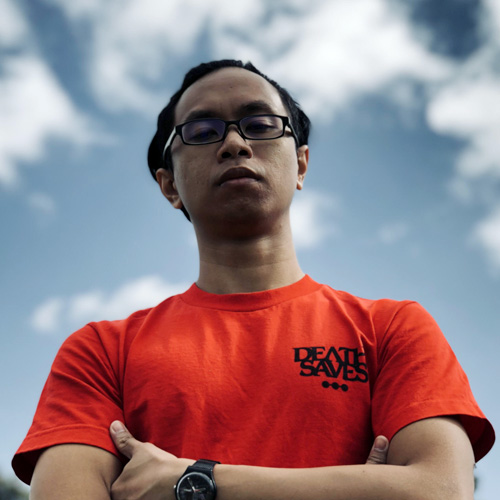 Marion has a serious RPG addiction. Sometimes it bleeds into real life; he forgets to sleep because he thinks he has a Witcher's body clock. Forgive him in advance if he suddenly blurts out terms such as "Mind Flayer" and "Magic Missile", because never once does he stop thinking about his next Dungeons & Dragons game.
---

Drop a Facebook comment below!