Amid the hype of the impending release of Marvel Studios' Captain Marvel on March 7,  Shaw Theatres in Singapore has whipped out a slew of new Marvel Studios-themed glass cups up for grabs to show your love for the comics and cinema giant.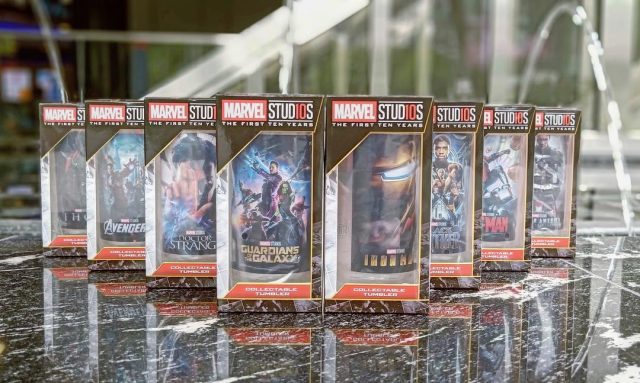 There are eight total designs that you can choose from, each featuring the posters some of your favourite Marvel Studios movies to grace the silver screens this past decade. They include Iron Man, Captain America: The First Avenger, Thor, Avengers, Guardians of the Galaxy, Black Panther, Doctor Strange, and Ant-Man.
Here's how you can get your hands on the cups:
One Regular 46 oz Popcorn, One Regular 22 oz Soft Drink & One Marvel Cup at S$14.90
One Large 85 oz Popcorn & One Large 32 oz Soft Drink & One Marvel Cup at S$15.90
One Family 130 oz Popcorn & Two Large 32 oz Soft Drinks & One Marvel Cup at S$16.90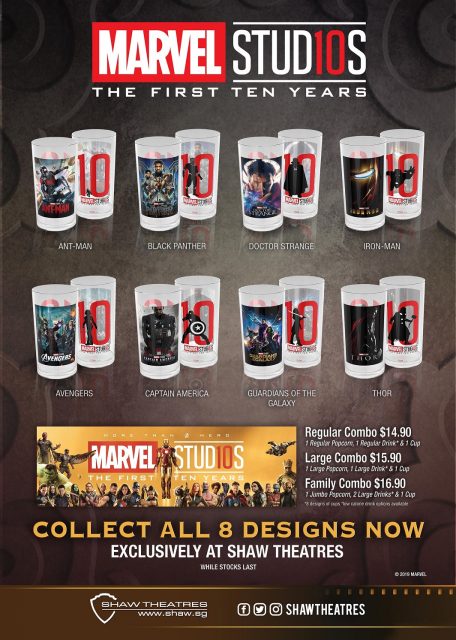 But why stop at one cup when you can simply get ALL of them? Shaw is also offering a Marvel 10th Anniversary Ultimate Combo which gets you the whole set.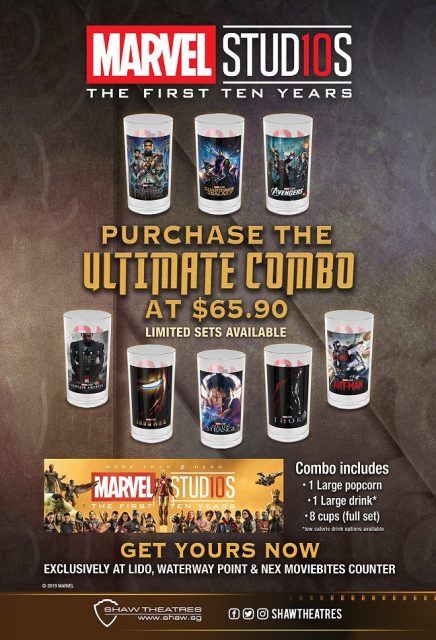 The combo goes for S$65.90 and gets you a Large 85 oz popcorn, a Large 32 oz soft drink and the full set of Marvel Studios cups.
Both combos are available for purchase online and at all Shaw Theatres MovieBites counters. Each design is available while stocks last, of course, so grab 'em while they're hot!
The hype for this year's Marvel Studios movies is certainly not just contained within Shaw Theatres. Golden Village, likewise, is having a Captain Marvel promotion with an exclusive Captain Marvel-themed water canteen up for grabs as well!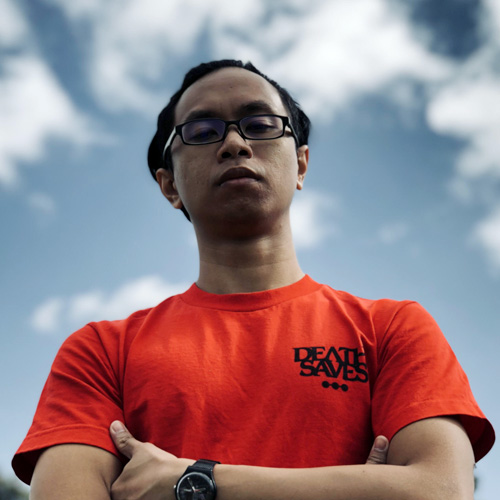 Marion grew up an addict of RPGs. He likes diving in, taking in the worlds, the characters, the stories… and sometimes forgets to go to sleep because of it. Nearly every sentence he speaks has a Dungeons & Dragons reference. He also dreams of becoming a Witcher someday.
---

Drop a Facebook comment below!