This article discusses the episode 'The Tragedy' in the second season of The Mandalorian! Spoilers within so continue reading at your own risk.
Chapter 14 of The Mandalorian – otherwise known as 'The Tragedy' – has gotten Star Wars fans excited, but more importantly, it also has Marvel movie fans pointing out easter eggs from the cinematic franchise. And no, not in a bad way.
Here's a quick recap on what is arguably the best live-action Star Wars in the last 20 years – 'The Tragedy' starts off with an adorable bonding scene between protagonist Mandalorian aka Din Djarin (Pedro Pascal) and Grogu as they make their way to the planet Tython in search of the ancient ruins of a Jedi temple. Mando encourages Grogu to use the force, much like a dad teaching his son how to play ball for the first time, and if you've somehow managed to not catch baby fever all this while, you probably would've now.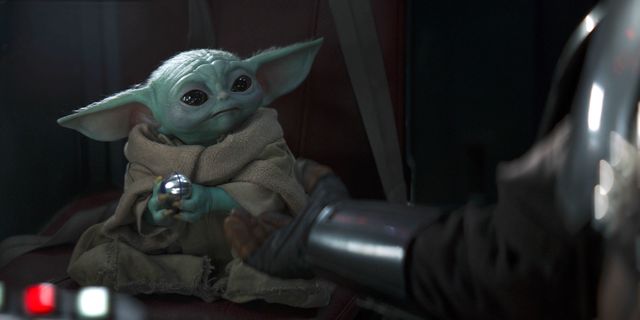 From the previous episode, we know that former Jedi Ahsoka Tano (Rosario Dawson) is not interested in teaching Grogu, so she instructs Mando to place the Child on the seeing stone at the top of the mountain so that he may choose his own path. Should Grogu reach out through the Force, there's a chance a Jedi, we don't know who, may sense his presence and come searching for him.
They reach the ruins and nothing happens so Mando busies himself and that's when the first of many gasps you'd have in this episode begins. Firstly, Slave 1 arrives and when Mando tries to grab Grogu, he is thrown back by an energy field. Mando got owned by a Force field. Imagine that?
Reluctantly, he goes to investigate who might be on board that ship and lo and behold, it's none other than Boba Fett (Temuera Morrison) himself. The last time Boba Fett was teased was in 'The Marshal' earlier this season, so this is a lovely confirmation that he is in fact alive and well.
Boba Fett demands for his armour back and Mando refuses to do so because, well Fett isn't a Mandalorian. If you don't know the difference, you can have a quick little read here.
Then comes the second huge gasp – out in the corner we see Fennec Shand (Ming-Na Wen) armed with a sniper, ready to take out Grogu if Mando doesn't comply to Fett's demand. If you're not familiar with Ming-Na Wen, she's an accomplished actress and more recently acted in Marvel's Agents of S.H.I.E.L.D.S., and is easily the first Marvel movie easter egg we see in this episode.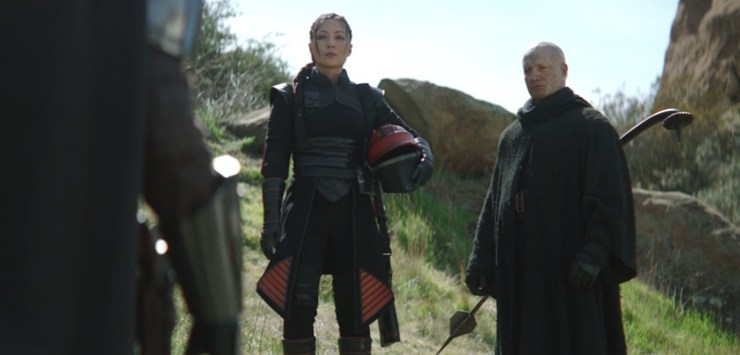 Wasn't Shand supposed to be dead? Yeah Mando thought so too, but it seems that Shand wasn't exactly left for dead in season one's 'The Gunslinger'. A little agreement was made between Fett and Mando, but before they can move along, in comes an Imperial assault ship.
Imperial stormtroopers flood the trio (Grogu still on the rock) and a spectacular action scene ensues. We won't spoil it for you so you can watch it for yourself if you haven't already but it is in these exact action sequences where you catch the most Marvel references.
After showing off his incredible display of Tusken fighting skills, often completely smashing Stormtrooper helmets, Boba Fett finds himself near Mando's Razer crest and seizes the opportunity to take back his armour.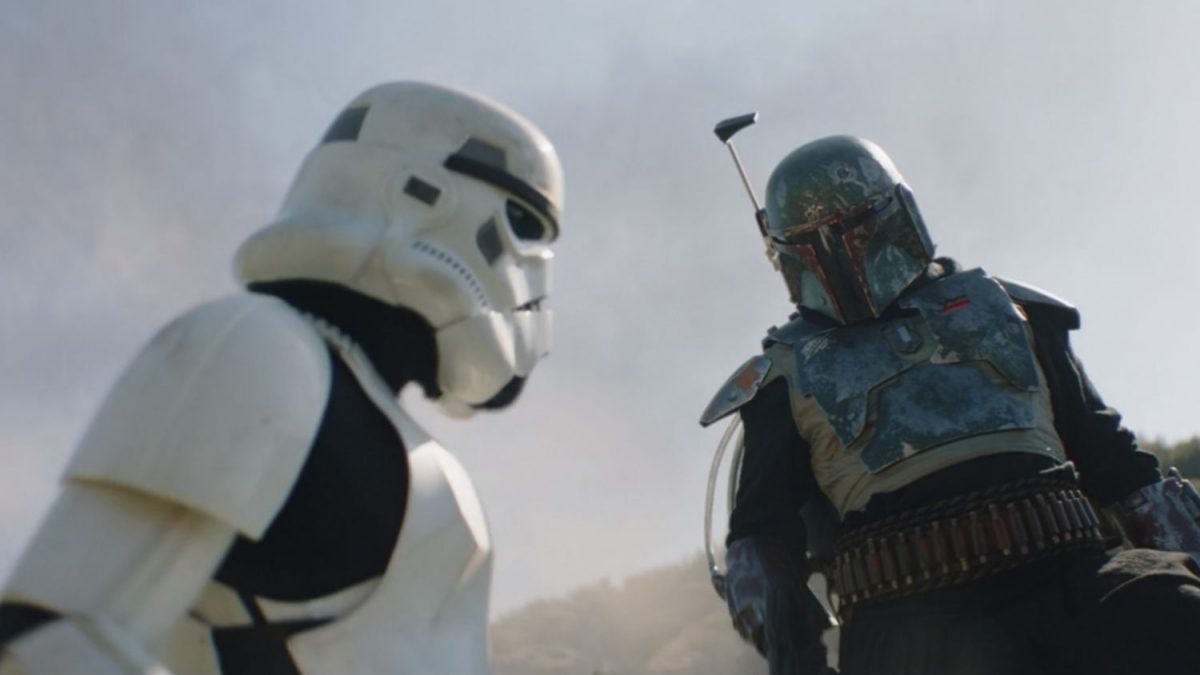 We finally see the man back in his armour but there's one little thing – it doesn't fit him right. Boba Fett's glorious moment back in armour reminds us of Bro Thor in Avengers: Endgame. Whether or not this similarity is intentional, we wouldn't know, but it surely gave us the same shock when Thor showed up in Endgame years later looking completely different from when we last saw him in Infinity War. Like Thor, Fett's tummy protrudes out a little, making his armour look a little too small for his body. Nonetheless, Fett back in his armour was a sight to see, and we couldn't be happier. 
Whilst the heroes battle it out with Stormtroopers, Moff Gideon (Giancarlo Esposito) unleashes Dark Troopers. The Dark Troopers, however, turn out to be droid versions and kid you not they bear similarities to Stark Industries' Iron Drones seen in Iron Man 2. With the droid Dark Troopers' infantry exoskeleton featuring heavy armour and jump packs for increased flexibility and tactical advantage, there's no way you cannot see how it takes after Stark's Army Drones. Especially in the way they zoom in the sky when kidnapping Grogu.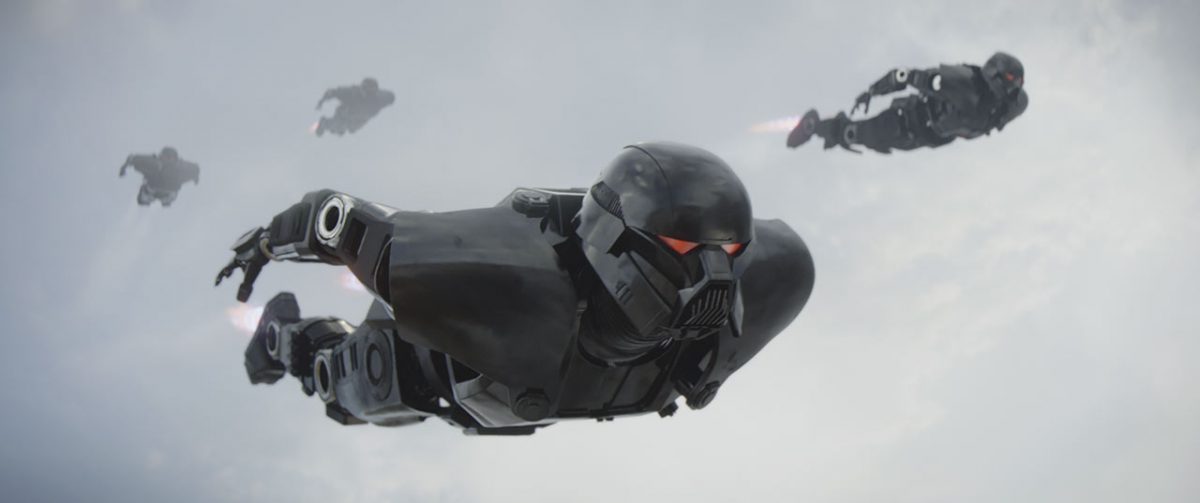 Fett takes chase of the Dark Troopers in the Slave 1 (God, how great was it to see it in action again) and from the cockpit, Fett says he'll "do a loose follow, see where they're headed." It takes a mighty Marvel geek to recognise that Tony Stark used this same phrase when he instructed Happy Hogan – played by none other than Jon Favreau – to do a "loose follow" during his talk with Peter Parker in the final minutes of Spider-Man: Homecoming. So yes, here's another little Marvel easter egg from Favreau seen in The Mandalorian. Favreau is of course the writer and showrunner of this series, and the acclaimed director is probably the person Lucasfilm should have handed the reins of Star Wars over to, instead of JJ Abrams.
After momentarily chasing the Dark Troopers, Fett pulls away when he sees Gideon's cruiser and makes it safely back to the ground and that's when the Avengers team starts to assemble. Fett and Shand both offer to help Mando in getting Grogu returned and the three of them fly to Nevaro where Mando approaches Cara Dune (Gina Carano) for help.
Cara, who is taking her new responsibilities as marshal of Nevarro City very seriously, helps look up a convicted felon named Mayfeld (Bill Burr) as Mando requested. She asks why Mando needs him and the mention of Moff Gideon tenses her up a little bit. "You know how I feel about the Empire, but these stripes means that there are rules I need to follow," she said.
"They have the kid," Mando responds and Cara's facial expression changes. It isn't made clear whether or not Cara will end up going with Mando, Fett and Shand on the mission, but it would be pretty surprising if she chooses to stay behind.
Currently, Mando has a team that consists of a former Rebel dropper, an ex-stormtrooper and two of the deadliest bounty hunters in the galaxy – that's a formidable team as is but chances are, he won't stop there.
With Bo-Katan Kryze (Katee Sackhoff) and her Nite Owls after Moff Gideon and the darksaber, the two teams may or may not join forces. Mando knows people across the galaxy that are either indebted to him (think Cobb Vanth played by Timothy Olyphant) and friends that love Grogu as much as he does like Peli Motto (Amy Sedaris) for example so it won't be shocking if they're roped into this growing group too.
Of course, to directly correlate Mando recruiting help to rescue Grogu with the assembling of the Avengers seems a little bit far-fetched for some, but with all the other tiny easter eggs and just how Avengers-like this episode was, who can blame us for wanting to have a little more fun?
Did you catch more easter eggs in this episode of The Mandalorian? Let us know!