Suits fans might be heartbroken that Patrick J. Adams, the man portraying series lead Mike Ross, will be leaving the show in the upcoming season 8, but there's some good news!
If you understand Korean that is. The Korean drama adaptation of the legal show is set to premiere on April 25, and it has nailed the look and feel of Harvey and Mike!
Veteran actor Jang Dong-gun returns to the small screen after a 6 year hiatus, as Choi Kyung-seo (essentially the infamous Harvey Specter), with Park Hyung-sik as his associate Go Yeon-woo (a very charming Mike Ross). The show will be directed by Kim Jin-woo, who has a strong record with action/mystery-type shows (he was involved in The Good Doctor, which got adapted into the hit American series).
What we know about the show so far sounds fairly similar to the American original: a charismatic lawyer from a top legal firm hires a college-dropout-slash-legal-genius, and together they solve cases while trying to keep his lack of legal credentials a secret. There's no word about the cases they'll be facing, Looking at the actors, the casting seems pretty spot on.
The posters for the show reflect the two contrasting characters pretty well, and look real classy to boot.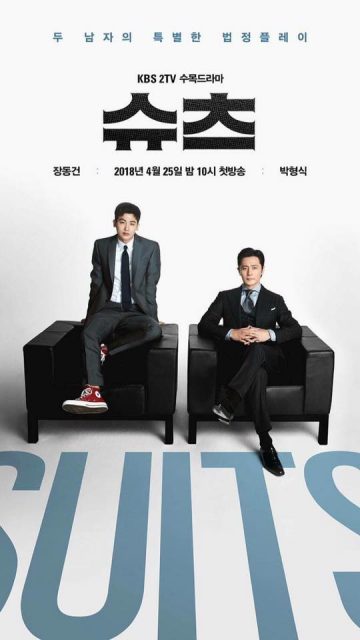 Go Sung-hee, who was recently in the Cannes-nominated drama Mother, has also reportedly been offered a role as a paralegal named Kim Ji-na, and Park Hyung-sik's love interest. Whether or not she will eventually leave the show to marry a real-life prince is still anyone's guess. Other actors who've been mentioned are Choi Yu-hwa and Lee Si-won.
And do check out this poster for the show, which unfortunately, has some typography issues. (Are we here for Suits or Sluts?)
It'll be interesting to see how this show is adapted, given the hit-and-miss nature of American-to-Korean TV adaptations. The adaptation of The Good Wife was spectacular, while Entourage…decidedly was not. Korean dramas are usually limited to one season and have a fewer number of episodes, which usually means tighter writing and less sprawling plot lines. That can be a good thing for the show, especially one like Suits which thrives on a fast pace, but we'll have to see if the show can deliver the same snappy dialogue and excellent performances in order to match the original.
And Korea is not the only one doing the lifting from the West. The Japanese reboot of Miss Sherlock is also premiering later this month.
Suits premieres on April 25 2018, 10 p.m. KST and will be distributed in Korea on KBS2.
You could call Jeanne a dabbler – anything she isn't yet a fan of, she will be eventually. The list of things she's into is only rivalled by the things she plans on getting into. Overanalysing makes everything fun.
---

Drop a Facebook comment below!