Access all of our TGS 2018 coverage here!
Superhot VR was, well, super hot when it was first released, with its highly-creative design choices, simple game mechanics, and charming artistic style catching on very quickly with the gaming community. In light of its popularity, it's hardly surprising to see more exploration with light gun games within the VR verse.
Blood & Truth, the brainchild of Sony's first-party London Studios, is one to look out for. First announced at Paris Games Week 2017, the upcoming action shooter builds upon the bones of The London Heist, with twice the gunfire, node-based movement, and more variety in interactive action.
For the uninitiated, here's a brief description of the game from Sony:
"Put on your PlayStation VR headset and ready yourself for hard-hitting action in the gritty and glamourous London underworld. You are elite Special Forces soldier Ryan Marks, on a desperate mission to save his family from a ruthless criminal overlord.

Grab your PS Move motion controllers and blast anyone in your way as you go face-to-face with enemies, uncover secrets, and experience the thrill of the chase in the high-octane action narrative inspired by PlayStation VR Worlds' The London Heist experience."
And "blast anyone in your way", indeed. There are so many shooting moments, such that gameplay can quickly become very repetitive for some, but jumping into the heat of action is simply thrilling and addictive. The E3 2018 build also showcased plenty of game features that saw a fair share of hits and misses, with the one shown at TGS 2018 sporting little to no difference. Hey, at least we got to finally try it out this time round…
Since Blood & Truth is all about firing guns, guns, and more guns, shooting mechanics are extremely important. Fortunately, the team has done a decent job in touching up the entire process from equipping, right down to actual firing. In addition to holding magazines in their chest packs and slot a heavy weapon over their backs, players are now able to arm two holsters near their hips and switch between the left- and right-hand grips.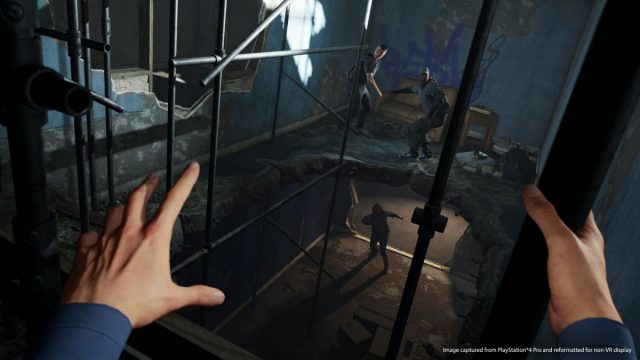 To further facilitate gameplay experience, these elements are tailored in such a way that they don't interfere with one another, which means the whole holstering-unholstering act is made easier and more natural, even as each weapon is swapped out for another.
The implementation of a toggle-hold system for guns also makes for greater convenience, especially for those with weaker aiming and tracking skills. Spamming shots from the hip, blind-fire over cover, or popping off headshots – each of these can be easily pulled off with nary a hassle. The shooting high feels extremely satisfactory, too, since it has been well-calibrated to reflect a high-accuracy firing rate.
Movement, however, is where the game falters, though not due to a lack of effort on the team's part. With the VR experience comes an increased risk of motion sickness, and Blood & Truth's counter for that arrives in the form of slow, steady movement. Unfortunately, this makes retreat difficult because of a lack of backtracking efficiency between nodes, and causes certain places to fall out of reach. Meanwhile, the notion of node-based maneuvers does help to provide a more immersive experience, as compared to The London Heist's static-movement mechanic, but also hinders the user's access to exploration freedom.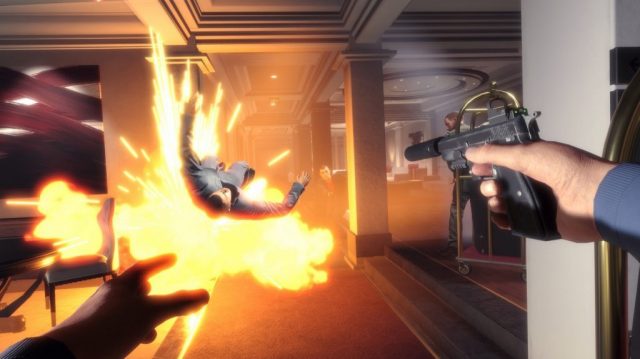 Perhaps one of the greatest gripes of the game is in its inconsistent grabbing mechanics. Guns, as mentioned earlier, operate on a toggle-hold system; other items use a continuous-hold system instead, where they only remain in one's grip for as long as the trigger is pushed inwards. If it's released accidentally at any point, then there goes all your lockpicks and screwdrivers – a common occurrence after getting used to the grasping firearms.
Blood & Truth's cool gameplay elements slightly make up for the frustration, at least. There's a bullet time-esque special ability called Focus, where players can gun down key enemies in slow-motion for a few seconds, as well as little interactive actions of stealth, such as using a lockpick to break open doors, and disabling security systems with screws, switches, and fuses.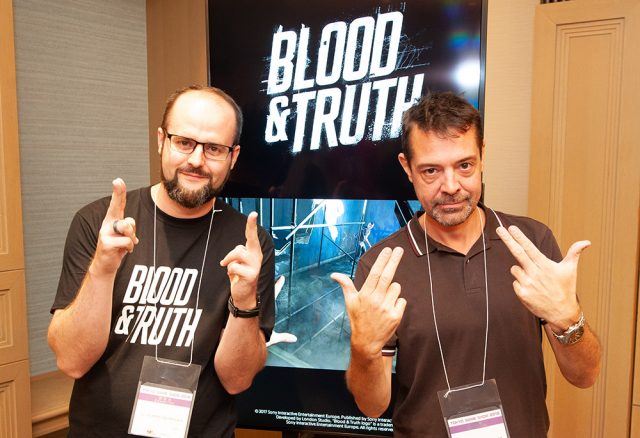 Access all of our TGS 2018 coverage here!
---

Drop a Facebook comment below!