Shoe collaborations have been making waves in the geek community in recent times. There's one for the aspiring Pokemon trainers, another for the Super Saiyan-in-training, and a pleasant surprise for the PlayStation fans.
Now, followers of SEGA's iconic blue hedgehog can have their hands on a pair of Sonic-themed sneakers – soon.
Dubbed the RS-0 SONIC, the project is slated to grace the Puma RS model, initially designed to improve running performance with tech-savvy features back in the 1980s. In the short teaser above, it seems to lend inspiration from Sonic's vibrant red, yellow, blue, and green tones, with a pixellated shoe body in tow.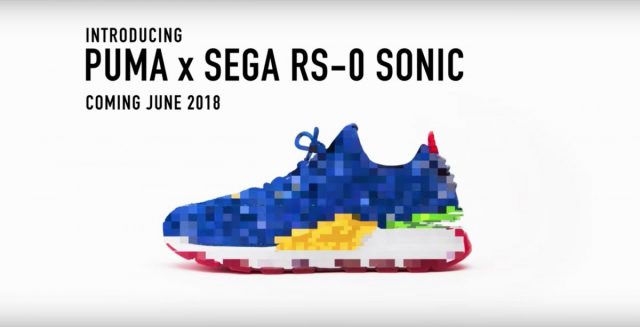 While the duo team-up may come across as unexpected to some, it does make logical sense, considering how Sonic is known for his unmatchable speed, and that "RS" stands for "Running Series". On that note, it may seem reasonable for the kicks to take on a blurred appearance, since the speedster probably runs too fast to be spotted clearly, but it's highly unlikely that the current design would end up as the final look.
Director for Brand & Marketing at Puma, Adam Petrick, had this to say:
We're excited to be able to partner with such a fun and innovative brand with a longstanding history in popular culture. We are one with SEGA in always pushing the boundaries forward and are very proud of the fantastic result of this collaboration.
Apart from a planned release date of June 2018, no other details are known thus far. This includes the price-point, quantity, pre-order details, and country availability, though more information should be on the horizon as the launch day draws near.
And once these Sonic kicks hit selves, they are bound to be snatched up quick, so you've really gotta go fast – just like Sega's beloved blue hedgehog himself.
---

Drop a Facebook comment below!