"We invest in stories."
All US$30 billion worth of it, it seems.
To be more precise, Netflix is investing in stories across Asia.
That was the message Netflix's chief executive officer, Reed Hastings, brought with him at the streaming service's recent Asia showcase down in sunny island Singapore.
"And we commission some of the best stories around the world. In particular, we've Asian filmmakers and storytellers from India, Korea, Singapore, Indonesia, Japan — everywhere throughout Asia we're commissioning stories."
It's all part of Netflix's initiative to "build connections", and make the world a little smaller. And what better way is there to bring people together, than to share stories, as Hastings so aptly puts it. In the next 12 months, Netflix will start seventeen Asian productions in the regions, nine of which will come from India.
Apart from the five anime productions set to wow fans (of anime clearly, but that aside) of the sci-fi, dystopian genres, Netflix has three other live-action series — two from Thailand and one from Taiwan — about to take to their on-demand small screen.
"We are at the start of our journey for Southeast Asia for Netflix," reveals content executive, Erika North.
"It is a hotbed of filmmaking talent and TV-making talent, with rich genre filmmaking traditions."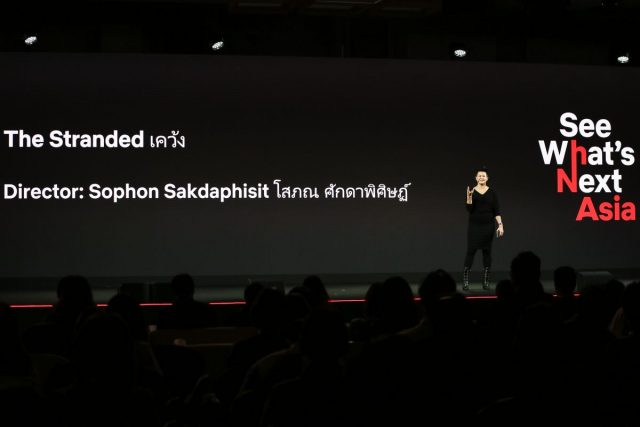 Netflix's first Thai-language series, The Stranded, is an "island-set mystery-thriller", described North.
"Following a group of teenagers who've been left for dead after a tsunami, but yet they have mysteriously managed to stay alive. Not only do they have to try and uncover the mystery behind why they're surviving, and how they survived on this desolate island, they start to uncover strange happenings and try to figure out their way out."
"It is our first production with Gammy, to be produced with GMM Studios and H2L Media. We're thrilled to attach a great visionary young Thai director Sophon Sakdaphisit."
Their other Thai-language original series, Shimmers, is "set in Chiang Mai, in Northern Thailand, so it's a nice contrast to the show that (they've) just announced. It's set in the forest and caves of Chiang Mai where we follow five teenagers who band together, finding themselves haunted by the ghosts of their pasts, only to discover they're being threatened by a much more terrifying mystery."
"We all know that the horror market and the horror industry in Thailand is among the strongest in the region," North proclaims. "We're thrilled to be partnering with Living Films on this incredible story."
Shimmers will be directed by Wisit Sasanatieng (Citizen Dog) and Sittisiri Mongkolsiri (Last Summer)."
Finally, we'll be seeing something decidedly more light-hearted with Netflix's Taiwanese production, Triad Princess, which is their second Chinese-language original series after jailbreak thriller, Nowhere Man — although it seems like Triad Princess will be dishing out a lot more humour than its intrigue-riddled predecessor.
Pitched as a female-driven romantic comedy, "This is a show where audiences are going to fall in love with Angie," North promised.
"The daughter of a triad gangster, who tries to escape from her father's shadow and against his wishes, takes a job as a bodyguard at an entertainment agency in Taiwan. This is the start of her coming-of-age, and who knows, she may just fall in love". The show will be produced in conjunction with MM2 and Goodfilms Workshop, with Eugenie Liu (Behind Your Smile) and Jasper Liu (Take Me to the Moon) set to join the cast, and with Neal Wu (At Cafe 6) directing.
On the topic of Nowhere Man, North explains, "The cast and crew are furiously at work, actually filming inside the compound of a jail set right now, so they can't be with us today."
Sporting "comic elements, the heart of a gangster brotherhood film, a strong redemption arc, romance, obligation and honour," Netflix believes that the series will "gather a significance audience around our region (Asia)".
---

Drop a Facebook comment below!