Aside from talking about The Suicide Squad on his Instagram Q&A, James Gunn also fielded questions on his widely popular Guardians of the Galaxy series, more specifically the upcoming Guardians of the Galaxy Vol. 3.
When asked if he has any plans to work on a fourth Guardians of the Galaxy instalment following the release of the third one, Gunn stated that he has "no plans to do a 4th."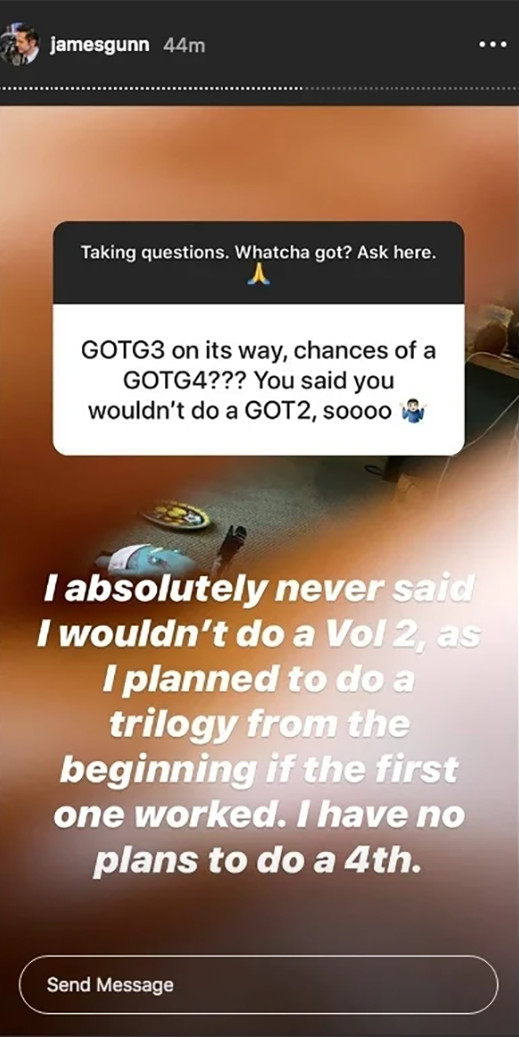 That is not to say that it will never happen. Who knows, Gunn might just have a change of heart in the future.
Guardians of the Galaxy Vol. 3 had a relatively rocky start as Gunn was fired from Disney after past social posts surfaced. He was then hired to direct The Suicide Squad starring familiar faces such as Margot Robbie as Harley Quinn, Jai Courtney as Captain Boomerang, as well as new ones including Idris Elba and John Cena.
Not long after, it was announced that Gunn was back with Disney once again to direct Guardians of the Galaxy Vol. 3 and round out the trilogy, which started with his first Guardians of the Galaxy film in 2014.
Little is known about Guardians of the Galaxy Vol. 3 though we imagine Star-Lord (Chris Pratt) will be on the search for the new Gamora, who appeared in Avengers: Endgame. According to Comicbook.com, Guardians star Karen Gillan had said the script for the third film in the trilogy is the best one yet.
No release date for the film has been announced as of yet.