Anime fans, get ready to pledge allegiance to Netflix, as the video streaming service has heard your cries for more.
Following closely on the heels of the recently released Castlevania animated series, the streaming service has added 11 new titles to their ever-growing list of anime titles. From exclusive series to newly acquired licences and live-action series, this new line up has a little bit of everything for everyone. Let's also just hope that these titles don't go the way of Voltron: Legendary Defender, and skip Asia.
Check out the first part of our coverage.
So why two lists? Well, The titles here are original ones, while those in the first list are remakes of existing titles.
---
Children of Whales
Chakuro is an archivist that lives in a world that is covered by oceans of sand. His village lives in complete isolation on a "Mud Whale", an island-like ship adrift on the sand. When Chakuro meets the mysterious Rikosu, his world is suddenly turned upside down as his village and the outside world discover each other's existence for the very first time.
---
CYBORG009 Call of Justice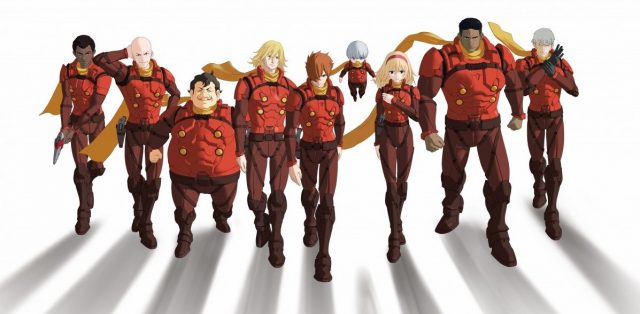 Since the establishment of the UN Guardian Troops, the cyborgs have stepped down from their roles as humanity's protectors to live quiet, peaceful lives. However, a dark threat looms over the world, and heroes have once again been called back to save the world but not everyone will emerge unscathed.
This 3D film is created by Ishimori Productions and TOHO Animation for the manga's 50th anniversary. It is helmed by Kenji Kamiyama and Kodai Kakimoto, who worked on the previous series 009 Re: Cyborg. Curiously, Netflix has split the trilogy movie series into 12 episodes for streaming, instead of keeping them as three individual stories.
---
Kakegurui
The only thing that matters in this school is the thrill of the gamble. The stakes are high and every bet could mean of the end life as you know it. Win and you can stand above everyone else – as a member of the ruling class. Lose, and you'll be branded a "house pet" whose only mission in life is to obey orders, and play the role you've been given. If you love watching sadistic, manipulative and/or incredibly intelligent characters being pitted against each other for their life, this anime is for you.
I'll bet my life on it.
---
Little Witch Academia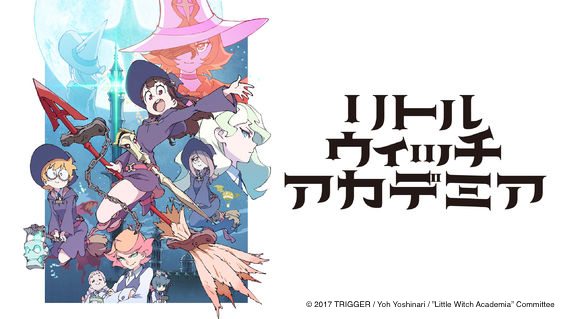 One of this season's most popular anime, Little Witch Academia, follows new Luna Nova Magical Academy student Akko as she goes on her magical adventure to become the greatest witch that ever lived, with the aid of her new best friends, the bookish Lotte and sadistic Sucy. This anime is the latest installment in the franchise, and comes hot on the heels of the Kickstarter-supported sequel of the original short, which was first released in 2013.
---
Fate/Apocrypha
Set in a parallel world to the original Fate/Stay anime, Fate/Apocrypha tells the what-if tale of seven magicians and their legendary Heroic Spirits who are split into two factions — Red and Black. They clash in an epic Holy Grail War in order to decide who will win the coveted Holy Grail, which will grant them their greatest wish.
Unlike other series from the huge Fate franchise, this anime's heroine is actually Ruler instead of Saber. It also acts as a clean slate as it treats the events of Fate/Stay and Fate/Zero as if they never happened.
---
Godzilla: Planet of the Monsters
The animated movie tells the tale of what happens when humanity returns to discover that for the past 20,000 years, Godzilla has reigned not just as King of the Kaiju, but the Earth as well. The original screenplay is written by Gen Urobuchi (Nitroplus), and counts voice acting veterans Tomokazu Sugita (Gintoki, Gintama), Mamoru Miyano (Light Yagami, Death Note) and Takahiro Sakurai (Cloud Strife, Final Fantasy VII Advent Children) in its cast.
Details about this series are as mysterious as the monster it is about, but at least we know it ties in with 2016's Shin Godzilla, as the events in the animated movie happen just after the live action one.
---
Cannon Busters
Initially a crowdfunded project, Cannon Busters is definitely one of Netflix's more unique titles. It is the brainchild of character designer and comic book writer LeSean Thomas (The Boondocks), and backed by an intensively creative team including Bee and Puppycat creator Natasha Allegri and The Witcher's Anne Toole. Unlike the other anime which are based off existing Japanese works or created by a Japanese, Cannon Busters features an almost entirely western creative team.
So how does it count as an anime? Think of it like the reverse Castlevania. Castlevania is based on a Japanese source, but made in America. Cannon Busters is a American title, made in Japan.
The series follows the adventures of an unlikely trio — S.A.M, a high-end friendship droid; the immortal Philly and Casey Turnbuckle, an outdated maintenance droid — as they go on an unforgettable journey to save S.A.M's friend.
Thomas, who is a big fan of Yuri on Ice and Space Dandy says that there are light homages to 90s anime, so be sure to keep your eyes peeled for them!
Apart from newly acquired titles and Netflix exclusive animated series, the content provider will also be dabbling in manga-based live action series. The upcoming titles include Erased — an alternate ending to the manga and movie story; Blazing Transfer Student Reborn which stars all seven members of J-Pop group Johnny's WEST; and the much Twittered-about, "international-ised"- Death Note.
Rounding off this latest announcement is Netflix's first-ever stop-motion animation series, based on San-X's Rilakkuma. The series will consist of 13 11-minute episodes, and is produced by Dwarf studios.
---

Drop a Facebook comment below!