Remember the Nintendo Wii? And that tennis game that impressed just about everyone to go pick up the game console? Well, the folks at Happy Labs haven't and they have basically recreated that motion control game for the latest Apple TV.

If for reason you have no idea what I'm talking about, Happy Tennis is a game where players swing their Apple TV remotes which act as tennis rackets within the game, to serve and return shots. Instead of pressing buttons to beat the game, players need to time it so that they can whack the ball for a win.
The first rule about nostalgia is never fix what isn't broken so Happy Tennis is a familiar sight that many might have ingrained in their memory. Think a cutesy art style that would appeal to the kids and teens. But underneath the bright colours is a deceptively high level of skills required, to execute well timed tennis swings to achieve power shots. However, there's not much apart from that, as your character seems to naturally anticipate the ball movement and will adjust themselves accordingly. It all boils down to timing.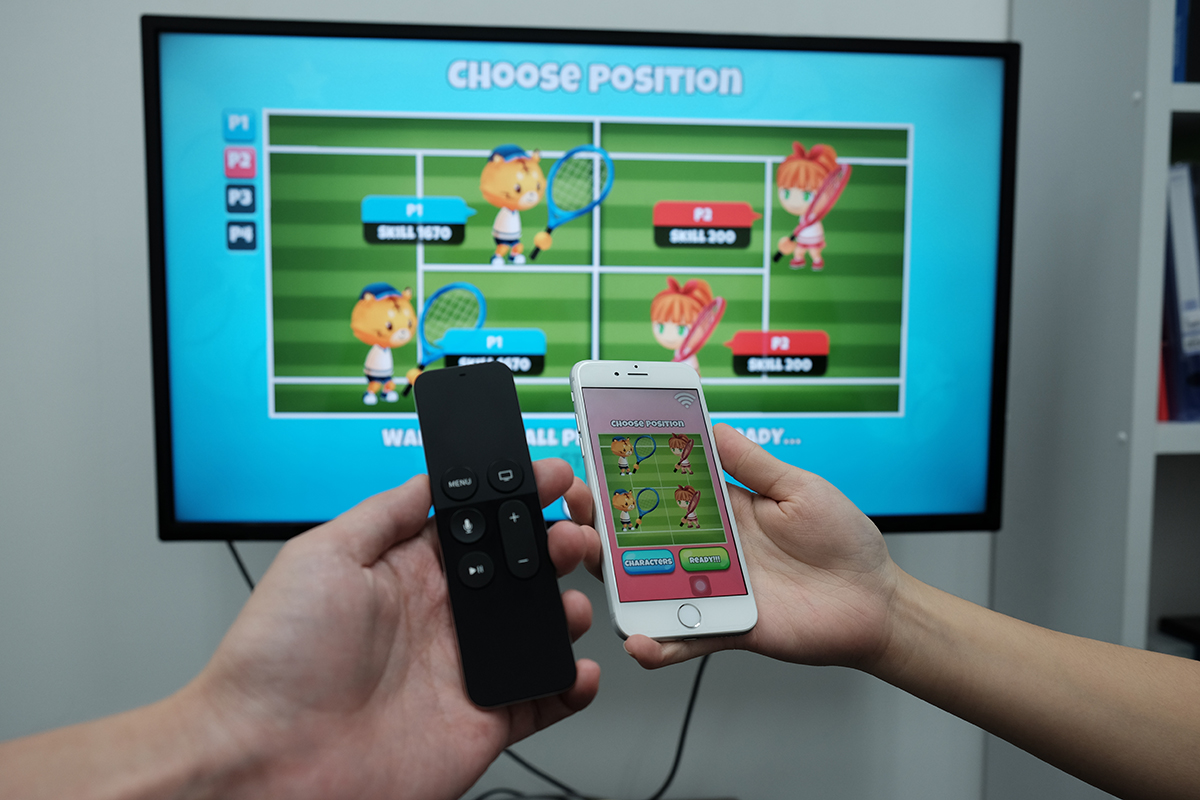 Faced with the challenge of creating a multiplayer environment with only one remote, Happy Tennis allows you to link up to three additional iOS devices to the new Apple TV. While I would generally advise against this, it's just something you would have to live with to include more friends and family into the action. The folks at Nintendo had the wisdom to subsequently include a handstrap to their Wiimotes, there is always a strong possibility that your iOS device might easily slip out of your hands in the thick of the action
Controls are decent but there seems a fair amount of delay when it comes to using the remote as opposed to an iOS device. It probably boils down to the accelerometer found within each device, with the more accurate one being the iOS device.
If you're looking for something different to show off your new Apple TV with, Happy Tennis could be a good alternative that includes the entire family. The game costs USD$5 and I feel it should be free for a game with a concept and execution that is ten years old.
Happy Tennis will be available on 28 Jan 2016 in Singapore, Taiwan, Hong Kong, China, Vietnam, Indonesia, Malaysia and Korea with a worldwide release on 11 Feb 2016.
Gerald currently straddles between his love of video games and board gaming. There's nothing that interests him more than trying out the newest and fanciest gadget in town as well. He dreams of publishing a board game sometime in the future!
---

Drop a Facebook comment below!

---