Maintaining a clean home can be overwhelming, particularly when juggling a hectic schedule. Dust and dirt constantly appear out of nowhere and parents, students, or working professionals will always find that cleaning can consume a considerable amount of time.
If only it can be automated.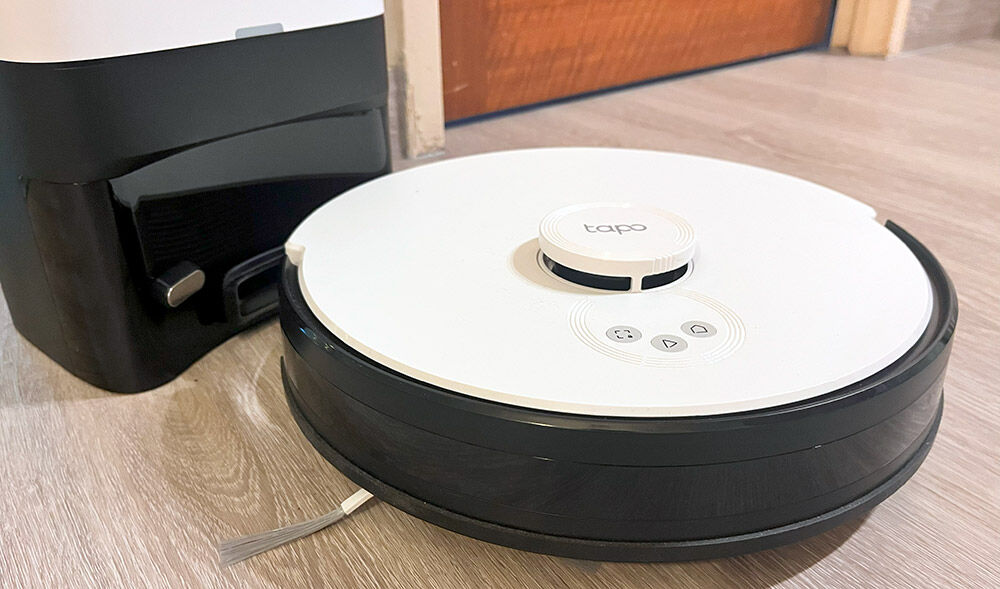 Fortunately, technological advancements have made household cleaning less of a chore through the introduction of robot vacuums that literally sweep the floor space in your apartment to suck up unwanted remnants. Most navigate around your furniture and can avoid things on the ground, and more recently, have added a mop function that cleans more than simply using suction. If you're looking for a robot vacuum that can keep your home clean, TP-Link has you covered with its Tapo line-up and the TP-Link Tapo RV30 Plus.
With precise navigation and an accompanying easy-to-use app, the RV30 is packed with advanced features such as LiDAR navigation, a smart auto-empty dock, and a 3-level electronic mopping system that cleans efficiently even when you're not home. If you're worried about storage, the RV30's docking station is a cosy 22cm tall, and can also be positioned under specific pieces of furniture, such as tables, if you're worried about it taking up too much space.
With two features that can be used independently, the RV30 comes packed with a cleaning brush, a mop cloth mount, two 4L disposable dust bags, two washable mop cloths, two HEPA filters and two side brushes.
The RV30 Plus is not just a simple cleaning device, it also comes with a user-friendly app that allows you to control it from anywhere. Simply download the app, connect the device, and you're all set. The first step is to allow the Tapo RV30 to recognise your space, and map the room or floor. Upon completion, it will return to the docking station, prepared for extensive cleaning next. Afterward, you can even personalise which rooms get cleaned first, how many times a room gets cleaned, your preferred cleaning method, and schedule the robot vacuum to clean at your convenience.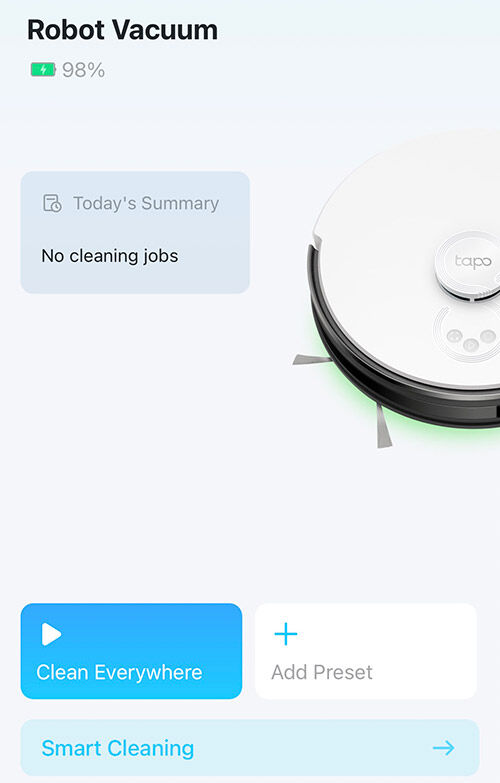 A preferred schedule is to set the vacuum to clean around an hour or two before you get home from work. You can return home to freshly cleaned floors while avoiding the noise that is made during the cleaning procedure.
One of the most impressive features of the RV30 Plus is the Virtual Walls and No-Go Zones. After you let the RV 30 roam your apartment to map out your house, the app will generate a floor of your house. With these settings on the app, you can mark out areas you don't want the robot to go to, such as kids' play areas or bedrooms in use. You can set virtual walls in the app which keeps the Tapo RV 30 in a fixed boundary, which is fully customizable depending on your needs.
You won't have to worry about charging the RV30 Plus as it has a 3-hour battery life, and returns to its charging dock automatically when the battery gets low before resuming where it left off after returning to full power.
The Tapo RV30 Plus offers four suction speeds (Quiet, Standard, Turbo, Max) and boasts a powerful suction capacity of up to 4,200 Pa which provides high-pressure dry-cleaning.
With both side brushes, the unit can hit corners of the room and dislodge pieces of dust in the corner and sweep them up. This includes larger chunks of dirt, such as food crumbs. Because of its short profile, it can fit in easily under couches and beds, targeting hard-to-reach spaces that would otherwise be a struggle to manage several times a week.
And if you set up the device with the app, you can easily configure the RV30 to clean every day, or every other day. And once the home is relatively clean to begin with, the default speed is strong enough to effectively clean the majority of new dust in your apartment. Of course, those with pets might want to dial things up a notch.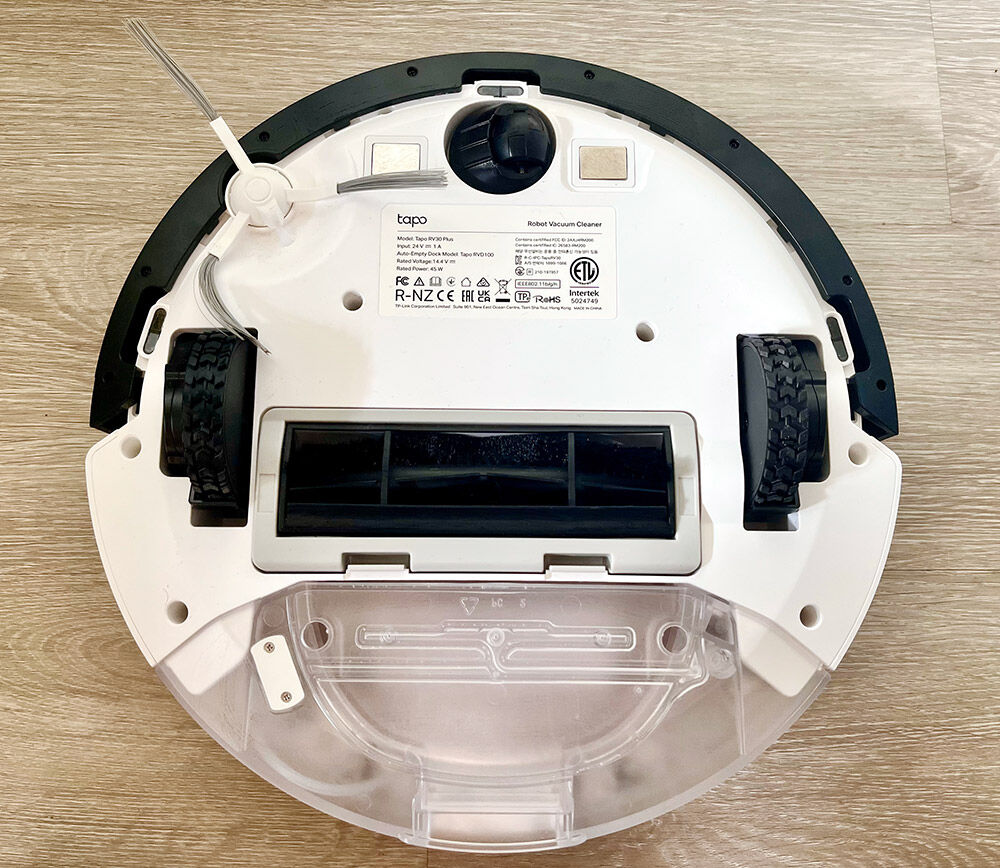 The RV30 Plus regular vacuum comes with two side brushes and a primary bristle brush for even more optimized cleaning, which should occasionally be cleaned of any debris and collected dust. Depending on how much dirt is in your home, you might have to change the cleaning pad after cleaning a few rooms, but it generally gets the job done in one press of a button.
In terms of noise level, the Standard speed setting is certainly noticeable yet tolerable. The sound produced is a combination of the vacuum's suction and mostly the movement of its wheels. Surprisingly, the noise generated by the vacuum's two wheels is louder than expected.
The Tapo RV30 Plus offers hands-free cleaning for up to 70 days with its auto-empty feature, as it can automatically empty its dustbin into dust bags inbuilt into the docking station after each cleaning session, making maintenance and upkeep a breeze.
You have the option to personalise the emptying schedule to minimise noise by utilising the do-not-disturb mode. The package includes two complimentary dust bags. This is by far one of the best features – not having to empty the trash can after each vacuuming session.
Naturally, the dry cleaning feature is simple enough but things do get slightly more complicated when using the mopping function, though the mopping feature is essential for tackling sticky messes and providing regular polishing on hard floors. All you need to do is fill the water tank with water, attach the mop cloth, and it's ready for use.
The 300ml water tank capacity ensures that you don't have to refill the tank often, and the device can cover up to 200 square meters while mopping, making it ideal for larger homes. You can also adjust the water level to suit the room or floor space you want to clean. For instance, if you're only cleaning a single room, you can add less than 150ml of water, and you'll get the hang of things the more you use it. The water tank was minimally dirty after one round of mopping, which was done after one round of vacuuming, and rather than leave the water, we changed it to ensure more efficient mopping.
The app also lets you set the water flow for the mopping function, with three water flow settings that will suit nearly any floor type. That said, clean up requires additional maintenance since the dock lacks an auto-clean and drying feature for the mop pad.
As a result, you'll need to manually remove and clean the mop pads. Overall, the mopping function is generally satisfactory, providing basic mopping needs, but it might not be able to intensely deep-clean an entire apartment like a dedicated mop or wet-dry vacuum. This is one area in need of improvement, since the mopping function lacks any cleaning patterns that could enhance its effectiveness, such as mopping in a Y-shaped pattern.
This works with water, or any other liquids – all you have to do is change the mop pad after mopping up spills like beverages, and the RV30 will do its job smoothly. We had accidentally spilled some Milo on the floor, and the RV 30 mopped it up spotlessly using the Tapo Multi-Surface Floor Cleaning Solution. Adding any other floor cleaner may cause structural damage to the water tank, so be sure to use the Tapo Multi-Surface Floor Cleaning Solution for the best results.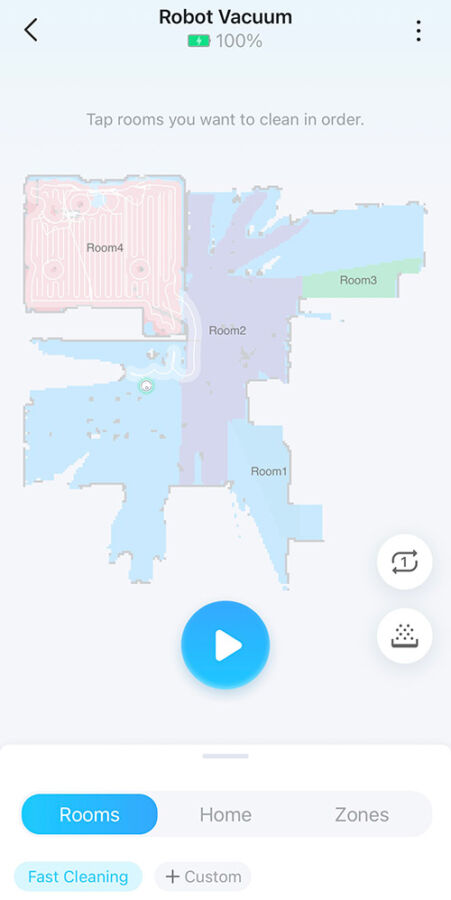 The Tapo Robot Vacuum is equipped with a high-precision dual navigation system, consisting of LiDAR and Gyro technology, which maps out your home accurately and quickly, even in the dark to plan the best cleaning path. Even if you accidentally obstruct the vacuum's path, it is smart enough to detect and avoid you. Its 360-degree field of view ensures the vacuum avoids omissions and repeated cleaning, not to mention that the floor was spotless by the time the vacuum finished cleaning a 20 sqm room in 10 minutes. For a larger living room, it took 30 minutes to clean the whole space thoroughly without missing any spots.
The LiDAR navigation and sensors excel at detecting obstacles and preventing collisions, while also ensuring the vacuum does not fall off ledges or stairs, which makes it useful if you have a lot of furniture in your home or sharp-edged objects.
You can activate the vacuum before departing for work or after a tiring day. Either way, you will enjoy a spotless apartment without any effort.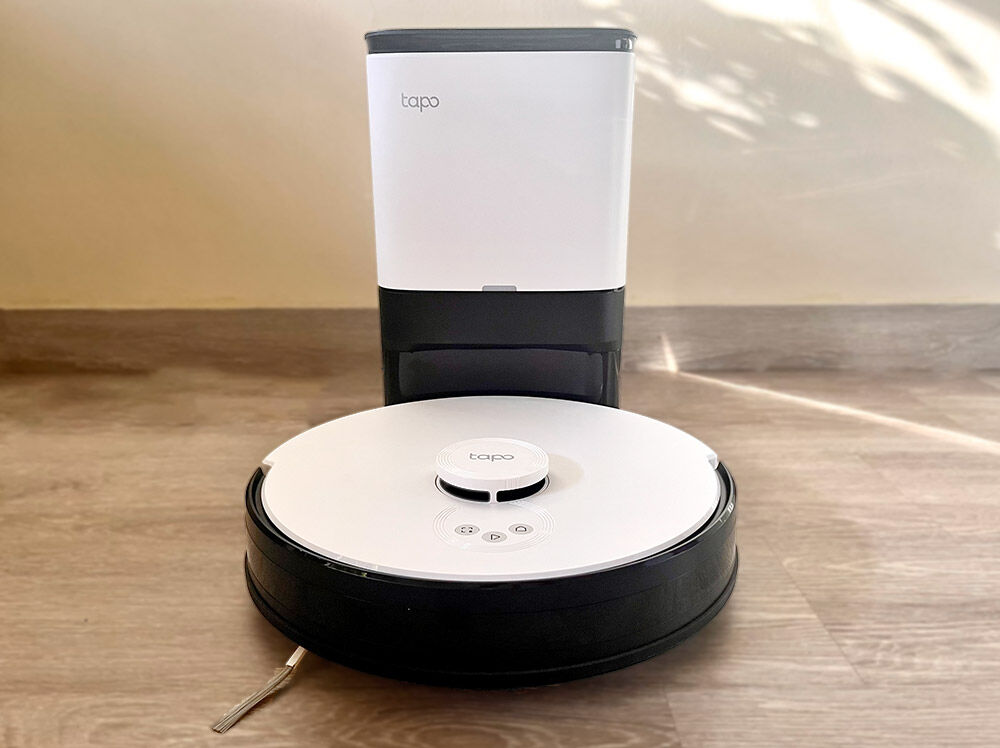 The TP-Link Tapo RV30 Plus is a dependable robot vacuum that efficiently tidies up your living space. While it may not be the most budget-friendly choice, it stands out with its unique LiDAR navigation system that eliminates the risk of missing spots and thoroughly cleans your entire home with an enhanced field of view.
Moreover, the suction power and battery life are more than enough for most residences. Cleaning a flat for an hour consumed around 15 per cent of the battery, so the Tapo RV30 Plus is undoubtedly capable of conducting multiple cleaning sessions in your home before you plug it into the charger.
While the mopping feature adds value to the RV30 Plus, there is room for improvement, and future firmware updates may enhance its performance. It is available now at Shopee, and Lazada and Courts.
GEEK REVIEW SCORE
Summary
All in all, the TP-Link Tapo RV30 Plus is a fantastic investment for those looking to streamline their cleaning routine with advanced technology.
Build Quality -

8/10

Performance -

7.5/10

Value -

7/10

Geek Satisfaction -

8/10