Now that they have dominated the internals of laptops and personal computers, SSDs or solid state drives are now looking to take over on the outside. And while Seagate has been rather late to the game with its range of portable SSDs, following the likes of Samsung, Transcend, Western Digital and SanDisk, they've certainly upped their game with a premium-built SSD designed with the gamer in mind.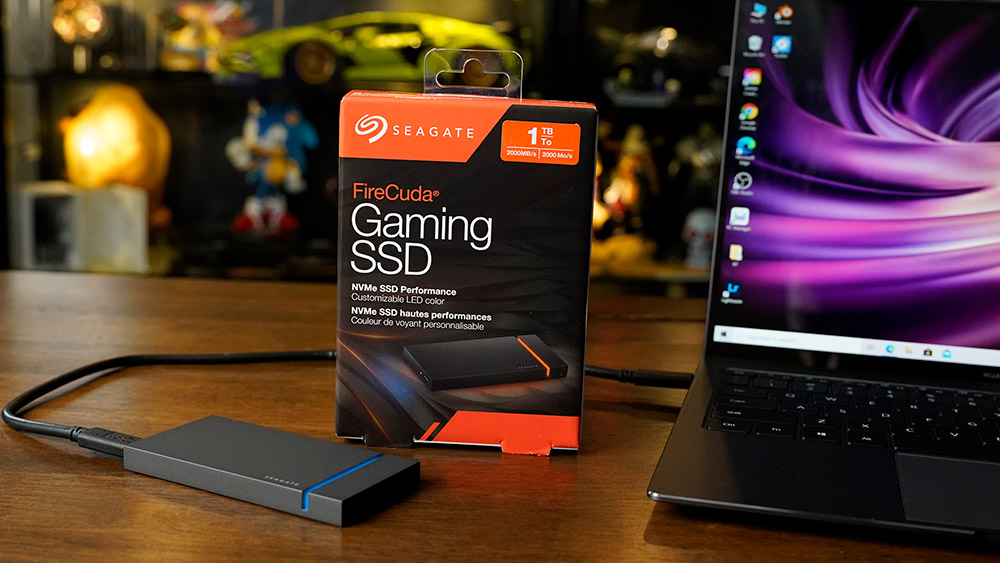 Enter the Seagate FireCuda Gaming SSD, which enables gamers with the NVMe SSD portable performance anytime, anywhere. The FireCuda sports a single USB-C port (USB 3.2 Gen 2×2 20Gb/s) and according to Seagate, it has a read and write speed of up to 2000MB/s. It comes packed with a single USB-C cable. This means you'll need to buy a separate cable or adaptor if your desktop or laptop doesn't have a USB-C port.
The CrystalDiskMark results produced speeds of about 1000 MB/s for read and write speeds, which is exactly as intended, considering how this speed test was conducted on the newly launched ASUS ROG Zephyrus Duo 15, which is equipped with a USB 3.1 port. Unfortunately, we aren't able to test out the 2000 MB/s read/write speeds as it is only supported on the USB 3.2 Gen 2×2 interface. Regardless, this means the SSD is future-proof once USB 3.2 ports are more widely used.
The test wouldn't be complete without installing a game directly on the drive and running the game off the SSD. Gameplay was smooth, and games boot up almost instantly. That means an extra 1TB of games while on-the-go, with uncompromised gaming performance!
But performance aside, where Seagate hopes to lure users is with the external aesthetics. Without a doubt, the aesthetics of the SSD look great – wrapped around a gunmetal body, there the addition of a RGB LED strip that perfectly complements any user's desktop or laptop's RGB-infused setup.
In order to customize the RGB LEDs on the SSD, you'll need to download the Toolkit app from Seagate's website. Once it loads up, you'll be able to enable/disable the Pattern and Status LEDs, brightness control, and change up the LED Patterns. Choose from Solid, Blink, Breathe or Spectrum modes. If that's not enough, there are 3 custom presets where you can set your drive to transition through up to 6 colours of your choice, in varying timings and sequences.
Best of all, once you have saved the LED setting to your drive, it maintains the setting no matter which other device you connect it to. This also means you can uninstall the Toolkit once you're happy with the customized LED setting so you have one less app that starts up everytime you boot up your PC.
Weighing in at 143g, it's a little hefty compared to other portable SSDs on the market. But it does give the drive a very solid, premium feel. The edges tend to be pretty sharp too, which might inevitably scratch other items in your bag or tabletops.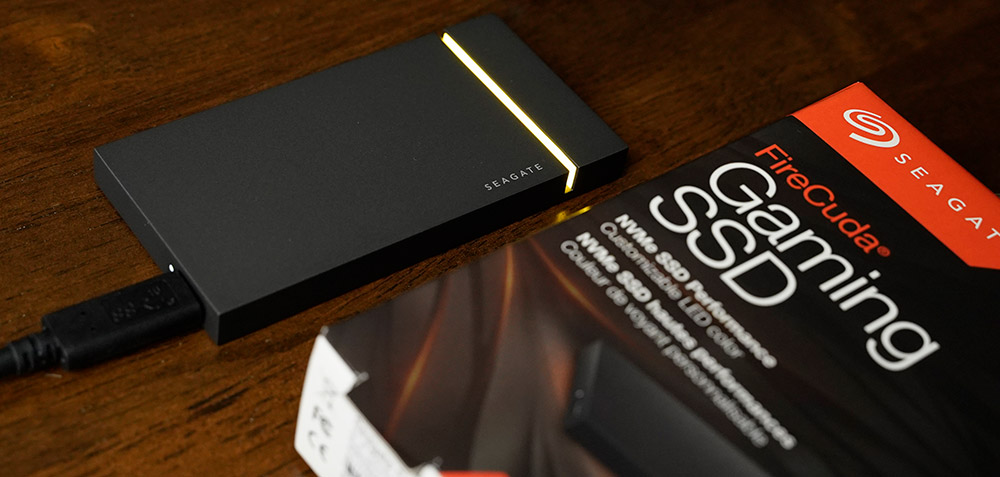 Priced at S$399 for the 1TB version of the FireCuda Gaming SSD, this beast doesn't come cheap. But if you're a serious gamer, crazy about RGB-ing everything, without compromise on aesthetics and performance while on the go, this might possibly be the only option on the market at the moment.
GEEK REVIEW SCORE
Summary
If you're an RGB nut, and are in need of a portable SSD that delivers on gaming performance with a matching RGB aesthetic, look no further. Just make sure your desktop/laptop comes equipped with a USB-C 3.2 Gen 2×2 port to utilize this beast to its fullest potential.
Aesthetics -

9/10

Build Quality -

9/10

Performance -

9/10

Value -

8/10

Geek Satisfaction -

9/10