It is always important to constantly strive to be better, to one-up yourself and wow the crowd and this is exactly what ASUS has done with their newest ASUS ROG Zephyrus Duo 15 GX550. Not only does it come with top-of-the-line specs that help craft the ultimate gaming experience, it is also the very first gaming laptop to feature the Taiwanese tech giant's very own built-in ROG ScreenPad Plus display, with touchscreen capabilities.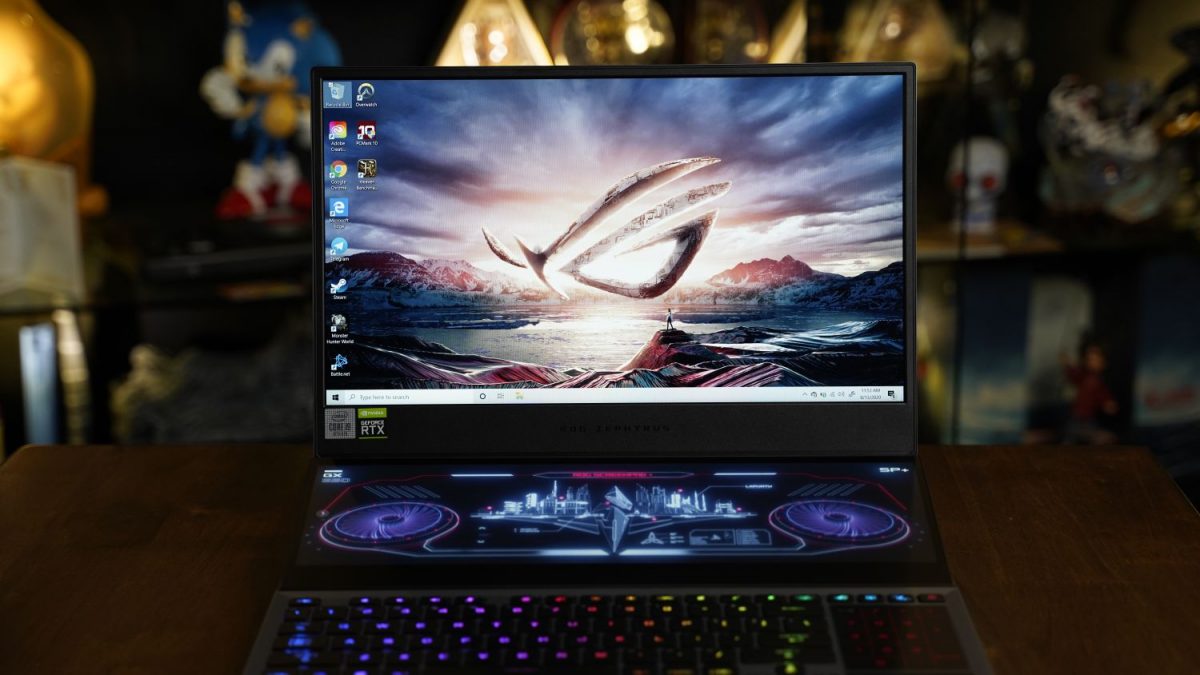 Located above the keyboard, the 14.1-inch ScreenPad Plus serves as a secondary display to allow users to multitask more easily and efficiently thanks to the addition of an additional screen, with users able to play YouTube videos or have Spotify open whilst working on the main screen. Unlike last year's ASUS ZenBook Pro Duo UX581, which had also had a 14.1-inch ScreenPad Plus that was placed flat beside the touchpad, which made users lean over a lot to properly view the secondary display, this version has it tilted up at a comfortable 13-degree angle for comfortable viewing.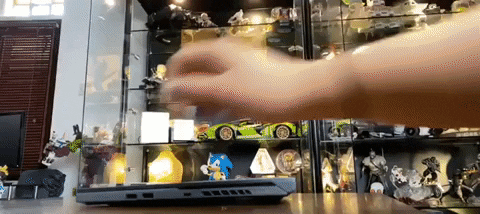 Thanks to the ScreenPad Plus, working on articles has been a lot more convenient, with us able to use the ScreenPad plus as a second screen when conducting research for an article, or when doing a quick photo edit on Adobe Photoshop. As with 2019's ZenBook Pro Duo, the laptop will come with the Screen Xpert which lets you drag and drop your tabs around, or snap your tabs to either displays quickly and easily.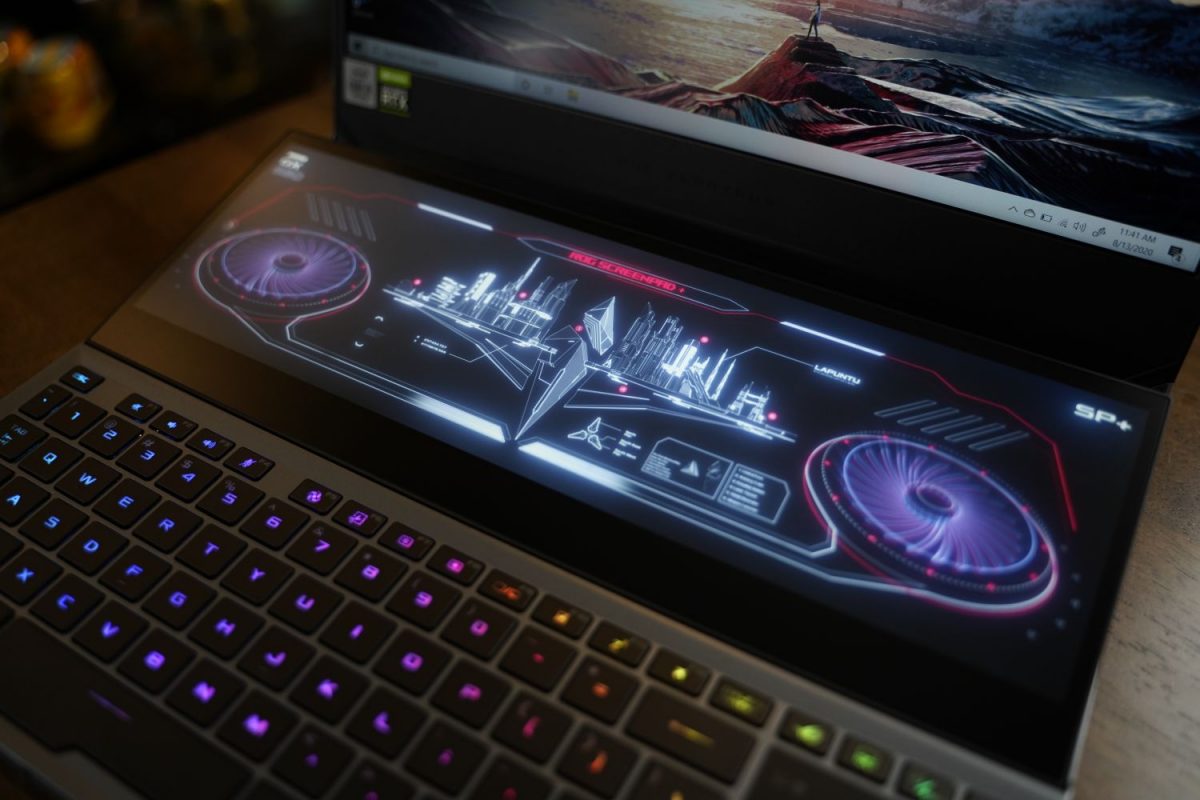 Gaming has also gotten more convenient as the second screen serves to keep chats on programmes like Steam in view when gaming. Players can use the ScreenPad Plus as a place to display guides for the game you are playing, such as Monster Hunter World. Still, this is a relatively new feature that not all games were coded for, so it is worth noting that not every game allowed us to interact with the secondary display. When playing Overwatch, we found ourselves unable to mouse down to the ScreenPad Plus unless we switched the game to a "Windowed" display mode.
The feature is a nice one to have, though it would make more sense if the ScreenPad Plus was tilted up just that little bit more, or if ASUS had made the secondary display's tilt angle adjustable, to give us an even better viewing angle with the ROG ScreenPad Plus. But it is already a big improvement from the original ScreenPad Plus on the ZenBook Pro Duo. It is also worth noting that there is no way to have the ScreenPad Plus switched off if you do not wish to use it to conserve battery.
The tilting of the ScreenPad Plus not only helps to give users a more comfortable viewing experience, but also serves to expose the Active Aerodynamic System (AAS) Plus of the laptop, in turn helping to increase airflow by up to 30% through the chassis of the laptop. This increase is important as given how big this laptop is, a lot more airflow will be needed to keep this laptop from overheating.
Due to the presence of the ScreenPad Plus, the keyboard of the ROG Zephyrus Duo 15 has been shifted down, with it taking up the lower half of the laptop alongside the touchpad. This layout might take a little getting used to, but our review unit for the ROG Zephyrus Duo 15 came with a wrist pad for a more comfortable and ergonomic typing experience. The touchpad also works smoothly, with two buttons below it so you can easily left or right click. If you need to input numerical digits into your document, the touchpad also comes with ASUS' proprietary Number Pad which lights up with a simple tap on the top left of the touchpad. We found it incredibly responsive, with little lag between when we are tapping, to when the number is typed on screen.
With two screens in one laptop, it is no surprise that the laptop is heftier than most others, weighing in at 2.4kg. Though considering it carries two screens in one laptop, its weight is fairly reasonable. It also measures 20.9mm thin, making it okay to travel around with. The laptop comes in a sturdy magnesium-aluminide chassis that is both strong and sleek in its aesthetic.
The ROG Zephyrus Duo 15 GX550 comes with a 15.6-inch (1920×1080) Full HD display with 300Hz refresh rate to ensure you get the smoothest graphics possible when gaming. Meanwhile, the ROG ScreenPad Plus, which is half the size of the main display, is a 4K 14.1-inch (3840×1100) display with 60Hz refresh rate. Though scrolling through documents and websites is much smoother on this laptop thanks to its high refresh rate, it truly shines when you are gaming as its quick refresh time helps to ensure there is no ghosting or screen stutter when playing games such as FPS shooters, where every second count and a moment of lag could determine the difference between a win or a loss for you.
Powering the Zephyrus Duo 15 is the latest 10th Gen Intel Core i9-10980HK CPU which helps to push the laptop through intensive workloads and heavy multitasking, which is essentially what this laptop is built for. With the CPU, content creators can work on their massive projects more quickly and efficiently, gamers can play, chat, and check for guides or even live stream at the same time with ease, and writers like us can open multiple tabs needed for our articles, along with applications like Photoshop, without having to worry about the laptop lagging.
The NVIDIA GeForce RTX 2080 SUPER GPU which is capable of reaching clock speeds of up to 1330MHz with Turbo Mode, giving you high visual fidelity when gaming, and accelerated performance for both gaming, and content creation. It also comes with 32GB of expandable DDR4-3200MHz RAM.
The Zephyrus Duo 15 comes with a number of operating modes to fit different user scenarios, be it for light workload and entertainment, to heavy duty gaming and each can be selected in the Armoury Crate app that is accessible through the ROG button above the touchpad.
Windows: Comes with default Windows settings.
Silent: As its name implies, this mode offers you the best work performance possible with a fan noise level under 35dB. It is ideal for light work, simple surfing of the net, and binging of video contents.
Performance: This mode offers strong, smooth performance, and fan noise level at 43dB or lower as it works to keep the laptop's temperature in check. With this mode alone you can already get a good gaming experience and it comes set as the default mode of the laptop.
Though if you are hoping to receive the best possible performance from this laptop, be it for gaming or any other heavy duty tasks, then you will definitely want to switch on…
Turbo: It enables NVIDIA's Dynamic Boost to allow dynamic Thermal Design Power between the CPU and GPU of the laptop, which results in the laptop being able to provide you the best performance possible. When the mode is switched on, ASUS states that the fan noise level is kept at 46dB and below but we did find it significantly louder and noisier than the other modes.
Manual: You'll be able to manually control the fan speed of the CPU and GPU fans.
Here are the benchmark tests for the Zephyrus Duo 15 GX550 when Turbo mode is turned on,
Cinebench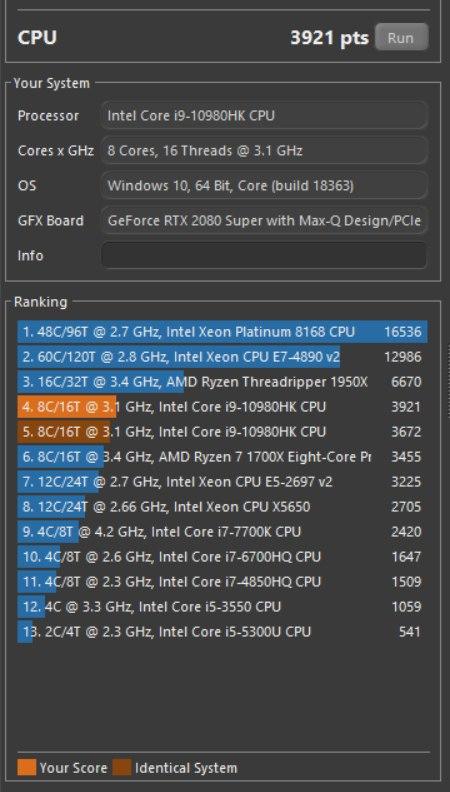 PCMark 10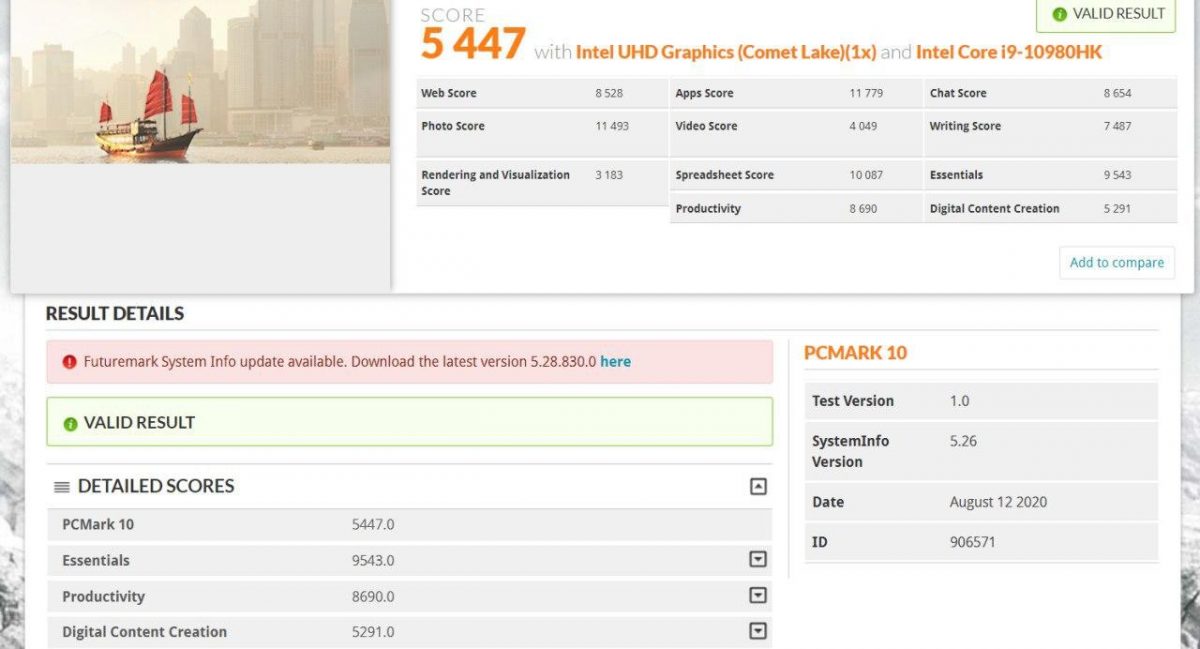 Geekbench 5
Unigine Heaven 4.0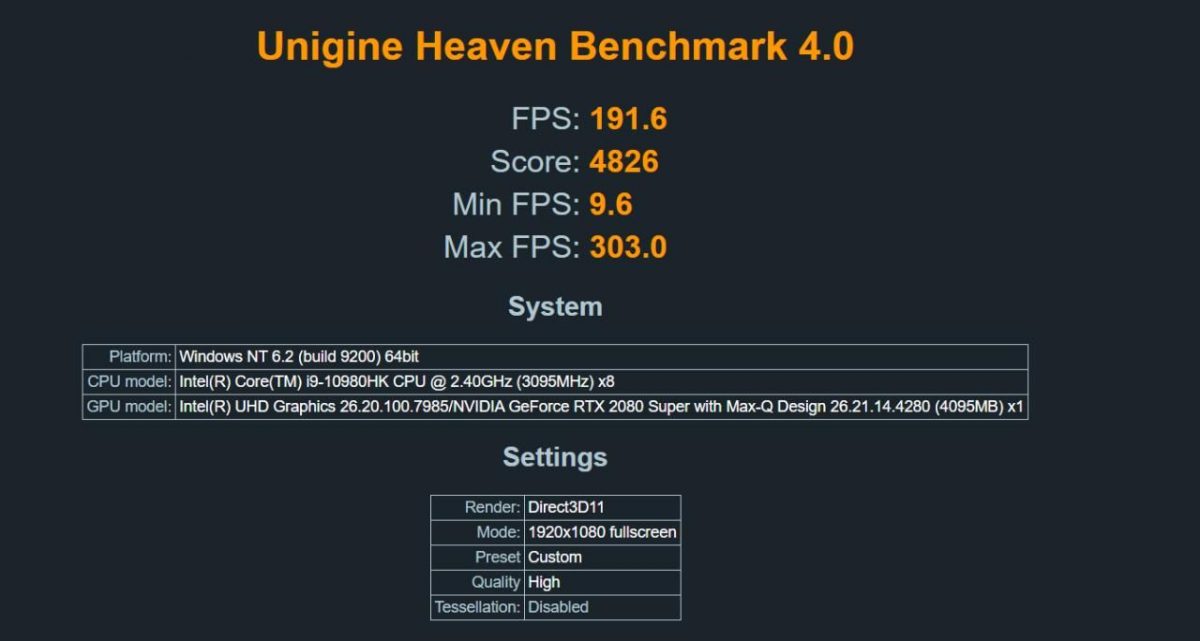 As you can tell, the latest Intel Core i9 CPU and NVIDIA GeForce RTX 2080 SUPER GPU that comes with the Zephyrus Duo 15 is clearly giving the laptop more than enough juice it needs to power through at consistently high levels, with the laptop scoring consistently well throughout all the benchmark tests it is put through.
To make sure the laptop isn't just all talk, we put it to the test with games like Overwatch and Monster Hunter World, with our graphics setting set to the best possible in the game. Every game we ran through this beast ran well, with the 300Hz refresh rate on the screen helping to ensure the visuals are super smooth with no lag whatsoever. We could also work on our articles, while running Adobe Photoshop, and have YouTube playing in the background for an entire 8 hour work day, and there was still no lag on the laptop, which we found impressive.
Dongles will not be something you will have to worry about with the Zephyrus Duo 15 as it comes with a wide selection of I/O ports. All three sides of the laptop, save the one facing you when you are working on it, features ports you can use to stay connected. On the left is the charging port, 3.5mm earphone and microphone jacks, while on the right you can find two USB 3.2 Type A ports, along with a USB 3.2 Gen 2 Type-C port. To the back of the laptop are three more ports – a USB 3.2 Type A port, a DisplayPort 1.4, and a HDMI 2.0b port that supports 4K UHD content at up to 60Hz.
The Zephyrus Duo 15 comes with a high-capacity 90Wh battery that has enough juice to keep you working and entertained while on the go. Though if you are travelling without a charger, we do suggest you have the laptop turned on to Silent mode to help conserve battery life. After playing a few rounds of Overwatch on the Zephyrus Duo 15 on Performance mode, for roughly half an hour, we found that it used a little less than 50% of battery.
So we highly recommend for you to play games on Performance mode only if you have a power socket nearby as you might be left with 5% of battery after just an hour of gaming. Meanwhile, Turbo mode can't be turned on when your laptop isn't already charging.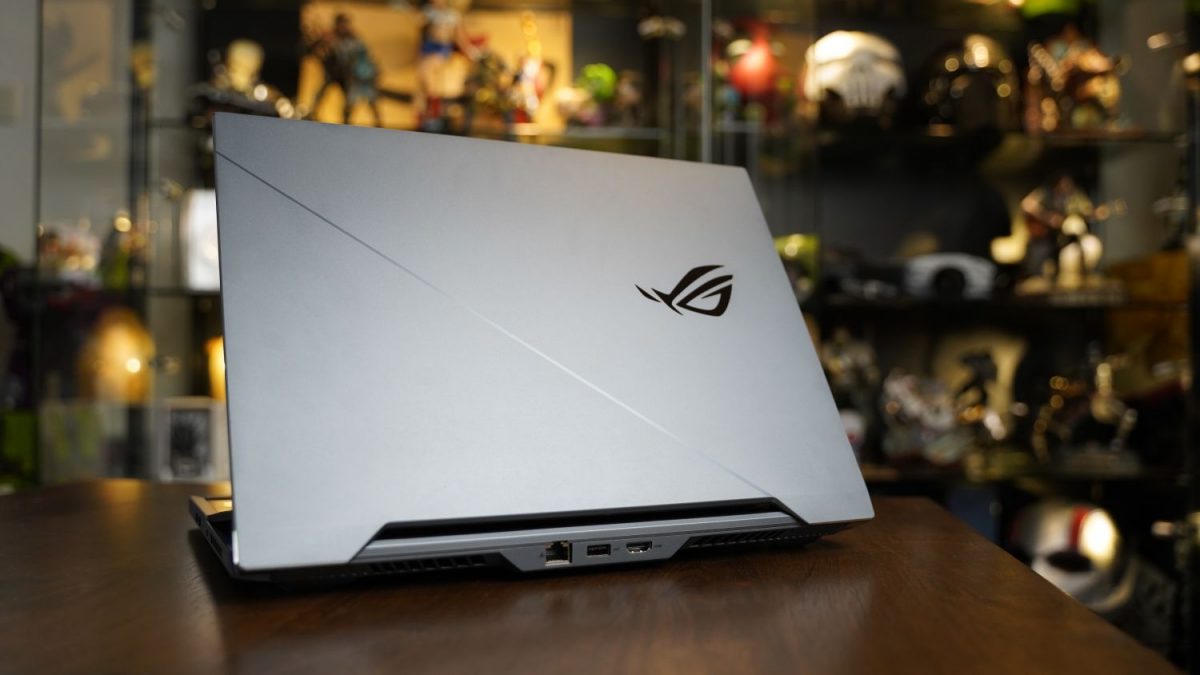 All in all, the ASUS ROG Zephyrus Duo 15 is probably the best ASUS has to offer for gamers and content creators that love to multitask. Not only do you have a main display for doing your work, but also a secondary ROG ScreenPad Plus that can help you work and game even more efficiently.
Of course, with all its top-tier features, it is no surprise that the Zephyrus Duo 15 will not come cheap. At S$6,998, this dual-screen device can be replaced by two laptops at the price but if you are looking for a second monitor for your laptop, or are looking for a top tier gaming laptop, then you want to consider getting the Zephyrus Duo 15.
GEEK REVIEW SCORE
Summary
A beast of a gaming laptop that comes with not just one, but two screens that let you work and game more efficiently.
Aesthetics -

8/10

Build Quality -

8.5/10

Performance -

9.5/10

Value -

7.5/10

Geek Satisfaction -

8.5/10
---

Drop a Facebook comment below!