Finding a powerful, complementary mouse, rig, and keyboard combo is all part and parcel of the quest for gaming perfection, but the journey towards that doesn't just end there – it merely marks the start of another chapter towards gaming nirvana. The sense of immersion, after all, wouldn't be complete without the familiar clash of metal against metal, the crisp thudding of footsteps on rugged terrain, or the wild spray of gunshots through air – effects which can only be fully conveyed via a robust, finely-engineered audio setup.
Razer, with its latest Barracuda X 4-in-1 Wireless Gaming Headset, is looking to end the relentless search for that aural ideal. Instead of bringing it to just one platform, namely PC, this pair of headphones is looking to lend its prowess to multiple gaming parties, including the PlayStation, Nintendo Switch, and even Android devices. The end product is an impressively versatile workhorse that delivers rich, high-end audio excellence in the heat of the action.
In opposing fashion to the association of RGB bling with gaming products, the new member dons an elegant all-black skin that ditches the bells and whistles for a modest, low-profile aesthetic. The company's iconic triple-headed snake trademark makes its presence known subtly on the side of each ear cup, and in a rare occurrence, doesn't ship with lighting options, allowing the headset to also double up as a neat, stylish everyday listening companion.
On the base of the right side is where the entire slew of connectivity options can be found, ranging from a USB-C port, a 4-pole 3.5mm jack, and a microphone inlet to the On/Off switch, volume wheel, and microphone toggle button. Despite the seemingly tight squeeze on a small cup, the controls are sufficiently spaced out, and can easily be reached by the user when the headset is in use. The distinct textures of the three buttons also make it easy to differentiate between them and change the desired settings on the fly.
The memory foam cushions, meanwhile, are decked out in fabric and plush leatherette, with the external shell attached to a smooth-working swivel and retractable mechanism. Held in place by a lightweight yoke, these ear cans are paired with the padded, velvety curve of a faux leather headband for increased comfort.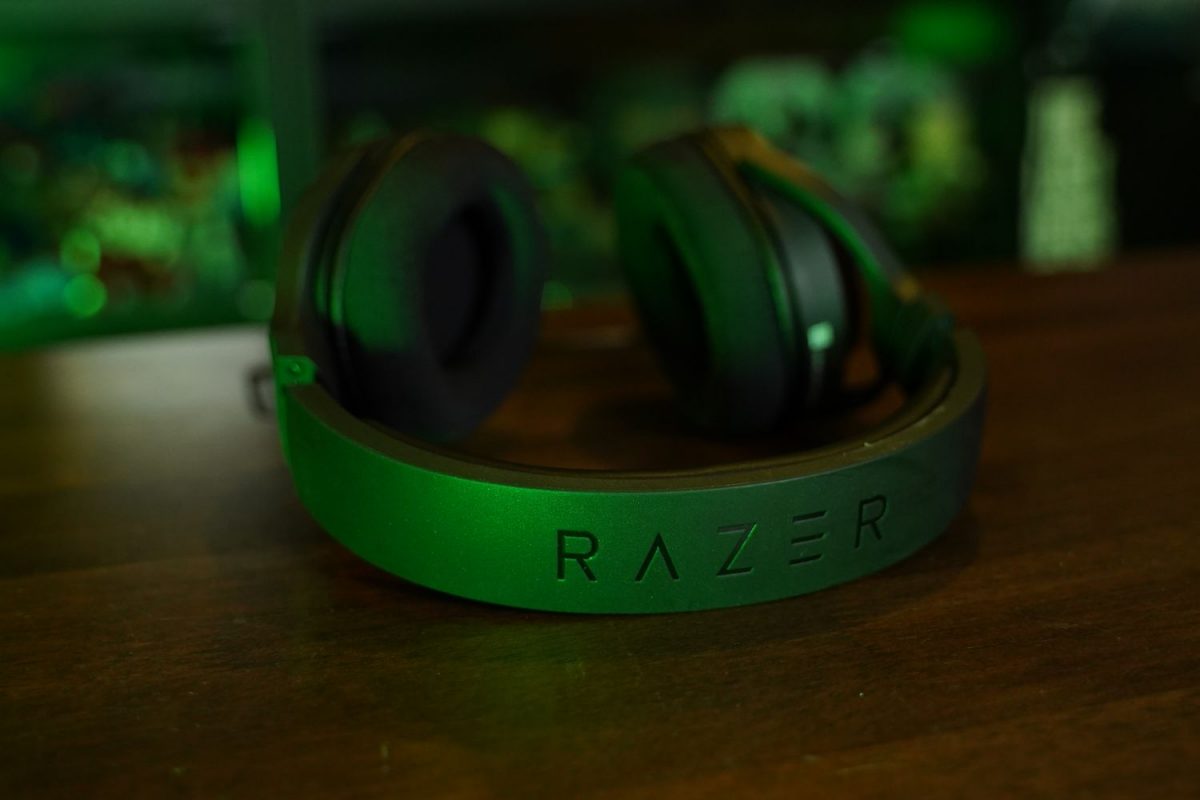 Shift your gaze to the external frame, and the 'Razer' lettering can be gleaned. In similar fashion to the quiet positioning of the company logo on the ear cups, it comes emblazoned in pure black print, and spans the majority of the slim arch. The headband is flexible, sacrificing sturdiness for malleability, but lends a premium, stylish touch to the overall design.
Spurring it into action is easy work. Tailored for plug-and-play connection, the headset can be hooked up to supported platforms through a USB-C dongle without the need for any external software, pairing process, or driver downloads. This approach, Razer explains, provides a smoother alternative to the traditional Bluetooth connection, where issues may crop up during the connection or device-switching process.
With certain laptops, desktops, and smartphones, however, USB-C isn't the default option, and the Razer team recognises that. A handful of adapters have thus been included alongside the headset, offering users a USB-C to USB-A adapter and USB-C to USB-A charging wire right out of the box.
Putting the theory into practice yields accurate results. True to Razer's claims, the Barracuda X brought seamless connectivity to the PlayStation 5, PC, and Samsung Galaxy S9. Playing Assassin's Creed Valhalla and Scarlet Nexus on Sony's console saw instant connection and zero latency, as was also the case with Horizon Zero Dawn, Hades, and Apex Legends on desktop. Hooking the headset up to Genshin Impact on mobile proved to be equally fuss-free as well, with no issues of any sort encountered.
This display of versatility is further reinforced through its prowess in various games. Despite harbouring a bias for competitive titles that depend heavily on audio cues, Razer's latest family member is able to pick up fine detail and convey crisp, clear sound in most, if not all, contexts. In Overwatch, the footsteps of flanking enemies were sharply captured on stereo, making it easy for players to locate the source and quickly map out a counterattack in mind. That Doomfist or Genji that keeps going after Ana players? Yeah, they're about to get a well-deserved sleep dart to the face.
That directional clarity never failed to carry over to the likes of Apex Legends and Horizon Zero Dawn. Bursts of gunfire have never sounded more intimidating here, especially when you are navigating between the intense bullet-gatling exchanges of multiple contesting squads. Because of the battle royale setting, the larger environment doesn't allow shooting sounds to be as clearly directional as Blizzard's shooter, but when shootouts occur near you, the volume and crispness of whizzing bullets are most certainly accentuated in the best way possible.
With the Barracuda X, machine encounters in Horizon Zero Dawn make for an extremely daunting affair. While exploring the wild lands, the cries and wing flaps of three Glinthawks perched on a cliff could be heard crisply from the mountain's base, with the sounds bouncing off one another and mingling in the ear.
The 4-in-1 headset takes a hit in audio performance outside of gaming, but still puts up a fairly decent performance overall. Vocals are distinctly distinguished, with mids and highs denoting a striking demarcation between one another, even if they both sound a tad hollow. Bass-forward tracks from the rap, rock, and pop genres are susceptible to overboosting – the drum beats in ONE OK ROCK's "Renegades" and "The Moment" by AI and ¥ellow Bucks are more of an aggressive pounding than gentle thumping, while Doja Cat's "You Right" has its lows nearly overpowering the main crooning.
Another drawback of the Barracuda X's audio system is the lack of customisation for gaming enthusiasts and everyday users alike. There are no onboard controls for creating or saving sound profiles and adjusting EQ settings, nor does the Razer Synapse software supply this option. As it stands, individuals would have to manually tweak their volume levels when they jump from one frequently-played title to another, which brings down the convenience metre.
For fans of multiplayer experiences, a well-performing microphone has to be included as part of the deal. The pair of headphones doesn't ship with an input microphone right out of the box, offering instead a detachable one that can be removed from or added to the left earcup with ease. While the choice is appreciated, its too-malleable length may prove a little counterproductive at times, with the bent frame preventing it from being fully inserted into the port. An added touch of solidity would have been welcome here.
Mic performance is as good as it gets. Between accurate and clear transmissions and increased sensitivity for greater low frequency pick-ups, there were minimal issues encountered across every voice comms session. The speaker's voice was conveyed in crisp tones with little to no peaking or muffling to boot, while ambient noise was noticeably missing from the speaking end. It's not total noise cancellation, of course, but the receiving party shouldn't pick up much background audio beyond the rhythmic clicks of the mechanical keyboard and mouse.
Performance doesn't count for much without proper comfort, however. The Barracuda X, with its lightweight 250g cut, is a secure and pleasant fit on the head, covering one's ear gently without exerting too much force, thus relieving bespectacled individuals of the discomfiture that comes with having metallic or plastic temples pressed against the head. Likewise, the padded headband further adds to the pressure-free agenda by absorbing some of that downward push applied to the skull, granting increased comfort for prolonged periods.
Still, some common over-ear concerns persist. For one, the ear cushions will trap heat after a while and cause warmth to accumulate over time. With that comes perspiration, and the fabric-and-leatherette hybrid, while comfortable, soaks all of that rather easily, resulting in a slightly damp sensation afterwards. These, fortunately, dry fast and can be easily replaced with new fits, but the thought of unsanitary maintenance is nonetheless unpleasant, especially if one doesn't have extra cushions to spare.
The headband material, meanwhile, seems to be decked out in the same leatherette form as its BlackWidow Elite keyboard counterpart, which means it's likely to peel off after a few months of use. It's difficult to determine its resilience threshold at this point of time, but this is a point to note for those who value strong resistance against wear and tear.
There are a couple of factors that can send gaming enthusiasts into a state of panic, and flat battery life is one of them. The feeling is perfectly understandable – playing with the lack of an audio, after all, dramatically reduces the chance of victory in competitive titles – and that'll be less of an issue with the Barracuda X.
Touting a 20-hour battery life, the headset is more than capable of powering through long gaming sessions. It only had to be charged up fully twice over the course of two weeks, with daily use clocking anywhere between three to five hours. The main gripe here is the absence of a battery indicator, for users are only notified of a near-empty tank through a red pinprick of light at the base, which remains out of sight when the device is worn. Battery levels aren't displayed on Razer Synapse, either, so having an announcement system of some sort at selected intervals would have been welcome.
At US$99.99 / S$154.90., the Razer Barracuda X 4-in-1 Wireless Gaming Headset is a commendable, bold explorer that has made impressive headway in multi-platform versatility. Its compatibility with various gaming platforms is a huge plus, and the clever blend of consistent performance, great comfort, refined mic technology, and fuss-free plug-and-free connectivity only serves to bring value to its cause of delivering excellent audio. The device may have stumbled some, but its overall competence is more than sufficient to establish itself as a reliable companion fit for different gaming experiences.
GEEK REVIEW SCORE
Summary
Just like its predatory fish counterpart, the Razer Barracuda X Gaming Headset is a ferocious challenger that competitors should look out for, especially when it comes to versatility and quick, efficient connectivity. 
Aesthetics -

9/10

Build Quality -

8.5/10

Performance -

8/10

Value -

8.5/10

Geek Satisfaction -

8.5/10