Razer's BlackWidow line-up has certainly built itself up with a solid reputation as a reliable premium keyboard, with many varied siblings, iterations, and models released over the years. The new BlackWidow Elite is the accumulation of these years of experience, and manages to claim the position as the best-performing member yet – though not without a few minor gripes.
A few months prior, Razer gearheads were introduced to the Huntsman Elite Gaming Keyboard, which saw the implementation of several new design features, alongside the never-before-seen purple Opto-mechanical switch. The changes must have been rather welcome, in one way or another, because the BlackWidow Elite is essentially that – floating-key design, media controls, wrist rest, and all – sans the purple key switches.
Despite being decked out in a black plastic chassis, the keyboard exudes a sense of sophistication. Perhaps it's the exposed top metal plate, or the backlit-illuminated elevated keycaps, but it does paint the picture of elegance and top-tier build quality. There's no flex to its body as well, which speaks for its sturdiness, and the frameless, floating-key arrangement would make cleaning more of a breeze – instead of removing the keycaps for manual cleaning, users can simply blow out the dust that has accumulated.
Residing on the left side are the USB 2.0 passthrough and 3.5mm audio jack that allow for greater convenience. In a show of thoughtfulness, Razer has left some room at the back of the keyboard, such that the wire of a mouse, for instance, can be coiled around. The cable management system extends to routing channels underneath too, though the thick braided cords make the task rather difficult, since they only snap in place after several tries, and especially so when the keyboard moves out of position.
The accompanying wrist rest is a delightful addition. Unlike that of the Huntsman Elite's, it sports a no-frills aesthetic, swapping out the ring of RGB lighting for a simple, more ergonomic design. It's also less hefty in weight, extremely comfortable, and soft to the touch – although the thin leatherette might wear out rather quickly. Like its cousin, however, the sloped bottom of the BlackWidow Elite comes attached with a small magnetic strip that easily attaches the wrist rest to the peripheral, with hardly any fiddling or force required for a fit.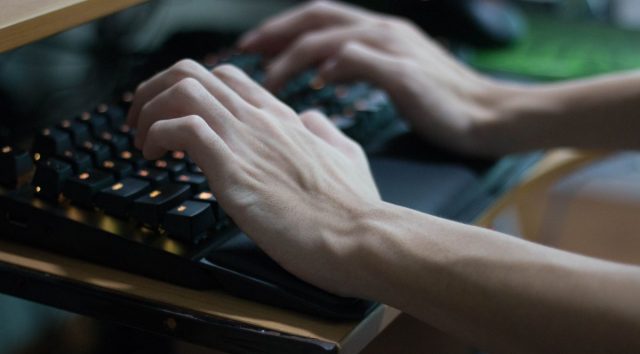 While it all boils down to personal preference, it's recommended to use the pair in tandem than the keyboard alone: the slight elevation of the latter can bring about discomfort after long gaming or work sessions. This means that quite a bit of estate is needed on one's desk; a standard one should suffice to accommodate the 17.5-by-6.5-inch body (another 3.5 inches with the wrist rest).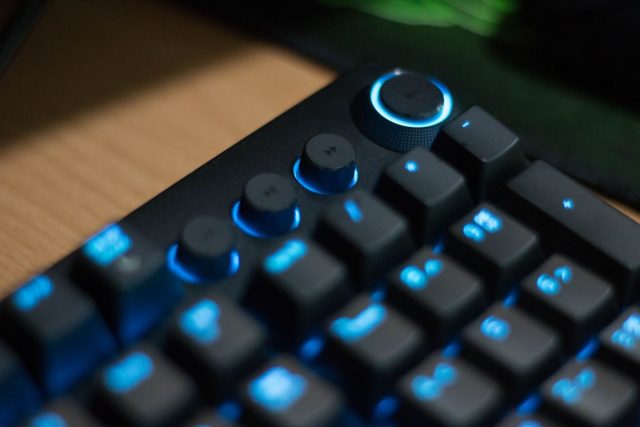 It certainly isn't the smallest full-size keyboard out there, so Razer's move to replace the row of dedicated macro keys with media control keys and a ridged volume wheel – resulting in a reduced girth – is very much appreciated. Being able to adjust audio controls with an easy twist or the simple press of a button simplifies the layout for casual users who may not be familiar with the macro keys; besides, it's sufficiently easy for one to individually reprogramme the function keys to the same effect.
Being decked out in a circular design helps to maintain the minimalist, clean-cut aesthetic as well, though its legends could be more brightly-lit, or have the RGB lighting seep through. Depending on the type of mouse grip, there may also be instances where one's knuckle inadvertently brushes across the wheel, resulting in an unintentional volume change – hearing Genji shout his Ultimate as a Zenyatta at max volume was a terrifying experience. 1/10, will not recommend.
On the note of Overwatch, the BlackWidow Elite boasts great compatibility with a host of game titles, providing built-in profiles for Doom, Fortnite, Dota 2, CS:GO, and Elder Scrolls Online, among others. Some of these have been brought forward from Razer's previous iterations, but it's always a treat to see the keys light up in the same colour scheme as the selected game.
In the case of Blizzard's behemoth shooter, that means having a keyboard decked out in the palette of the chosen hero, with blinking hotkeys indicating the availability of an ability, and the brightening up of the 'Q' key upon a full Ultimate Ability charge. It's cool, but not necessarily helpful, for experienced players would hardly look at the keyboard while gaming. But beginners and newcomers of certain titles can stand to benefit.
The BlackWidow Elite is equipped with Razer Green switches by default, although users may opt for two other choices: the quiet, tactile Oranges, or the silent but linear Yellows. Despite being known more for typing than gaming, the tactile and clicky nature of the Greens actually make for quite the pleasant gaming experience, one that's rather reminiscent of the sensation brought on by the Cherry MX Blue switches. The difference between the two lies in tactile bump – the Greens feel less stiff to the touch upon hitting actuation point, which gives them a slight edge over the latter for gaming, especially where APM-based (actions per minute) titles like Starcraft or the real-time strategy (RTS) genre are concerned.
A revamped Razer Green design is perhaps the primary factor in performance standards, though. Instead of the conventional smaller, standalone crosses, the new stem's cross-section comes in a larger size, and boasts a dual-wall setup, which supposedly reduces switch wobble while increasing dust and spill resistance. In practice, the difference was nearly negligible – in fact, the keys seem to have the same moderate wobble as their top-tier Cherry MX-equipped models, but are most certainly hardy enough to withstand the trials of time. Typing, at least, is extremely comfortable, with errors few and between, alongside a higher pitch.
Cashing in at a hefty S$279.90, Razer's decision to use ABS keycaps is slightly disappointing, albeit expected. While the industry norm, they are less durable than their PBT cousins – largely considered to be one of the hardest and more resilient materials for keycaps – so an upgrade to quality would have been rather welcome, considering the keyboard's expensive price tag.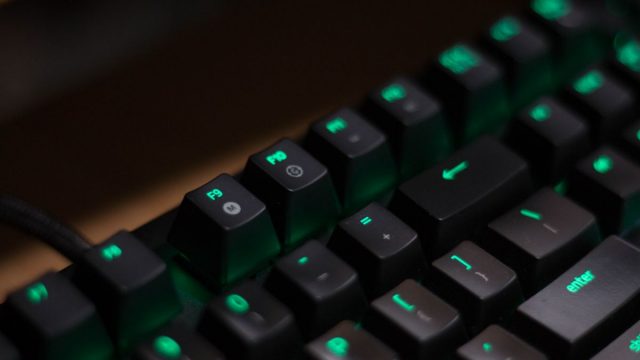 A mainstay of Razer's mechanical keyboards, the BlackWidow Elite is accompanied by beautiful Chroma lighting, with a host of programmable effects. The rainbow ripple option is no more, but the new Synapse 3 software offers plenty of other animation presets, such as breathing, ripple, or fire, and its per-key customisation feature means users have nearly limitless bandwidth to mess around. Some of its other properties are also particularly handy, like creating macros, and a Gaming Mode that disables the Windows, Alt+Tab, or Alt+F4 keys.
It sounds nice, and works sufficiently well – when it does. The Synapse software clocks in rather inconsistent performance, from buggy executions to the need for reboots. Occasionally, it fails to save macros, and creates new mouse and keyboard profiles; other times, it crashes, freezes, or uninstalls itself upon launch and during the adjustments of settings. For newcomers, the UI can be a little unintuitive as well, so it'd take some time for them to familiarise themselves with the software.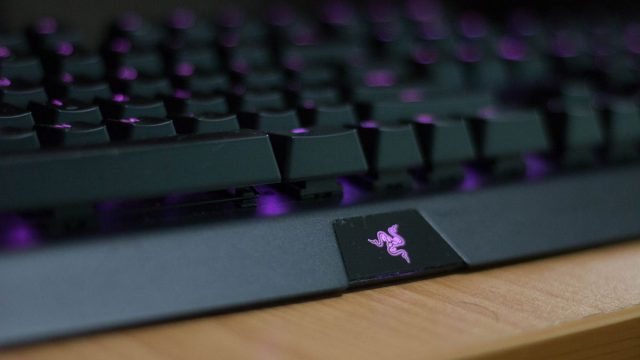 An all-around attractive package, the Razer BlackWidow Elite is a much appreciated improvement from its predecessors, and the best member to date. It comes with a rich feature set in tow, with each bell and whistle delivering functional, worthwhile utility – barring a few flaws along the way. Top-tier quality and sharp prices come in a pair, however, and this tank of a keyboard stands in at a whopping S$279.90, although that shouldn't deter the more hardcore Razer gearheads from buying it. The keyboard is a remarkably solid choice, after all.
GEEK REVIEW SCORE
Summary
The BlackWidow Elite is, hands down, the best of its kind. Perfect for gaming and ideal for everyday productivity, it's most certainly an investment at such a competitive price, but comes with the promise of premium quality, aesthetics, and functionality. Still, it surpasses expectations by a fair bit, and looks set to be the final product of what the whole brand has been building towards. Razer's got Elite pegged down, no doubt about that.
Aesthetics -

8.5/10

Build Quality -

9/10

Performance -

9/10

Value -

7.5/10

Geek Satisfaction -

8.5/10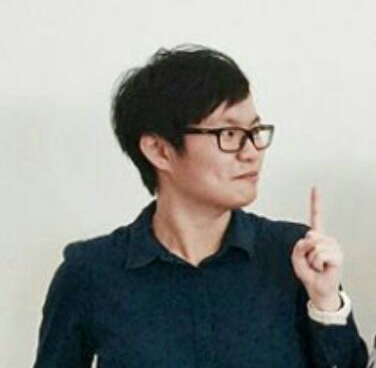 Si Jia is a casual geek at heart – or as casual as someone with Sephiroth's theme on her Spotify playlist can get. A fan of movies, games, and Japanese culture, Si Jia's greatest weakness is the Steam Summer Sale. Or any Steam sale, really.
---

Drop a Facebook comment below!
---