These days, it's not uncommon for one to associate premium wireless earbuds with the following features – active noise cancelling, in-ear detection, water and sweat resistance, touch controls, and at least 6 hours of battery life.
And while some of the features are relatively new compared to typical entry-level bluetooth headsets, this particular market segment has seen a meteoric rise in recent years, due in part to advancements in technology, and also because these premium features are missing from cheaper alternatives from China and audio brands want to stand out.
Over the past few years, the truly feature packed wireless market has been dominated by the likes of Apple, Sony, Sennheiser and Jabra and this year, a new challenger has entered the fray: the Google Pixel Buds (the new and improved version, at least).
And by new and improved, we actually mean the only version, as no one really remembers the relatively middling first edition of the American company's bluetooth earbuds from 2017. Even in 2020, Google is still best known as a software company, though it has certainly hit the spot with its Pixel smartphones in recent years. While it has some strengths in the smart audio speaker market, it's still pretty much an underdog in the overall audio market. But if it's learned anything from its very first iteration of the Pixel Buds, it's that the company now knows what works and what doesn't.
The bottom line? These earbuds are essentially the AirPods of Android smartphones, and for good reason. While it lacks ANC, the Google Pixel Buds more than makes up for it by getting the fundamentals right, and providing a breadth of utility features to boot.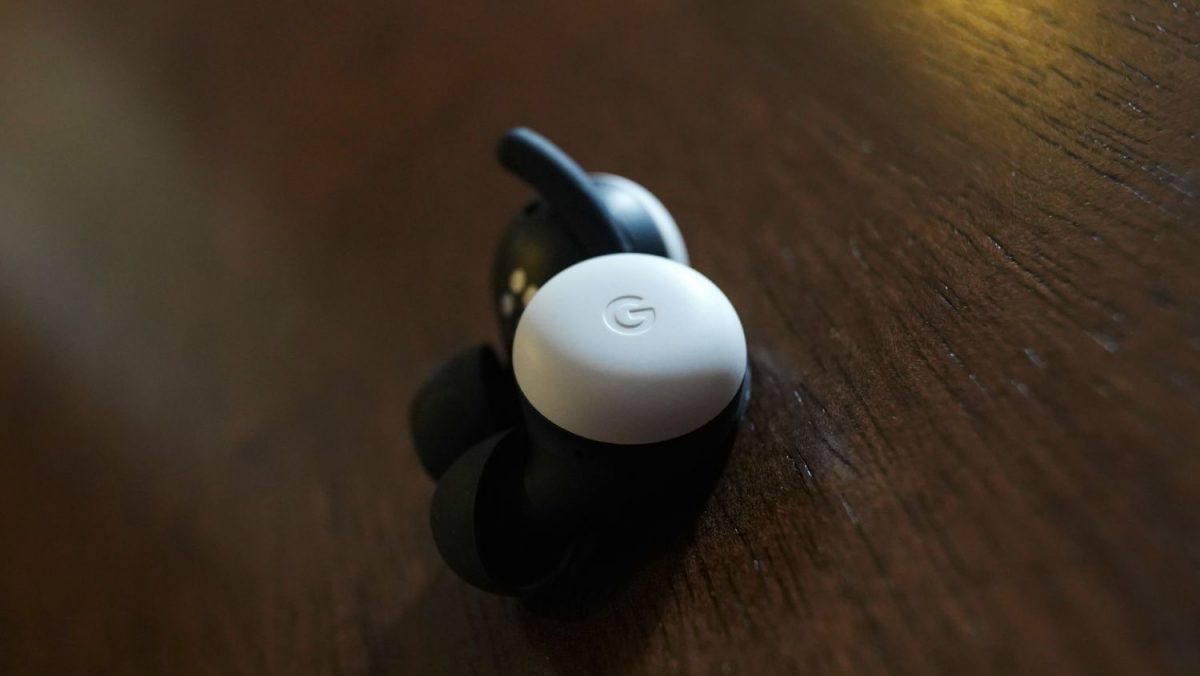 For the longest time, Android users have struggled with getting the "perfect" pair of earbuds that integrate seamlessly with the operating system. For years, the fence on Apple's side has looked ever so green, with the AirPods being tailor-made specifically for the iOS ecosystem. And with the new Pixel Buds, we have just the answer to Apple's cotton bud-lookalikes, and maybe even then some.
Each pair sports a clean matte white-with-black colourway, with the small G logo etched onto the white outer face of each earbud, which themselves resemble a pair of Mentos when worn. The dark side of each earbud sports a silicone fin which purpose is to provide additional stability and security while wearing by "hooking" onto the underside of your ear.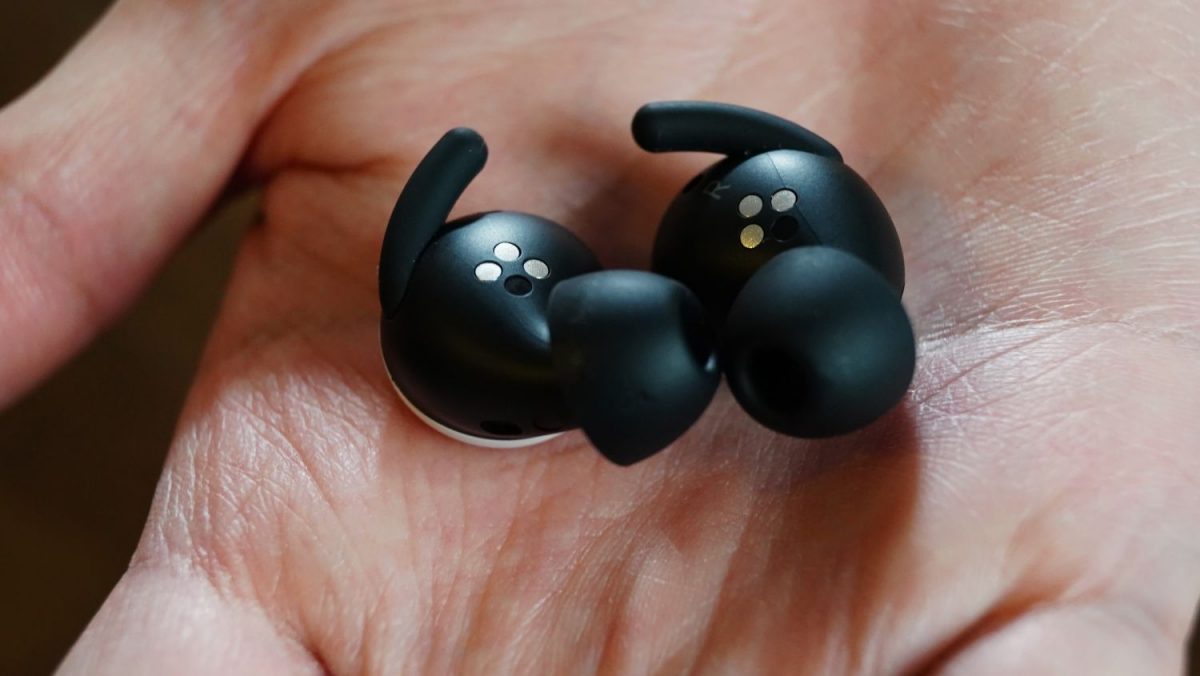 Wearing the Google Pixel Buds is a generally simple feat; simply twist them into your ear, and you're good to go. Despite the white colour, these earbuds are actually quite low-profile when worn, and don't jut out awkwardly like the notoriously bulky WF-1000XM3s, which greatly reduces its risk of being knocked out of your ears accidentally.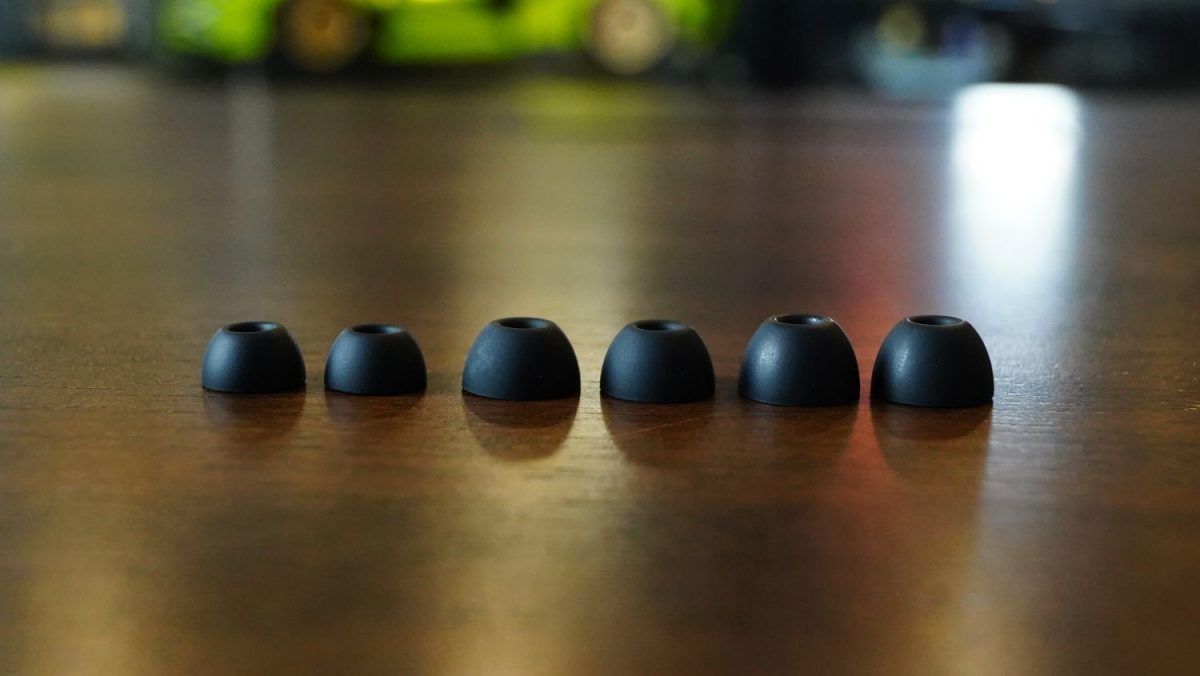 The fit is actually quite snug, thanks to the ear fins, and holds up really well, even after shaking your head and jumping around a few times. After all, this is also designed for workouts, given its IPX4 rating, so keeping in place is one of its jobs on a physiological basis.
However, its fins tend to dig uncomfortably into the flaps of the ear after about an hour or two, so power users beware, as it might end up in a pair of sore ears after use. Perhaps if Google made the fins a little softer, or at least a little flatter, then it could still do its job of keeping the Pixel Buds in place without compromising on comfort.
The Pixel Buds come in an egg-shaped charging case for the earbuds, which is about a third smaller than the AirPods Pro case, and about half the size of the Sony WF-1000XM3's. From our own comparisons, this might actually be one of the smallest cases for a pair of wireless earbuds, and it instantly makes the Pixel Buds one of the most portable audio peripherals since the original AirPods.
Opening them up, the earbuds pop into the case with a satisfying magnetic snap, the lid of which closes with an even more satisfying snap (you don't want to know how many times we played with the case like a castanet). The magnet is strong enough to prevent the Pixel Buds from falling while shaking it upside down. And to top it all off, the case comes with a USB-C charging port, and Qi wireless charging support. For S$269, it's quite a steal compared to most other top-tier wireless earbuds already, simply for this function.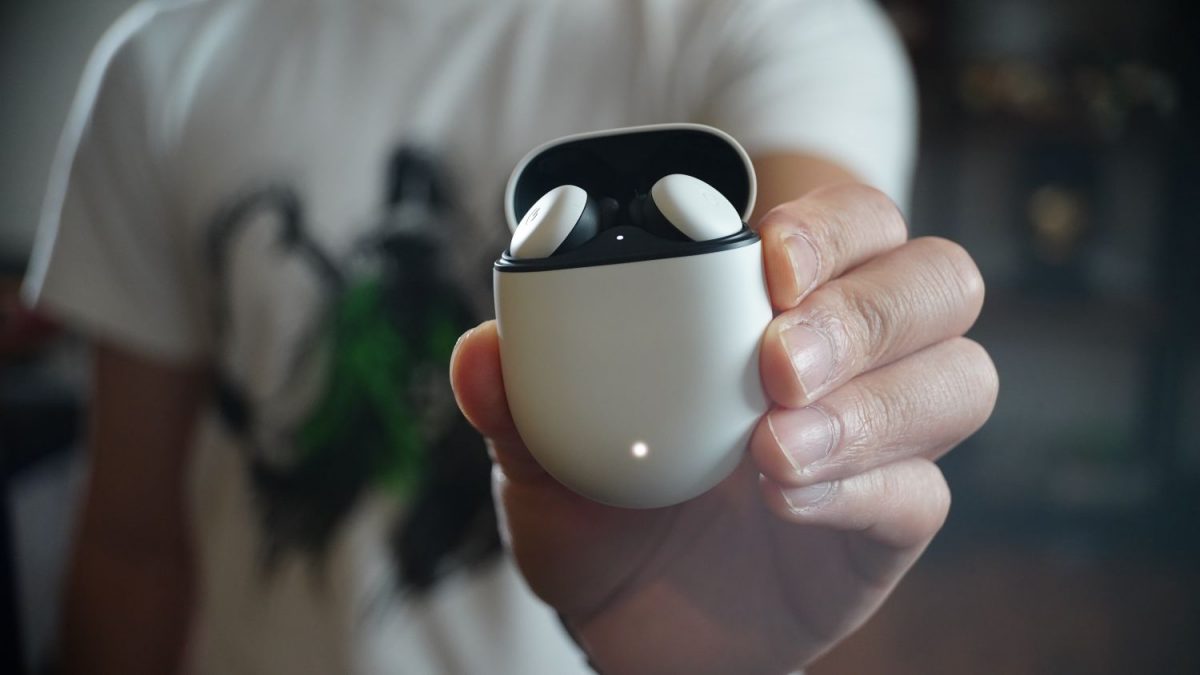 That said, though, the Pixel Buds has a relatively short battery life of about 5 hours, compared to its other contemporaries, which have at least 6 hours minimum. Thankfully, when using the charging case, they can last up to 24 hours of listening time, which is still decent for a day's worth of travel. There's something about Google and horrible battery life, and it sadly hasn't picked up the slack from the Google Pixel 4 with this one. This relegates the Pixel Buds to short bursts of use in the commute, exercising, or just catching a few episodes of a show.
But of course, what essentially makes or breaks the Google Pixel Buds is its in-ear capabilities. Pairing the earbuds themselves is, like the case, a really snappy process, regardless of device. When connecting to an Android or Google Pixel smartphone (with Android 6.0 and above), simply lift the lid of the charging case (with the Pixel Buds still inside), wait for a pulsing status light in the case, after which the Pixel Buds icon will appear on the screen, prompting for pairing. Simply tap it and the Pixel Buds are paired to your Android phone.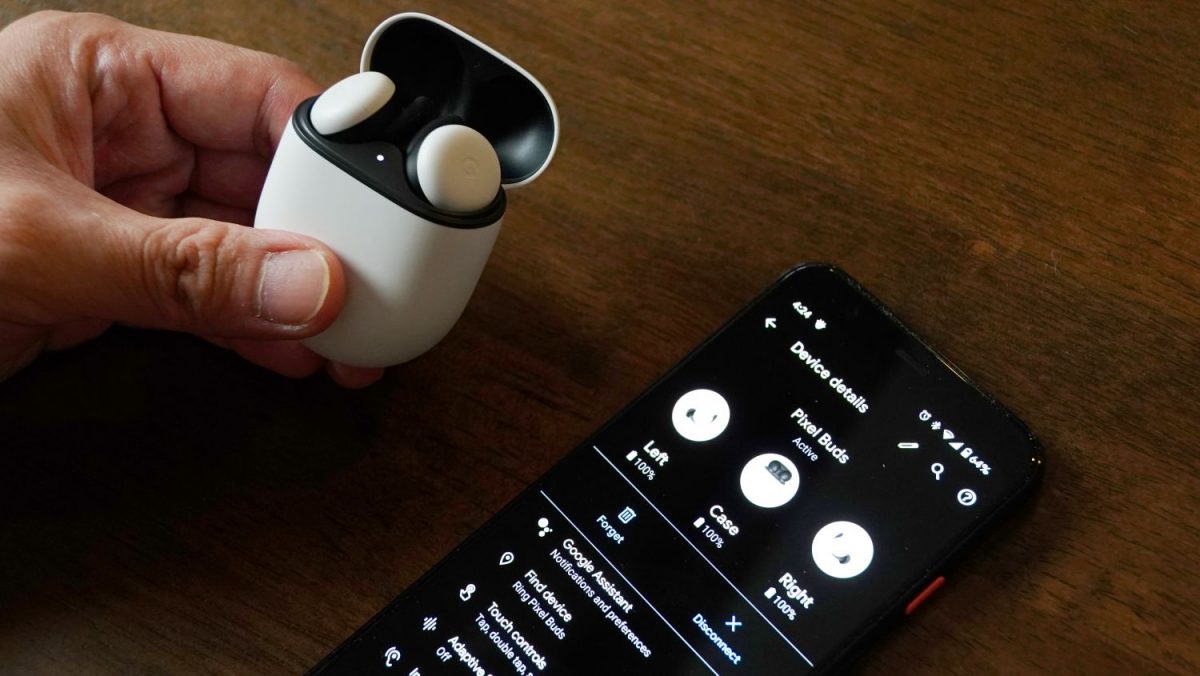 This process is also relatively simple when connecting to other Bluetooth devices (yes, even iPhones); simply press and hold the little button on the back of the charging case while it's open for a few seconds, and the option to pair with the earbuds will pop up.
What's interesting is that the Pixel Buds' Bluetooth 5.0 connectivity is hot-swappable, meaning that the need to manually disconnect it from the previously-paired device to pair to another one is completely eliminated. This is extremely convenient, once you've set up all your paired devices (up to a total of six), so you can seamlessly switch between each one without much hassle.
Navigating through the controls on the Pixel Buds is a straightforward process. The white face of the earbuds themselves support haptic feedback, with forward and backward swipes to raise and lower the volume respectively (this works for desktops and laptops as well), and single and double taps to pause and play respectively as well. This can be done on either ear, by the way, making it really convenient to use. For Android smartphones, pressing and holding on any earbud activates Google Assistant, which is always nifty if you need a quick way to access it (more on that later). The control functions on the Google Pixel Buds are rather intuitive and for that reason, make them more convenient to use compared to its direct competitors in the market.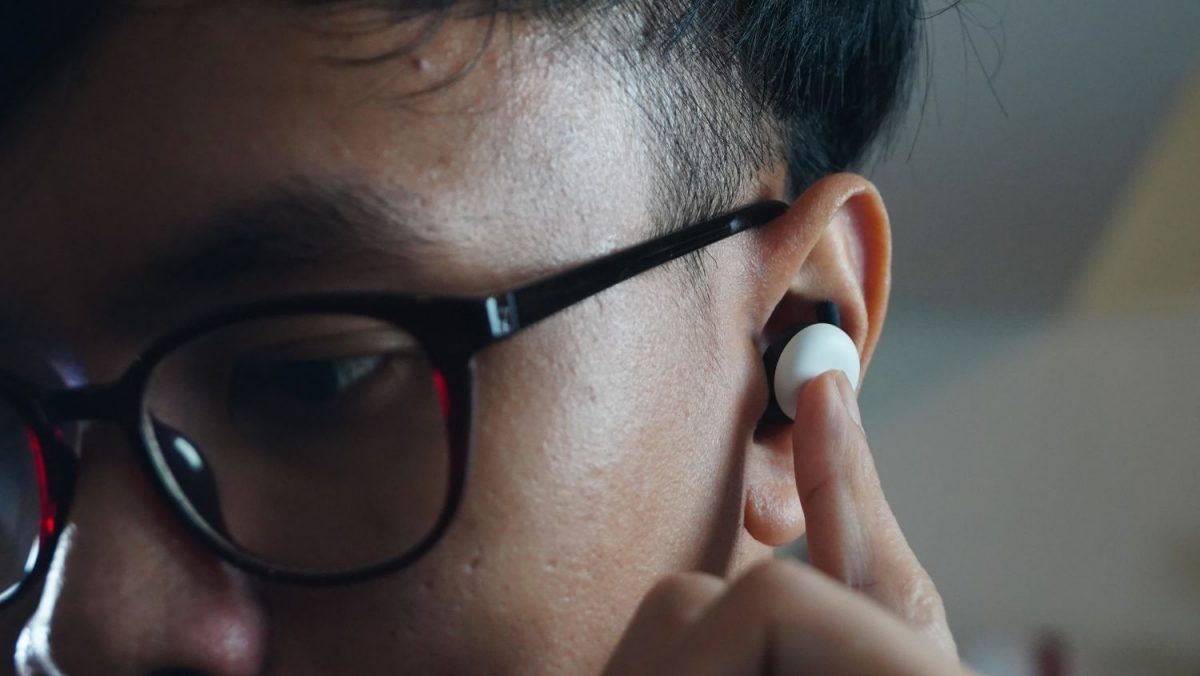 Listening to music on the Google Pixel Buds is a relatively pleasant experience. With Google's custom 12mm dynamic speaker drivers powering these earbuds up, the sound that comes out of it is generally warm and bright, and holds up well in generally every music genre, as well as when watching movies and shows on Netflix or YouTube. The separation from highs, mids and lows is quite solid, allowing for easy listening across all mediums. However, it lacks the bassy girth that makes the likes of the Sony WF-1000XM3 or the Apple AirPods Pro edge out in terms of dynamic range, leaving those aspects of the audio much to be desired, even when turning up the volume.
In essence, the audio from the Pixel Buds is decent, but nothing breathtaking that it takes any of the top performers out of commission. Google still has much to learn in that regard, though it clearly didn't go down without a fight. This is something the Pixel Buds could have benefited from with a dedicated app to let users adjust the EQ to suit their aural needs. Unfortunately, Google decided to do away with it in the name of convenience, but even then, casual users probably wouldn't have minded the additional flexibility a dedicated app would provide.
The lack any active noise cancelling may put off the most hardcore of audiophiles, but it makes up for it with surprisngly superb passive noise cancelling, thanks to Google's Adaptive Sound feature. From experience, a typical day out in the hustle and bustle of Singapore allowed us to focus on our music without distraction, while still being able to catch the sound of oncoming traffic. It's that good, and though ANC is clearly the endgame for all audio devices, we can let it slip in this case, simply because of how well Google managed to get the passive noise cancelling done.
Call quality on the Pixel Buds is generally decent; folks on the receiving end get a slightly muffled sound, but on the other hand, users can hear the other person surprisingly clearly. It seems that Google has yet to perfect the microphone on these earbuds, but at least they've managed to find a way to ensure that users get a good earful from whoever's on the line.
At the very least, Adaptive Sound works quite well when you're on a call; it artificially blocks out external diegetic sound in order to boost your voice. From what we've tested, receivers on the other end could pick up voice quite well even while traffic was zooming past us. However, the lack of ANC kind of hurts the Pixel Buds' effectiveness here, as the other person then would be muffled by the environment around us. Of course, we don't imagine users will be on call in such environments all the time, but this is one of the instances where having ANC would have benefited the Pixel Buds much better overall.
But of course, the Google Pixel Buds isn't all about the listening; after all, what is a Google product without flexing its software muscles? As the audio device of choice by the company that developed Android, these earbuds certainly live up to the moniker of being the long-awaited AirPods of Android. Its integration with Google Assistant is the most seamless of any piece of audio equipment to date.
Activating Google simply requires the aforementioned press and hold gesture, or by simply saying "Hey, Google" when wearing the Pixel Buds. This, then, turns your phone into a version of Tony Stark's J.A.R.V.I.S, letting users navigate through the Google Assistant feature, such as checking the weather, getting directions from Point A to B, or even booking a cab, after which results will be delivered via voice. Voice notifications can even be set, freeing the need to fetch your phone from your pocket or the deep recesses of your bag to be able to access messages and the like.
What takes the cake here, in our eyes, is that Google Assistant on the Pixel Buds even lets you use Translate like never before, letting you translate spoken languages in real time after locking in the specified language. Simply say "Hey Google, help me speak [insert language here]", and it will literally translate spoken languages in the earbuds itself. Initially, we were a little skeptical about this feature, but after just a few days of use, the real-time translation feature certainly holds up to the hype (granted the speaker you want to translate is in an environment where they are audible enough for the Pixel Buds' microphone to pick up), with surprisingly decent accuracy with most sentences. This will certainly be a massive plus when out and about in a country whose native language is one you're unfamiliar with.
Google Assistant on the Pixel Buds is literally taken to a whole new level of intuitiveness, it's scary just how seamless this integration is. But this just shows how good Google is at implementing software into its hardware. Now it's just a matter of improving the hardware, and we'll have ourselves a perfect product.
But for now, the current Google Pixel Buds are A-Ok, in our books. Google has really come a long way in the hardware department, having developed such a handy tool that can produce decent sound and even better utility functions. It still has quite a bit to improve on though, mainly on boosting the bass and volume capabilities of the drivers, and, to a lesser extent, giving it proper ANC.
Normally, we'd say it'd be a scam to pay almost S$300 for wireless earbuds that don't have ANC and relatively poor battery life, but the Pixel Buds gets so much right that these faults are essentially moot. Until Google comes up with the next iteration of these wireless earbuds, it's safe to say that the Google Pixel Buds are here to stay for some time, and provide good competition, at that.
You can buy the Google Pixel Buds for S$269 from the Google Store from 14 July 2020.
GEEK REVIEW SCORE
Summary
Despite not boasting the most powerful audio drivers in the market, the Google Pixel Buds more than makes up for the lack of sheer aural horsepower with a host of utility features that actually could see a ton of day-to-day use.
Aesthetics -

9/10

Build Quality -

9/10

Performance -

8.5/10

Value -

8.5/10

Geek Satisfaction -

9.5/10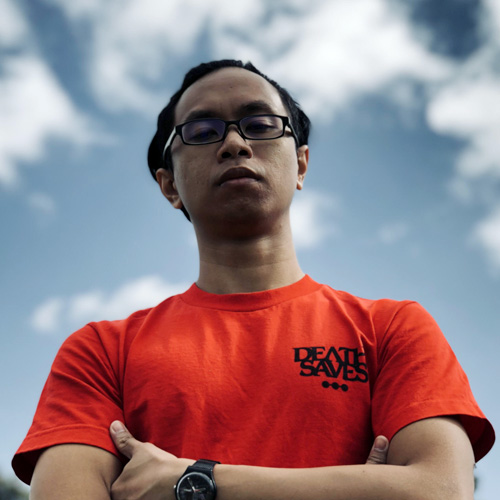 Marion has a serious RPG addiction. Sometimes it bleeds into real life; he forgets to sleep because he thinks he has a Witcher's body clock. Forgive him in advance if he suddenly blurts out terms such as "Mind Flayer" and "Magic Missile", because never once does he stop thinking about his next Dungeons & Dragons game.