Once you go wireless, you'll never want to go back. The experience of not being tethered by a wire to your device is so incredibly freeing that going back to regular earphones feels uncomfortable. Ancient! Constrained! Those tangled wires! And with so many of the latest smartphones ditching the 3.5mm headphone jack, it might be high time for users to ditch wires altogether.
The Jabra Elite 65t comes neatly packaged in a slide-out box containing the earbuds nestled in a molded compartment, a charging/carrying case, 2 extra pairs of silicon earbud tips of varying sizes, a micro-USB charging cable, and a quick start manual.
The charging/carrying case weighs 67g and is compact enough to be carried in your pocket with ease. The comma-shaped earbuds look stylish and feel comfortable when worn. Insert the earbud into your ear and twist it such that the comma's tail, which houses the microphone, points downwards.
The earbuds are lightweight (left 5.8g, right 6.5g) and fit snugly in your ear, with the option of larger or smaller sized tips for a better fit with your ear shape. They are so comfortable that with the freedom of no wires, it's easy to forget they were in my ears even after wearing them for a few hours straight.
Throughout the review period, the Elite 65t remained firmly in place, even when my head was shaking around, head-banging to heavy metal music. They boast a 5-hour battery life, and the charging case holds 2 full charges, giving you a total effective battery life of 15 hours.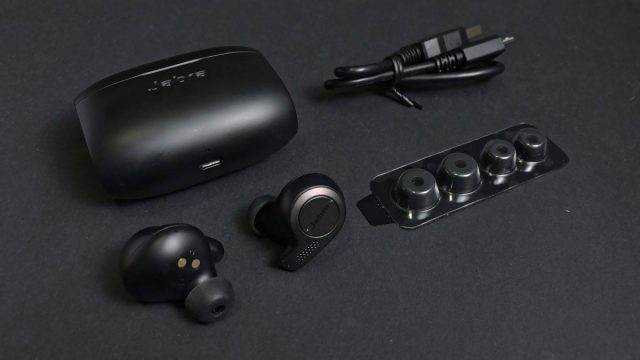 The 5-hour battery life claim seems accurate, as the earbuds were able to power me through half a workday. Place them into the case to charge, and they take about 2 hours for a full charge. Rapid charge also gives you 1.5 hours of battery with only a quick 15-minute charge – enough to get you through your run or commute. The charging case itself can be charged via micro-USB, and also takes 2 hours to charge fully.
Placing the earbuds in the case turns them off while removing them turns them on. They also automatically connect to any previously linked available Bluetooth device. Setting up the Bluetooth connection is effortless, simply select 'Jabra Elite 65t' in the Bluetooth menu and you're good to go.
The earbuds can connect with smartphones, laptops, desktops, and iPods seamlessly, although switching from one to the another can be a bit troublesome as it requires you to turn the earbuds off and on again.
Unlike its sister product, the Jabra Elite Active 65t, Jabra has emphasised that the Elite 65t is more ideal for calls and music, rather than sports. However, it is still equipped with an IP55 rating for water and dust resistance, so it is likely good enough for your run as well.
The Bluetooth connection remains stable with your phone in your bag or pocket with minimal audio drops, and a wireless range of up to 10 metres.
Voice quality during calls is crisp and clear both ways, making the Elite 65t excellent for phone conversation. The same clear sound quality is also delivered when watching movies or listening to podcasts.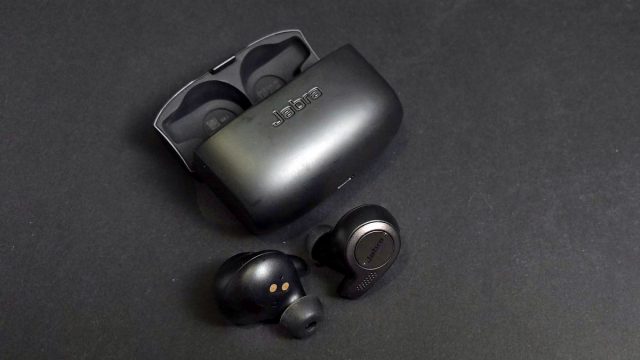 On the other hand, the Elite 65t is found wanting when listening to music. I tested the highs with Queen's Bohemian Rhapsody, and lows with Believer by Imagine Dragons. The bass quality is disappointing, while songs with lots of treble sound jarring to the ears. Listening to music without any equalizer settings is not enjoyable, and overall, the sound lacks depth.
Employing the equalizer is a must, but if you're like me, and don't exactly know what each bar on the equalizer does (really, who does), then the process of finding a combination that pleases your ears is a finicky one. At best, after using the equalizer, music with the Elite 65t is merely acceptable, and lacks any oomph or dynamism.
That said, once you press play, you'll escape into a world of your music as the noise cancellation is impeccable. I couldn't hear a hint of outside noise while on the train, and voices of people chatting around you are completely cancelled out. Music is paused when you take one side out, and resumes when you wear it again.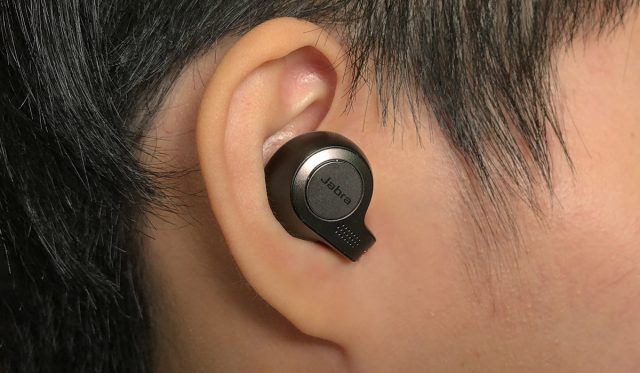 If you're using the Elite 65t with a smartphone, I would highly recommend downloading the Jabra Sound+ companion app. It has multiple additional functions, including an equalizer to personalise your music, modifications for calls (enhance treble/bass, toggle how much of your own voice you want to hear), as well as HearThrough customisation.
HearThrough allows for a hybrid mix of noise cancellation, letting you adjust the level of ambient noise you want to hear. While the concept is great, it doesn't sound fantastic, as you mostly just hear quite a bit of a "shhhh" noise, almost like the sound of heavy rain in the background, as the audio is filtered through the earbud's microphone.
As for buttons, the Elite 65t has one on each earbud, and button functionality is simple and intuitive. On the right earbud, you turn it on/off with a long press, press once to pause/play music, and press twice to switch the noise cancellation feature on and off.
On the left, press the top or bottom half of the button to increase or decrease volume respectively. To skip to the next song, press and hold the top of the button, and do likewise on the lower half of the button to return to the previous song.
The Jabra Elite 65t ticks many boxes in terms of its design, comfort, and functionalities. At S$268, the Elite 65t is priced at the mid to high end of true wireless earbuds, just a tad higher than the S$238 Apple Airpods. It is available for purchase on Jabra's online store or at most electronic retailers such as Harvey Norman.
The biggest drawback would be its so-so sound quality for music, although that can be somewhat remedied with a music equalizer. Good enough for your daily commute, but audiophiles might want to think twice picking this up.
GEEK REVIEW SCORE
Summary
Lacking in terms of dynamic music quality, but otherwise the Jabra Elite 65t is a comfortable pair of wireless earbuds with top-notch noise cancellation, good enough for everyday use.
Aesthetics -

8.5/10

Build Quality -

9/10

Performance -

7.5/10

Value -

7/10

Geek Satisfaction -

7/10