I am woman, hear me roar.
Disney has been on a roll lately with their female-led movies, from the Oscar-winning Nomadland, to their first-ever Southeast Asian-led Disney princess animated film, Raya and the Last Dragon. That hasn't stopped the world's biggest movie studio from digging deep into its library and instead of focusing solely on the heroes, it peered into its deep well of evil, and who better to take the lead than one of the evilest characters to ever exist in the House of Mouse – Cruella de Vil. 
Audiences know of her as the killer of dalmatians and maker of stunning spotted fur coats from the animated movies and two earlier live-action films starring Glenn Close as the mistress of evil, but Disney's Cruella delves into the origins of the famed fashion designer and the making of her genius. Set in 1970s London where Punk is in and skirts are pencil-thin, viewers are introduced to little Cruella – whose real name is Estella – as she snarkily narrates her difficult childhood of being bullied, shunned away for her weird half-toned hair, and how she ultimately ends up with her accomplices-for-life, Horace and Jasper. 
Following a brilliant opening sequence that is funny, heart-wrenching and beautifully executed, we see the young Estella swing into a fashion show Tarzan style and later grow into a young adult played by the talented Emma Stone. In order to support her livelihood after the childhood tragedy of losing her mother (how very Disney), Estella embarks on brilliantly executed robberies alongside her dog Buddy, Horace (Paul Walter Hauser), Horace's dog Wink, and of course, Jasper (Joel Fry). Decked out in costumes made by Estella herself, Cruella really sets a foundation on how fashion-forward and creative the character is. Every tiny scene is crafted solely to explore and explain Estella's eye for fashion and determination to make it in the industry. It's very Project Runway, where the girl can make a frock out of anything except instead of fierce competition, there is only love as the trio grow closer together as a family. 
Cruella then takes on Devil Wears Prada approach when we see Estella with her foot in the door of the cutthroat fashion industry, getting lunch and slicing cucumbers for the film's next big female character – the Baroness (Emma Thompson), where audiences get to see some Emma on Emma action. Thompson's Baroness is cold, hard and cutting with her words, firing people and breaking down one's sensitive ego with a beautifully winged side-eye. Where Meryl Streep's Miranda Priestly pucks her lips whenever she's unhappy, the Baroness gives you a side-eye instead and your career is officially finished. 
Whilst Stone is the star of the movie, Thompson comes at a close second. Fry and Hauser's portrayal of Cruella's henchmen Jasper and Horace are far more enjoyable than their animated counterparts, and the rather deep relationship between Cruella, Jasper and Horace is the most surprising and more welcomed relationship development in the movie.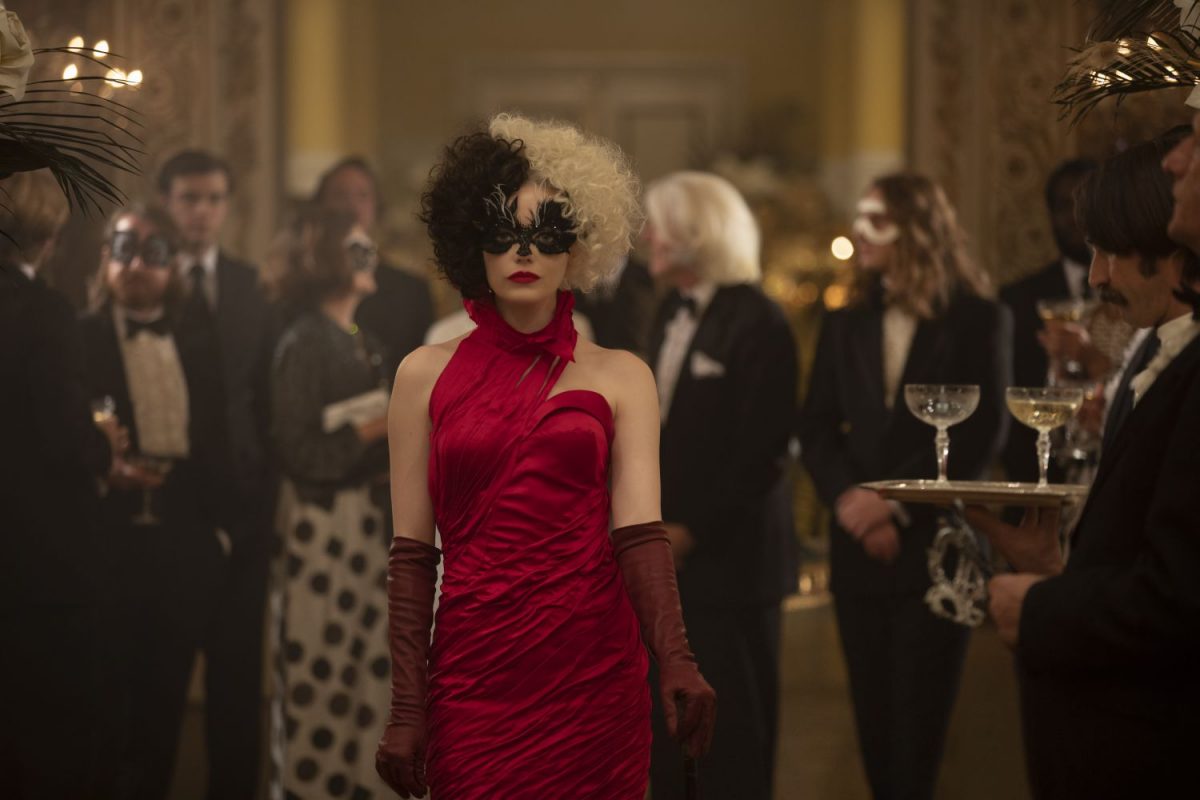 In many ways, Cruella is a movie about a small town girl heading to London with dreams of becoming a fashion designer. It's the fashion-focused chick flick that sits with top-tier films like Devil Wears Prada and Confessions of a Shopaholic, and unlike the mentioned movies, the fashion in Cruella is easily art. But like TV's Smallville, audiences already know how the story of our small town character ends.
Bold and wild, Estella's crash into the fashion industry depicts a time in the 1970s where British Punk Rock culture reigns supreme and is a major influencer in all aspects of culture. Where bands like Blondie and The Clash sing about rebellion, fashion is equivalent to decking out in whatever makes you happy accompanied with a sturdy pair Doc Martens on your feet, and finally gender? What's that? It's all about expression, baby! Cruella's eventual becoming is mirrored with her increasingly artsy punk rock clothing creations and guerilla stunts that soon starts to take a toll on her family unit when she begins a rivalry with the Baroness.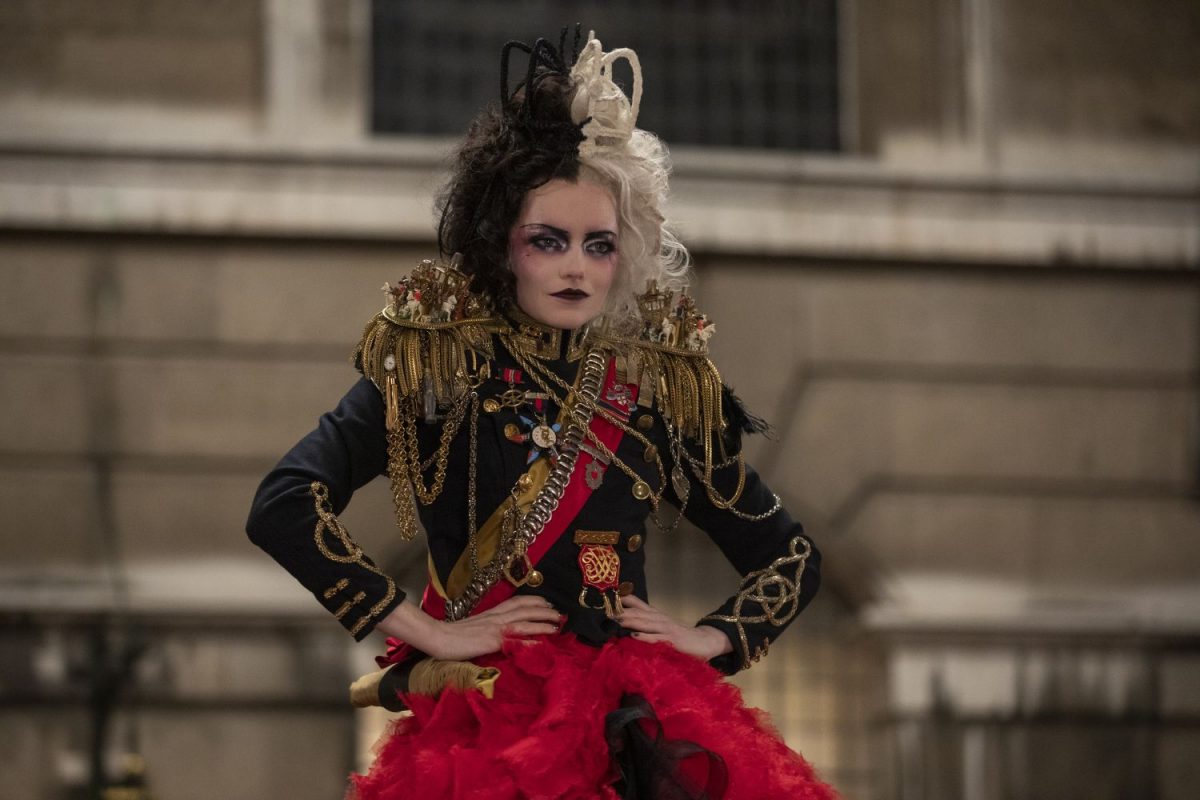 More than just fashion, Cruella shows how Estella gives in to her maniac and genius like a thrift flip. Except instead of remaking cheap clothes into stylish pieces, Estella flips from a sweet, witty and determined girl to the rude, bossy and mean Cruella. The movie has enough moments of heart, drama and comedy for it to be more than a fashion flick. After all, Cruella is on THE Cruella de Vil and as much as she is a revered fashion designer, she is a villain. Cruella plans heists, sabotages and plots disaster in order to achieve what she wants and along the way, viewers learn of Cruella's intentions and reasonings behind her craziness at a fashion ball that closely mirrors the opening scene where we saw 12-year-old Estella at a pivotal point in her life.
Everything comes full circle and film nerds who are attentive to visual clues and symbolism will be slow clapping to director Craig Gillespie's visual storytelling and genius. Nothing in this movie, not one scene, soundtrack, hair or even choice of footwear is without thought or meaning that explains a character's behaviour or builds the world in which Cruella takes place in. Of course, one does have to forgive Gillespie for some liberties he takes, including building a connected world of characters that borders too much on coincidence for its own good, to be able to tell an origin story that had its ending told decades ago.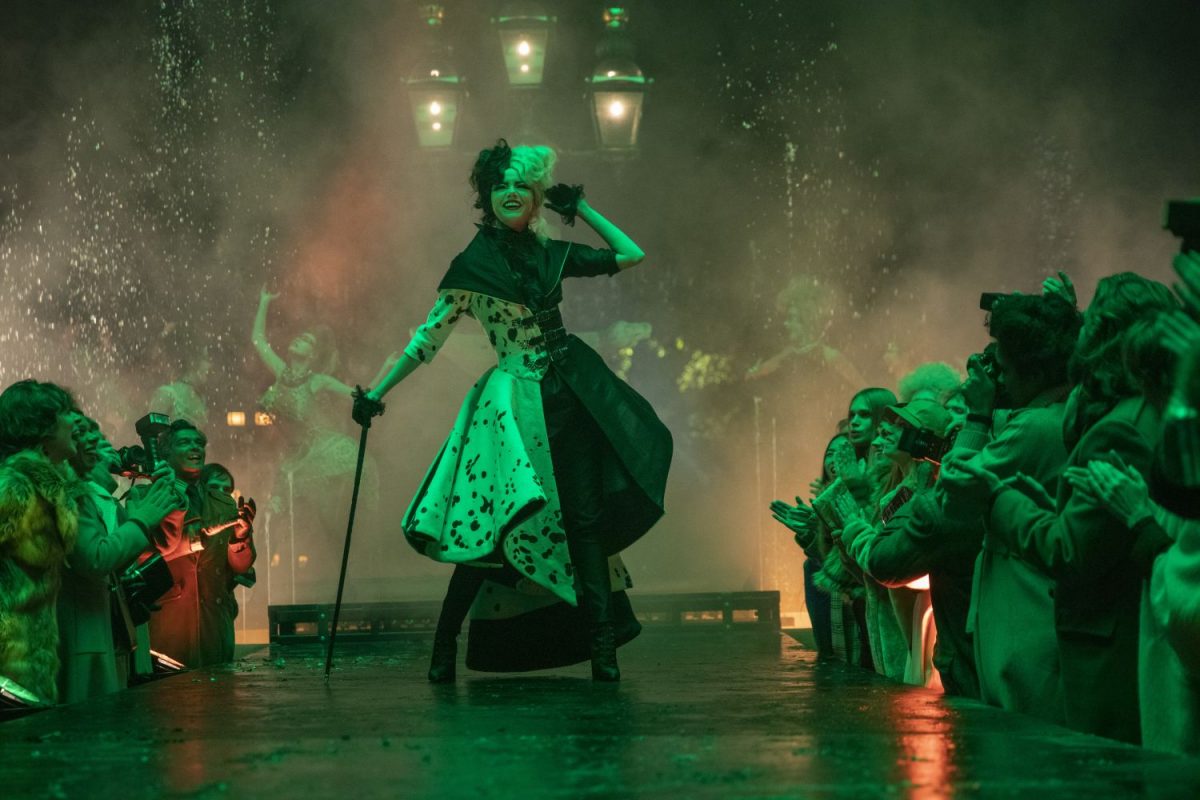 The fashion clothing pieces in this movie are jaw dropping beautiful and even normal costuming from Jasper's trousers to Horace's hat and Baroness' lawyer Roger's (Ayvan Novak) hair is time-appropriate and aesthetically pleasing. For a Disney film that is more "modern" and isn't fairytale-focused, the film's costume design and aesthetics are stunning.
Speaking of fairy tales, Cruella is narrated wholly by Estella/Cruella herself so viewers have to put up with Stone's subpar British accent. It seems like narration is something Disney is trying to apply more and more with Raya and the Last Dragon and Maleficent as past examples where we see the main character slip in and out of narration to tell their story. Oftentimes it's at the start and the end of the movie to give the movie a fairy tale book feel but unlike Maleficent, Cruella is a more "real world" film, and yet, it still works. Stone's commentary along the way adds wit and drama to the overall story and it's no surprise that Stone is an impressive Cruella. 
British accent aside, Stone brings charm, intelligence and an offbeat comical aspect to the evil and unlikeable villain. Even calling Cruella Disney's darkest film to date, Stone's balanced performance of pure evil and vulnerability is not how you would expect a reimagined Cruella to be but whatever idea you have in your head – this is better.
A completely original story, Cruella incorporates tiny eggs here and there that link to the beloved Disney classic, 101 Dalmatians. Cruella weaves Roger and Anita (Kirby Howell-Baptiste) from 101 Dalmatians into the storyline in both explicit and subtle ways. (Pssst, stay to the mid-credits to see more 101 references). These references fit in well into the movie without taking away the spotlight from Cruella's origins. In fact, they're so nuanced that only 101 fans will be able to spot it (pun intended).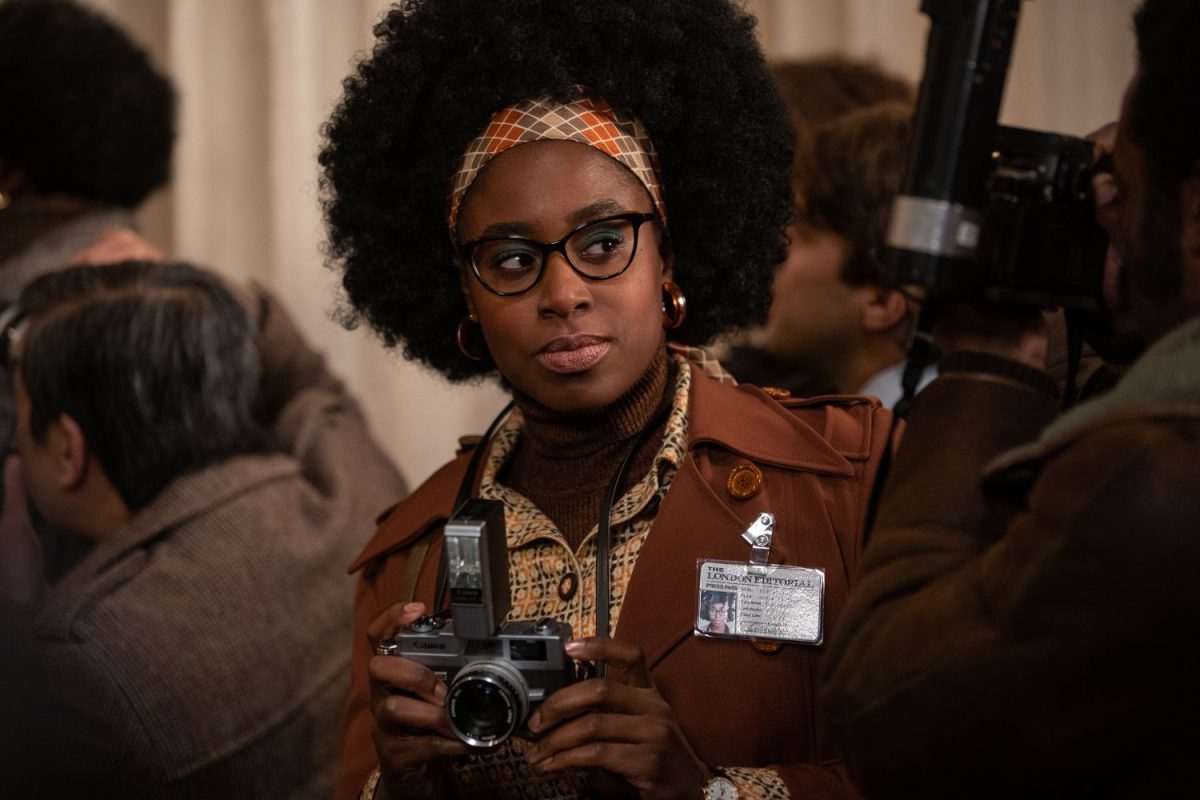 As the third installment to the Disney Villains' movie franchise – the first two being Maleficent and Maleficent: Mistress of Evil – Cruella is a breath of fresh air and a more fun and exciting take on Disney villains. Where Maleficent is a brilliantly dark and magical take on exploring the evil fae, Cruella is a joy ride that proudly revolutionizes the franchise. If Cruella de Vil is the future of fashion, then the edgy Cruella movie is the future of Disney films.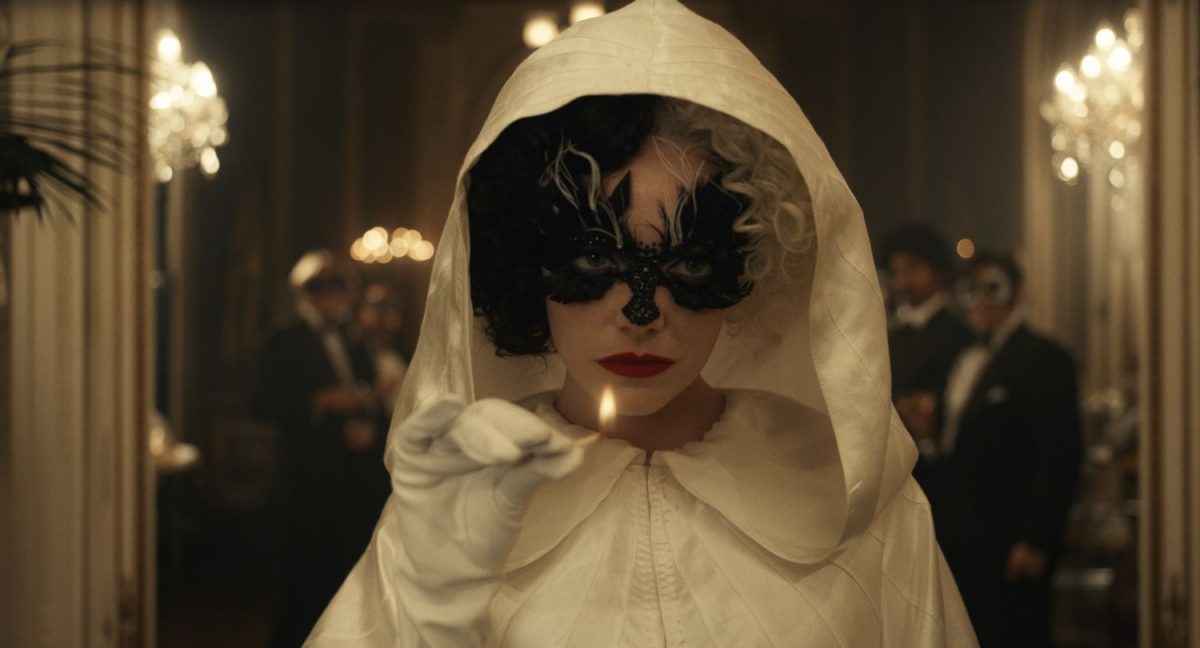 All in all, Cruella is an edgy, witty, and fun movie that changes your perspective on the evil villain. It doesn't make you aspire to be her, nor make you take pity on her. Cruella is unapologetic and all you can do as a viewer is to take in all her genius with awe. As Disney's very own de Vil Wears Prada (see what we did there?), Cruella's ode to fashion is *chefs kiss*. Costuming and production design in this movie is stunning with every little detail not only fashionable and aesthetically pleasing but also adds layers to the overall world and story. 
As the latest Disney live-action film inspired by the Disney Princess and Villains franchise, Cruella is the best thing to happen since Maleficent. One way, or another, Cruella is going to lose you into its wit and you won't want to quit.
Disney's Cruella releases in cinema on 27 May 2021, and Disney+ via premier access on 28 May 2021. 
GEEK REVIEW SCORE
Summary
Edgy, witty, fashionable and quick on its feet, if Cruella de Vil is the future of fashion, then Disney's Cruella is the future of Disney films.
Overall
9/10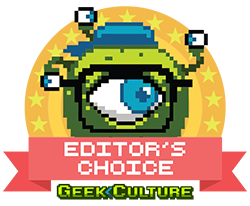 Story -

9/10

Direction -

9/10

Characterisation -

9/10

Geek Satisfaction -

9/10