Think model toys and the name Bandai, along with Gunpla, would pop up. The Japanese toy maker has long been known for their high quality plastic model kits for Gundam. You know, that science fiction series with big mecha robots piloted by humans… sound familiar?
So it's no surprise that they are also making model kits for Pacific Rim: Uprising, where technological might meets giant alien invaders.
Three Jaegers from the new film have been faithfully recreated in model form – Gipsy Avenger, Obsidian Fury, and Bracer Phoenix, and the sets in this review are the standard HG (High Grade) model kits. All three Jaegers also come in a slightly more pricey and limited edition Metallic version.
Packaging-wise, it's pretty standard as Bandai kits go. Simple cardboard boxes, no tape, with runners sealed in plastic. Every kit comes with the coloured plastic runners, stickers, and an instruction manual, which also includes a single sheet of assembly instructions with information on symbols used, recommended tools, and decal application tips.
The tools that we used for assembly were a set of nippers for cutting out parts, and tweezers for applying stickers. A penknife would also do the trick for cutting out parts, and comes in useful for trimming off remnant sprues.
No glue or adhesives are required, as Bandai's smartly engineered Snap Kits have pieces that snap together easily and securely. As stated before, Bandai is an expert in these, and the elegance of assembly is an art in itself.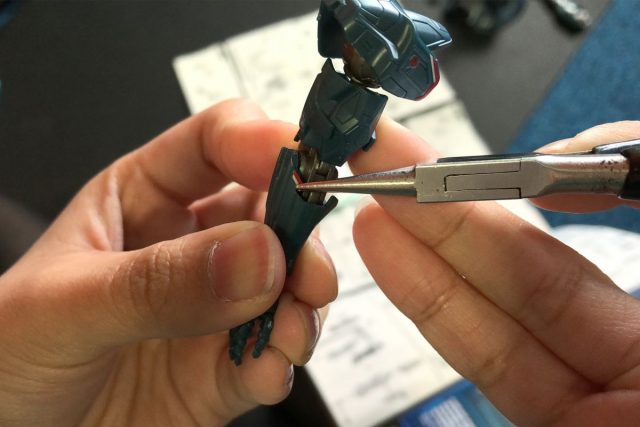 Text in the instruction booklet is in both English and Japanese, although assembly instructions are in pictures, and clearly marked with the part numbers.
Pictures in the instructions are identical to the actual piece, making it easy to follow along and attach pieces together. There are detailed instructions for the orientation of pieces, and which parts to attach first before others. They are sectioned into body parts – head, chest, waist, arms, and legs.
Whether you are a veteran to model kit building or a novice like me, the clear instructions make the building process straightforward and fun.
Pieces are easy to cut off and they attach to one another with precision. The total time taken to assemble each set was roughly 2-3 hours, inclusive of applying stickers.
Gipsy Avenger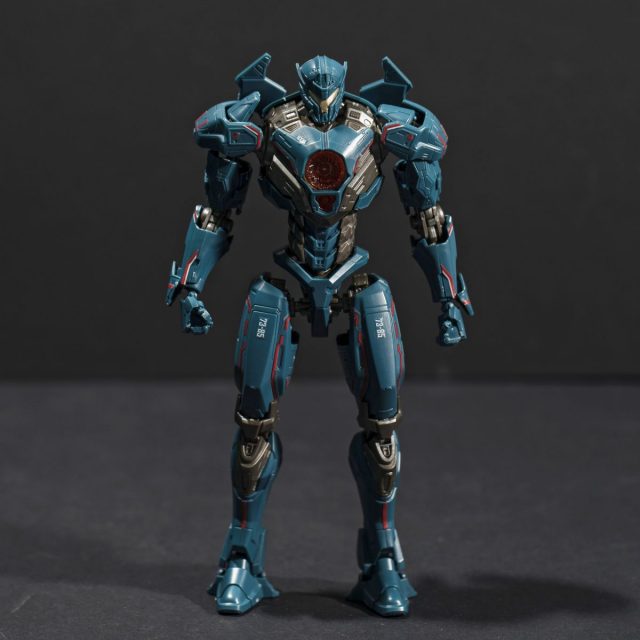 The Gipsy Avenger is the star of the show, piloted by Nate Lambert and Jacob Pentecost in the film. This kit has 4 runners – Parts A, B, C, and JTP-1 – which houses over a hundred pieces.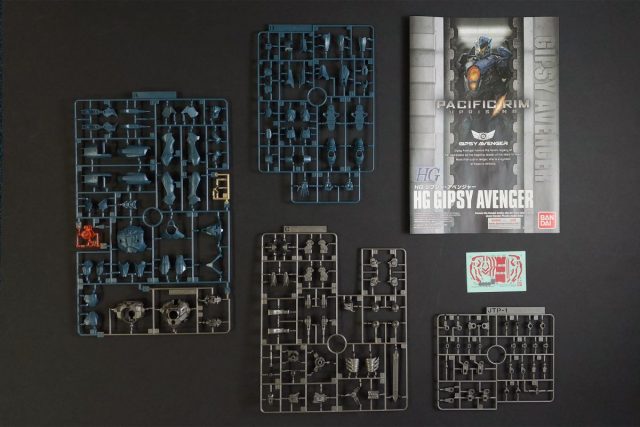 It comes with interchangeable pieces for the hands for you to choose between an open hand or clenched fist. Just like in the movie, you can also equip the Gipsy Avenger with a Gravity Sling, Plasma Caster, and Chain Sword.
The finished figure stands at 6 inches and the body parts are highly articulate. The head can look around, arms have hinges at the shoulder, elbow, and wrist for realistic movement, and legs can move at the hip, knees, and ankles.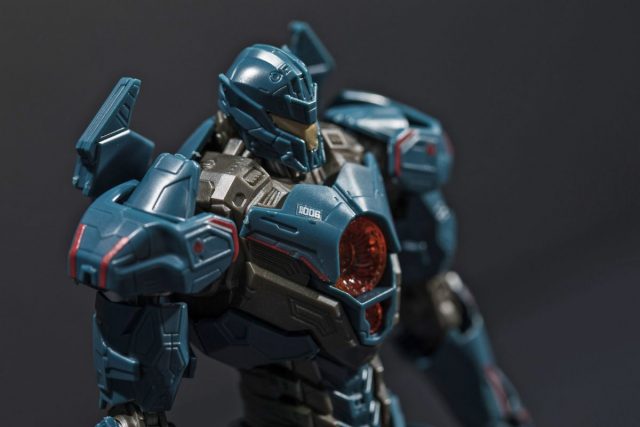 It can be posed in the iconic fistbump pose, do a facepalm, or even drop into an elegant split. The articulation is impressive, and lends itself to greater playability as it can be posed in all sorts of configurations, wherever your imagination takes you.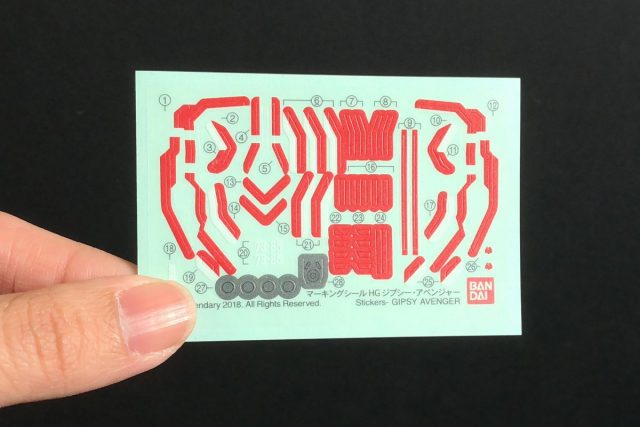 Stickers took quite a while to apply, as some are incredibly small, but it was worth the effort for how they all came together for the finished Jaeger look. Parts have intricate details and appear identical to the Gipsy Avenger in the film, from the blue and grey colouring right down to the red accent lines and numbers on the chest and thighs. There's even an option to attach an LED unit in the chest for a light-up dual vortex turbine, but the LED is sold separately.
Obsidian Fury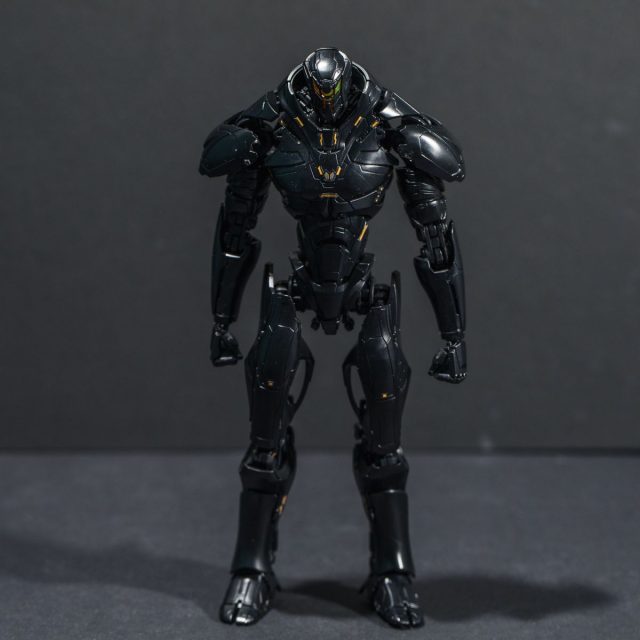 The Obsidian Fury is the mysterious Jaeger gone rogue, leading to epic Jaeger versus Jaeger battles in the film, using its twin Plasma Chainsaws. This set comes with 5 runners, 4 in black and a small runner in orange for the Plasma Chainsaws and face.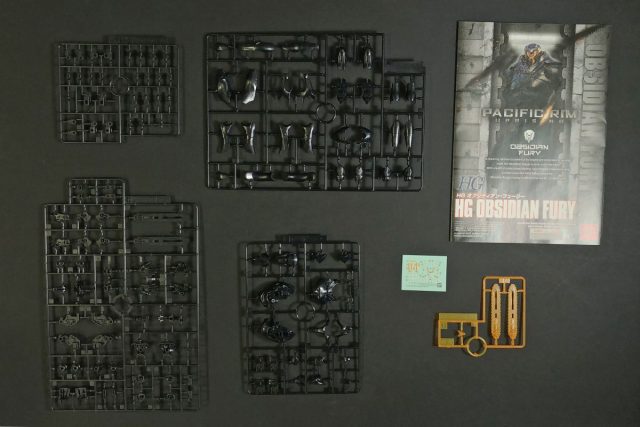 It stands a smidge taller than the Gipsy Avenger, at 6.5 inches, with longer appendages and a slim, lanky figure just like in the movie. There's an option to attach either the plain black or flaming orange Plasma Chainsaws, or alternatively you can leave them off. We went with the orange Chainsaws of course, as the translucent orange blades stand out against its sleek black frame.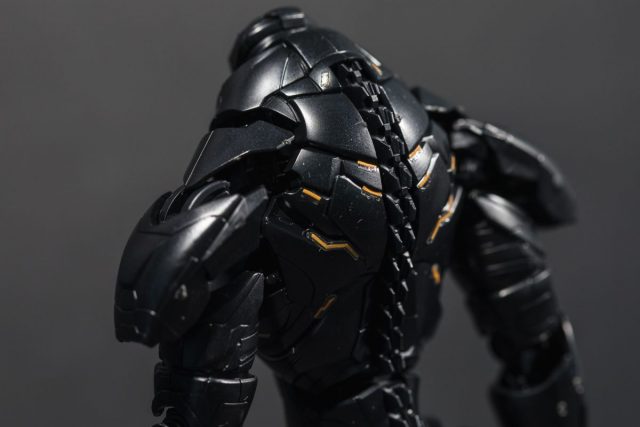 Assembly was straightforward, and the figure is equally as articulate as the Gipsy Avenger, with movability in the arms, legs, and chest. There were fewer stickers to apply than the Gipsy Avenger, making this set quicker to assemble. The stickers are mostly orange accents for the lights in the Obsidian Fury's armour, and give that much needed hint of colour on the otherwise plain black figure.
One small gripe with this set would be the pieces for the shoulder armour piece, as the sprues were placed on the portion facing forwards, leading to an displeasing, noticeable marking from where it was cut, even after trimming off the edges.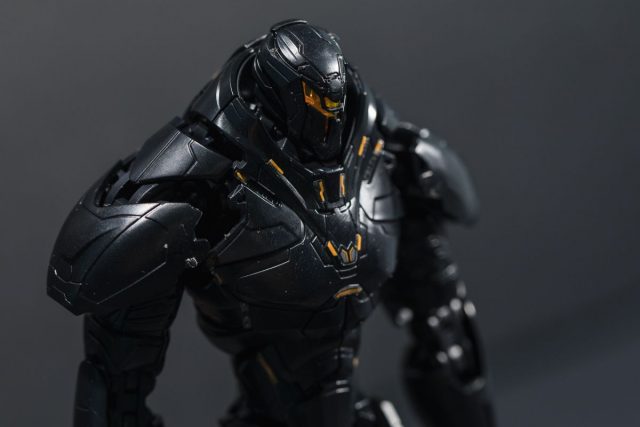 Most of the sprues are thoughtfully attached at less noticeable spots facing away from view, but this left a disappointing mark on the Obsidian Fury.
Bracer Phoenix
The Bracer Phoenix is the most challenging build out of the three. It has the most parts and most stickers, with 4 runners and over 40 stickers, and took over 3 hours to complete.
The short, stocky frame of the Bracer Phoenix's tough armour are recreated, and the figure stands shorter than the other two, at a little under 5 inches. Its size is rather underwhelming, while it is shorter in the film as well, it somehow looks puny compared to the Gipsy Avenger and Obsidian Fury, and not very menacing.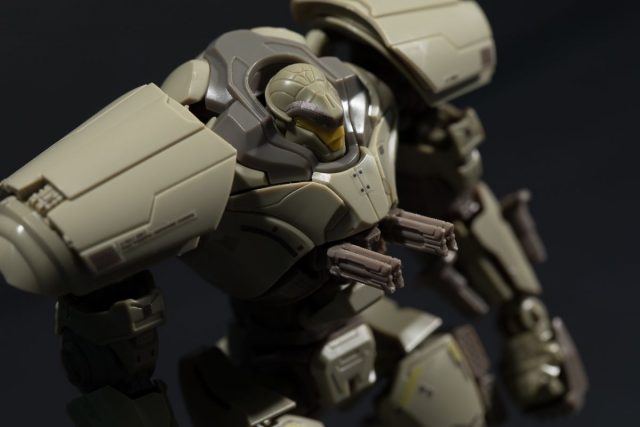 Interchangeable parts allow for the Vortex Railgun weapon to be equipped on the chest unit. The figure has so many intricate parts – the armour plates around the arms and legs, and the pieces adorning the left arm, making it look screen-accurate.
Its shorter frame makes it more stable to pose standing up, but the stockiness leads to less articulation than the other two. There's not much movement in the chest area, the head only looks up or down, and the short thighs means the figure cannot be posed in a seated position.
The armour colouring also looks a bit too bright and khaki for Bracer Phoenix, when compared to its grisly bronzed tone in the film. The canary yellow shade of the helmet visor would also look better with a more muted colour instead.
If I had to describe sticker application for Bracer Phoenix, only one word comes to mind – painfull. There are close to a hundred individual stickers to apply, some as small as the tip of a pen! The teeny pixel-sized stickers were a challenge to get off the tweezers and push into place.
There aren't any extras provided either, so misplace a miniscule sticker and it's goodbye forever, because you ain't finding it again.
But once you power through, all those tiny lines and dots really add to the realistic look, once again making it worth it in the end. But the best part of this kit? It comes with Scrapper, the adorable Jaeger built by Amara Namani. No construction needed – it's a teeny tiny piece, and isn't coloured, so some custom paintwork would be needed to make Scrapper look good.
If I had to rank the appearances and playability of the three, it would be Gipsy Avenger in first place, followed by Obsidian Fury, then Bracer Phoenix. But overall, the model kits were a joy to assemble, leaving you with high quality figures to play with or display. A must-have for fans of Pacific Rim: Uprising, the Obsidian Fury and Bracer Phoenix are both retailing at S$32, while Gipsy Avenger is S$27 at Toy Mana's online store.
GEEK REVIEW SCORE
Summary
Bandai impresses with their highly detailed, fun-to-assemble, and articulate HG model kits for Pacific Rim: Uprising.
Design -

9/10

Build Quality -

8/10

Playability -

8/10

Value -

8/10

Geek Satisfaction -

8/10
---

Drop a Facebook comment below!