In its heyday, the Halo series had a huge following of fervent fans who were enraptured with its rich multiplayer experience and single-player campaigns. Despite the change in developers over time, the franchise still managed to attain consistently positive reviews from players and critics alike and is arguably one of the more popular games around.
It's little wonder, then, that its fanbase is still going strong. With the latest installment being Halo Wars 2 in 2017, the series has experienced a renaissance of late.
Given all Halo titles are on Xbox Game Pass and are Xbox One X Enhanced, there's simply no lost love when it comes to Halo, and all Halo titles are also backward compatible. So now, we have a special giveaway reserved only for the worthiest of all enthusiasts!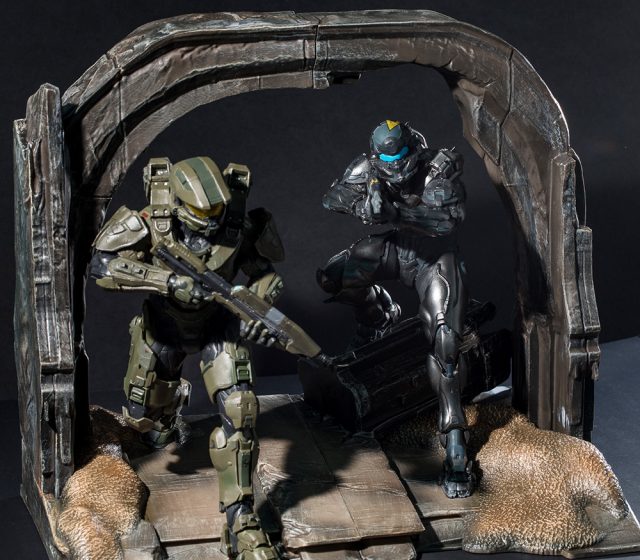 Rewind to three years back, when it was announced that the Halo 5: Guardians Limited Collector's Edition would be released in celebration of the game's launch. While many fans from various countries snatched it off the shelves, those in Singapore were not subjected to the treat, and that meant missing out on the tastefully-crafted Master Chief and Spartan Locke commemorative statues by TriForce.
Carved out in intricate details, the two PVC statues stand proud and tall – either by themselves, or beside each other. With help from the built-in magnets, they can be joined together as brothers-in-arms after being separated apart, which introduces an extra touch of personalisation.
In addition to the above statues, there's also some military-themed gear to be won. Decked out in a camo design is a Xbox One Special Edition Armed Forces Stereo Headset, accompanied by a sleek-looking Combat Tech Special Edition controller.
Altogether, one worthy Halo fan will be subjected to a set of the following:
x1 TriForce Halo Master Chief And Spartan Locke Commemorative Statue (priceless!)
x1 Xbox One Special Edition Armed Forces Stereo Headset (worth S$99.90)
x1 Xbox Wireless Controller – Combat Tech Special Edition (worth S$84.90)
Special thanks to Microsoft Singapore for sponsoring these awesome prizes.
---
ENTER NOW TO WIN!
Here's how you can stand a chance to win.
SHARE THIS POST and TAG a friend you want to share your loot with. ->
Fill in the form below and show us how big of a Halo fan you are.
Give us a LIKE below if you haven't done so yet, so you won't miss out on future similar giveaways!
---
This giveaway is open to all residents of Singapore. Contest closes on 14 April 2018 @ 23:59hrs (GMT+8). 1 lucky winner who proves his/her worth as the ultimate Halo fan will be picked. The winner will be notified via email by 17 April 2018. Good luck!
Si Jia is a casual geek at heart – or as casual as someone with Sephiroth's theme on her Spotify playlist can get. A fan of movies, games, and Japanese culture, Si Jia's greatest weakness is the Steam Summer Sale. Or any Steam sale, really.
---

Drop a Facebook comment below!