The world of pop culture scene is no stranger to crossovers, and there have been some tasteful collaborations that turned out to be a dream come true for fans. Bandai's latest robot toy, the S.J.H.U PROJECT Shin Universe Robo, is unfortunately more of a cursed nightmarish sight than anything else.
Released as part of the Shin Japan Heroes Universe collaboration project, it physically combines iconic characters and machines from the Shin Godzilla, Shin Evangelion (Evangelion: 3.0+1.0 Thrice Upon a Time), Shin Ultraman, and Shin Kamen Rider movies. The announcement took the form of a new 3D CG short, directed by legendary tokusatsu — meaning "special effects", but is colloquially used to describe shows starring costumed superheroes — filmmaker Hiroshi Butsuda (Super Sentai, Kamen Rider series), and features the song "Tsumi to Batsu Inorazaru Mono yo (Crime and Punishment, Those who don't pray) by Neon Genesis Evangelion theme singer Yoko Takahashi.
In it, Godzilla, Ultraman, Kamen Rider 1, and Eva-08 are seen joining forces to defeat a common enemy, before infusing into one shared body. While the execution isn't all that bad in the two-minute video, the look certainly didn't carry over well to the product line, particularly where proportions are concerned.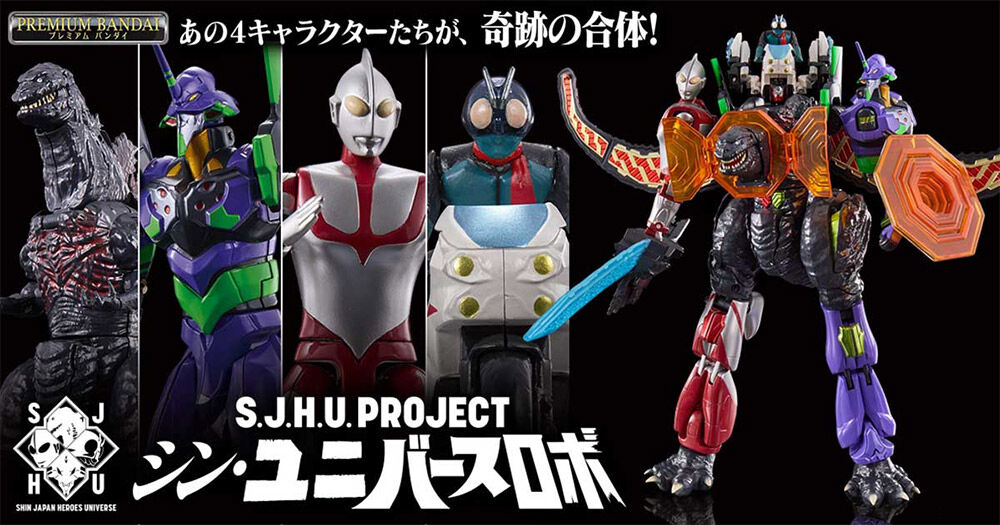 Still, there are those who will find the charm in it, and if you're looking for a new home for the S.J.H.U.PROJECT Shin Universe Robo, it's retailing for 23,100 yen (US$167 / S$231). Namco Bandai group's official online store Premium Bandai, EVANGELION STORE, TOEI ONLINE STORE, and Godzilla Store are accepting pre-orders starting 19 May, 4pm JST (GMT+9), with shipping scheduled for January 2024.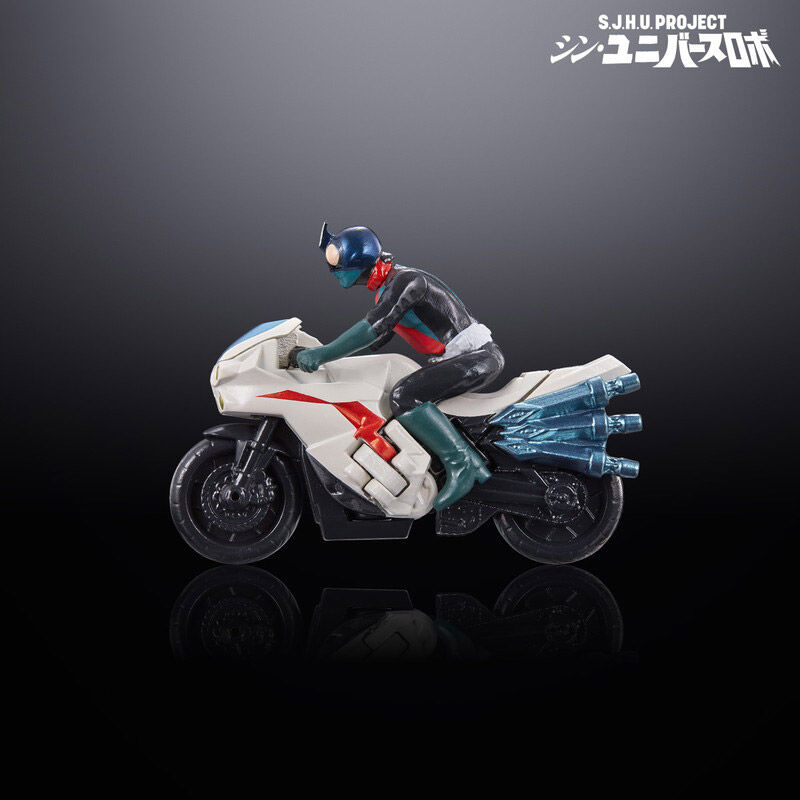 Bandai launched the Shin Japan Heroes Universe collaboration project in 2022, and has since used the characters from the four franchises to develop a variety of events and collaboration products. The "Shin" prefix in their Japanese titles can mean many things, from "new" to "true", with Hideaki Anno, best known for his work on the Evangelion series, keeping the definition ambiguous.
In addition to the cult anime classic, the Japanese animator is also the writer and co-director of 2016's Shin Godzilla, the writer of 2022's Shin Ultraman film, and the director and writer of this year's Shin Kamen Rider movie.