To celebrate the Deadpool (read our review here) movie's newly minted status as the highest grossing X-Men movie ever worldwide, our friends over at No Average Joe are giving away a smokin' hot Sixth Scale Deadpool Poseable Figure by Sideshow Collectibles worth US$229.99! That's not all, they're even throwing in a Deadpool T-shirt along with it! Just have a look at this photos, you know you want them.
How can you win?
[GIVEAWAY HAS CLOSED]
Simple, all you have to do is to head down to the Instagram below to FOLLOW noaveragejoetv, LIKE the post, and leave a COMMENT. The giveaway closes at 23:59hrs on 17th April 2016 and open only to Singapore residents.
---
More on the Sixth Scale Figure
Armed to the teeth with guns, puns, and things that go boom, Sideshow's fully articulated Deadpool Sixth Scale Figure is ready to break through any obstacle – especially the proverbial fourth wall.
Decked out in his iconic hand-tailored red and black costume, super-studly Wade Wilson comes with two handsome portraits and tons of goodies, including long and short stabbing weapons, two bitchin' pistols, a Whoop Ass-ault rifle, and Big Boomin' Balls. Famous for his over-the-top personality, Marvel's Merc with a Mouth can fully express himself with multiple swap-out hand gestures and plug-in word bubble accessories, customizable with explicit thoughts and witty words.
Find out more via Sideshow's website
What's in the box?
Fully Articulated Super Studly Lady Magnet Body
Handsome Portrait #1
Handsome Portrait #2
Undershirt
Lady Killer Bodysuit
Tactical Harness with Various Pouches and Stabby Thing Sleeves (sheaths)
Two (2) Bitchin' Pistols
Whoop Ass-ault Rifle
Two (2) Long Stabby Things (Katanas)
One (1) Short Stabby Thing (Knife)
Two (2) Big Boomin' Balls .. hehe…
R/L Fists
R/L Trigger Hands
R/L Stabby Thing Hands
Left Support Hand
Left Victory, Two Finger Pointer, Peace, Chingadera Hand
Right A-OK, @&$%#! Hand
Right Thumbs Up, Thumbs Down, Tasty Chimichanga Hand
R/L Feet with Totally Awesome Boot Sculpts
Figure Support Stand
Optional Plug in Word Bubbles for Explicit Thoughts and Witty Words
Sheet of Explicit Thoughts and Witty Words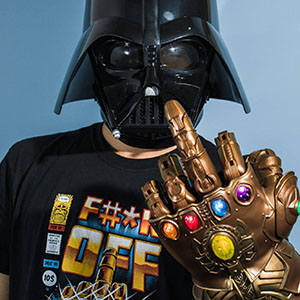 Yonk is a geek who is fortunate enough to have an equally geeky Star Wars fan for a wife, who owns a LEGO Millennium Falcon encased in a glass coffee table as their home's centre-piece.
---

Drop a Facebook comment below!