We already know that in 2023, there will no longer be a FIFA-branded football video game, instead, EA is taking its own path with EA Sports FC 24, the first entry of what will undoubtedly grow into a massive juggernaut of success. To get players even more excited, some precious details were revealed at a livestreamed event for the game.
Launching September 29
EA Sports FC 24 will officially be launching on 29 September, with early access starting on 22 September for Ultimate Edition owners. The game will release on PlayStation 5, PlayStation 4, Xbox Series X|S, Xbox One, PC, and Nintendo Switch.
"We're going to take another giant leap forward," EA CEO Andrew Wilson stated at the event, setting the goal of connecting over 1 billion fans with this new franchise.
Technological Advances in EA Sports FC 24
EA Sports FC 24 will be utilising a new version of EA's Frostbite engine to further innovate and bring authenticity to the pitch. Building on the Hypermotion technology, the new iteration, Hypermotion V (for volumetric), will tap into volumetric data from more than 180 professional games for both men and women. With this data and anything new, the team is able to create new animations for the game in just a few days.
"This unlocks authentic full-team movement as well as 1,200 signature run styles so fans can experience the unique ways that top players move," shared the EA spokesperson.
In addition, a new feature called PlayStyles will ensure that players play more like their real counterparts in EA Sports FC 24, thanks to a partnership with Opta, the leading data specialist in football.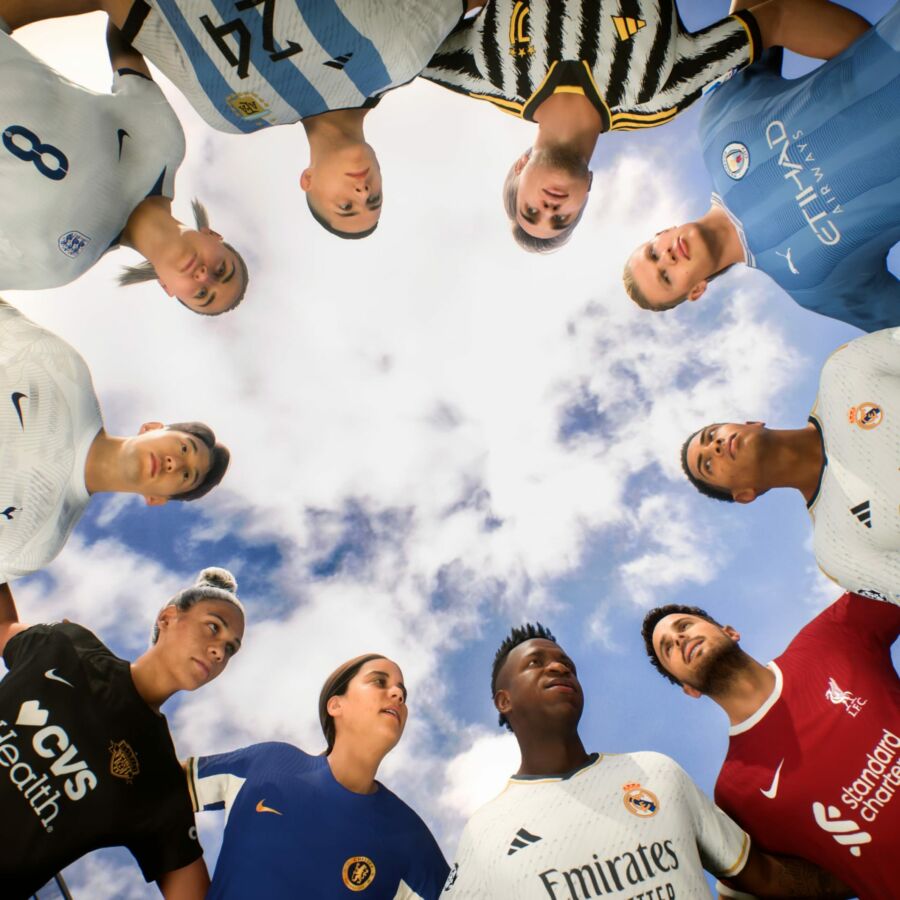 "Optimised by real-world Opta data and data from other sources, PlayStyles dimensionalise athletes, going beyond overall ratings to bring to life the on-pitch abilities that make players special. Each PlayStyle affects gameplay, giving players unique capabilities you'll see and feel that make their way of playing more authentic."
The Frostbite engine is also going to create a better matchday experience before every game, while there will be more accurate player models thanks to the SAPIEN technology and more realistic kits that move naturally with the body.
Ultimate Team in EA Sports FC 24
The most-played mode around the world is getting an upgrade, with EA Sports FC 24 adding in women's football for the first time. Both men and women players can play on the same pitch at the same time, allowing a new definition of building a true, dream starting eleven.
Individual players can also be enhanced further with the brand-new Ultimate Team Evolutions. By completing objectives, skills can be boosted, PlayStyles added, and overall ratings can be increased.
Partnerships Galore
EA also recognises that its product will be nothing without partners, and the team has gone on a charm offensive, securing several of the big players in world football to multi-year deals. Exclusive deals have been inked with the English Premier League, La Liga, as well as UEFA, paving the way for access to branding elements and the respective competitions.
That means more than 19,000 authentic players, 30-plus leagues, and more than 100 stadiums will be present in EA Sports FC 24. The women's game is also getting new additions in the form of Spain's Liga F and Frauen-Bundesliga, bringing more potential for fun on this side of the pitch.
---
With cover star Erling Haaland leading the way and even more plans to expand this universe, including a turn-based experience called FC Tactical in the pipeline, EA is definitely not resting on its laurels. While EA Sports FC 24 will be the first game post-FIFA, the company already has its sights set on the future of the Beautiful Game for interactive entertainment.