Dontnod Entertainment has been hitting it out of the park this E3 season, releasing the vampire-themed Vampyr just about a week ago, and announcing two more new games in the works including mystery thriller Twin Mirror and the equally interesting The Awesome Adventures of Captain Spirit.
We had a chance to sit down with the developers behind The Awesome Adventures of Captain Spirit and what we learned made us really happy, and you should too if you are a fan of the Life is Strange universe.
If you have not caught it yet, yes,  The Awesome Adventures of Captain Spirit is set in the same timeline and universe of both Life is Strange and the prequel Before the Storm. As Dontnod continues to toil hard to make Life is Strange 2, they decided to do something to both reward the franchise's hardcore fans, as well as an easy way to introduce new players to the shared universe.
The Awesome Adventures of Captain Spirit is done with Unreal Engine 4, and maintains the signature style of the Life is Strange games, be it pacing, cinematography, music, and the visuals, it is instantly recognisable, albeit with visual improvements to the entire game. And importantly, it can be enjoyed standalone without the need for prior knowledge of its fellow contemporaries.
Taking place 3 years after the events of Arcadia Bay (the canonical ending remains a secret), we are introduced to Chris, a lonely 10-year old that possesses immense imagination and wit. We also met his father, and there will surely be more characters to be found. As the amazing Captain Spirit, Chris has the power to "bend matter to his will", and turning on the TV with the remote is definitely part of his wheelhouse.
Exploration and choices are integral to the experience, and as you roam around environments like Chris' rooms, you will find snippets of environmental storytelling that brings life to the world. Drawings of superheroes and villains plaster the wall, and the developers promised plenty of references and easter eggs to be found for you eager beavers.
What is different about Chris is that his "superpower" allows for different context specific actions that affect the environment. Holding the trigger unlocks new interactions that showcase Captain Spirit in his element.
Becoming Captain Spirit will not only open up new avenues of exploration, but also new quests for the fledgling hero to complete.
An example shown was Captain Spirit's fight against the monstrous Water Eater. As he proceeds cautiously through the foreboding darkness, Chris comes face-to-face with his adversary, before taming it with his power.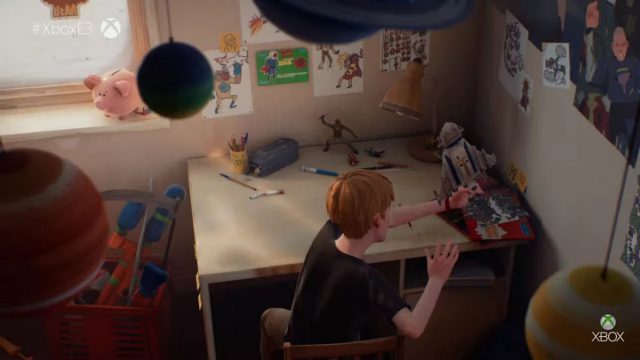 Yet, in reality, he is a kid with fears, and one who feels empowered by his imagination to tackle the hard task of fixing the water heater in the dark basement.
It is utterly charming, and I couldn't help but break into a smile as Captain Spirit went on more adventures to complete his costume and bring the fight to the Snowmancer and Mantoroid.
While there is plenty to do in the two-hour experience, gamers who are eagerly anticipating the release of Life is Strange 2 will do well to explore the game thoroughly and make decisions wisely, as some will affect what goes on in the second installment.
While we only got a short look at what lies ahead for Captain Spirit and the universe of Life is Strange, it has left us wanting more, and the wait is going to be short.
The Awesome Adventures of Captain Spirit will be available for both consoles and PC this coming June 26, and for the price of nothing, and it is truly a gift that everyone should try.
---
Access all of our E3 2018 coverage here!
Jake is a full-time trophy hunter and achievement gatherer on consoles, and part-time Steam Sale victim. He has a thing for Batman and awesome statues, and running out of space for both. Send help.
---

Drop a Facebook comment below!
---