It's gearing up to be a huge year for BANDAI NAMCO, with a myriad of titles being shown off at the various conferences. Crowd pleasers like Jump Force and SOULCALIBUR VI have been riding the hype train, and from what we have seen, they are worthy of the buzz.
In a presentation to the press, BANDAI NAMCO outlined these upcoming releases and teased a little of the future, and fans will be well pleased to know they are working hard to give you even more awesome titles in the coming months!
---
JUMP FORCE
A true celebration and tribute to 50 years of the Weekly Shonen Jump, both BANDAI NAMCO and Spike Chunsoft have created a crossover between our real world and the Jump world.
Iconic locales like the Matterhorn and New York's Times Square are just a few examples of arenas that will be infused with manga elements. In this case, Freiza's ship and the God Tree from Naruto.
The game's story mode will follow the titanic struggle between heroes and villains, and uncover the source of the chaos that is enveloping both worlds. The only way for our heroes to stop the might of the evil forces is to unite and become Jump Force.
Fighting game fans will also be excited to know that there are several layers of combat to unpack in the game. Awakenings are special transformations that can grant new moves and more power, and even change characters visually, such as Goku going Super Saiyan or Luffy getting into Gear Four.
The mechanics of guard breaks, counters, setups, as well as stage progression form the foundation of Jump Force, and there are sure to be even more intricate details yet to be revealed. They did tease a certain character with a notebook at the end though…
If you are looking forward to bashing skulls with your favourite manga characters, then Jump Force is truly a dream come true. And it definitely helps that the game will be getting the various platform enhancements to make it truly shine in both performance and visuals. Look forward to it in 2019.
---
SOULCALIBUR VI
The world's premier weapon based fighting game is returning this October 19, and fans can look forward to playing it on the PC for the very first time!
Developed on the Unreal Engine 4, the team has targeted a smooth 60fps for all the platforms, and it is a promise they mean to keep to satisfy all fighting game enthusiasts.
It would not be SOULCALIBUR without guest characters, and we have all seen the introduction of The Witcher's Geralt, the White Wolf of Rivia has been recreated to perfection with the help of CD PROJEKT RED, down to his movement, stances, and even breathing.
The combat mechanics have also undergone an overhaul of sorts. Critical Edge returns as a valuable comeback tool, allowing players with low health to unleash a Super Move that can turn the tide.
Both Reversal Edge and Soul Charge are new in this iteration, with the first triggering slow-mo sequences that become a game of rock-paper-scissors. Make the right choice and you do not just damage to your opponent, but gain valuable meter.
Your accumulated meter allows for Soul Charge, which grants increased damage and even a brand new set of moves, there may also be character specific visual changes to go along with it.
Lethal Hits gives you the advantage by stunning your opponent, opening up a window where you move faster and the opportunity to throw in mixups and combos to decimate your foe. It can even destroy the armour and costume of the opposition, a cool addition indeed!
The story of SOULCALIBUR VI will be explored via the Chronicle Story Mode, which packs plenty of 2D and 3D cutscenes that will satisfy even the most ardent of fans, and with each character getting their own storyline, it will be a deep dive to get the full picture.
---
DIVINITY: ORIGINAL SIN 2 DEFINITIVE EDITION
The Divinity games are huge roleplaying experiences, capable of sucking hundreds of hours from its fanbase in return for a deep and well-designed role-playing nirvana. And it is set to get even better when Divinity: Original Sin 2 Definitive Edition arrives this August 31.
From the get-go, the character creation system has added undead variations to all five races, and special pre-created Origin characters will bring players on unique story arcs that can have surprising developments. Even if you choose to create your own character, these Origin characters will show up in-game as recruitable companions.
The real-time and turn-based hybrid of exploration and combat remains as robust as ever, with the interacting systems of the world and the enemies being the big draw. The abilities you have and what is in the environment often leads to a systematic cycle of effects that can save or doom you.
With over a million lines of voice-acted dialogue, and 45-pages long patch notes, the Definitive Edition is everything the name suggests.
The game's third chapter is being completely overhauled, with rewriting, rescripting, and updated characters, and the journal is also getting a much-needed retooling. Quality-of-life improvements are also being made to the maps and the inventory system amongst others.
If you have not plunged into the amazing world built by Larian Studios, this is your best chance to experience one of the best RPGs to come our way in recent times.
---
ACE COMBAT 7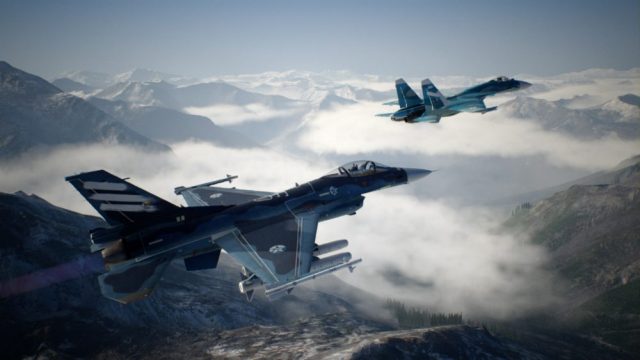 While there was not much talked about ACE COMBAT 7 SKIES UNKNOWN, what we do know is that it is going to celebrate the series' 20th anniversary, and the short teaser trailer simply ends off with a message:
Gamescom.
More info will definitely be unveiled soon, so here's hoping!
---
Access all of our E3 2018 coverage here!
---

Drop a Facebook comment below!