Another character from DC's Doom Patrol has been cast, and this time, it's the fully-robotic and aptly named Robotman. Branden Fraser has been tapped to voice the character and appear as pre-robot Cliff Steele in flashback scenes. The physical portrayal of Robotman will not be done by Fraser himself, but by actor Riley Shanahan, who will be wearing a full body costume on-screen instead of a CGI costume. Let's hope this will look more like a well-designed robot costume performance ala C-3PO and less like the creepy Bicentennial Man that's very much stuck in the Uncanny Valley.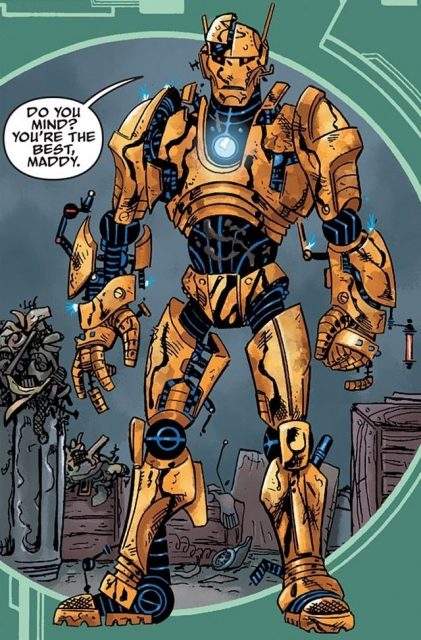 Robotman, formerly known as Cliff Steele, was a race car driver until an accident left his body in a wreck. A mysterious Dr Niles Caulder placed his intact brain into a robotic body, saving his life in the process. Grappling with his humanity, he goes on to fight with the Doom Patrol, a group of super-powered misfits. Robotman is a founding member of the Doom Patrol and has been the only character to appear in every incarnation of the Doom Patrol since.
Fraser will join April Bowlby (Elasti-woman), Diane Guerrero (Crazy Jane), and Jovian Wade (Cyborg) in the DC Universe streaming service. Negative Man and Dr Niles Caulder have not been cast. The Doom Patrol will make a guest appearance in Titans before appearing in their own series in 2019. Doom Patrol is yet another DC television series that will be produced by Greg Berlanti, joining other shows like Arrow, The Flash, and Batwoman.
Brendan Fraser is well known for his roles in The Mummy trilogy as well as comedies like Encino Man and George of the Jungle. Fraser has not been appearing in many projects recently, stating that being sexually assaulted and the fall back from that, along with his divorce from his wife of 9 years, set him into a spiral of depression. While we will forever remember him as the hot jungle man, it's great to see him back in projects and getting his life moving. We can't wait to see what he will bring to the role of Robotman.
Dea wishes she could play the latest Tomb Raider or Uncharted, but she can't, so instead she reads and watches other people play. On her down time, you can probably find her re-reading Captain Marvel. The Carol Danvers one.