Edit 13 July: Added Bilibili.
Before Japanese animation, widely known as anime, started gaining mainstream acceptance in the 1990s, only die-hard geeks, otakus, and young children would publicly admit to be avid followers of these animated works.
Back then, being an anime fan proved challenging especially if you are not residing in Japan. There were hundreds of titles released annually, and not all were exported. Those that were, were also subjected to different translations, dubbings and alterations. Asian anime fans would recall watching Chinese and even Cantonese dubbed anime series, which were different from the English ones, which could also have been edited to fit the expectations of a less mature Western audience. And since many countries outside Japan only broadcast a restrictive number of non-offensive anime titles, fans had to jump through hoops to get their fix.
Non-Japanese fans had to pay top dollar for an imported VHS copy of say, Dragon Ball Z and when downloads speeds improved, downloads of fan-subbed episodes (of Naruto or One Piece for example) of questionable legality became the trend. For the uninitiated, a dub (dubbing) is when there is a voice-over of the show, from a local language cast. A sub (subtitle) retains the original Japanese voice talent, and audiences read the subtitles. A sub is generally the preferred way of watching an anime series as audiences can listen to the original Japanese voice expressions used.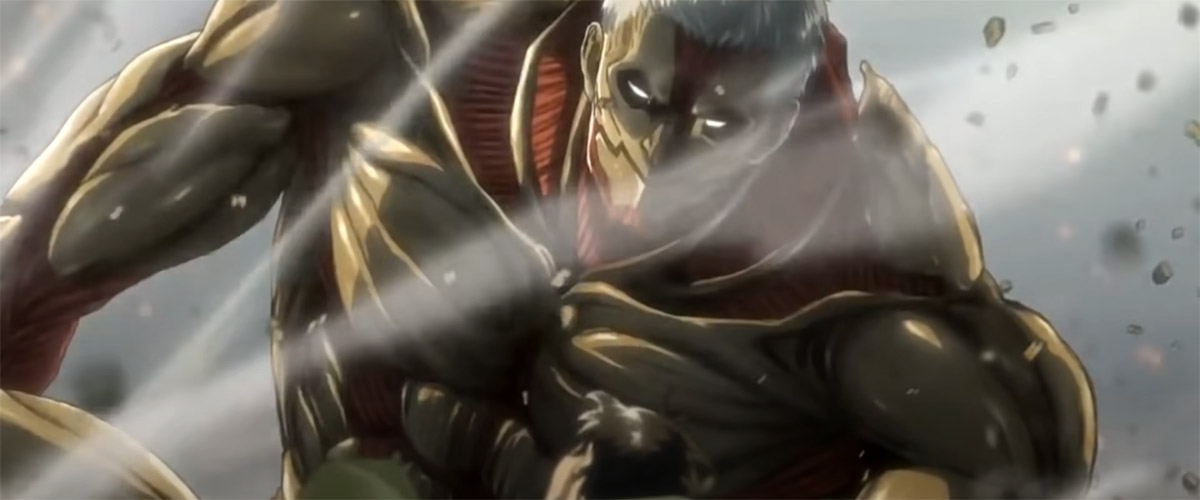 Fast forward a few years, and the kids who watched anime grew up. Soon, a rather obscure childhood pastime became the norm (just like adults playing D&D is now considered mainstream), and this was helped by another phenomenon – video streaming services and platforms, including YouTube, Netflix, Hulu and Crunchyroll, venturing into, what was then, unexplored frontier.
Streaming succeeded to take over the world in less than a decade, and on-demand videos soon became the preferred way to consume video content. Anime, through Crunchyroll, rode the early streaming wave and became so popular, that all major streaming sites today have an anime library of their own.
All that is to say, anime is no longer something that fans quietly watch at home behind locked doors and drawn curtains. In fact, more than half of Netflix's global audience watches anime.
So that is why if you haven't jumped on the anime hype train yet, now is the perfect time to. And to help you along, here's a list of the best streaming sites to get you started on watching anime, legally.
As a reminder, not all of these services are available globally, so there is a chance that you will need a good VPN service to get things started. Not only do VPNs offer access to geo-restricted services, they also provide greater privacy, security, and connectivity for users, so if you stream with any frequency, you might want to consider subscribing to one.
---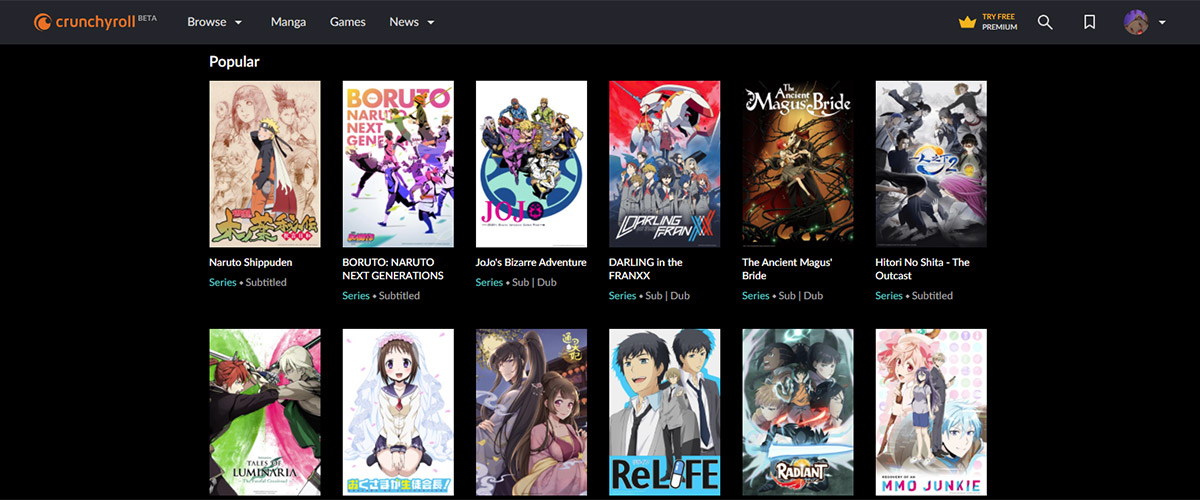 The forerunner of anime streaming site, Crunchyroll is today considered the best place to watch anime. It has the world's largest collection of anime (mostly subbed, which is the proper way to watch anime), claiming access to over 40,000 episodes from about 1,300 titles. This number will quickly be outdated though as Crunchyroll has absorbed Funimation, another streaming service known for its dubs of classic anime. Content from Funimation, its subsidiary Wakanim, as well as Crunchyroll's subsidiary VRV, will join Crunchyroll's library, meaning you get everything with one Crunchyroll subscription.
The advantage of subscribing to Crunchyroll is the access you get to current and popular shows, with new episodes released within an hour of them being aired in Japan (also known as simulcast). As a bonus, you also get access to a collection of digital manga (in English only), with new volumes available on the same day it is released in Japan.
Besides a library of famous anime titles such as JoJo's Bizarre Adventure, Naruto Shippuden, and Attack on Titan, Crunchyroll also has a growing list of original anime titles which you won't find anywhere else.
Beyond anime and mangas, Crunchyroll has also dipped its toes into game publishing, with a couple of anime-based mobile games already out on Android and iOS.
You'll love it if… you want anime, anime, and more anime; it has the largest library of anime in the world.
Stay away if… you hate anime because everything is anime-related.
Free, with ads and restricted access to selected titles
Fan, US$7.99/month (no offline viewing)
Mega fan, US$9.99/month
Annual Mega fan, US$79.99/year
Ultimate fan (US only), US$14.99/month
Availability and Support: Android, iOS, Windows phone, PlayStation, Xbox, Nintendo, Chromecast, Apple TV, Roku, Amazon Fire TV.
---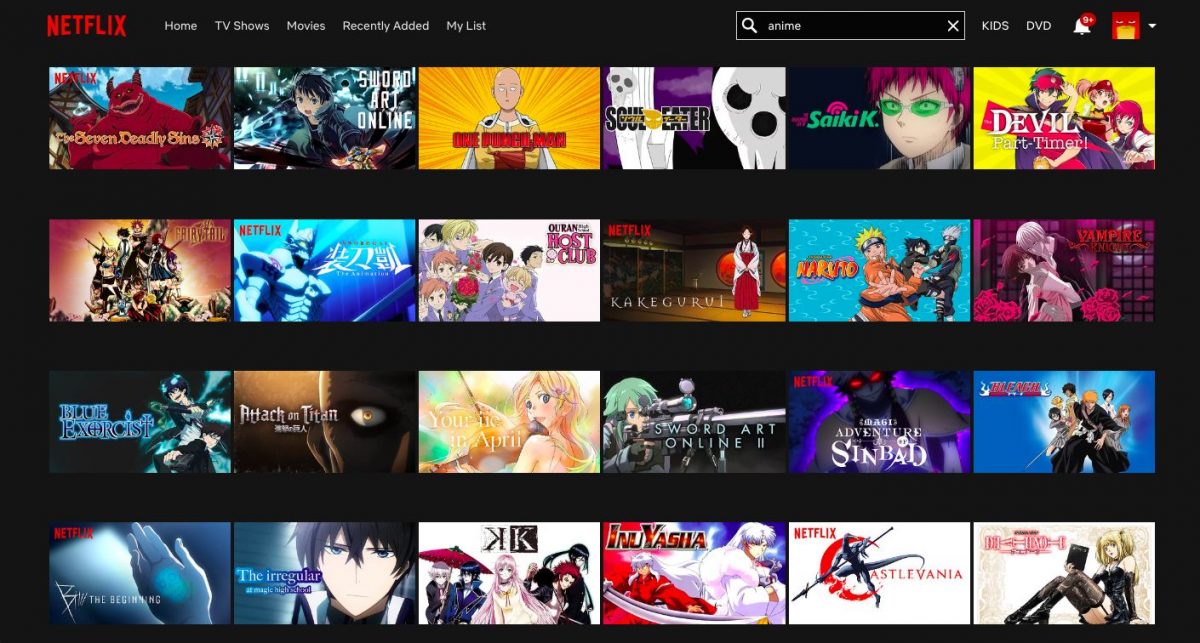 Most people know Netflix for its many quality series but what you may not know is that it has a pretty great library of anime as well. It boasts recent hits like Demon Slayer, to classics like Neon Genesis Evangelion, as well as its stable of original programming such as Seven Deadly Sins and the reboot of Voltron (in fact, here are 12 new Netflix-exclusive anime to catch in 2022).
The issue with Netflix is you won't get simulcast release of the latest titles that air in Japan (compared to Crunchyroll's within-an-hour release). It may take weeks or even months before a show that's acquired by Netflix gets pushed onto its platform. However, if you prefer binge watching instead of catching the latest episode each week, then this delay won't be a problem, and a Netflix subscription will suit you just fine.
You'll love it if… you want a huge selection of movies, TV programmes, anime (including exclusive titles) and more to pick from.
Stay away if… you want to catch the latest anime episodes on the same day as Japan.
Basic, US$9.99/month
Standard, US$15.49/month (HD quality)
Premium, US$19.99/month (Ultra HD quality)
Availability and Support: Works on most devices.
---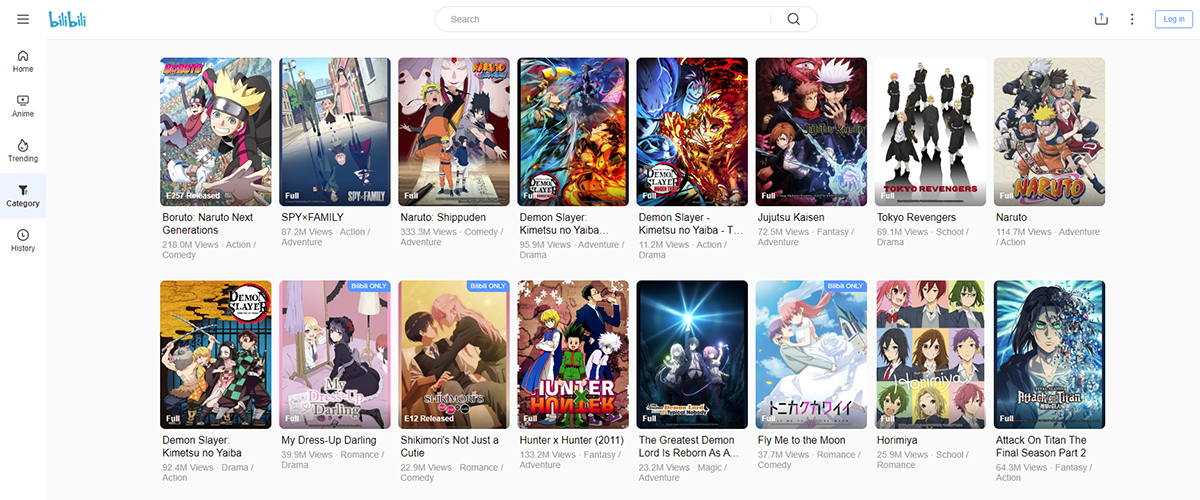 The youth-centric video streaming and sharing platform Bilibili can be considered China's version of YouTube. It hosts a wide variety of content, including what we are here for — anime.
On the platform, you can find some of the most popular anime of the day, such as Naruto, Demon Slayer, and Attack on Titan. It is progressively rolling out its service to different parts of the world, so if you can't find anime on it, it probably means your location is not covered yet.
The best thing is, it's free. And so far, no ads as well.
You'll love it if… all you have is time, since there is a whole trove of anime to binge on. For free.
Stay away if… you don't like free stuff?
Pricing: Free. However, a premium subscription is available for users in China for higher quality videos and early access to some launches.
Availability and Support: Web browsers, Android, iOS.
---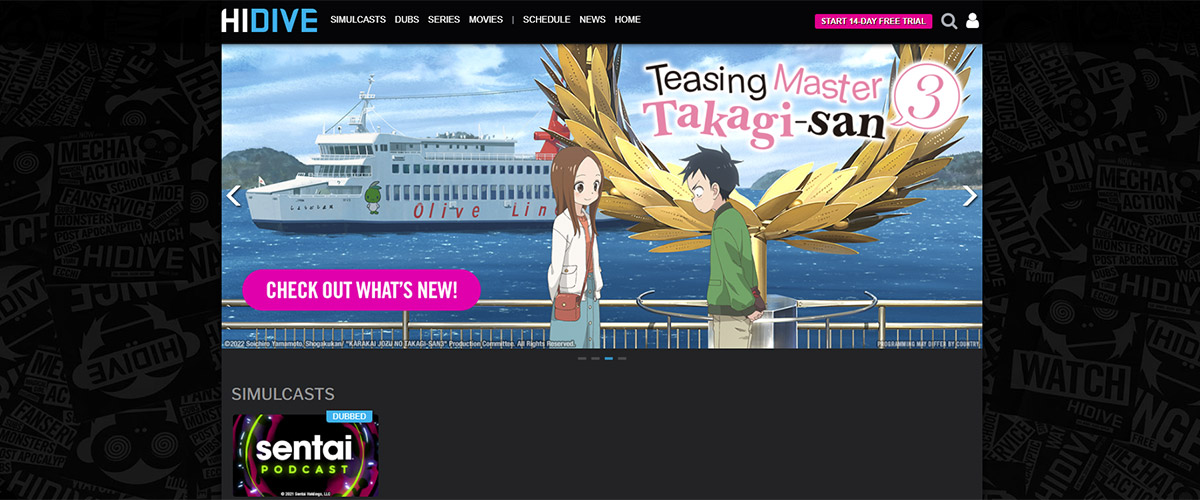 HIDIVE is the anime streaming service that serves edgier and more mature content, with titles such as Lupin the 3rd, Teasing Master Takagi-san, and Darwin's Game. To go with it's more mature content, you also have the option to stream either the censored or uncensored versions.
It offers English-dubbed content and subtitles in multiple languages, as well as some exclusive titles such as Onigiri. At US$4.99 per month, its price for admission into the world of anime is actually one of the lowest (other than free), but in return, there is no offline viewing.
Content options vary across regions. Which means if you happen to be, for example, using a Singapore IP, a lot of the content won't be accessible.
You'll love it if… you are looking for mature, uncensored content.
Stay away if… the region you stay in happen to block out a lot of the content (unless you have VPN).
Monthly, US$4.99/month
Yearly, US$47.99/year
Availability and Support: Android, iOS, Xbox One, Chromecast, Android TV, Apple TV, Roku, Amazon Fire TV.
---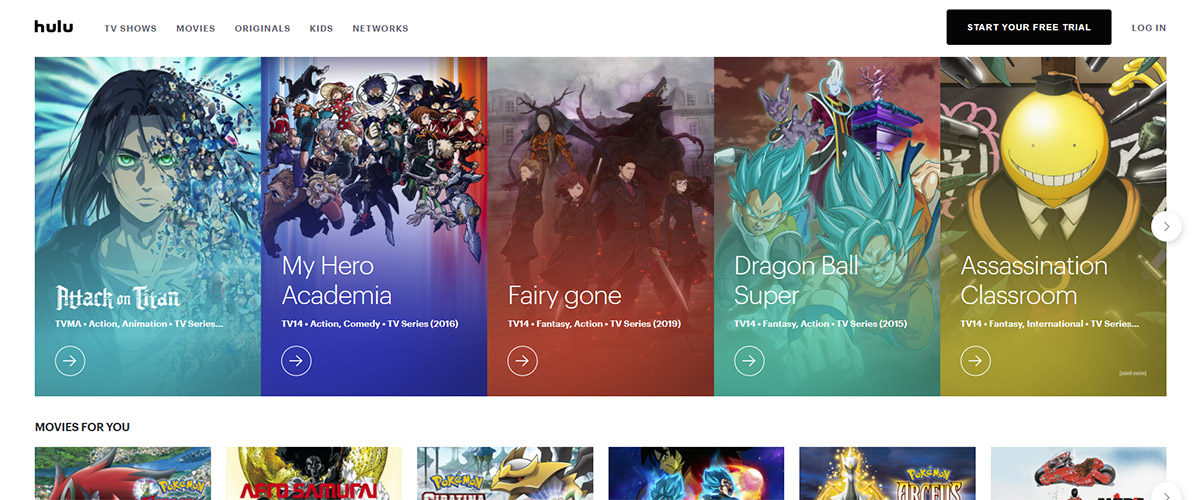 While not a dedicated anime streaming site, Hulu does host a collection of anime titles from other streaming sites like Crunchyroll and HIDIVE. These are usually some of the more popular titles of the genre, such as Attack on Titan, My Hero Academia, Bleach and One-Punch Man. It does not produce any original content (as yet).
A Hulu subscription will however also get you access to other video content besides anime, so it does provide you a breadth of viewing options. But just like Netflix, you won't be getting simulcast of the latest anime releases so if you need to keep up with the latest, Hulu is not for you.
Still, with Disney+ venturing into producing original anime with 4 series planned for 2022 (both Disney+ and Hulu are under the Walt Disney umbrella of companies), and with Disney CEO hinting at a possible Hulu/Disney+ merger in the future, Hulu may yet play a bigger role in the anime streaming scene.
You'll love it if… you like a curated list of the more popular anime series.
Stay away if… you want exclusive, original or lesser-known anime titles (for now).
Hulu (with ads), US$6.99/month
Hulu (no ads), US$12.99/month
Availability and Support: Works on most devices.
---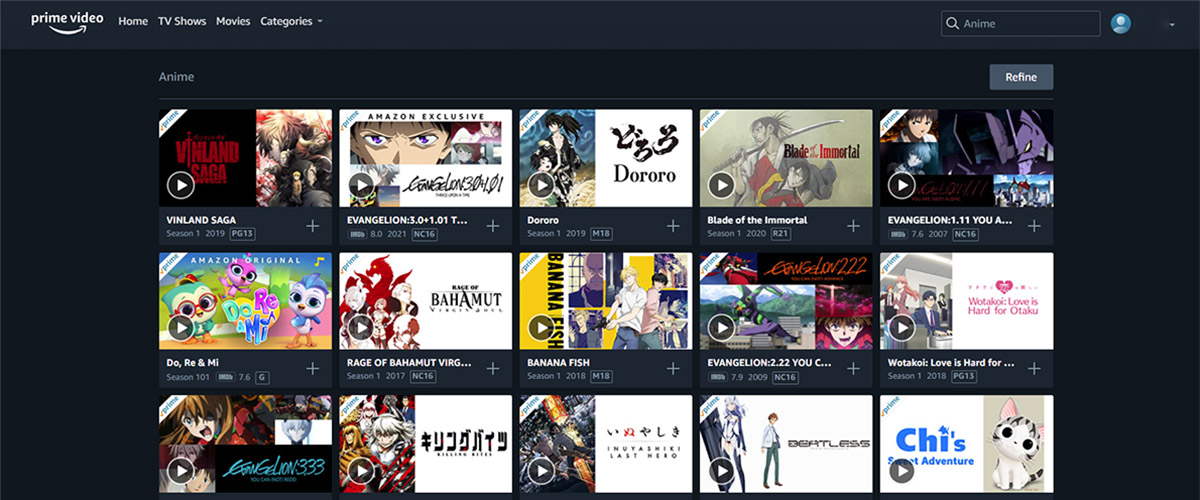 Like Netflix and Hulu, Amazon Prime Video does not primarily serve just anime titles; its boasts an expansive library of TV programmes and movies, many of which are exclusive to its platform. As such, you won't be locked into only anime with your Amazon Prime Video subscription.
Its anime library also sticks to somewhat unique titles that are edgier and less 'mainstream'. Probably on the top of its must-watch list is historical Viking action series Vinland Saga, and the four-part Rebuild of Evangelion movies which provides an alternate retelling to the cult classic Neon Genesis Evangelion.
You'll love it if… you a fine with more mature titles (plus all the other Amazon-exclusive video content).
Stay away if… you want the latest seasonal releases from Japan.
Pricing: Varies by region. S$2.99/month in Singapore
Availability and Support: Works on most devices.
---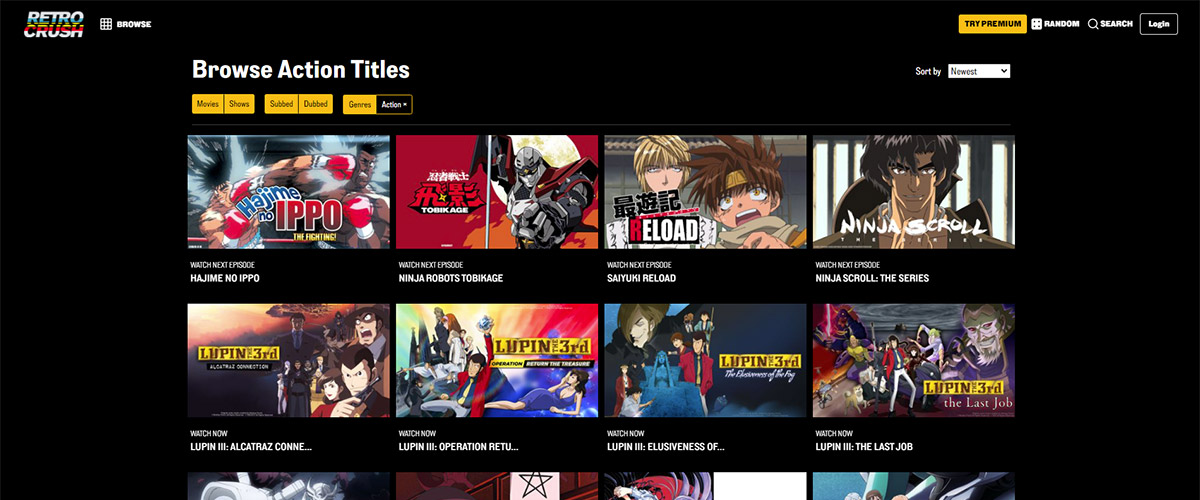 Like its name, RetroCrush holds a library of anime from before the turn of the century up till the early 2000s, with classics such as City Hunter, Saint Seiya, and Great Teacher Onizuka. Content comes in both subbed and dubbed formats (but not together).
One interesting thing about RetroCrush is the 'random' button on its site, which picks a an anime for you on days you have no idea what you want to watch. The bad thing? RetroCrush is only available if you are in the US and Canada.
You'll love it if… you want some good ol' classic anime for free.
Stay away if… you only want the latest anime.
Free, with ads
Premium monthly, US$4.99/month
Premium yearly, US$49.99/year
Availability and Support: US and Canada only. Android, iOS, Chromecast, Android TV, Apple TV, Roku, Amazon Fire TV.
---
One thing Tubi has over its 'competitors' is that it is free. Its ad-supported streaming service won't give you access to many of the most popular titles, but it is still decent, with samplings from series like Yu-Gi-Oh! and Pokemon.
This sampling concept, however, is also its biggest weakness. Tubi's anime library is sort of like a tasting menu, where you get a couple of seasons or episodes of the series, but if you want to get the complete satisfying bite of everything in the series, you have to look elsewhere.
But for its free price of admission, as well as access to other East Asian movies and series, Tubi is a fine streaming platform to get your feet wet.
You'll love it if… you like free stuff.
Stay away if… you don't like free stuff.
Pricing: Free
Availability and Support: Works on most devices.
---
There you have it, some of the best streaming sites for anime today. What's your favourite? Did we miss out any? Let us know!