Ah, 2022. New year new shows, but that doesn't mean we're out with the old. Netflix has a treasure cove of tv series that are worth binge-watching – sometimes even twice or thrice – as well as classic fan-favourite sitcoms that your mum used to watch growing up on the television. Whether you're looking to revel in nostalgia, lose yourself in fantasy or get freaked out by zombies and all things scary, Netflix has it all for you.
That said here are 22 of the best Netflix shows to watch in 2022 including the old, new, and popular favourites! And don't worry, if for some reason you can't find a particular show in your region, you can always use a trusty VPN service to catch it.
---
All Of Us Are Dead
In All Of Us Are Dead, a high school becomes ground zero for a zombie virus outbreak. Trapped students must fight their way out or turn into one of the rabid zombies. The Korean series stars Park Solomon, Cho Yi-Hyun, Park Ji-hoo and Chan-yo Yoon.
---
Anne With An E
Anne With An E is a reimagining of the classic book and film is a coming-of-age story about a young orphan who is seeking love, acceptance and her place in the world. Amybeth McNulty stars as Anne, a 13-year-old who has endured an abusive childhood in orphanages and the homes of strangers. In the late 1890s, Anne is mistakenly sent to live with aging siblings, Marilla and Matthew Cuthbert, who live on Prince Edward Island. Anne, who proves to be uniquely spirited, imaginative and smart, transforms the lives of Marilla, Matthew and everyone else in their small town.
---
Archive 81
An archivist takes a job restoring damaged videotapes, but finds themselves getting pulled into a mystery involving the missing director and a mysterious cult that they were documenting. The horror series is executively produced by The Conjuring's James Wan.
---
BoJack Horseman
A humanoid horse, BoJack Horseman, lost in a sea of self-loathing and booze, decides it's time for a comeback. Once the star of a '90s sitcom, in which he was the adoptive father of three orphaned kids (two girls and a boy). The show was the hottest thing around, then suddenly, was canceled. Now 18 years later, BoJack wants to regain his dignity. With the aid of a human sidekick and a feline ex-girlfriend who is his agent, he sets out to make it happen. But Hollywood is vastly different from those days, and getting used to stuff like Twitter may take some time. This first animated series from Netflix with plenty of references to sex, drugs and alcohol is not for the little ones. Will Arnett voices the titular character BoJack.
---
Breaking Bad
A highly raved about series, Breaking Bad sees ​​Walter White, a chemistry teacher, discovers that he has cancer and decides to get into the meth-making business to repay his medical debts. His priorities begin to change when he partners with Jesse. Bryan Cranston plays White, whereas Aaron Paul plays Jesse.
---
Bridgerton
During the Regency era in England, eight close-knit siblings of the powerful Bridgerton family attempt to find love. The first season focuses on eldest daughter Daphne (Phoebe Dynevor) as she enters society and attempts to secure a marriage proposal. She becomes the talk of the town when she strikes a deal with the extremely handsome and newly titled Duke of Hastings (Rege-Jean Page) to fake-date. All is well until the two develop real feelings for one another.
---
Chilling Adventures of Sabrina
This adaptation of the Sabrina the Teenage Witch tale is a dark coming-of-age story that traffics in horror and the occult. In the reimagined origin story, Sabrina Spellman wrestles to reconcile her dual nature – half-witch, half-mortal – while standing against the evil forces that threaten her, her family, including aunts Hilda and Zelda and the daylight world humans inhabit. Kiernan Shipka leads the cast in the titular role of the show that is based on a comic series of the same name.
---
The Cuphead Show
The Cuphead Show follows the misadventures of loveable Cuphead and his cautious but easily-swayed brother Mugman as they scour the Inkwell Isles in search of fun and adventure.
---
Friends
Everyone and their friends are raving about Friends. A comfort sitcom series for many, Friends follow the lives of six reckless adults living in Manhattan, as they indulge in adventures which make their lives both troublesome and happening. It stars Jennifer Aniston, Courteney Cox, Matthew Perry, Lisa Kudrow, Matt LeBlanc and David Schwimmer.
---
Orange Is The New Black
Ten years after transporting drug money to Alex (Laura Prepon), Piper (Taylor Schilling) is imprisoned for the crime. The toughness of prison changes her drastically as an individual, compelling her to do unthinkable things. The comedy-drama series is 7 season long and delves in LGBT relationships as well as topics on race and power dynamics between inmates and guards.
---
Midnight Mass
On Midnight Mass' Crockett Island, every islander feels rife with misfortune. A recent oil spill nearly annihilated the fish supply, tanking the island's local fishing economy. Their homes splinter and peel in neglect to the ocean's elements. The majority of residents have fled the island for lack of opportunity, leaving a paltry few behind. Only two ferries can take them to the mainland. Hope runs in short supply but the arrival of a charismatic young priest brings glorious miracles, ominous mysteries and renewed religious fervor to a dying town desperate to believe. The series is created by Mike Flanagan (The Haunting of Hill House).
---
Murderville
Terry Seattle and his guest celebrity partner improvise their way through a scripted murder investigation without the script. Lead by Will Arnett, Murderville will murder your lungs with its smart comedy and jokes.
---
Narcos
Narcos tells the true-life story of the growth and spread of cocaine drug cartels across the globe and attendant efforts of law enforcement to meet them head on in brutal, bloody conflict. The popular drama series runs for 3 seasons and stars Pedro Pascal, Wagner Moura, Paulina Gaitan and more.
---
Schitt's Creek
A married couple suddenly go bankrupt and the only remaining asset they have is an ugly small town named Schitt's Creek. The series begins as a fish-out-of-water comedy about a bunch of snobs reduced to eating mozzarella sticks at the Café Tropical later becomes a gentler, warmer, more complicated tale of what happens when the fish sprout legs. It has been dubbed as and one of the best comedies on television.
---
Sex Education
Socially awkward high school student Otis (Asa Butterfield) may not have much experience in the lovemaking department, but he gets good guidance on the topic in his personal sex ed course – living with mom Jean (Gillian Anderson), who is a sex therapist. Being surrounded by manuals, videos and tediously open conversations about sex, Otis has become a reluctant expert on the subject. When his classmates learn about his home life, Otis decides to use his insider knowledge to improve his status at school, so he teams with whip-smart bad girl Maeve (Emma McKay) to set up an underground sex therapy clinic to deal with their classmates' problems. But through his analysis of teenage sexuality, Otis realizes that he may need some therapy of his own.
---
Shadow And Bone
Shadow and Bone follows a war-torn world in which a cartographer Alina Starkhov (Jessie Mei Li) resides. A sudden turn of events sees Alina realising she has extraordinary powers that could be the key to setting her homeland free from a dark entity called The Fold filled with monstrous creatures called volcra. The series is based on the series of the same name by Leigh Bardugo.
---
Squid Game
If you haven't heard of Squid Game, you're probably living under a rock. Squid Game tells the story of a cruel competition for immense wealth – won by playing children's games with a deadly twist. The show is told through the perspective of player 456, Seong Gi-hun (Lee Jung-jae).
---
Stranger Things
After the mysterious and sudden vanishing of a young boy, the people of a small town begin to uncover secrets of a government lab, portals to another world and sinister monsters. The boy's mother desperately tries to find him, convinced he is in grave danger, while the police chief searches for answers. Starring Finn Wolfhard, Millie Bobby Brown, Noah Schnapp, Caleb McLaughlin, Sadie Sink, Gaten Mararazzo, Joe Keery and more, Stranger Things is creepy and funny at the same time. With season 4 streaming soon, the horror series is as tasty, messy and fleeting as an ice cream cone on a hot summer's day.
---
Star Trek: The Next Generation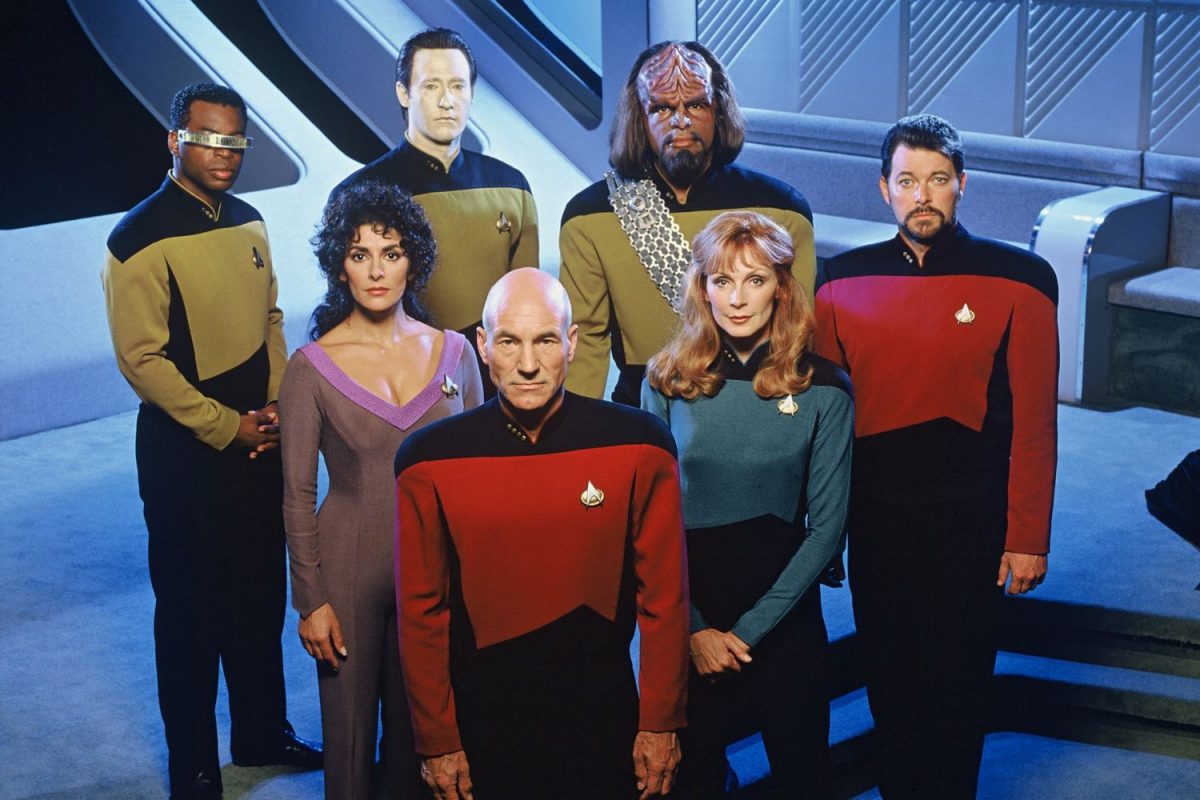 An OG series for trekkies! Captain Jean-Luc Picard leads a new generation of Starfleet officers in the Enterprise NCC 1701-D spacecraft to seek out new planet and life forms in space. The series is lead by the iconic Patrick Stewart.
---
The Crown
If you'd like the tea on British royalty, here's where you go to. The Crown portrays the life of Queen Elizabeth II from her wedding in 1947 to Philip, Duke of Edinburgh, until the early 21st century. The first season depicts events up to 1955, with Winston Churchill resigning as prime minister and the Queen's sister Princess Margaret deciding not to marry Peter Townsend. The latest season, season 4, delves into the highly controversial and tumultous relationship between Princess Diana and Prince Charles.
---
The Queen's Gambit
The Queen's Gambit takes place in the late 1950s and '60s, and focuses on a young chess prodigy, Beth Harmon (Anya Taylor-Joy). Tragedy and fantasy engage in a complicated dance in Scott Frank's scripts, as Beth is fed (and quickly develops an addiction to) tranquilizers as an 8-year-old child, something that opens her mind up but (obviously) plagues her throughout her young adult life.
---
The Umbrella Academy
Based on the Dark Horse comics of the same name and written by My Chemical Romance lead singer Gerard Way, The Umbrella Academy follows a family of former child heroes, now grown apart who must reunite in their adulthood to continue to protect the world. It stars Elliot Page, Tom Hopper, Robert Sheehan, Aidan Gallagher and Emmy Raver-Lampman.
---
The Witcher
The witcher Geralt, a mutated monster hunter, struggles to find his place in a world in which people often prove more wicked than beasts. Lead by the hunky Henry Cavill, the fantasy series just released its second season on Netflix.
---
If a tv series or two tickles your fancies but is unavailable in your region, consider using a VPN service to unlock full access. Plus, with the chance to access any Netflix website from across the globe, we're sure you'll find and explore that there's so much more.  
Need more information? Check out our Geek's Guide to the best VPN services in 2022 for video streaming.
Happy binge-watching!