Even if you're not a fan of Epic Game's Fortnite Battle Royale, there's no denying its popularity.
With its silly, offbeat sense of humour garnering the title an extremely young fan base, an indulgent parent might be wondering what is the best and affordable console to get the game on. The thing is, Fortnite is one of those rare titles that can be played on consoles, and on smartphones. Here's a pretty simple infographic that breaks down what it might cost to get started –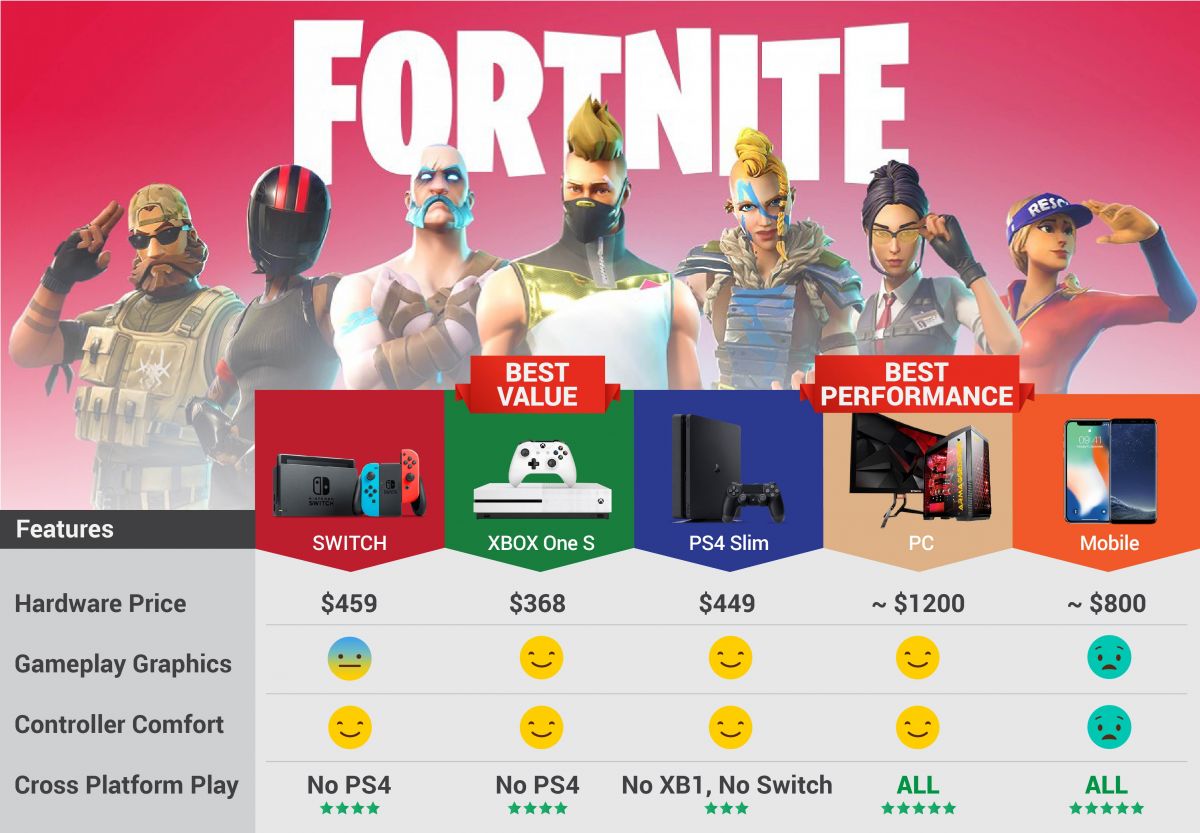 For a game that is about playing anytime and anywhere, mobility is key. There's your smartphone, and there's the Nintendo Switch. The real upside of the Switch is that it affords for both portable and living room Fortnite sessions at your leisure. So if you're looking to get on some games while commuting (with a data connection, of course), or lounging in the living room this console hybrid is the pick for you.
Graphics wise, Fortnite isn't the greatest while it's undocked with frame rates capped at 30fps. The upside is having full console styled controls while on the go.
When it comes to price, Fortnite on the Nintendo Switch isn't the cheapest but it lands itself in a sweet spot amongst the rest of the competition and offers the best pick-up-and-play experience.
And it is also the most popular. According to a local game retailer, Fortnite, and not God of War, is what is driving console sales in the last few weeks.
"I'm noticing customers who come to the store to buy a Switch, but they don't buy any games. Why? Because they want to play Fortnite," said the retailer who declined to be named.
The reason why you're getting an Xbox One S to play Fortnite is that the initial outlay is the cheapest. However, there will be a recurring cost in terms of an Xbox Live Gold subscription. No sub, no multiplayer.
And of course, you'll be needing a TV as well, preferably a 4K-enabled TV to enjoy the colourful goodness of Epic's battle royale.
"People play Fornite on the phone, but eventually, they need something better," noted the retailer. "And to be honest, the Xbox One offers the best value… assuming that all the person wants to do, is play Fortnite.
While not the cheapest nor most expensive option to play Fornite on, the PlayStation 4 has the biggest disadvantage – if your friends are playing Fortnite on the Nintendo Switch or Xbox One, tough luck, as crossplay for the PS4 is limited to the PC and mobile folks only. The bonus here is that Ps4 owners do not have to pay a recurring subscription for PlayStation Plus, to enable multiplayer sessions on Battle Royale.
PC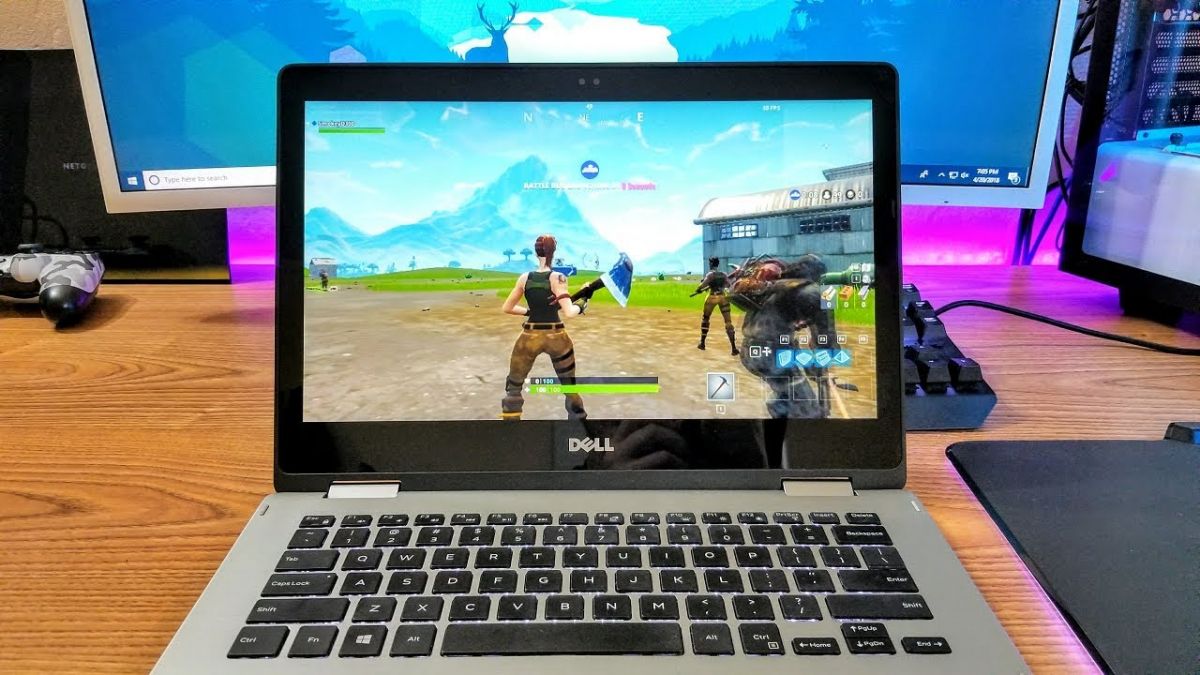 The crux of Fortnite's success is it being able to run on computers with even the lowest requirements. It's sorta portable like the Switch if you're gaming on a laptop, but the game is best experienced playing on a proper desktop.
The cost might not even hit the levels of S$1200 as stated on the infographic above, plus the PC affords crossplay with friends across ANY platform.
Mobile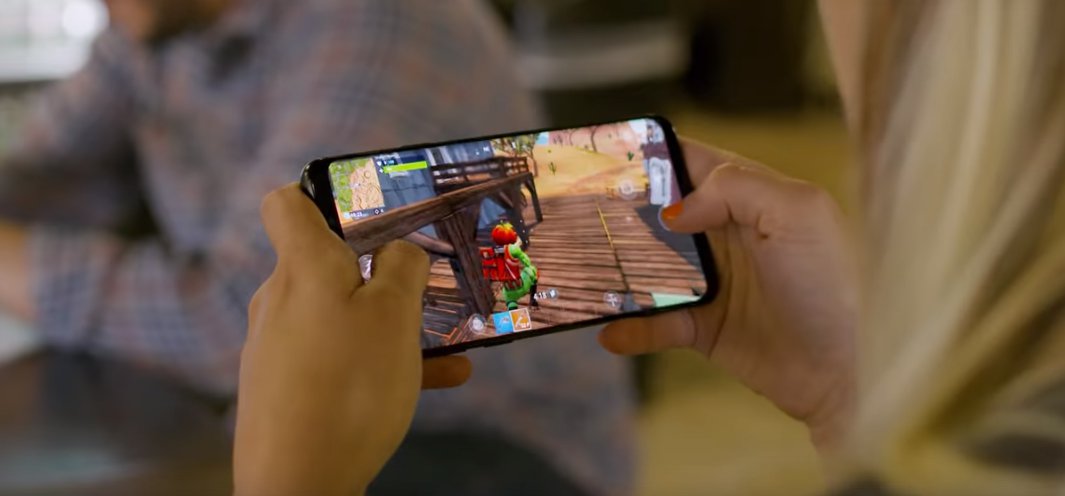 The mobile route is probably the most accessible these days. It's hard for someone not to have a smartphone if you're staying in a relatively affluent country. The tricky thing is Fornite for mobile is a game not quite supported across all mobile phones.
iOS (as always) is pretty much well covered but it gets tricky with Android. Currently, most top-of-the-line Android devices support the game and players won't even need to get a handset from a premium manufacturer. Even a Xiaomi would suffice.
The downside of it all? Controls on a touchscreen can be pretty crap but with the right controller attachment or an external controller, one could make it work. But if you're going that route, you might be better off with a Nintendo Switch which brings us back to square one.
---
If you're looking to get any of these consoles, do check out the deals that Qisahn has over on their Qoo10 or Lazada Pages. Deals do differ a bit due to credit card promos and specific voucher offers but take a look and source out the best deal.
Gerald currently straddles between his love of video games and board gaming. There's nothing that interests him more than trying out the newest and fanciest gadget in town as well. He dreams of publishing a board game sometime in the future!
---

Drop a Facebook comment below!

---