The weeks leading up to the long-awaited premiere of Marvel Studios' Avengers: Endgame on April 24 can be quite the long and painful wait.
Among all the advance ticket sales, themed merch, and more, Hasbro has released their new wave of Marvel Legends action figures to add on to your Marvel Cinematic Universe shopping list, or start one for you if you didn't already have one.
First unveiled at the New York Toy Fair 2019 earlier this year, the 2019 Marvel Legends Avengers 4 Figures wave introduces a slew of new action figures to fill up your collector's shelves. They are:
Avengers: Endgame – Captain America
Avengers: Endgame – Ronin
Avengers: Infinity War – Ebony Maw
Marvel Comics – Hercules
Marvel Comics – Living Laser
Marvel Comics – Nighthawk
Marvel Comics – Citizen V
And, of course, as with previous waves of Marvel Legends figures, these come with parts for the Armoured variant of Thanos, seen in Avengers: Endgame. Thanos is comprised of six parts, each of which are packed with the rest of the figures, with the exception of Captain America.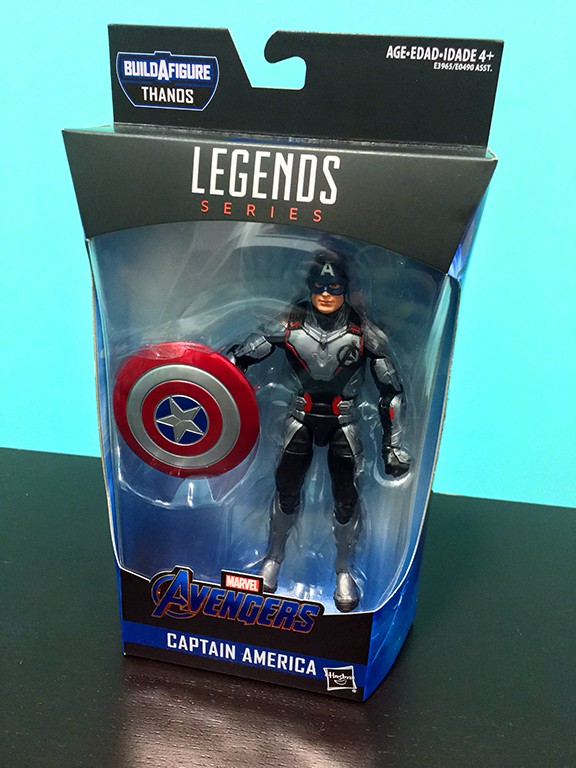 The first component, the iconic Infinity Gauntlet on the left hand, comes from the Ronin box. This guy needs no introduction at this point, of course.
The second, the left leg, is found in the packaging of Ebony Maw. Y'know, the fella who gave Doctor Strange a little bit of trouble on Earth in Infinity War.
The third Thanos piece is the torso, found with the supervillain Living Laser. This former scientist is energy incarnate, being able to emit huge laser blasts with his sheer force of will, and has more than once given Iron Man a run for his money with his dastardly deeds.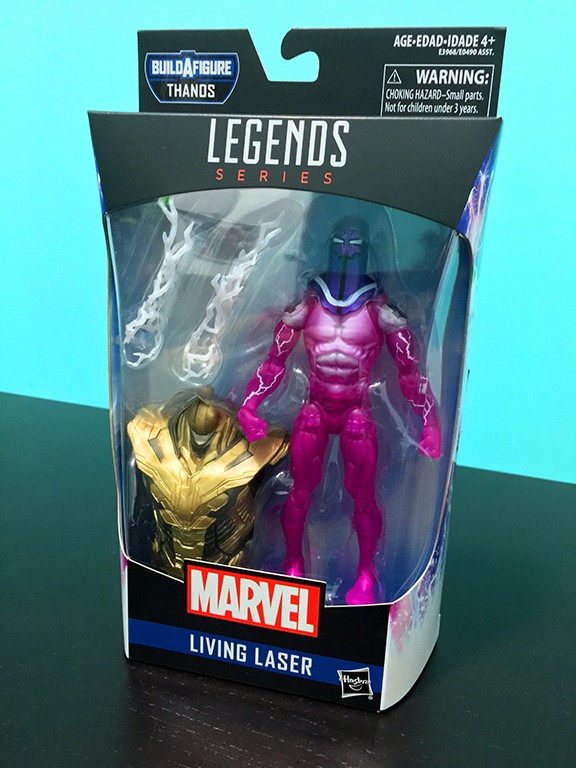 Thanos' right arm and his double-edged blade we've seen in the trailers is packed in with another Marvel Comics character — Nighthawk. Previously a villain, Kyle Richmond saw the error of his ways one day and decided to side with Earth's Mightiest Heroes.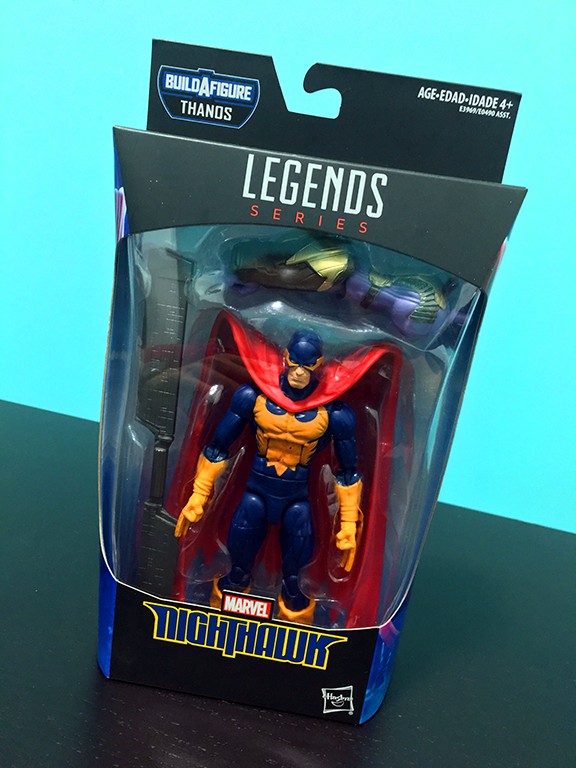 Thanos' other leg is found within the packaging of Citizen V, a member of the supervillain/anti-hero group the Thunderbolts in the comics. Citizen V is in many ways like Captain America and Black Panther; human, bears the iconography of his nation, and sports a tough metallic weapon as his main tool for dishing out pain.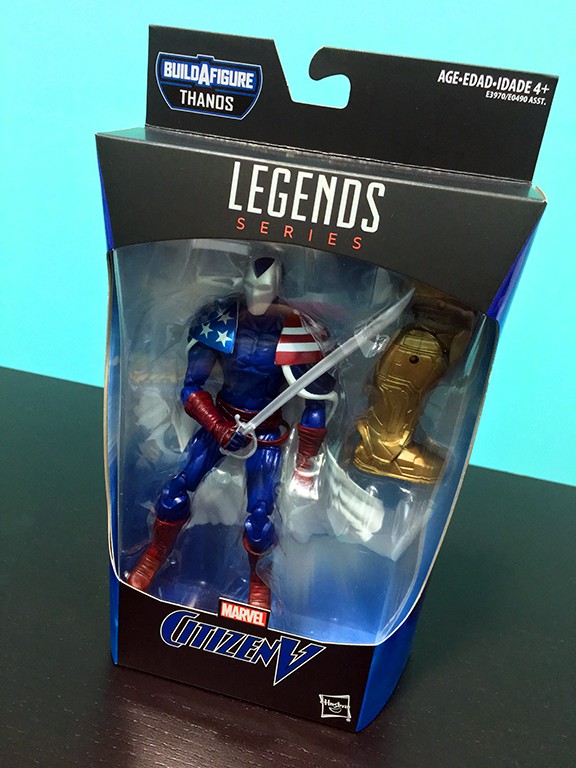 Finally, Thanos' helmeted head is found in the box that contains Hercules. The Olympian is every bit as bold, brash, and brawny as his Norse counterpart, Thor, and is also an Avenger in the comics.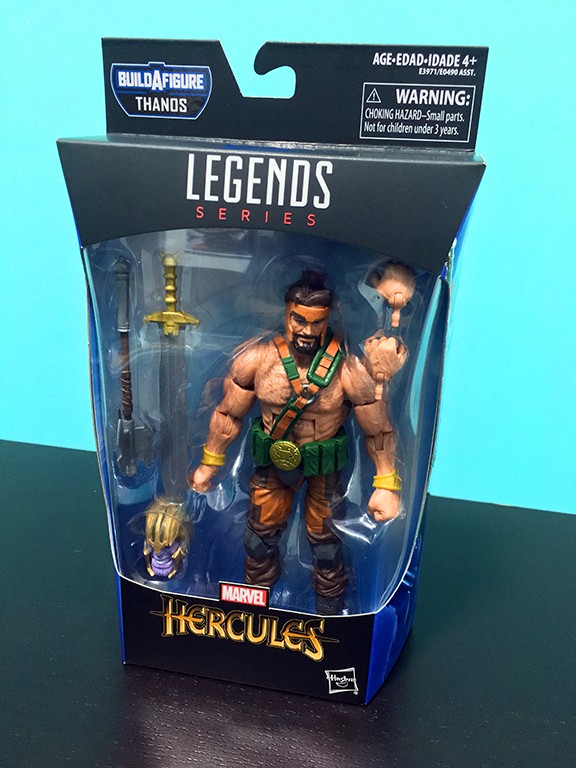 After unpacking Thanos from all the boxes, you'll get something that looks like this:
And when you assemble everything together, you have yourself a terrifying adversary for Earth's Mightiest Heroes.
If only that Infinity Gauntlet glowed.
For a 6-inch-scale model, the details of the Infinity Gauntlet are really clear. It's just a shame you can't remove it to install LED lights in it, like the Marvel Legends Infinity Gauntlet 1:1 Replica from last year.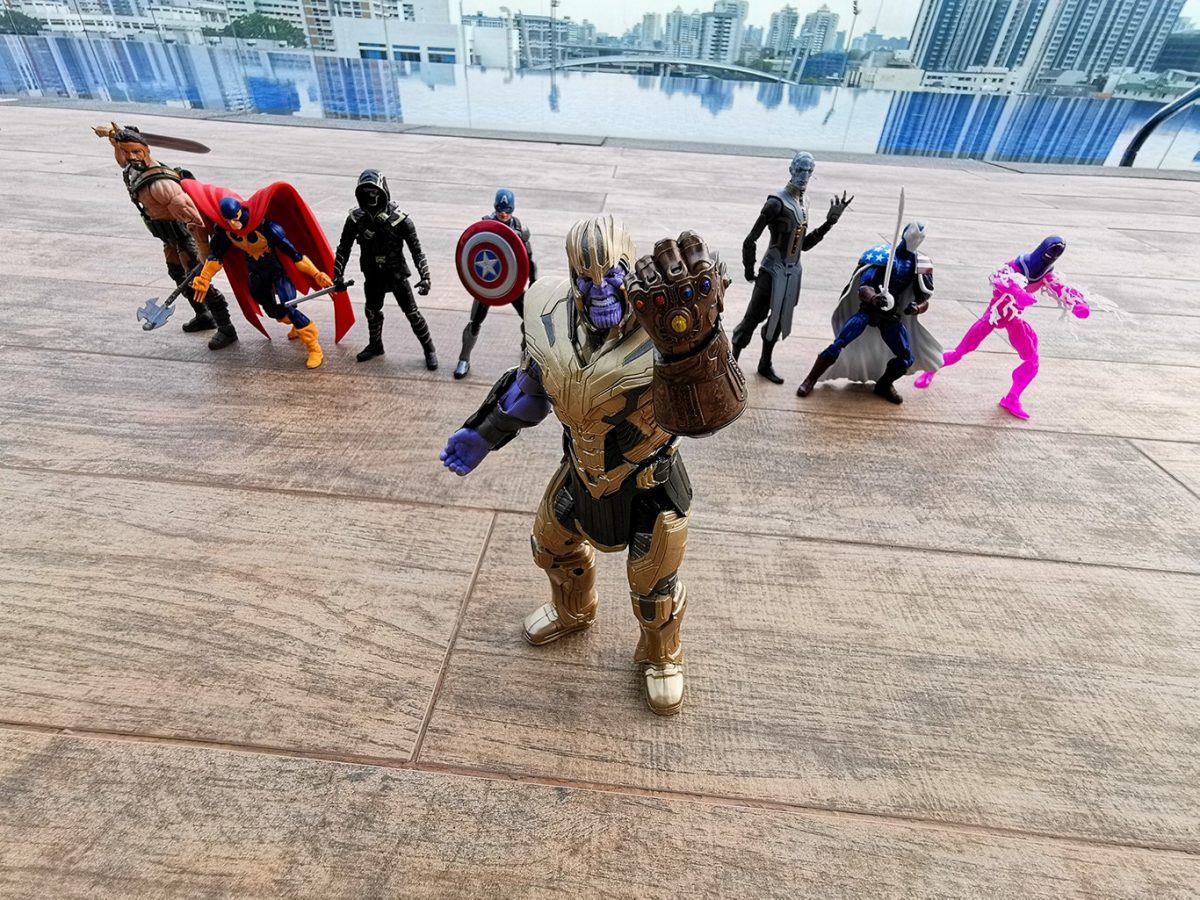 Of all the Thanos toys we've seen thus far for Avengers: Endgame, this Marvel Legends Build-A-Figure one takes the cake any day… at least until the Hot Toys one comes out later this year.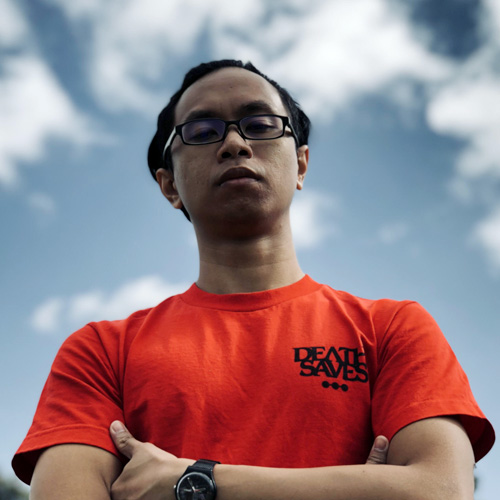 Marion has a serious RPG addiction. Sometimes it bleeds into real life; he forgets to sleep because he thinks he has a Witcher's body clock. Forgive him in advance if he suddenly blurts out terms such as "Mind Flayer" and "Magic Missile", because never once does he stop thinking about his next Dungeons & Dragons game.