With tickets reportedly reselling for US$10,000 in the US, it looks like Singaporeans are not taking a chance with their opening day tickets for Avengers: Endgame.
As ticket sales started this morning in Singapore, eager fans who prepped themselves for the online ticketing battle at the major cinema chains – Shaw, Eng Wah, Filmgarde, Cathay, and Golden Village, were left disappointed as the portals for Cathay and Golden Village crashed, or became unresponsive.
At Shaw, those who could queue saw that they were on a waiting list that had at least 7,000 others waiting to buy their tickets.
Luckily, some fans know that's not the only way to buy their tickets.
Alas, the all-powerful Thanos has the upper hand, as the swathe of social media grumbles grew as time passed.
While it appears that the online booking systems are taking a beating, Cathay is asking customers to buy tickets using their mobile app.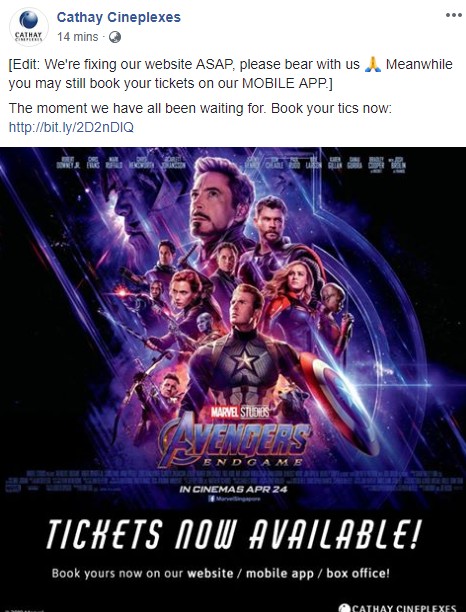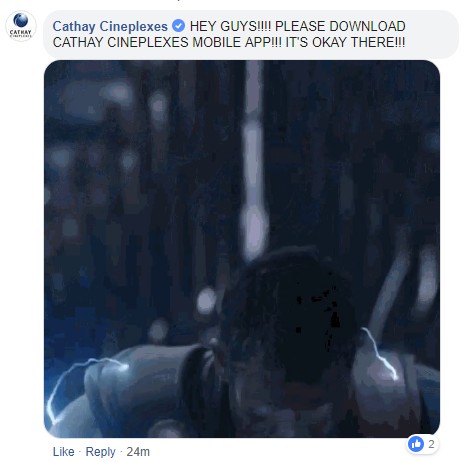 And as expected, folks have already started selling their tickets online, at premium prices:
It will be a long battle ahead as Avengers: Endgame arrives in cinemas this April 24. And remember to prepare yourself, as the movie is 3 hours and 2 minutes long.