Do you fight to eat, or eat to fight? Com2uS, developer of the popular Summoners War: Sky Arena mobile game, is dishing out a new content partnership with Devsisters hit title, Cookie Run: Kingdom, offering popular characters from Cookie Run: Kingdom added to Summoners War as collaboration Cookies.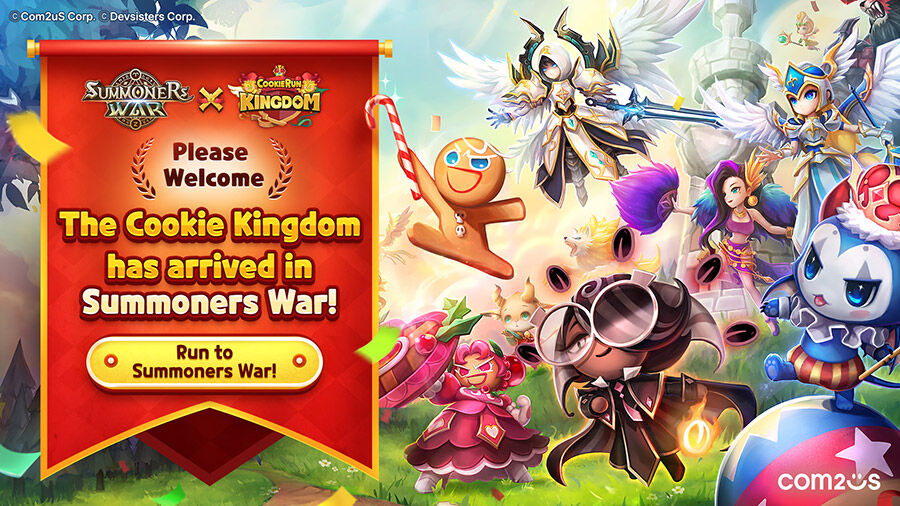 With the latest update, GingerBrave, Espresso Cookie, Madeleine Cookie, Hollyberry Cookie, and Pure Vanilla Cookie will be newly added to Summoners War, the hit mobile game that has recorded 150 million downloads worldwide in its eight years of battle. With this inclusion of Cookie Run: Kingdom, developer Devsisters is looking to boost engagement with its 40 million users that generated over 300 billion KRW of in-game transactions.
Through the various limited edition content added during this partnership period, players of Summoners War can send Monsters or Cookies on an exploration via the Bear Jelly Balloon to get rewards, enter the Collaboration Event Dungeon as a collaboration Cookie to unlock special skills, and battle the mystery Arena rival, Summoner X.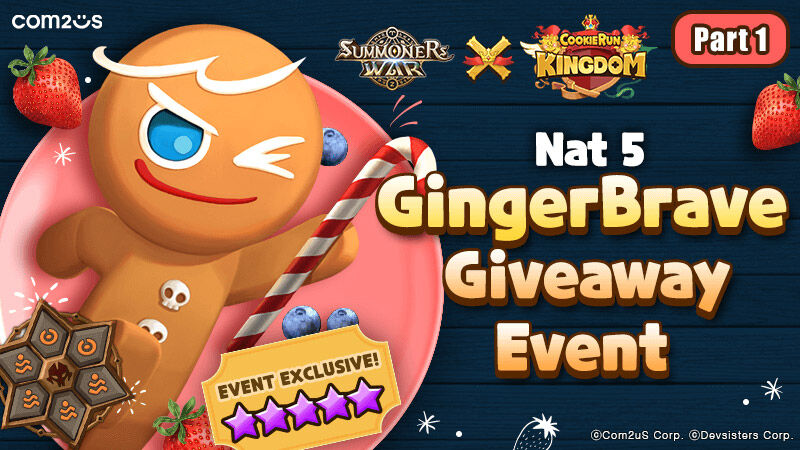 Cookie Run: Kingdom Scroll has also been added, and players can summon all attributes of default 4-5★ collaboration Cookies, and these special summon for collaboration Cookies will be available to get users even more exposed to the new characters and content.
To celebrate this sweet partnership, Com2uS will also host an event to make the collaboration content even more enjoyable, as 5★ Wind GingerBrave can be obtained with points earned from playing the game when players participate in the Nat 5 GingerBrave Giveaway Event.
There will also be Cookies! Events where players can gift Jellybeans collected from the pre-event, checking in, and playing the content to Cookies, to obtain two Cookie Run: Kingdom Scrolls and other generous rewards.
Meanwhile, a cinematic was revealed for the special collaboration of Summoners War and Cookie Run: Kingdom, heightening the users' anticipation. The cinematic portrayed the Cookies of the Cookie Kingdom rescuing the Summoners War Monsters from the Red Velvet Cake Dragon.
Further details on the cinematic and the update can be found on the Summoners War X Cookie Run: Kingdom official promotional page. You can download cute illustrations of Monsters and Cookies masterfully reborn in paintings and collaboration coupons.
---
This article is brought to you together with Com2uS.