You don't need a translator to understand what Google is saying – it will be launching the much touted Google Pixel Buds Bluetooth headset and universal translator in Singapore.
The catch? It'll be available sometime in November but with no indication how much the US$159.99 headsets will be priced here.
And chances are that it will likely be sold via a partner, and not directly via Google. It seems that launching in a new market takes time and planning, even for a giant such as Google.
Android fans will be getting their hands on the brand new Google Pixel 2 XL, and if you've been waiting for Google to finally bring their whole family of devices to Singapore, the Google WiFi launch last month was a hint of greater things to come.
The catch? Both these key launches are not direct launches, but Google has tied up with local partners. Released officially through Starhub, the Google WiFi saw its launch hijacked by Viewqwest, another competing Fibre provider who imported their own units. The units are the same, except that Starhub (not Google) is offering local warranty.
With the Google Pixel 2 XL, the situation repeats itself with its availability only through Singtel.
Cue memories of the initial Apple iPhone launch but this is not 2009.
While we could be totally one sided about this, we got a chance to sit down with Nanda Ramachandran, Global Director, Pixel Business and Martin Geh, Managing Director, APAC Hardware Partnerships, to hear the tech juggernaut's side of the story.
Their take? Uncompromising.
That's the virtue Google strives to achieve with the rollout of their entire suite of Google devices in Singapore and recognising that rivals Apple and Samsung are entrenched in this country and region, Google is ensuring that they get everything right.
"We're very picky how we launch into premium countries, and our ideal is to become the aspirational brand that people go into. Our scores are all about customer satisfaction and we do not want to compromise at any step. We want to ensure that we can deliver on the promises that we make for the brand." stressed Ramachandran, as he showcased the new Google Pixel 2 XL and Pixel Buds to the gathered media.
To have Google launch their devices in Singapore is quite a milestone, even for a company that has a sprawling campus on our small island. Singapore is alongside countries such as the US, Spain and Italy as part of an expanded global rollout. While it might be global for one device, Singapore is still falling behind on the others, but this is all part of the design.
"We're very, very cautious and deliberate in wanting to choose the right markets to launch at the right time particularly for a product like Pixel. When we look at new markets, and we choose launch partners, we look for three things: Strategic alignment in that we see the world the same way, the willingness to invest, and have a large enough presence to actually scale." shared Geh.
Singtel is by far the only telco that might be able to give Google the confidence that to meet all these demands, but "Singtel has the longest history, a track record in investing in the best technology for their consumers", noted Geh.
"And we have a common vision for ensuring that we have a premium experience for the consumer with regards for the Pixel from end to end. From the discovery of the device, to the purchase experience to the customer support, it will be an experience that we at Google can be proud of," said Geh with much conviction.
"The call centre is ours. The number to call would be Google. The warranty will be by Google." This complete experience was strongly emphasized repeatedly by Gen. However, when it came to the realm of warranty for parallel imports, things might get a bit tricky with Google preferring not to commit to such promises yet.
Prices have yet to be announced, it would likely be tied to a mobile phone contract with Singtel. Being the data driven company that Google is, the insight was that Singaporeans are more likely to purchase a mobile phone with a contract as opposed to off contract. Guess those SIM-only offers still need much more work in promotion.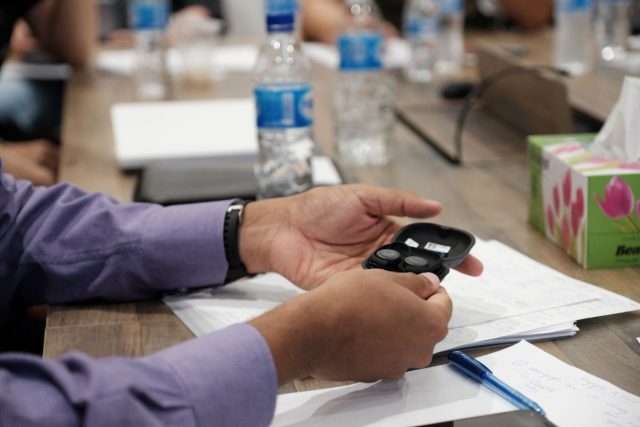 Alas, the conversation also seemed to indicate that the Pixel 2 XL and Pixel Buds will be the only products available in Singapore in the near term. The real reason for a limited launch was to limit the "SKU complexity" especially when it came to launching in a new market.
The Pixel Buds looked looked impressive when I watched it during Google's presentation and was even more outstanding in person. Translation is not instant but it's getting there.
If you're wondering for Singapore will be getting the XL instead of the regular Pixel, the response is classic Google by Ramachandran.
"The device trend is predominantly on the large screen device with year-on-year growth whether you're in the US or Singapore. If we had to pick one, if would have gone with the 6-inch device, thus we launched the XL in Singapore."
A glimmer of hope shone through when Ramachandran elaborated on how Singapore was considered on a global level for hardware launches, largely due to limited scaling at the initial phase.
"We look at the Google WiFi, and now the Google Pixel and Buds coming to the market, so it's just a matter a time. And that you would see us launch even more and more devices very very soon."
And thus, the wait begins.
Gerald currently straddles between his love of video games and board gaming. There's nothing that interests him more than trying out the newest and fanciest gadget in town as well. He dreams of publishing a board game sometime in the future!
---

Drop a Facebook comment below!