LG's Prada phone is a thing of the past, and Lamborghini's luxury Android phone reminds us of why Vertu crashed and burned.
But China's Huawei is not letting its partnership with Porsche drive off into the sunset, as it is crafting a Porsche Design Mate 10 variant of its newly announced Huawei Mate 10 Android smartphone.
This is not the first Porsche and Huawei partnership, and one reason why Huawei is continuing with a phone that cost twice as much as a Mate 10 is that consumers want it.
While the company did not provide actual figures, the company said that last year's Huawei Porsche Design Mate 9 sold ten times the company's projections.
"Last year, we launched the Porsche Design Huawei Mate 9 and it received very good customer feedback. Designed like a powerful Porsche car – super powerful, ultra long battery life, high performance. And, we sold out all Porsche Design phones ten times more than we expected." revealed Richard Yu, CEO Huawei Consumer Business Group, during the company's Mate 10 keynote.
A follow-up seems inevitable, though it's harder to stand out from the crowd these days. At this juncture, the design flavour of the era has handset manufacturers creating phones that are a slab of screen right in front, and make it as thin as possible.
But for the individuals who belong to more affluent brackets of society, being part of the crowd is simply not part of their DNA, so a market for a Porsche Design Huawei Mate 10 already exists.
And no, while the Mate 10 and Porsche Design Mate 10 might share the same genetics, there are differences in some elements. The Porsche Design Mate 10 looks stunning under the light and varies between a grey / black depending on the angle the phone is held.
Compared to the regular Huawei Mate 10, the most obvious change would be at the placement of the fingerprint scanner. The Porsche Design Mate 10 has moved the scanner to the back of the phone, and while the Mate 10 lacks Huawei's branding on the front, it's pretty obvious here. After all, what good is a special phone if no one knows what it is right?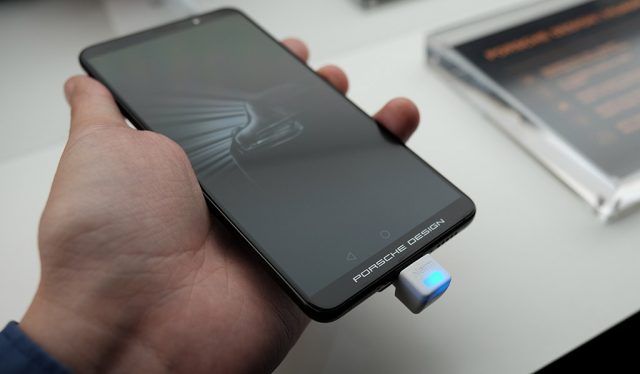 The UI of the Porsche Design Mate 10 is skinned differently as well for the default apps, such as the dialer and messaging. But, there still is a lack of continuity as the above image shows. While some folks might be able to live with it, I'm certain that there's a rich individual out there who will jump at this inconsistency.
With a going rate of €1395, the Porsche Design Mate 10 will be close to twice the price of the regular Mate 10. What's interesting is the launch countries the phone will be available in. On top of Singapore, a good part of the first wave markets seem to be all the countries which are flush with oil money. I'm guessing that the appeal to get a phone that matches their car is a very real thing in those countries.
That being said, the Porsche Design Huawei Mate 10 is definitely made for a different user breed. If you're a personal assistant who so happens to be reading this article for your moneybags boss, this is probably the one for him depending on his income bracket.
Gerald currently straddles between his love of video games and board gaming. There's nothing that interests him more than trying out the newest and fanciest gadget in town as well. He dreams of publishing a board game sometime in the future!
---

Drop a Facebook comment below!