The 21st Century, also known as the Information Age, is not nicknamed as such for no reason. The more we progress in this day and age, the more interconnected and intertwined our lives become. These days, that interconnectedness starts at the home, with leading tech brands such as LG and Samsung taking home living to the next level.

Last month, we witnessed the unveiling of the Samsung Galaxy S10, as part of the Samsung Galaxy S Series' 10th anniversary. The impressive photography capabilities of the S10 certainly impressed the world, as well as the incredibly flexible (and also incredibly expensive) Sansung Galaxy Fold, but that was definitely not the last we'd heard of the Korean tech colossus.

At the Samsung Southeast Asia & Oceania Forum 2019 at the Resorts World Convention Centre, Singapore, we were treated to a slew of new products and improvements to existing ones that exemplify the best qualities of the modern era. This is also a special occasion as 2019 marks Samsung's 50th anniversary in the tech scene.

From 8K QLED TVs powered by Bixby and third-party AIs such as Google Assistant and Alexa, to immersive home theatre systems, to smart fridges capable of detailing your next recipe based on the ingredients available inside, the possibilities for a more convenient lifestyle have truly evolved, and ever so rapidly, at that. It goes to show just how much Samsung has achieved in just half a century, and already it is one of the brands out there that is ahead of its time.

It goes to show just how much Samsung has achieved in just half a century, and already it is one of the brands out there that is ahead of its time.

Without further ado, let's take a look at some of the highlights of the occasion.

Family Hub Refrigerator

AI-enhanced fridges are all the rage now, with the ability to see the contents of your fridge, and whip up something based on the recipe suggestions shown on the fridge, and so on. Samsung's new range of Family Hub Refrigerators take that to the next level. Equipped with the new Bixby, these fridges may very well serve as a new family member, with the ability to take so much off your plate especially on busy days.

Need to catch a flight, but can't access your computer? Just say "Hey, Bixby", and you'll be able to search for available flights to and from your location, as well as view similar flights. Need to leave a note for the kids to do their homework? You can write or voice record memos onto the fully customisable Family Board.

You can also play your favourite music via Spotify or view the contents of the fridge from your phone thanks to Screen Sharing.

For owners of the first-gen 2018 Family Hub Refrigerators, don't worry about missing out on this good stuff, because you can get it all with just a simple firmware upgrade that's already out now!
We're only at the tip of the iceberg here, but you can imagine the multitude of things you can do with just a simple refrigerator.

QLED 8K TV with AI Upscaling

8K TVs are nothing new these days, yet they still garner a lot of wide-eyed wonder with the visual treat that they provide.

The Samsung QLED 8K TVs bring the best out of whatever you're watching, be it with their AI upscaling technology, Bixby activation, or even audio adaptability, based on the acoustics of your current environment.

Enhanced Cleaning Options

You can't have a perfect home without having some options to clean it with. The Samsung SEAO Forum debuted several new cleaning products, most notably the POWERstick Jet200 and the Cyclone Force POWERbot 20W.

The POWERstick Jet200 is a multi-purpose cordless vacuum cleaner that not only sucks in all the various debris and dirt from the floor, but also doubles as a high-power mop that quickly removes all the grime and grease on virtually any surface of your home like it wasn't even there. To change the heads, just press a simple catch on the shaft to release and replace without much effort.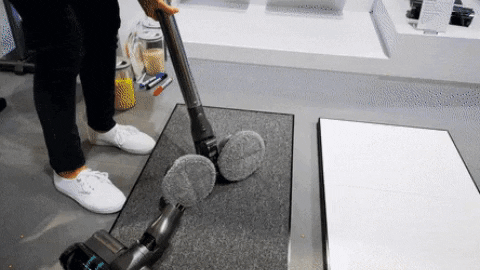 Coupled with that 200W of horsepower, quick charging and you have yourself a formidable cleaner that will last you years.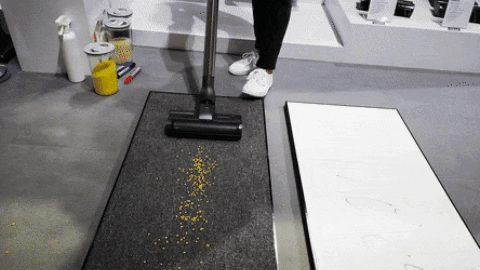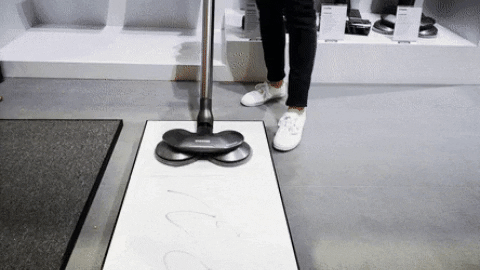 Still too much work? Not to worry. The Cyclone Force POWERbot 20W will be your perfect housemate in that case.

One of the most powerful robotic vacuums out there, the POWERbot 20W is also one of the slimmest in the top-tier end of the spectrum, able to reach some of the hardest to reach places in your home.
Plus, it works with Bixby, so it's even more lazy-friendly.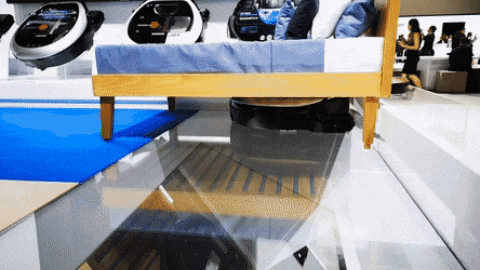 The Frame & The Wall

Ever struggled with having a thousand pictures that are all amazing, but unable to put them all up on display without cluttering up your living room wall? Look no further than one of Samsung's standout performers at the Forum: The Frame.

Debuting last year, this beauty is an elegant 4K UHD TV that can double up as your art gallery (if the name doesn't give it away already). The super-slim bezels are customisable, so you can outfit them with whatever design you desire to fit the art and/or pictures you wish to display on it.

The Wall is yet another mammoth introduction this year, first debuting at CES 2019.

This behemoth measures a whopping 219 inches or 556 centimetres (depending on where you live) – roughly three quarters of many of your living room walls. And they definitely didn't skimp on the image fidelity even in low light, thanks to the power- and light-efficient MicroLED screen. Perfect for viewing your favourite groups and shows in action in nearly life-size proportions.

It's no wonder that Samsung is one of the leading tech companies out there today, seeing how they've constantly pushed the boundaries for how we live our daily life. Home automation is certainly the future of our way of life and Samsung has one foot firmly on that vision.

Their displays at the SEAO Forum has certainly gotten many of us looking forward to the official launch of these products between now and the later half of 2019.