The accelerated evolution of technology has given rise to the era of the IOT, or Internet of Things, where interconnectivity is key. From mobile phones to household appliances, everything can be accessed and hooked up with a simple app, bringing with it a great sense of convenience, and the increased appeal of smart living.
Building upon the connected living experience, Samsung has unveiled their Family Hub Refrigerator – their first-ever IoT-enabled fridge to be introduced into the industry. Where its conventional counterparts are designed to store food (duh), this one is capable of streaming videos, playing music, and archiving digital notes, while tucked neatly in your kitchen.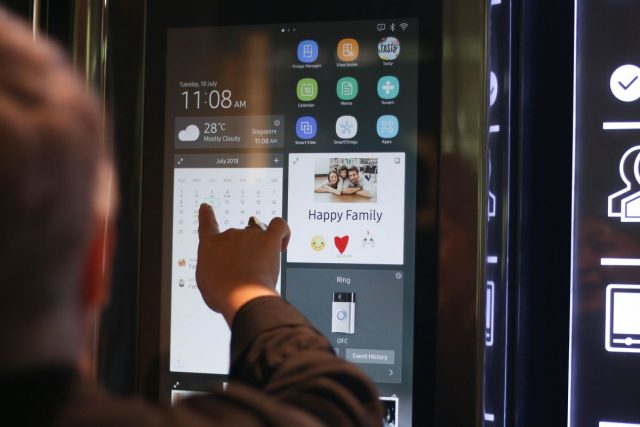 Combining the cloud with intelligent features and capabilities, the Family Hub comes equipped with a 21.5-inch, Full HD LCD touchscreen that houses a host of apps. For example, the Calendar app is filled with colour-coded entries for users to better manage their schedules, while Memo allows them to leave handwritten notes, draw personalised messages, or upload photos to a shared platform. Meanwhile, Tasty grants access to a list of comprehensive recipes, and Smart View mirrors content from supported Samsung television and phone models to the screen; throw in Wi-Fi connectivity, and a complete network is born.
The whole user experience is improved with a highly responsive screen, although a stylus would be appreciated, especially where writing notes is concerned. Alternatively, individuals can opt to engage Bixby via voice command, which can also recognise separate voices and provide personalised information based on each user's preferences.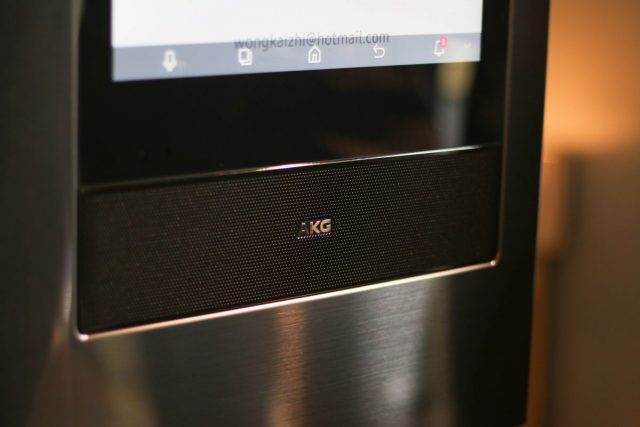 With the Family Hub, Samsung is seeking to transform the kitchen space into a multi-room entertainment experience. Apart from the aforementioned touchscreen, the fridge is armed with the AKG Premium Quality Sound Speaker known for its deep bass and rich mid-tones, allowing for a more enhanced listening experience through Spotify or TuneIn, the default app for live radio. As per most IOT devices, however, streaming via Spotify is only restricted to those holding a Premium account.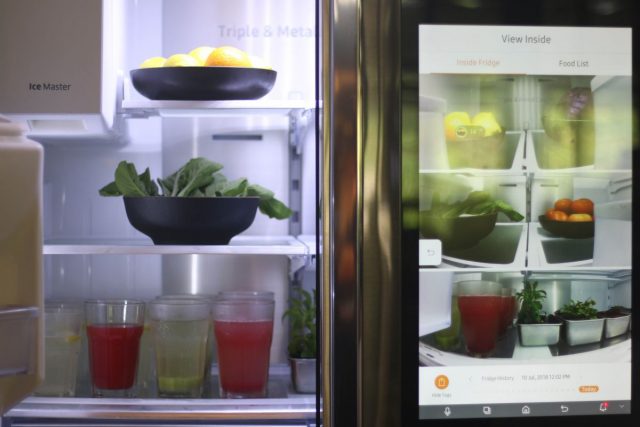 One nifty and extremely useful feature of the Family Hub is its View Inside app. With a screen that displays the contents of the fridge's main chamber, there's no longer a need to open up the doors just to see what's inside. Monitored by three cameras located near the magnetic door strip, it's intuitive enough to detect when an item is placed or removed, with the screen refreshing five-or-so seconds later. Download the same app on your phone, and you'll be able to monitor what's inside, when your're out, of even at the supermarket trying to remember if you have enough milk or eggs.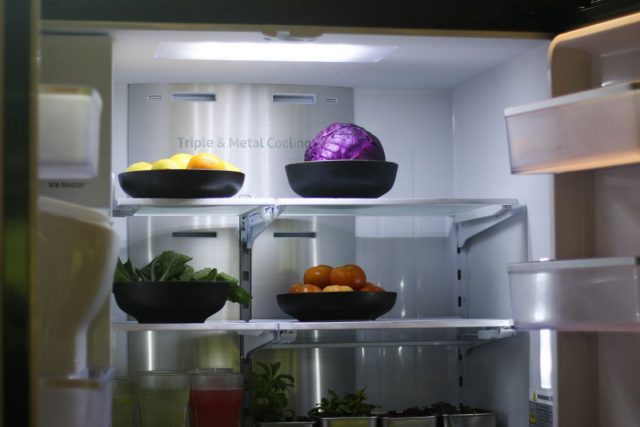 Accompanying it is the ability to set food expiration dates, as well as to create a list of items via the Shopping List app, to keep track of items within. All of these are backed up by a Triple Cooling System that ensures longer-lasting freshness and optimises temperatures, with a versatile lower FlexZone fridge compartment in tow, which users can easily convert from a freezer to a fridge, and vice-versa.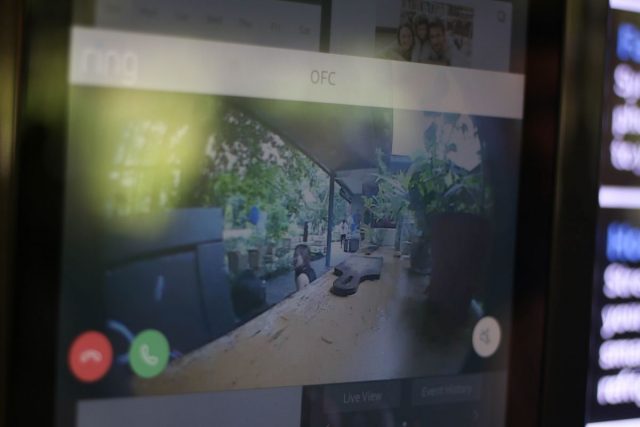 Supported by the SmartThings ecosystem, Samsung's latest addition serves as the primary nexus of control. Through the SmartThings app, users are able to link up various Samsung smart appliances and third-party compatible connected devices to the Family Hub, to carry out household tasks without leaving the kitchen. When paired with the Ring Video doorbell, homeowners can even see who's at the front door and interact with the visitor, without ever leaving the kitchen.
In addition to the above, the team is also looking to introduce more features in the near future, with the earliest involving the customisation of diet plans, slated for release in August 2018.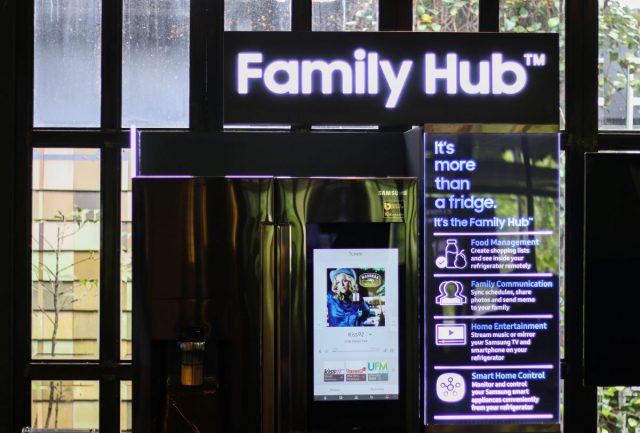 The debut of the Family Hub marks the round-up to Samsung's full suite of smart living solutions in Singapore, bringing an extra touch of innovation and convenience to the lineup. It's possibly a viable choice for kitchen dwellers, especially with the balance of practicality and entertainment, but may otherwise come across as overly-flashy for casual users, who would be less inclined to fork out the hefty sum of S$7,499 for a fridge.
Plus, all that connectivity means that it consumes energy at the rate of 730kWh/yr , which is more than the 594kWh/yr for another one of its refrigerator models, the RS68N8322S9.
There's a small incentive for interested parties, though. In celebration of the product launch, consumers purchasing the Family Hub will enjoy a complimentary Ring Video doorbell – available till September 30, 2018 while stocks last.
Perhaps we'll see a music-streaming, video-supported microwave oven next?