*Update: In Handheld Mode, the Switch runs at 1280 x 720 resolution with a 720p multitouch display. In Dock Mode, it has full 1080p visuals using the HDMI cable connection. The Switch runs on a custom Nvidia Tegra processor, has 32GB of onboard memory which is really low compared to modern standards. Thankfully it can be expanded using microSD cards.
The year 2017 has only just begun, but we already have some big hitters coming our way in the form of Resident Evil 7 biohazard, For Honor, and Horizon: Zero Dawn. Yet we cannot ignore Nintendo with its upcoming new console and the promise of another Legend of Zelda and more Mario games. Here's the recap of what went down during the Nintendo Switch event this morning/evening!
---
Nintendo President Tatsumi Kimishima welcomed us to the Nintendo Switch Presentation held in Tokyo, espousing the merits of the new hybrid console for the modern Nintendo fan. The Nintendo Switch can be connected to your TV like a traditional console, or brought out in portable form for on-the-go gaming, stuff we should all be familiar with.
"A brand new kind of video-game system with a variety of play styles."
But first, the most important detail of all, the Nintendo Switch will release simultaneously worldwide on March 3rd, for US$299.99.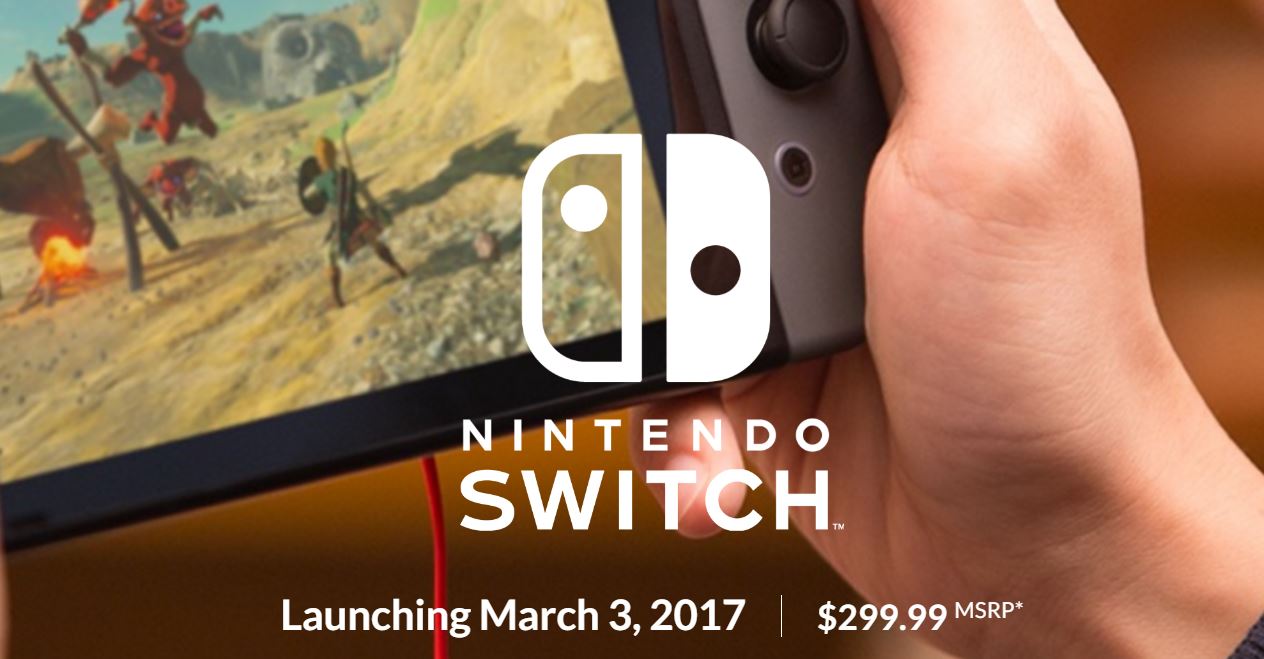 With a huge emphasis on local and online multiplayer, Nintendo is bringing out a dedicated smart device app to let players invite friends, chat, and set gameplay sessions using your Nintendo Account. There will also be a paid online service a la PlayStation Plus and Xbox Live Gold that will arrive later in Fall 2017, with an initial trial period. Expect online lobbies, voice chat, special offers and more intriguingly, a monthly game download of an NES or SNES game with newly-added online play (SNES) for free for a month! This is a welcome relief, as Nintendo's old online services often left much to be desired and created many frustrations.
In addition, region lock will no longer be a hindrance for gamers around the world. The presentation then moved on to highlight the different modes with which you will interact with your Nintendo Switch.
TV Mode is the traditional way of playing games, sitting down on the couch and playing on the TV. Tabletop Mode allows the propping up of the console on its kickstand and playing with your Joy-Cons controllers, alone or with others. Lastly, Handheld Mode is where you remove the Switch from its dock and attach your Joy-Cons to the system. Bring your Switch anywhere and play! The Switch has a capacitive touch panel, much like the Wii U Gamepad, and up to 8 Switches can be connected for multiplayer sessions, pretty neat.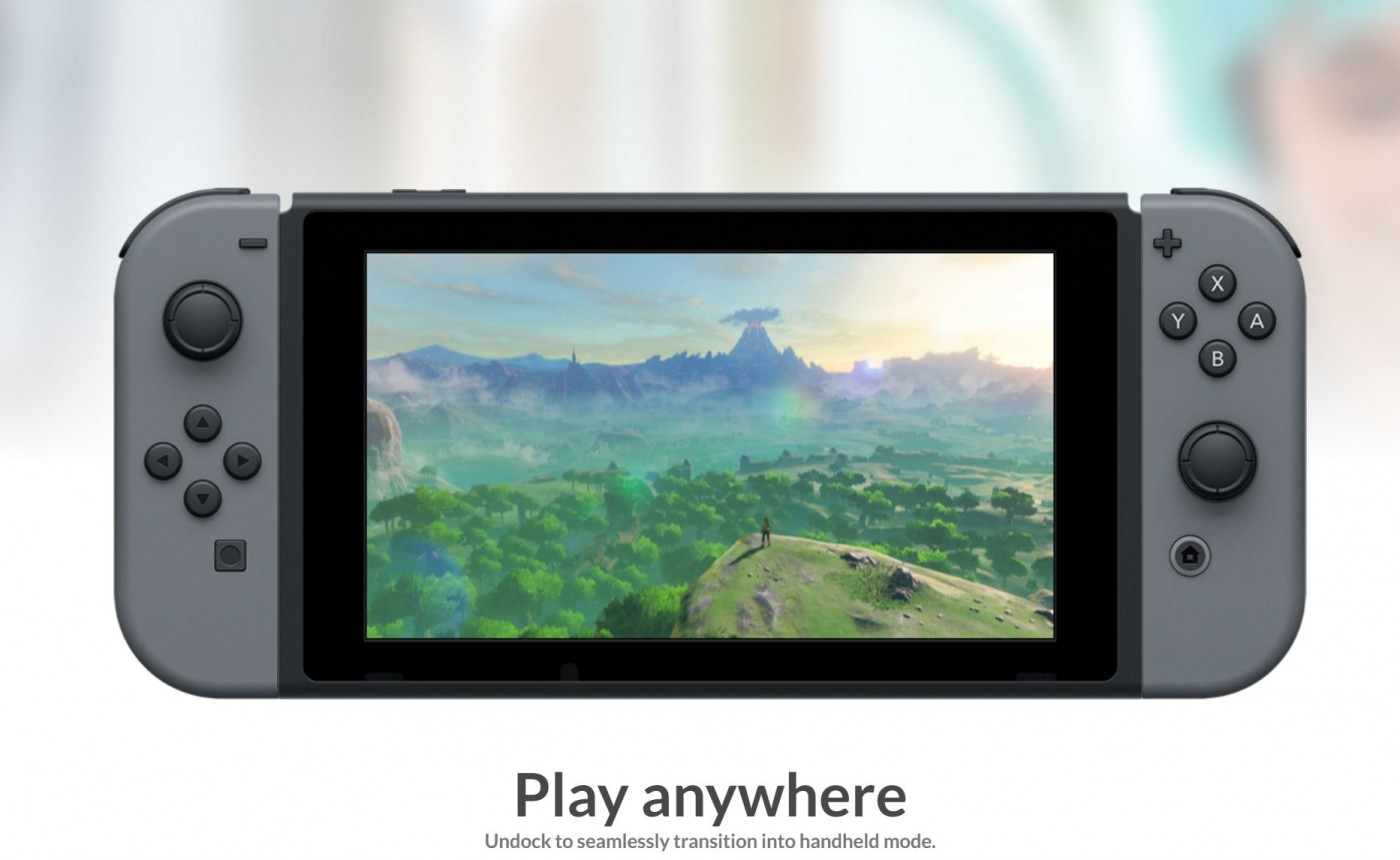 Battery life is expected last from 2.5 hours to 6 hours depending on the game, and the Switch can still function while charging using the AC adapter and the USB Type-C cable.
Joy-Cons
The Joy-Cons, the Switch's controllers are split into the left and right Joy-Con, with analog sticks that click in on both controllers. The right Joy-Con is where the standard A, B, X, Y buttons are located, with an NFC reader for Amiibos' and other potential use. It also packs an IR sensor that can tell the distance from objects and even determine objects' forms.
The left Joy-Con holds the D-pad as well as a dedicated Capture button, these allow the capturing of screenshots and eventually video. Both Joy-Cons will have what Nintendo termed as "HD Rumble," vibration feedback that opens up new opportunities for game developers to make use of. Accelerometers and gyro sensors will bring motion gaming to the Switch, and there are Left and Right triggers on each Joy-Con.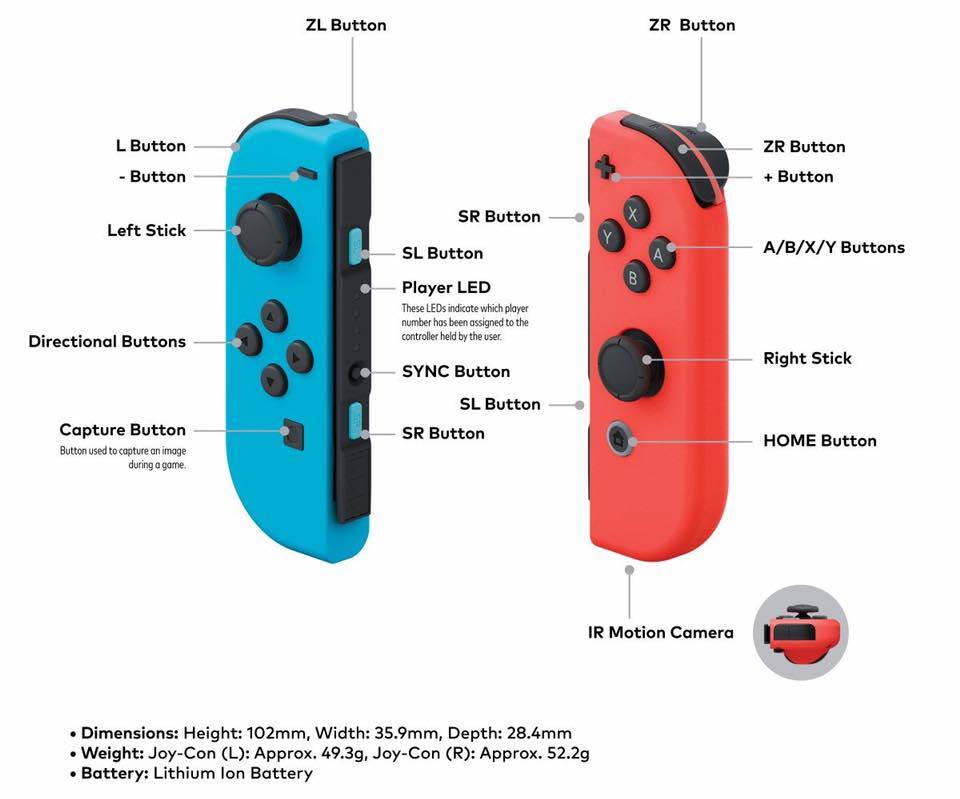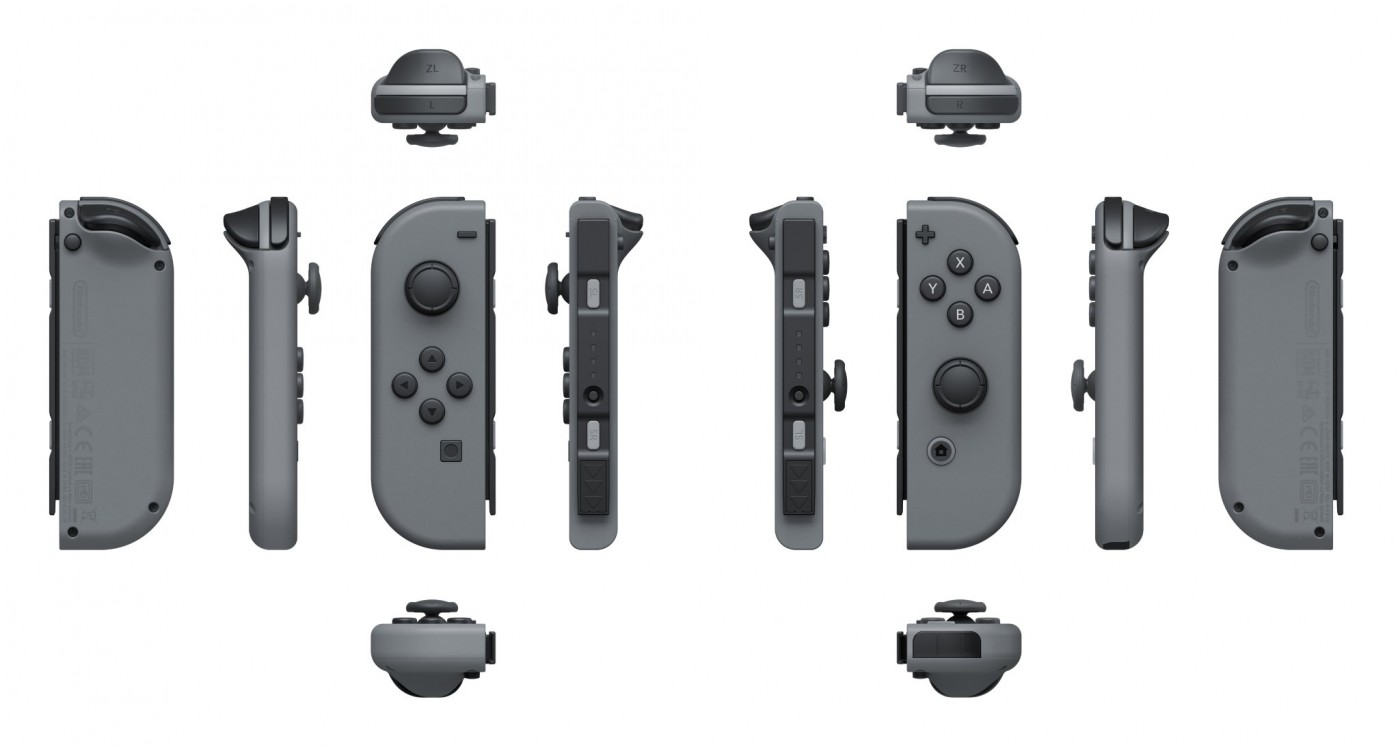 The Joy-Cons will come in colour variations of Neon Blue/Red and the original grey, and wrist straps will also be available for purchase. When you decide to purchase a Switch, it will come with the console, the Joy-Cons, wrist straps (coloured variations available), the Joy-Con grip, the Dock, HDMI Cable, and an AC Adapter. The two available variations of the Switch (grey/neon blue and red) will be the same price, with the Pro controller sold separately.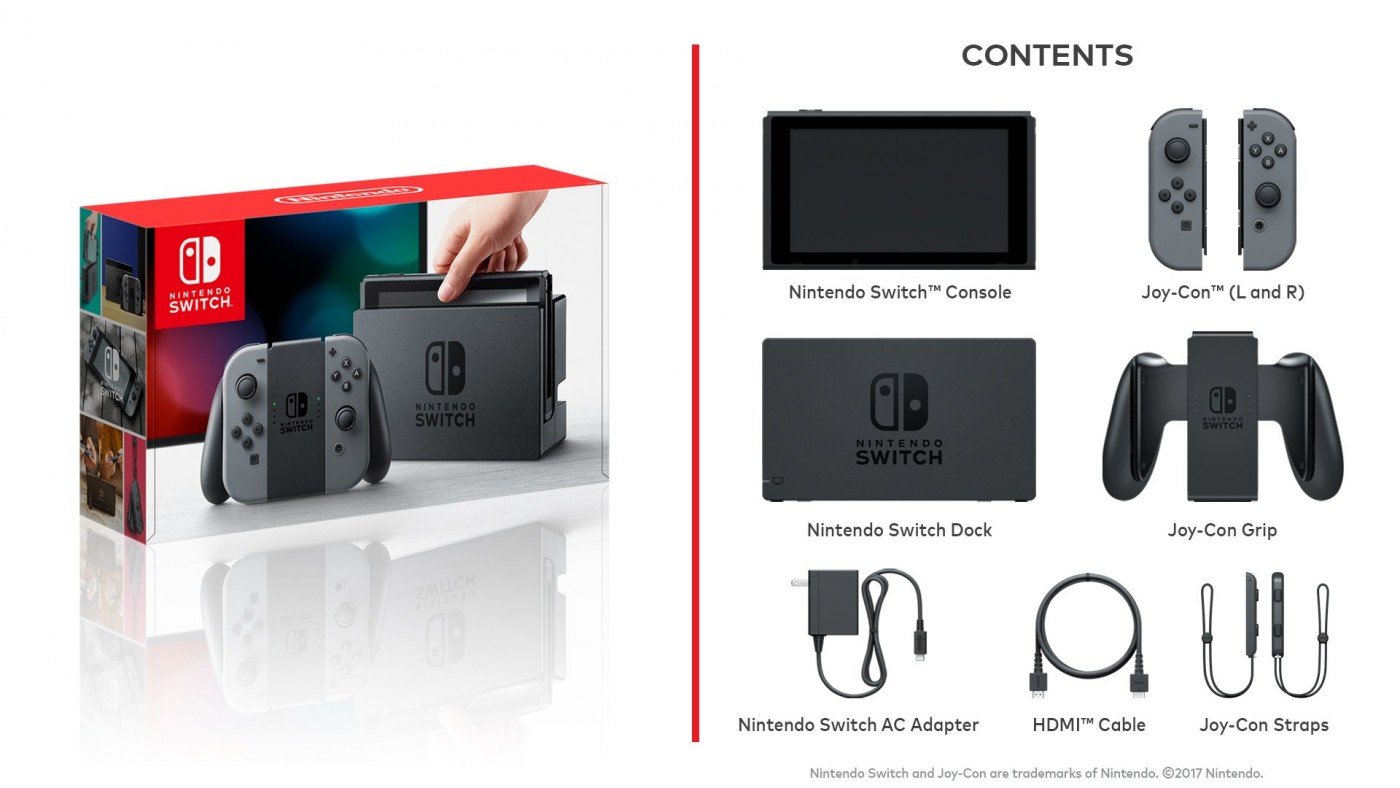 ---
The Games
A console is nothing without games, and there were certainly some surprises in store for us!
1-2 Switch will make use of the HD Rumble and requires no screen. Instead, players will be facing each other in what looks like a variety of minigames that require movement. The mention of it being an icebreaker and party game will most certainly mean this is a glorified tech demo, but we could be wrong. 1-2 Switch will launch with the Switch.
https://www.youtube.com/watch?v=j7p47TOmicQ
ARMS was next, a mix of boxing and shooting where you use extendable arms to battle your rival. A motion-based game, you hold the Joy-Cons in a thumbs-up position, and punch like you would in real life. Twist your fists and watch your punches curve, with dashes and jumps adding more depth and a strategic layer to the base game. ARMS will feature customization and different play styles, and it can be played solo, split-screen, or by connecting two Switches locally or online. ARMS will come in Spring 2017.
https://www.youtube.com/watch?v=k7s3UB_8dFM
Splatoon 2, the sequel to one of the most fun and innovative shooters in recent memory, brings with it changes to the squid world we know and love. New battle stages and weapons will be in your arsenals, such as rocket launchers that shoot paint missiles, and Pro Controller support! Splatoon 2 will work in both TV and Handheld Mode, with network play and local multiplayer ready for you to wreck havoc in. It will release in Summer 2017, with content updates to come after its release.
The big one, Super Mario Odyssey brings Mario out of his familiar surroundings and sends everyone's favourite Italian plumber on a journey to unknown worlds (yes, even ours)! New worlds, new enemies and new abilities, Mario will also have a magical cap companion that can be used for platforming, neat! Expected in Holidays 2017, get hyped!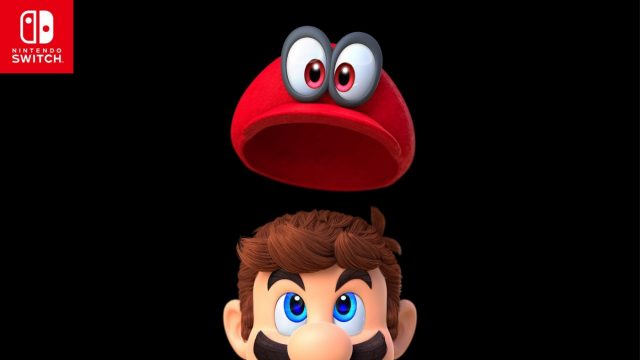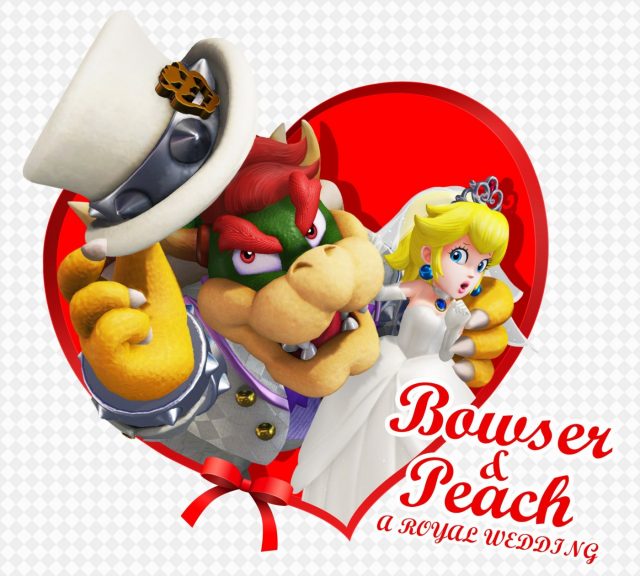 Xenoblade Chronicles 2 will come with improved visuals, a big open world akin to the first, and those gigantic monsters that inspire both fear and awe, while Fire Emblem Warriors, a Musou-style game by Omega Force and Tecmo Koei, will be familiar to fans of the genre, albeit with a touch of Fire Emblem.
https://www.youtube.com/watch?v=POsTR5iy_TI
Nintendo announced that there are over 80 games in development right now, and we can expect to see them in the coming months. Square Enix is developing a new RPG, titled Project Octopath Traveller, with a unique graphical style and sense of scale powered by the team behind Bravely Default. Dragon Quest X and XI will also be coming to the Switch, and do not forget about Dragon Quest Heroes I,II!
Shin Megami Tensei is celebrating its 25th anniversary this year, and Atlus will be bringing the next instalment to the Switch in the future. Suda-51 of Grasshopper fame announced the impending return of Travis Touchdown of No More Heroes, while Skyrim and EA Sports FIFA will be coming to the Switch as well.
Last by definitely not the least, The Legend of Zelda: Breath of the Wild will be launching day and date with the console. March 3rd will see the return of Link in a lush, gorgeous open-world that's both atmospheric and foreboding. Mentions of Hyrule and Calamity Ganon, intense combat sequences, set pieces, gliding, and a potential 100-year gap to fill in, this is reason alone for one to get the Switch!
Nintendo also showcased a sizzle reel showing off the lineup for the upcoming year and beyond. Standouts like Mario Kart 8 Deluxe, Super Bomberman R, Ultra Street Figher II Turbo, Sonic Mania among others were shown in the reel.
Is this enough to make you excited for the pending release of the Nintendo Switch? Let us know in the comments below!
One last thing…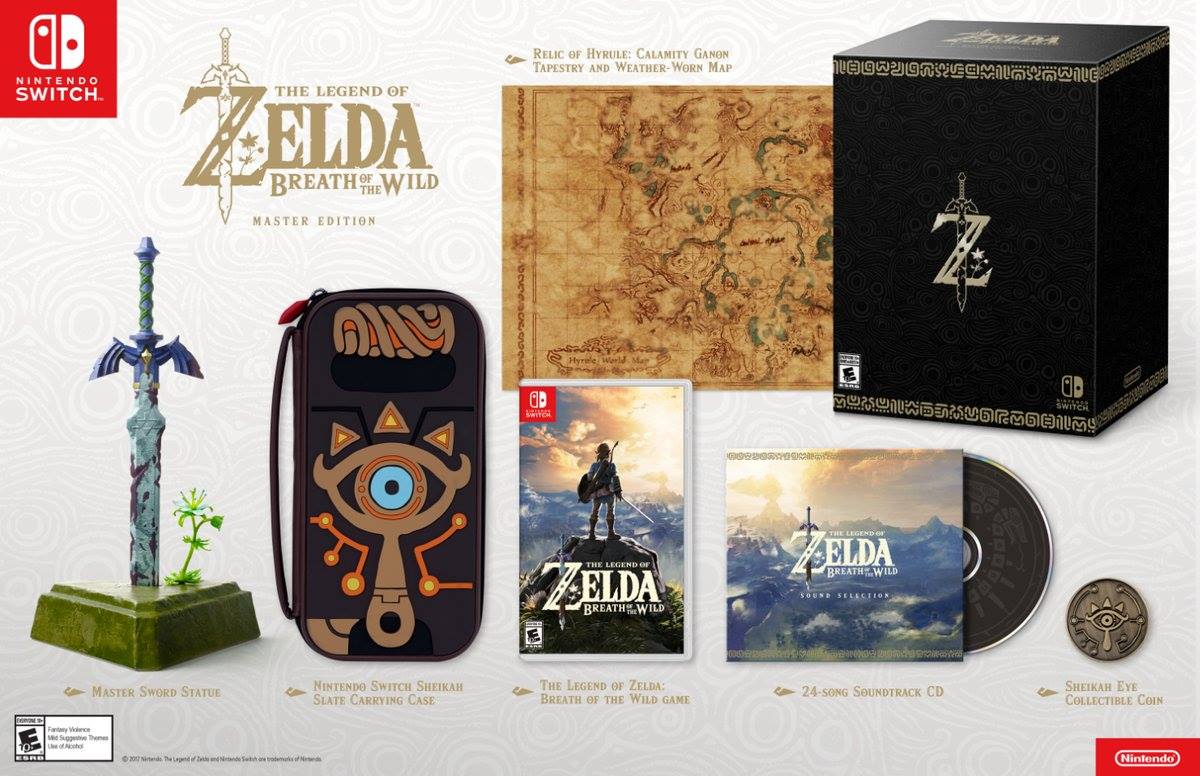 The suggested retail price of US$299.99 may not apply to your region, please check with your local retailers to get the latest news and updates in regards to the Switch's release. You can pre-order the console at Singapore retailers such as Qisahn.com and TOG.
While we wait for the Switch to eventually come to Singapore, we hope that it will not be overpriced and more widely supported and distributed, more options will always equal more happy consumers! Otherwise, there's always Amazon.
Jake is a full-time trophy hunter and achievement gatherer on consoles, and part-time Steam Sale victim. He has a thing for Batman and awesome statues, and running out of space for both. Send help.
---

Drop a Facebook comment below!
---