Netflix has arrived in Singapore (plus the world) and judging by the response on social media it might seem as though the second coming has arrived. I'm pretty some people are worried but it's certainly not the sinners.
The ones who should start repenting after growing really fat after years of monopoly should be the pay TV operators such as SingTel and StarHub, who also offer their own TV streaming services in Singapore. Netflix could very much be seen as an individual who is chasing after a piece of their pie.
Is it time to cut the cord? Not quite. Content on Netflix differs from region to region. If you need a gauge of what other regions have to offer, a quick Google will help you get sorted out.
Read also: Best and Cheapest Way to get on Netflix + Play Some Games: NVIDIA SHIELD
How Netflix filters content according to region is based on your IP address. Think of it similar to your residential address; If you're based in the US, they would send you US content and if you're in Singapore, you would be served tailored content for Singapore.
So even though you've signed up for a Singapore Netflix account you technically can access the US account with a VPN. You could either go with the paid standalone VPN route or hop on to one of the value added services provided by MyRepublic (Teleport) or ViewQwest (Freedom VPN).
Now you can enjoy Netflix while on the go!
As much as I have plenty of data to burn, streaming full time on a mobile phone is not the solution. As circumstances have allowed it, I have access to the best of both worlds – Netflix on my mobile phone has access to SG content while my television (subscribed to MyRepublic) has access to US content.
House of Cards is currently not available on SG Netflix so this confirms that my TV is still connected to the US. No IP or geolocks!
In order not to burn out my data, I tested if accessing a piece of SG content then hopping onto my home wifi connection would cause Netflix to reconnect.
I tried this out with Pacific Rim which is not available in the US and I'm still able to watch the show!
Watching on a small screen is hardly the ideal scenario when you can watch in on your TV with great audio. Netflix detects the KDL-55W800C is my Android TV at home and I would need to be on the same network in order for me to cast my screen.
Boo! It seems that Netflix is unable to cast if your account is on separate regions, which is totally understandable. Remember, my phone is on SG Netflix while the TV is on US Netflix.
It's not the end of the world but it would always be nice to have some options. The only question now is how would ISPs who have provided a VPN solution to their subscribers a way to swap between regions. If they are able to do so, might we be able to see the possibility to access even more regions of Netflix content as well?
This is important because no content on Netflix (apart from their exclusives) is permanent on the platform. There will be a day that existing shows/movies will be rotated out for another wave of content.
After a day of "chaos" I thought it might be cool to pop into all the respective ISPs in Singapore to see how they've reacted to the news.
MyRepublic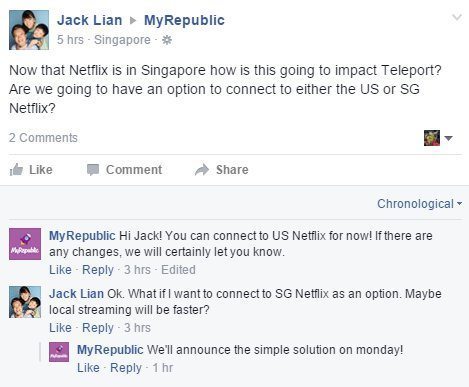 Region swapping for MyRepublic is on the cards? Awesome!
ViewQwest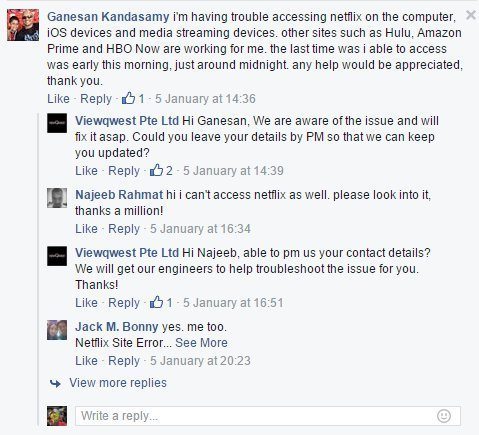 It seems that the only issues they had was a few days back. Their wall is closed off so not much action there.
Starhub
Starhub had a pretty interesting exchange on their Facebook page, do check it out in full here.
The other two, M1 and Singtel, didn't seem to have their communities buzz about the Netflix announcement.
So, after one day of excitement, would you want to subscribe to a Netflix account? Well, you get the first month free which is a great way to trial the service. If you're a big fan of Japanese or Korean dramas those seem to very well be on the way and the best part is there's Chinese subtitles that would really help wrest away some of those eyeballs in Singapore!
Time to get used to this guys.
Take part in our ongoing Singtel / Netflix Giveaway!
[facebook https://www.facebook.com/Geek.Culture/posts/941203899301926]
Gerald currently straddles between his love of video games and board gaming. There's nothing that interests him more than trying out the newest and fanciest gadget in town as well. He dreams of publishing a board game sometime in the future!