Microsoft held its huge Surface event on October 2, where it unveiled a number of brand new laptops, tablets and various other devices.
Amongst the devices announced was the Android-powered phone, the Surface Duo, which marks Microsoft's return to the smartphone race, and the new Surface Pro 7 and Surface Laptop 3 – devices that might seem similar to their predecessors but actually come with a few new nifty additions.
Without further ado here is a look at the various products Microsoft has announced at the Surface event.
---
Surface Duo
As its name would suggest, the Surface Duo comes with not just one, but two screens, making it Microsoft's first entry into the foldable phone market, where it will join the likes of the Samsung Galaxy Fold. The Surface Duo comes with two 5.6-inch screens bolted together on a hinge which folds a full 360-degrees.
Unlike the Galaxy Fold which is designed to look like one continuous screen when opened up, the Surface Duo doesn't seem concerned with making that distinction and from photos, we can clearly see that the two screens are separate, even when the phone is opened like a book.
According to Microsoft, users will have the benefits of both a phone and a computer with the two screens on the Surface Duo.
"You're more productive on two screens, much more than one screen can ever be, but it has to be elegant, it has to be robust," Panos Panay, chief product officer of Microsoft said with regards to the Surface Duo.
The Surface Duo is expected to be available sometime in late 2020.
Surface Neo
Another product from Microsoft that will be released during the holiday season in 2020 is the Surface Neo.
It is essentially a dual-screen tablet device with two separate 9-inch screen displays that fold together but are able to work independently from one another, much like a bigger version of the Surface Duo. With the Surface Neo, you will be able to run apps like YouTube on one screen while you surf the internet or play a game on the other screen. Or if you choose to, you can also run one app across the entire screen.
It can function as both a tablet, with a pen that lets you write handwritten notes, or a laptop with the keyboard that can be snapped onto the bottom portion of the Neo to make it easier for you to type. In short, the Surface Neo seems to be the perfect on-the-go device for working individuals.
The whole device is 5.6mm thin and uses the thinnest LCD known in the market, which helps to ensure that it stays light in weight and highly portable. It is also surrounded by Gorilla Glass to prevent the tablet from breaking when dropped.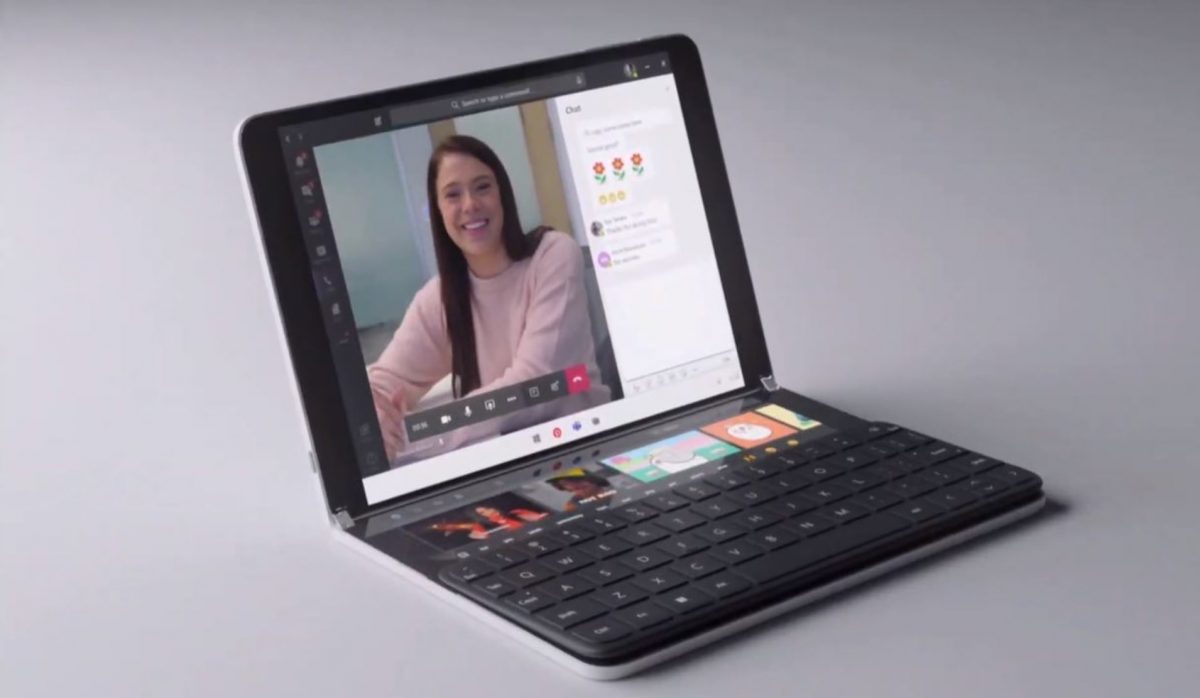 The Surface Neo will be running Window 10X which will let it support the running of two apps on different screens, and the writing on the screen with the Surface Pen.
As exciting as it sounds, we will still have to wait till 2020 to get a better look at the Surface Neo.
Surface Pro X
This new addition from Microsoft is a thinner take on the Surface Pro though what makes it so special is that it runs on an ARM-based processor from Qualcomm.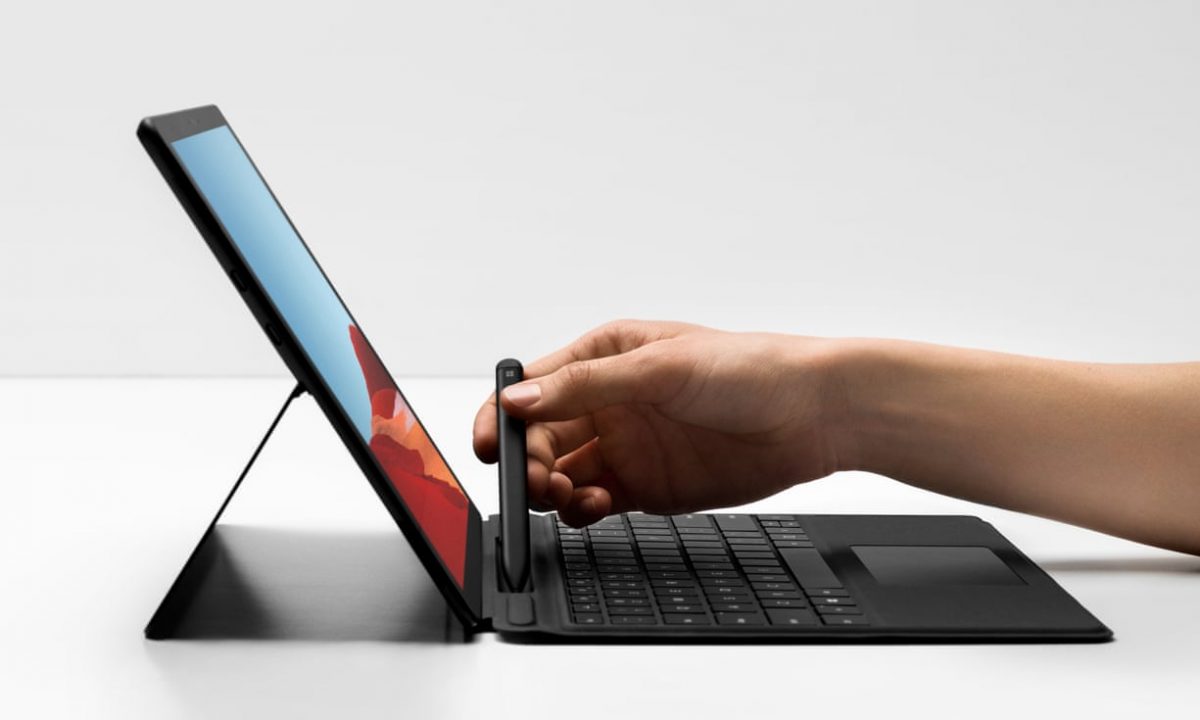 You read that right, Surface Pro X will be using a chip from the same chipmaker that makes chips for a number of Android phones. Though of course the ARM chip in the Surface Pro X will be specially configured to let it run the full version of Windows 10.
Using an ARM chip will allow the Surface Pro X to have better power efficiency, with the laptop able to run for 13 hours on a full charge. Plus since the ARM-based chips are known for being power efficient, the Surface Pro X will not need any fans or cooling systems to help keep the temperature down, making it the lightest and thinnest Surface Pro laptop soon to be in the market – it is only 5.33mm thick and 1.68 pounds light.
Microsoft has also added a new Slim Surface Pen that can be placed on a small dock above the keyboard to charge.
The Surface Pro X will retail for US$1,000 and will be released on November 5.
Surface Buds
Microsoft has announced its very own true wireless earbuds, the Surface Buds, which will be competing with the likes of Apple's AirPods and Samsung's Galaxy Buds.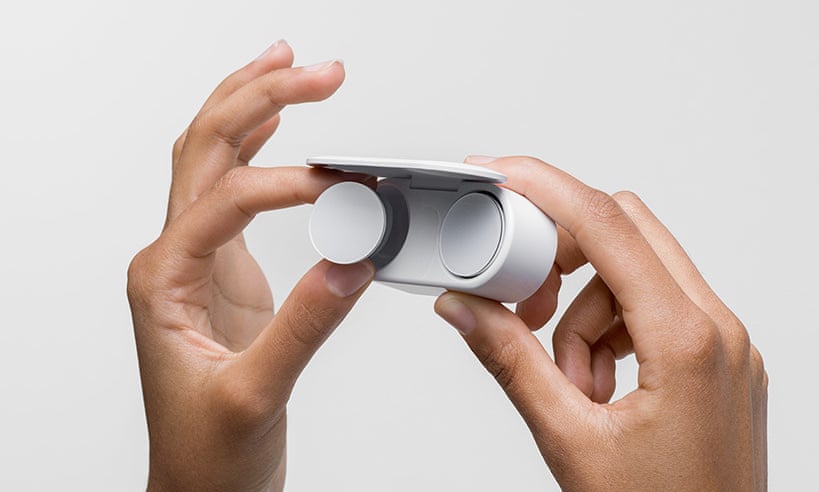 Users will be able to expect 24 hours of battery life with a full charge and the Surface Buds will be able to "work with any platform" according to Microsoft. As with any wireless earbuds, it will also come with gesture controls for you to easily play, pause, and skip your music.
The Surface Buds will be released in late 2019 for US$249.
Surface Laptop 3
Aside from the various new products Microsoft has unveiled, they have also announced upgrades to their traditional Surface products in the form of the Surface Laptop 3 and Surface Pro 7.
The Surface Laptop 3 will be available in both 13.5-inch and 15-inch sizes, and is made out of aluminium, and has a soft touch area around the keyboard. If customers do not want a soft touch finish, Microsoft will also offer an option for them to buy a Surface Laptop 3 without a soft touch area.
This new laptop will run on Intel's latest 10th generation processor which is, according to Panay, 2x faster than the chips in last year's Surface Laptop 2 and 3x more powerful than a Macbook Air.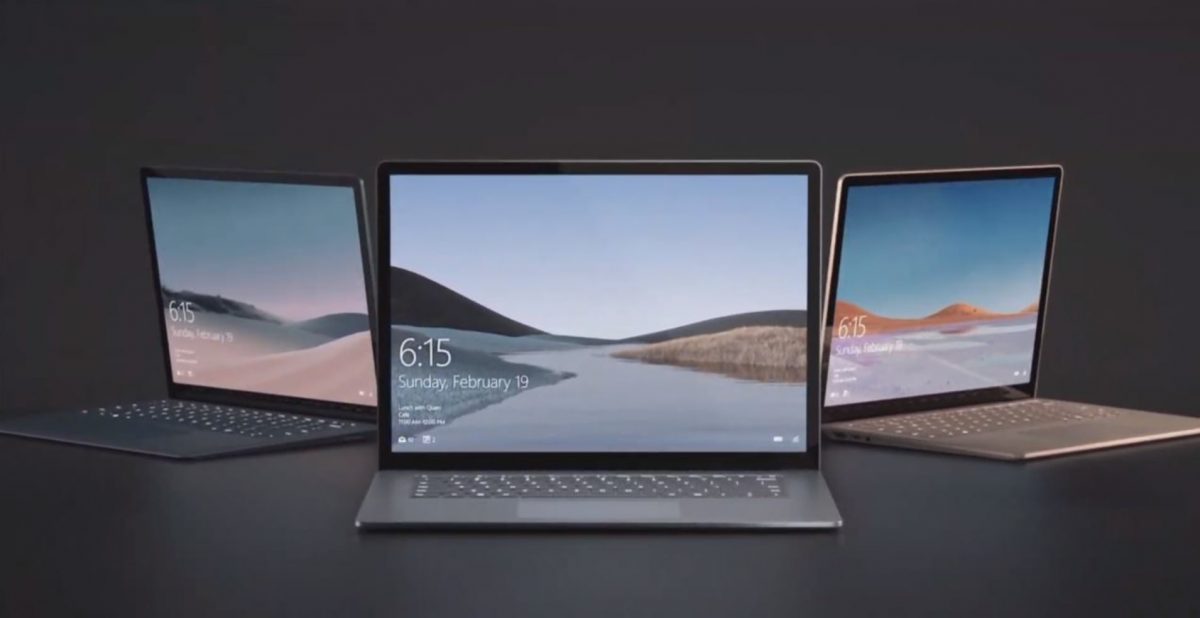 "This is the most powerful mobile processor AMD has ever created," Panay said. "We co-engineered this entire platform alongside AMD, from the silicon to hardware and through Windows."
What's more, users will also be able to enjoy "all-day battery life" on the new Surface Laptop 3, with the laptop able to get up to 80% of battery with less than an hour of charging.
The 13.5-inch Surface Laptop 3 will retail for US$999 while the 15-inch alternative will be available for US$1,199. Both will officially launch on October 22.
Surface Pro 7
Microsoft's latest laptop/tablet hybrid, the Surface Pro 7, also received an update in the form of a new USB-C port, a feature that users have long been asking for. The addition of the new port will allow for faster data transfers between a number of modern devices such as mobile phones and tablets, since USB-C is slowly becoming the standard among tech devices.
The Surface Pro 7 also works with Microsoft Surface Pen for easy editing of documents, sketching on screen, and more. Microsoft has also improved on the Surface Pro 7's microphone to work better with its user's mobile app. What this means is that users will be able to pick up calls on their mobile phone but converse using the Surface Pro 7.
The Surface Pro 7 is currently available for preorder at US$749 but one should expect its retail price to be quite a bit higher once it hits shelves in stores.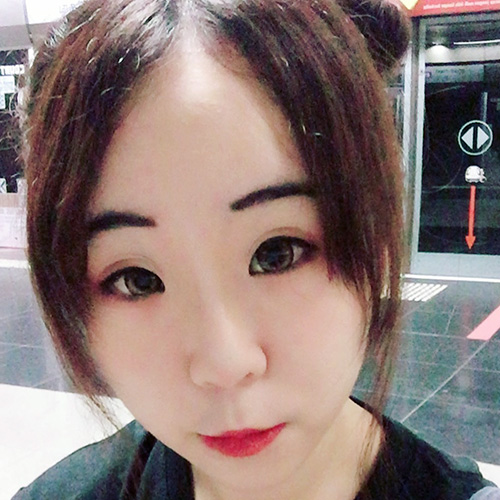 Germaine is a fun-sized introvert who loves nothing better than sleeping in on rainy days. She can be found reading fanfiction and manga while still waiting for her Hogwarts acceptance letter. It'll come eventually.
---

Drop a Facebook comment below!

---