In the Marvel universe, there exists a plethora of different personalities. From mutants with superpowers, to genius-intellect prodigies and superheroes of colour, it's a rich pool of diversity, one that could do even better with more inclusions of the Asian blood.
The industry giant's next hero is set to spice up the existing scene – or as far as gaming is concerned.
Meet Luna Snow, a K-pop star-turned-superhero from South Korea who first appeared in Netmarble's role-playing mobile game Marvel: Future Fight. True to her name, she possesses ice-based powers, and comes decked out in a design that reflects both her status as a K-pop celebrity, and her combat capabilities.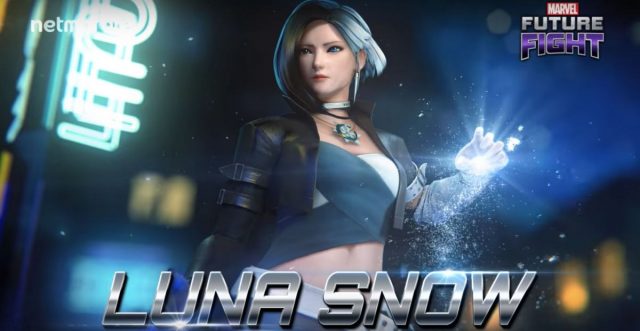 In a similar fashion to how Spider-Man gained his ability from a radioactive spider bite, Marvel's newest hero is born out of a "science accident", which saw singer Seol Hee knocking over a Stark cold-fusion energy experiment in an escape attempt, after being locked up by the evil agents of AIM – a result of her protecting the surrounding civilians during the villains' bust-in to steal Stark's tech in the middle of her performance at a Stark Industries event.
Following her exposure to the experiment, Seol Hee turned into Luna Snow, and as they say, the rest is history.
A lot of thought was put into the ice-based character. Apart from her iconic emblem consisting of a half-moon crest that mirrors an ice symbol on her jacket, belt bucks, and necklace, her icicle earrings and differently-coloured eyes were a deliberate effort to align with the modern K-pop culture.
Meanwhile, duality design and colours are used as a nod to her opposing light and dark ice powers.
Senior Producer at Marvel Games, Danny Koo, had this to say about Luna Snow's in-game abilities:
She has that combination of destructive dark ice, healing light ice, and her pop star moves, so it is very refreshing to see all these abilities come to life. For every ability, we are careful to make sure her icy powers shine through in the midst of a heated battle. She uses her charm to draw enemies to her and she can then unleash fury upon them with the icy moves.
Despite the superhero status, the game doesn't forget her roots, and produced an original song titled "Tonight" as her debut song, which gets played in the background while players take on her role.
So far, the character only makes an appearance in Future Fight, and is not in any comic books. However, Marvel Executive Director Bill Roseman indicated a possible change of scenery, which spells good news for fans, considering how Korean superheroes are a rare sight in mainstream superhero comics.
---

Drop a Facebook comment below!