With E3 2017 (check out our coverage) and the yearly deluge of title launches means only one thing – epic collector's editions are going to cause major wallet damage.
The problem with collector's editions would not only the space to store all the massive statues which seem to be all the rage these days but the financial muscle needed to purchase them all. Thankfully, we've put together a list of what we think are the best ones you should be looking out for in the coming months.
When it comes to E3 2017 collector's editions of games, the battle has only just begun. In our experience, some of these sets won't even have a chance to make it to retail, so if you're even thinking about it, just pull the trigger first and thank us later.
In a new turn of events, it seems that quite a few of these collector's editions are available direct from the publisher themselves. Cutting out the middleman for such coveted items, pretty smart but for folks like Ubisoft, it all leads to nothing but pages of broken links.
If you're outside of the US, we've some tips to impart to help you secure those orders at a cheaper price even if you're getting them via Amazon!
Geek ProTip #1
Singapore gamers (and we suspect, to many others across South-East Asia), please consolidate your orders. When you order via Amazon right now, you can enjoy the AmazonGlobal Standard Shipping rate of just US$4.99! And knowing just how huge the packages of Collector's Editions can get, this makes the deal extra juicy. You have to choose wisely though, as you can only order up to 3 sets of each edition, but no matter how many you orders you place at one go, the shipping rate still hangs at $4.99. The great thing about Amazon is that the company honours the shipping prices (and retail price) at the point of purchase, so even if shipping goes up at a later date, you will still pay just US$4.99 per order.
Geek ProTip #2
Here's another important one. If you live in Singapore, be sure to split up your orders to keep the total well below S$400 (US$295), so you don't end up having to foot an extra 7% GST when the items arrive. One way is to group an order that has games on different release dates, and not lump them together. Amazon will split up your shipments accordingly when they are released, and send the first game being released first. You still only pay one shipment fee for the combined order that might exceed S$400, but the game that arrives separately will be priced at less than that. If you want to split orders to hit below the S$400 mark, make sure that you use different addresses as well. Two separate orders of under S$400 each, but sent to the same address at the same time, can be tied together. To be safe, why not ship one order to your office/In-Laws/neighbour.
Geek ProTip #3
Would you like an additional 20% off  each of the Collector's Editions? If you are an Amazon Prime member, you already know you'll be getting 20% off the pre-order price! If not, then now might be the best time to sign up for the FREE 30-day trial, and enjoy 20% off your pre-orders instantly.
Ready? Now let's get down to the goods. Happy shopping!
---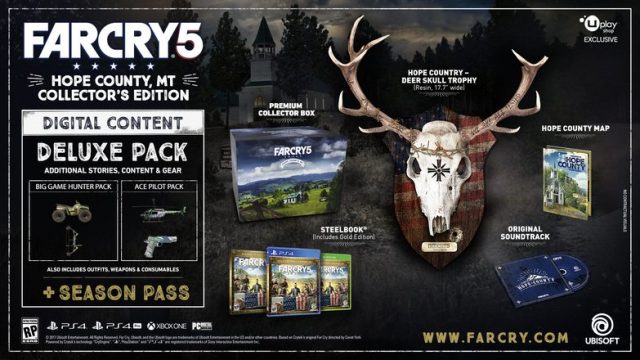 Due for release on 27 Feb 2018, the Far Cry 5 Hope County Collector's Edition comes with a map of the fictional part of Montana called Hope County, where the game takes place. Also included would be the game's soundtrack, a steelbook case, a 45 cm deer skull trophy that scream "FAR CRY", and the Gold Edition of Far Cry 5 itself.
Available for PC, PlayStation 4 and Xbox One.
---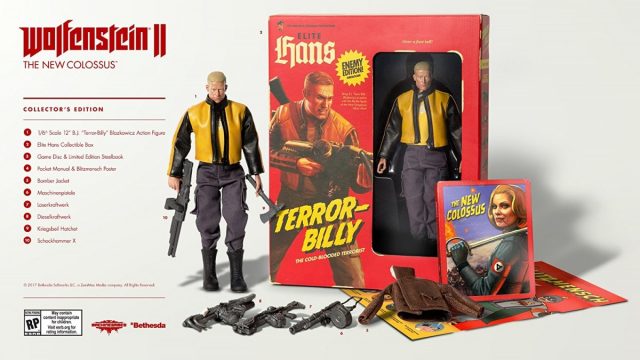 Due for release on 27 October 2017, the Wolfenstein 2: The New Colossus Collector's Edition  includes a 12-inch action figure (1/6 scale) of the game's hero William Joseph "BJ" Blazkowicz. Packaged in a premium, 1960s-style box and comes with a range of accessories including four high-powered guns, a hatchet, and BJ's signature bomber jacket. The limited edition also includes a copy of the game inside a metal case and a 9″x14″ Blitzmensch poster.
Available for PC, PlayStation 4 and Xbox One.
---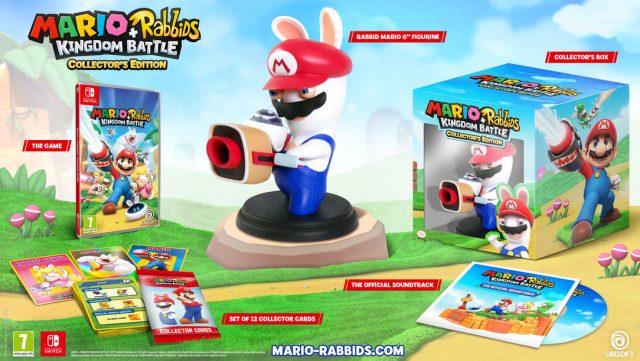 Due for release on 29 August 2017, the Mario + Rabbids Kingdom Battle Collector's Edition is exclusive to the Ubisoft Store, the set will come with a copy of the game, a 6″ Mario Rabbid figurine, a copy of the game soundtrack and a pack of 12 collectable cards, all held in a nice diorama style collector's box.
Available on the Nintendo Switch.
---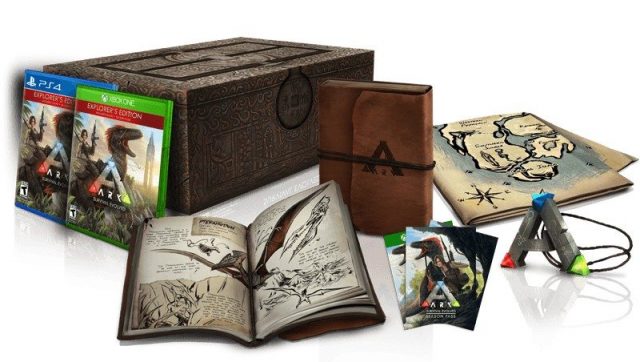 Due for release on 24 August 2017, the ARK: Survival Evolved – Limited Collector's Edition is a collectible faux-wooden chest box that contains the ARK Explorer's Edition together with a handcrafted leather-bound Explorer's Notebook, featuring the Dossiers of every in-game creature, an official ARK necklace, cloth map of the ARK island, poster of the Studio Wildcard development team and the official ARK: Survival Evolved soundtrack, recorded live by the Philharmonia Orchestra.
Available for PC, PlayStation 4 and Xbox One.
---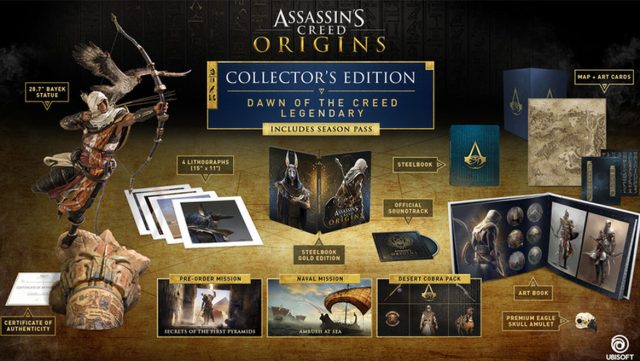 Due for release on 27 October 2017, the Assassin's Creed: Origins Collector's Edition is a massive US$800 haul which comes with a Highly detailed 28.7 inch (73cm) resin statue of Bayek, a protector of Egypt whose personal story will lead to the creation of the Assassin's Brotherhood. A Collector's Certificate of Authenticity, numbered 1 to 999, an exclusive replica of Bayek's eagle skull amulet in resin, two exclusive Assassin's Creed Origins Steelbooks, four large lithographs signed by the Ubisoft Montreal studio artists.
Only 999 will be available worldwide. Good luck!
Available for PC, PlayStation 4 and Xbox One.
---
Due for release on 8 September 2017, the Destiny 2 Collector's Edition includes the Destiny 2 Base Game with steelbook, Expansion Pass including Expansion I and Expansion II, Destiny 2 Frontier Bag that can be worn as a messenger bag or backpack, a Booklet with secrets into the Cabal Empire, Cabal Schematic, Collectible Postcard Images and Cabal Military Pawns.
Available for PC, PlayStation 4 and Xbox One.
---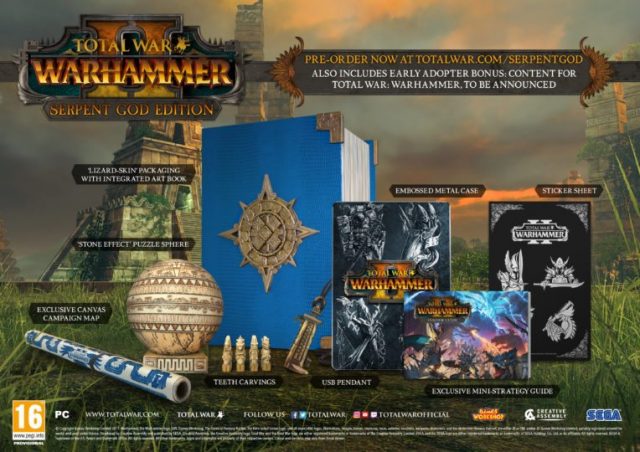 Due for release on 28 September 2017, the Total War: Warhammer II Collector's Edition includes Serpent God 'Lizard Skin' Tome Packaging, an integrated art book, an embossed metal case, exclusive strategy guide, sticker sheet, canvas map with exclusive Lizardmen artwork, a Stone Effect 'Puzzle Sphere', a Carved Bone Effect 'Teeth' Totems and a 'Saurus Blade' USB with Black Library E-Books.
Available for PC only.
Gerald currently straddles between his love of video games and board gaming. There's nothing that interests him more than trying out the newest and fanciest gadget in town as well. He dreams of publishing a board game sometime in the future!
---

Drop a Facebook comment below!