Singapore is not known for boardgaming events, but organisers and volunteers of the Singapore Open Gaming Meetup Group changed that with the 2017 edition of SOGCon at Ci Yuan Community Centre on the 4th of June.
So what did more than 200 people do from morning to evening with epic movie themed soundtracks playing in the background? Well, let's get started.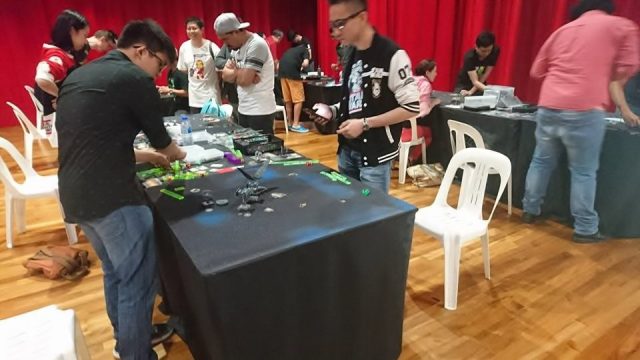 First up was the "war in the stars" everybody is familiar with. Jointly organised by Lam, an enthusiast, and local board game retailer Gamersaurus Rex, thirty participants took part in the Singapore X-Wing Championship, and even Justin Phua, the 2017 World Champion himself, participated. The sense of competition was on full display as games were played on the stage overlooking the rest of the hall. While one would expect Justin to walk away with another title, that honour went to David Wong instead! Flying a different list which won him the title at Worlds, Justin withdrew from the competition after reaching the top 8. We will be covering David's triumph in an upcoming article pretty soon!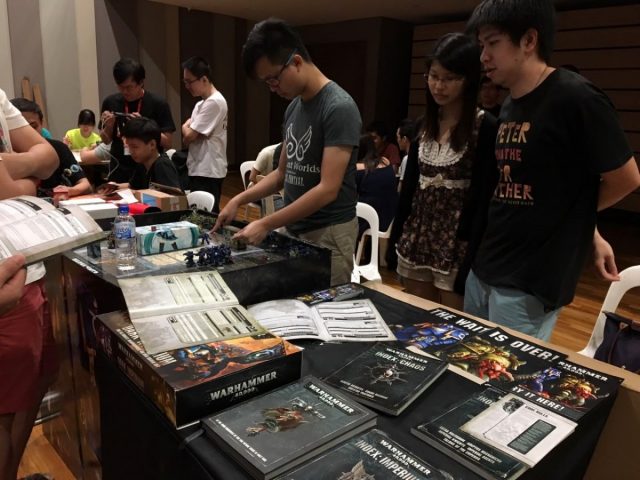 But the Con wasn't just for the seasoned gamers. There were dedicated demo sections set up for popular titles such as X-Wing Miniatures, Star Wars Armada and Star Wars Destiny for those curious about the hobby. Local game store Dueller's Point also helped to demo the new 8th edition of Warhammer 40,000. And let's not forget that the world's most popular card game, Magic the Gathering, was present too.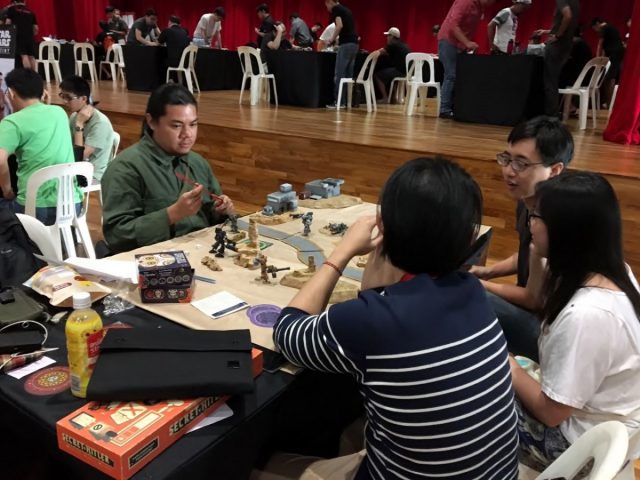 And it wasn't all about foreign games: The spirit of Singapore was represented, with local game designers present to playtest their games and get feedback. They included Sean Suchanya with Iron Tide, Chub Tan with Unrest and Daryl Chow with Overbooked, among others.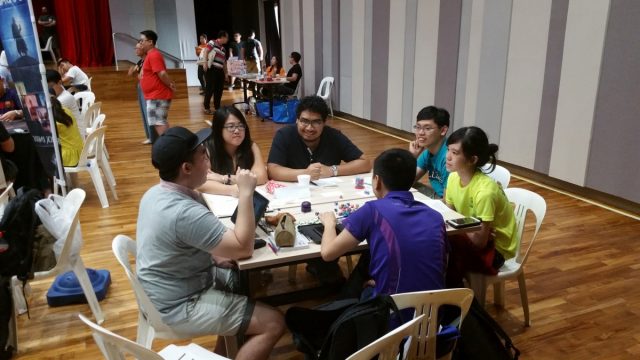 RPG's were also present and very popular, with many fully booked before the event. Dice were rolled and many became a hero on this fateful day, proving once again that the pen and dice are mightier than the sword.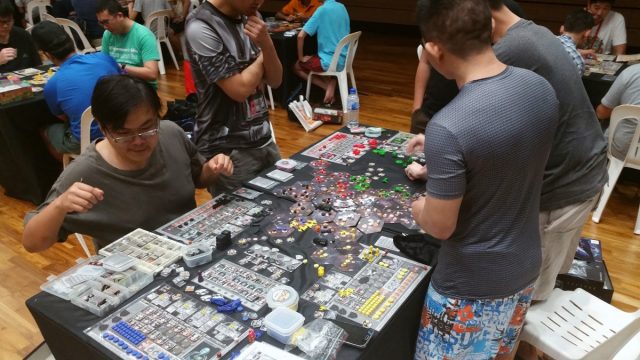 There was also an open gaming area where tables were set up for anybody to come and play their own games. This was where the community really shone as many welcomed new gamers to their table. One gamer even set up 3 tables of games that he owned, just so others could play them.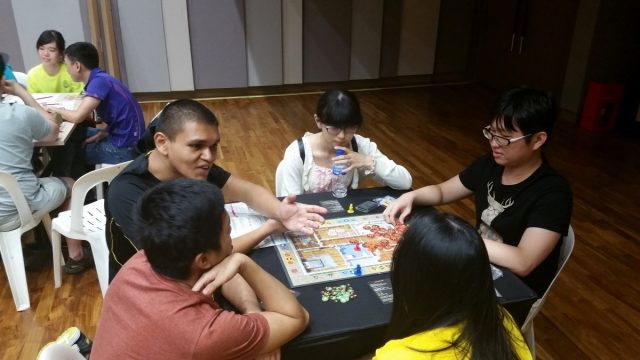 Facilitators were also present to help teach people games from the Singapore Open Gaming games library for the duration of the convention, keeping the tables full and the fun factor high.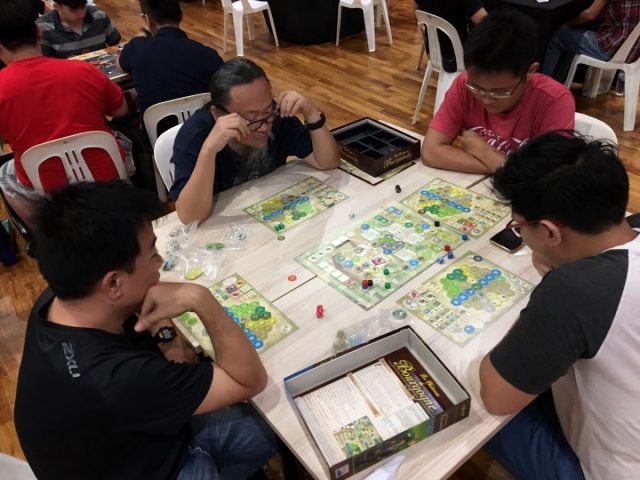 Games of all types were available, from thematic games such as A Game of Thrones the Boardgame 2nd edition, to the purely strategy-based Castles of Burgundy.
To end off the festivities, there was a lucky draw with over 30 prizes given to 30 lucky winners. I was hoping to score the top two prizes, the locally designed Three Kingdoms Redux and the Bandai AT-ST model kit, but sadly my luck roll failed me for both prizes.
In the end, it was a most memorable event with many happy smiles, many seasoned gamers satisfied and most importantly, many new gamers created. If the 2017 SOG CON was anything to go by, I can't wait for it's next sequel.
Stay updated with all the happenings related to Singapore Open Gaming over on their Facebook Page!
​Akaisamurai is a cash-starved ronin of the nerd hobby whose moral inspirations are in order of Superman, Captain America and All Might. He also frequently finds himself playing boardgames, wargames, painting miniatures, reading about History and Philosophy and making Youtube videos on all of the above. Also, he has made it known that he is currently looking for 6 other samurai to defend a small village in rural Japan from Bandits.
---

Drop a Facebook comment below!