Embrace the latest AORUS professional gaming laptops from leading global PC brand Gigabyte, powered by the latest 12th Generation Intel Core processors, and featuring a revolutionary gaming display with a four-sided bezel-less design that offers a 90% screen-to-body ratio, with a 30% reduction in the lower edge of the screen.
The PC brand's latest additions to the family, which include the new AORUS 17, AORUS 15, and AORUS 5 devices, reshapes the game with an impeccable visual extension that enhances the display, delivering graphics similar to that of being in a cinema. With the maximum refresh rate of 360 Hz, these displays never tear, nor will they blur with its extremely fast reaction time of 3 milliseconds, providing players with unparalleled advantages on the virtual battlefield.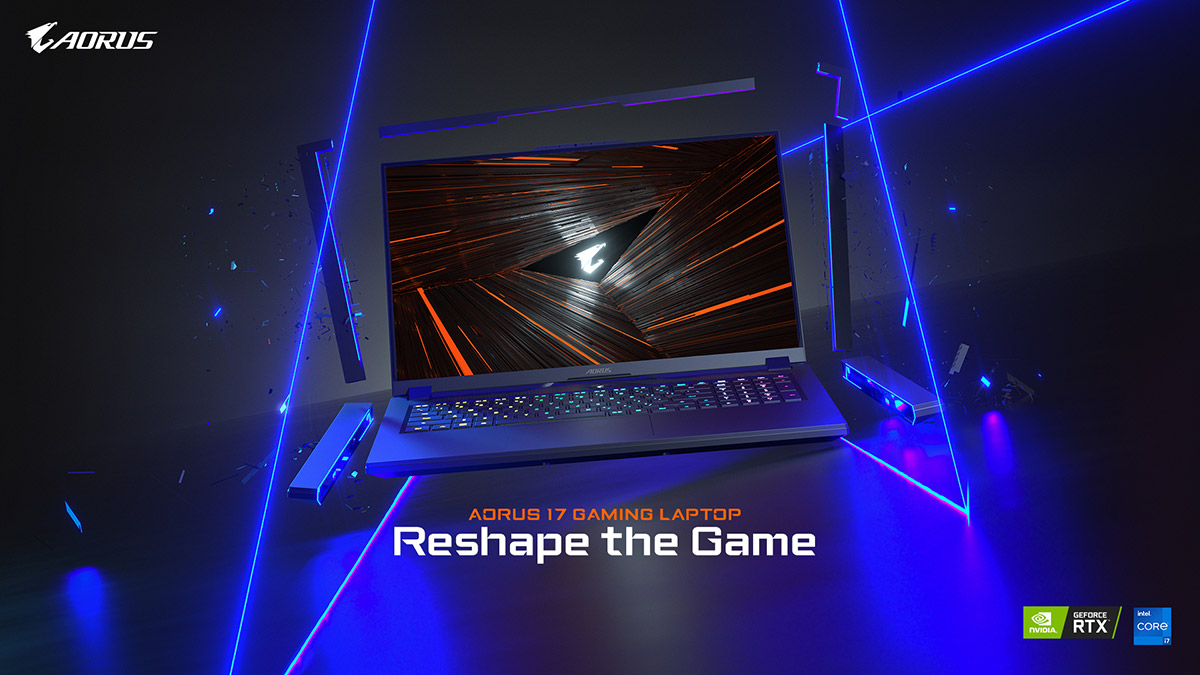 With the use of the bent-type panel, the AORUS 17 offers a massive 17-inch screen, but in the chassis of a typical 15-inch laptop. The slim body on the AORUS 17 offers greater portability, supported by an ultra-high screen-to-body ratio that puts this 17-inch laptop in a class of its own. Users can slide the laptop effortlessly into their backpack, and immerse themselves in an expansive e-sports gaming experience, anywhere, anytime.
The AORUS range makes its strong debut with the latest 12th Generation Intel Core i7 processor, alongside the latest NVIDIA GeForce RTX 30 Series laptop GPUs, providing the ultimate gaming performance. Powered by the 45-watt Intel Core H series 14-core processor, including six performance cores and eight efficiency cores, the new line-up offers a significant increase in performance over the previous generation. Thanks to the upgraded NVIDIA GeForce RTX 30 Series Laptop GPUs supported by the resizable BAR and Dynamic Boost 2.0 AI optimizing system, these machines can take on the most intensive AAA game titles, while providing the finest gaming performance.
With the exclusive WINDFORCE Infinity heat dissipation design and all-copper heat dissipation technology, these machines come with two 12V fans, five heat-pipes, and all-copper heat fins, which essentially removes the heat generated by the operating CPU and GPU.
Powered by the latest Wi-Fi 6E network technology, which expands on the new 6GHz wireless band with a dedicated spectrum, users can benefit from reduced speed latency caused by crowded connections, while enjoying better data transmissions at a faster rate. Both the AORUS 17 and AORUS 15 models support the latest DDR5-4800 RAM, which provides superior reading speeds over the previous generation DDR4-3200, offering stable output during multitasking, or fierce game battles.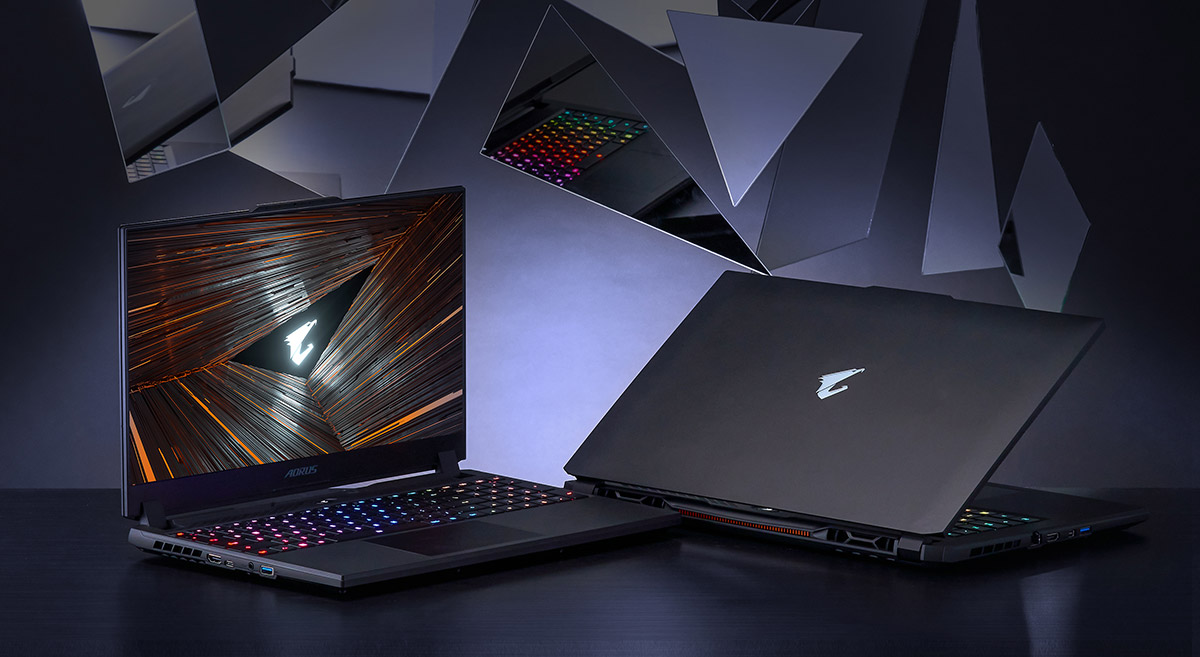 For top gamers, the most important aspect of gaming laptops is that they match the highest grade of specifications, allowing the player's skillful maneuvers to truly shine. The AORUS gaming laptop series feature a low-travel keyboard with extremely instant response times, enabling players to hit each key faster than their opponents, bringing an unmatched advantage in the speed-driven gaming world. Also included are all-region Anti-Ghosting N-Key Rollover, as well as per-key macro functions that enables players to maintain consistency in their APM with precision.
Additionally, the redesigned keyboards are equipped with RGB Fusion technology, and also adopts the brand new GIGABYTE Control Center interface, which allows players to define their unique colors and present their characteristics effortlessly. With a keystroke lifetime of up to 10 million presses and outstanding tactile feedback of the keys, this machine offers a striking tactile experience for keyboard fighters.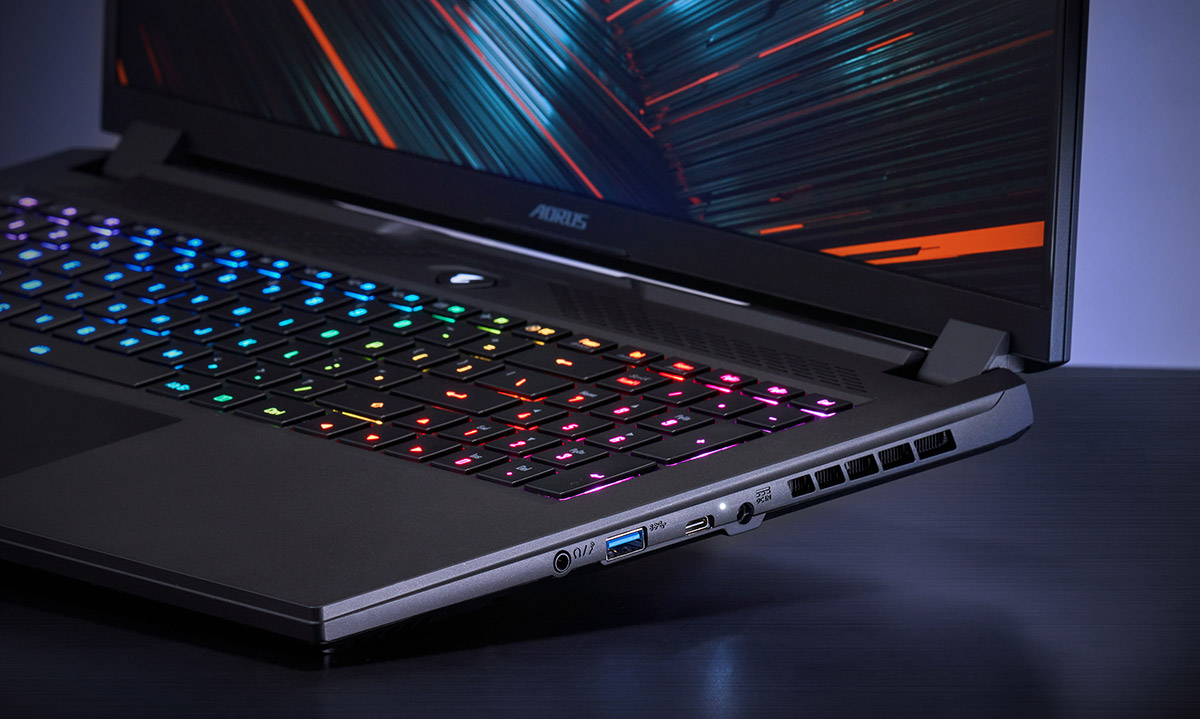 And with the latest DTS Sound Unbound, an advanced spatial sound effect feature, gamers will find their in-game audio rendered from all directions, and realistically presented in an immersive manner. With heightened auditory awareness, players will be able to detect every rustle made by enemies. Alongside the high-refresh-rate screen of up to 360 Hz, players will always be one step ahead of their opponents, and dominate the leaderboards.
AORUS Series Gaming Laptop Specifications
Model
AORUS 5
15.6" Gaming Laptop
AORUS 15
15.6" Gaming Laptop
AORUS 17
17.3" Gaming Laptop
GPU
Up to NVIDIA GeForce® RTX™ 3070 8GB GDDR6(130W)
Up to NVIDIA GeForce® RTX™ 3080 Ti 16GB GDDR6(130W)
Up to NVIDIA GeForce® RTX™ 3080 Ti 16GB GDDR6(130W)
CPU
Core i7-12700H
Core i7-12700H
Core i7-12700H
Display
FHD 240Hz or144Hz
QHD 165Hz or FHD 360Hz
FHD 360Hz
Keyboard
AORUS Fusion Three-Zone RGB Keyboard 
AORUS Fusion Per-Key RGB Keyboard
AORUS Fusion Per-Key RGB Keyboard
Memory
DDR4-3200
Up to DDR5-4800
Up to DDR5-4800
Storage
M.2 2280 x 2 (PCIe Gen4x4 only *2 )
M.2 2280 x 2 (PCIe Gen4x4 only *2 )
M.2 2280 x 2 (PCIe Gen4x4 only *2 )
Audio
DTS: X® Ultra
DTS: X® Ultra
DTS: X® Ultra
Communication
Wi-Fi: Intel AX211 (CNVi)
BT: Bluetooth v5.2
Wi-Fi: Intel AX210 (PCIe)
BT: Bluetooth v5.2
Wi-Fi: Intel AX211 (CNVi)
BT: Bluetooth v5.2
Dimensions (cm)
35.8(W) x 25.4(D) x 2.3~2.7(H)
36.0(W) x 24.4(D) x 2.4~2.7(H)
39.8(W) x 25.4(D) x 2.4~2.7(H)
Weight (kg)
~2.3
~2.4
~2.7
Ultimately, the AORUS gaming laptops will not only provide excellent performance, it also come with the finest gear, leading players down the path of victory in the shortest time.