Cinematic Universe (MCU), Marvel Studios has been able to experiment with the superhero genre in many different ways on the Disney+ streaming service, with less of a superhero slant but more on drama (WandaVision), tales of redemption (Loki), and comedy (She-Hulk). And in their latest and first self-contained special that runs longer than an episode and shorter than a film, Werewolf by Night places a new focus on a lesser-known aspect of Marvel Comics – horror. 
Directed by composer turned filmmaker Michael Giacchino in his directorial debut, Werewolf by Night is an experimental project that serves as a love letter to horror filmmaking, evoking the Universal Movie Monsters of times past, with a black and white styling that is decidedly retro, but somehow meant to fit in the MCU.
Within the first few seconds, viewers who follow the secret group of monster hunters gathering at Bloodstone Manor can immediately tell that Werewolf by Night is a different kind of Marvel movie that harkens back to 1930s-era gothic monster movies, with vignette edges, grains and random burns here and there, coupled with lush orchestral score and a narrator who outlines the group's hunt for a relic that will bring them face-to-face with an extremely dangerous monster.
Gone is the rather comedic tone seen in the recent Thor: Love and Thunder, which was an explosion of colours and embodied Marvel's quirky and light-hearted comedy. Instead, Giacchino is evoking classic film monsters such as Frankenstein and Dracula, delivering a modern homage to the history of horror.
Jack Russell (Gael García Bernal) has been invited to participate in a hunt to commemorate the death of Ulysses Bloodstone and it's all very theatrical, as Ulyssess speaks from beyond the grave through his animated corpse, as his widow Verusa (Harriet Sansom Harris) cries over his coffin while telling fellow monster slayers the rules of the games. Amongst the participants is Ulysses' daughter Elsa (Laura Donnelly) who Verusa constantly berates for being an embarrassment to her family.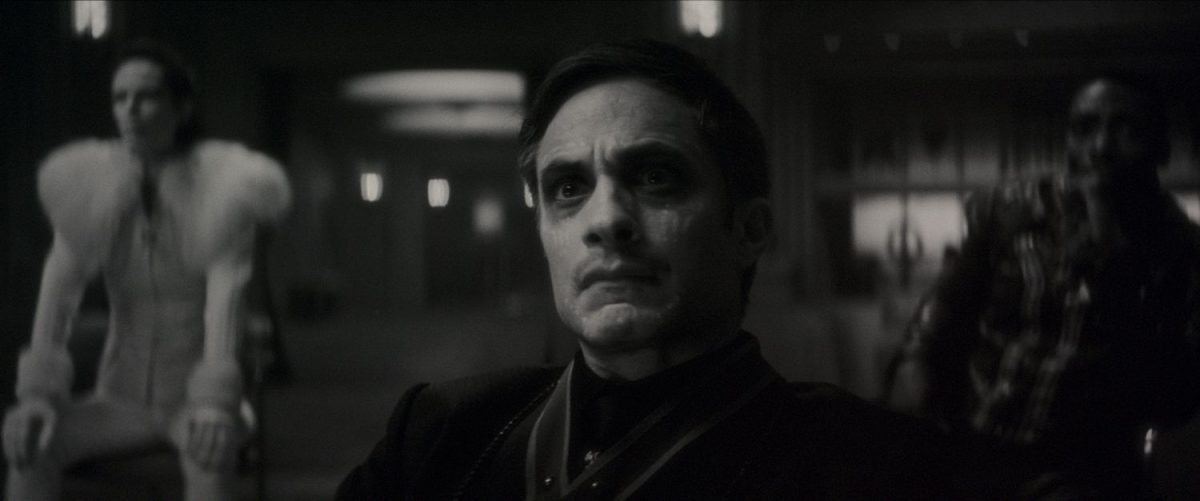 The game is simple. The legendary Bloodstone is affixed to a monster to weaken it and said monster is then set free on the grounds of the compound. Weapons have been placed throughout the gardens, and whoever slays the monster gets to keep the Bloodstone for themselves. It's a kill or be killed situation so viewers can expect to see a lot of blood, violence and gore on screen, but don't worry, the excess blood is not obvious due to the monochrome look, so there is an implication of blood and guts, but no more than what Marvel usually permits in their films.
Bernal is adorable as anti-hero Jack, who has a mysterious connection with said monster, played by Casey Jones. Bernal looks great in ghostly, skull-like make-up that he later explains is to pay homage to his ancestors. There's something puppy-dog-like about Bernal that makes him not only a great fit as a monster (a secret later revealed in the movie) but also helps in adding a softness to Jack, something the character never had in the Marvel comics.
The softness Bernal brings helps in making viewers not only empathise with him in this 57 minutes short film but also makes him a character that viewers will want to stay on and root for. If viewers don't stay for Bernal, then they're definitely staying for Donnelly, whose Elsa is reminiscent of Jessica Jones.
Donnelly's monster-hunting Elsa is a no-nonsense interpretation of the character. Elsa is an action hero with a bad attitude and was an absolute delight to watch even when she's slashing necks and beating people into a pulp. She perfectly captures Elsa's complicated feelings about her family legacy and is able to bring quite a faithful adaptation of the comic book character to life. Although this special is very much focused on revealing Jack as a werewolf, the story truly is Elsa's as we see her go from outsider to foe and friend all in one seating.
Jones as the monster Man-Thing, otherwise known as Ted in the film, is also a pleasure to watch. Whilst monsters often strike fear in viewers and characters around them, Man-Thing offers a sentimental snapshot of the human soul tucked within his powerful form. The character was brought to life so authentically, and so lovingly that there are no doubt fans of the Man-Thing comics in the 1970s will appreciate this adaptation.
The short film captures so much of the comics, specifically that of the old Werewolf by Night and Man-Thing comics, as well as the modern 2000s Bloodstone comics. It is clear that director Giacchino not only is talented in making classic monster films modern for today's audiences, but he is equally able to pay tribute to the genre without overdoing it.
Giacchino delves into lore and comic book history, as well as the history of Ulysses, Elsa, Jack, Man-Thing and the Bloodstone, without explaining too much to viewers. He simply presents their backstories as facts, with no regard if the audience is familiar with said characters. Somehow, this allows for an authentic 'need to know' retelling of the character's backstories and in turn, makes the movie digestible and easy to watch. It also makes Werewolf by Night accessible for non-Marvel fans, or even the fans of Marvel who are unfamiliar with the comics the film adapted from.
That said, viewers don't necessarily have to know anything about the comics and their various characters to enjoy this one-shot as fans of monster movies and gothic horror will also be satisfied.
The only issue we take with Werewolf by Night is its incredibly odd pacing. For a short 57 minutes film (and this is including credits and whatnots), there were parts of the film that felt rather slow and dreary. Though the pace does pick up when it gets to the action and gore scenes, viewers will have to get through at least 27 minutes of talking scenes first.
In all, Werewolf by Night offers an incredibly surreal and somewhat unbelievable take on the MCU, and raises the question as to where the studio is taking the franchise, or are we too scared to find out? 
Werewolf by Night premieres on Disney+ on 7 October.
GEEK REVIEW SCORE
Summary
Werewolf by Night is an ode to 1930s monster films with a dash of Marvel action. Whether or not you're familiar with the old Marvel horror comics and the characters from it, there's no denying that this movie is special in its own way.
Story -

7/10

Direction -

9/10

Characterisation -

7/10

Geek Satisfaction -

7/10
---

Drop a Facebook comment below!