Just as how most big name directors alternate between a big budget tentpole and a small, personalised film, actors are also dabbling in alternate art forms on top of making explosive blockbuster flicks.
But they mainly dabble in the category of raunchy comedies. Dwayne Johnson has Baywatch and Central Intelligence; Bradley Cooper has The Hangover trilogy; Mark Whalberg has Ted; Cameron Diaz has her Sex Tape; Jennifer Aniston has We Are The Millers; Channing Tatum has 21 Jump Street… the list goes on. Except Ryan Reynolds because all of his movies are raunchy.
But aside from Bridesmaids and Bad Moms, female stars don't always get their own progressive sex comedy so Scarlet Johansson wants to change that with Rough Night. Thankfully, this film relies more on cameos and tropes over dick and fart jokes, and is mostly entertaining, even if it hits familiar notes and vibes. In fact, it could have gone to raunchier and into darker places, but what audiences get is solid first-time viewing.
The entire premise is about a bachelorette party gone wrong, with the guest of honour being Jess (Scarlett Johansson). With her college pals – clingy best friend Alice (Jillian Bell), lesbian activist Frankie (Ilana Glazer), rich real estate dealer Blair (Zoë Kravitz), as well as her Australian penpal Pippa (Kate McKinnon), they head to Miami and party it up. They hire a male exotic dancer to their rented pad, and through unfortunate circumstances, he ends up dead.
If you thought this was some frivolous comedy with a happy ending, the DB, with his bloody head, should tell you otherwise.
So it's up to the five of them to sort this problem out, with misunderstandings and complications aplenty. These involve their neighbours, a married couple in an open relationship (Ty Burrell & Demi Moore), Jess' husband-to-be Peter (Paul W. Downs), and a few more bits I can't spoil because it honestly does escalate to good chunks of laughter.
Like most mainstream comedies, everything revolves around a lot of setups and payoffs and coincidental incidents which are crucial for your enjoyment. For the most parts, yes, Rough Night is worth the money to go into blind, and without knowledge of the premise.
The first 20 minutes of the film is pure set-up, after which, the comedic and zany tone just escalates. The dialogue and non-physical exchanges is crude but sharp in all the right places. The role reversal schtick – where the women are the rowdy ones in contrast to what Peter and his bachelor group does for their party – does not feel forced and plays off naturally.
What makes the whole tone of the show work is that the relationship between the five women is believable. Is Jess the perfect friend? Nope. Is Alice likable? Probably not. Do you know of a girl who acts like her? Chances are, you know someone like that. Honestly, the friendship the girls have is not perfect, but unlike in The Hangover, they make you care for them a little more such that you do give a shit if they will make it out unscathed during the entire night. Plus, there is justification as to why the five of them did not call the police right after the dancer's death.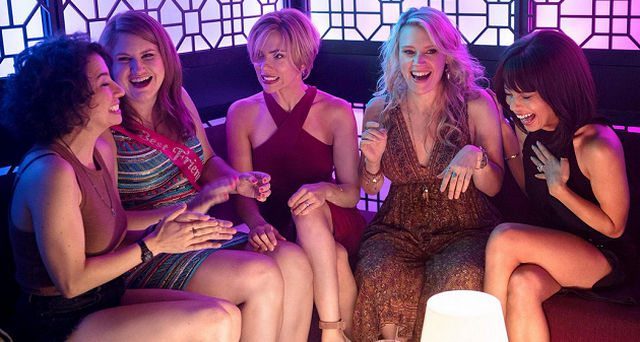 While the chemistry between the five ladies work, with Johannsson giving a great comedic performance as a neat-freak workaholic, Kate McKinnon's Pippa is the show's standout. From her weird cartoonish mannerisms, can-do attitude, and the terrible Australian accent, she's always stealing the scene whenever she does something to either help or hinder the group. Paul W. Downs' Peter also owns the second half of the movie as he gets involved with the aforementioned complications. Here's a hint: his bit involves the diaper astronaut story of 2007. The setup, complimentary gags, and payoff is genius to say the least.
You'll still get your cliched "friend-stick together" moments in the third act, and the ending right after the film's payoff is conveniently tied up. If the filmmakers made use of the R-rating better, we may have the second coming of the politically-incorrect comedies of the 70s and 80s. Regardless, you can definitely do worse than this.
GEEK REVIEW SCORE
Summary
If we're being honest with movie titles, we'll call it "Pretty Rough But Could Have Gone The Extra Mile Night". It's serviceable viewing with the right amount of laughs & wit.
Story -

5/10

Direction -

7/10

Characterisation -

8/10

Geek Satisfaction -

6/10
Jonathan is an avid self-proclaimed connoisseur of films, video games, music & comics. Prefers screwdrivers over martinis. Fears oblivion.
---

Drop a Facebook comment below!