Way before Ready Player One broke the Internet by combining multiple popular characters and IPs across different genres into one massive movie, Disney's Wreck-It Ralph made its name in the animation genre, by fitting various video game characters under one roof. Of an animated video game arcade.
Thank Pac-Man meeting Chun-Li, with Frogger seated at the next console.
It's kind of like being in a video game arcade, except that when the lights go out, all the characters across the video games could gather and hang out in the arcade's power grid.
And six years after video game villain Ralph (John C. Reilly) revealed his true colours as a hero in waiting, by helping Princess Vanellope von Schweetz (Sarah Silverman) retain her crown in her arcade racer, the two friends have become inseparable. But Vanellope, with her built-in glitch, has become too self-aware and yearns for something more than just being stuck in an on-demand video game loop.
As it turns out, Ralph's rather infantile way of helping Vanellope gain new experiences naturally makes things worse, but it just so happens that the arcade recently added Wi-Fi on the premises, allowing customers, and of course, the video game characters, access to a much bigger world.
And boy does this sequel go big.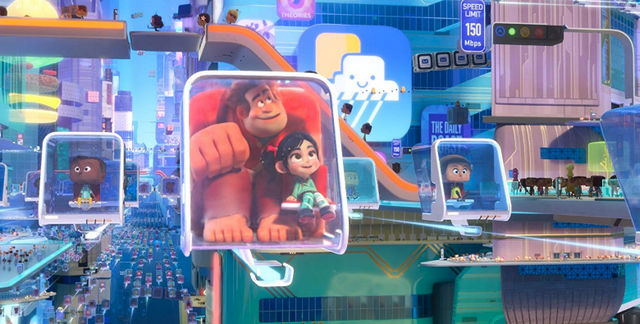 No longer relegated to the world of video games, whether it's classics such as Burger Time or Tron, or more modern titles including Sonic The Hedgehog, Ralph Breaks The Internet toys around with a much bigger sandbox, taking digs at pop culture, being self deprecating, and even poking fun at Disney's cash cow – the highly regarded Princesses.
If you didn't realise, Vanellope is also a Disney Princess, so since there is now an opportunity, it's time for one of the newest "non-Disney" Disney Princess to meet the other Princesses of power.
The great thing about having the likes of Snow White, Rapunzel, Mulan, Elsa and Anna and the rest of Disney's damsels is that Disney went and gathered a whole bunch of the original voice actors to reprise their roles in what can only be caricatures or avatars of the actual animated characters. Some might say Disney is using its army of princesses to market this movie, since the gang were featured prominently in the trailer, but the final payoff, on how the princesses come together to help Ralph and Vanellope is an instant classic.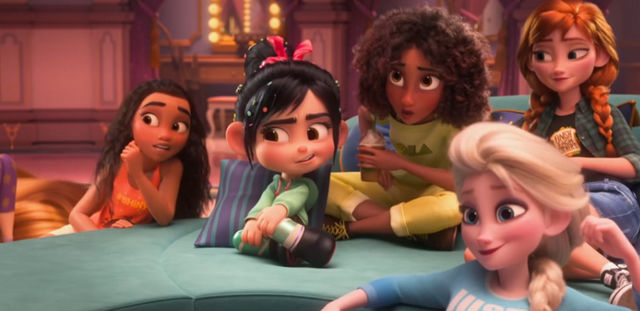 Watch out for cameos from Disney's own Marvel Comics and Star Wars brands to show up, as well as a rather great cameo by the late, great Stan Lee, in one of the last few cameos he ever filmed.
Along the way, Vanellope meets new friends in the racing game Slaughter's Race, realises that she prefers a post-apocalyptic racing world than a candy-filled one and decides that it's game over with Ralph, or is it?
The story of finding yourself isn't new, but the self-referential digs throughout the movie will strike a chord with audiences. The way the films handles online elements, from the likes of eBay, Amazon, Google and Facebook, to the seedier elements of pop up ads and the Dark Web, makes it obvious why everyone is so obsessed with the online world.
If anything, the movie only has two minors distractions. The first is that very few of the characters from the original film, other than Vanellope and Ralph, have a greater presence in this sequel and one must wonder – don't they get tired of their games as well, and think about what's out there?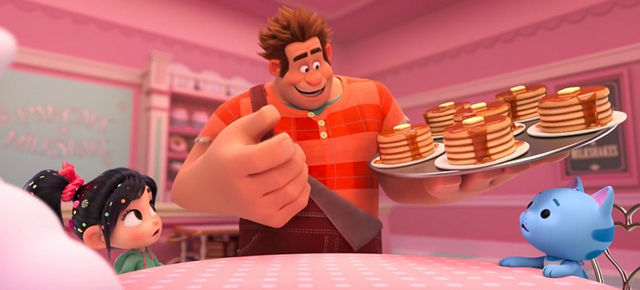 The other is Shank, the female lead from Slaughter's Race, voiced by Gal Gadot. Shank cannot sing in this movie, which is unfortunate because the movie has a new tune composed by Alan Menken, which is always a treat. Make that almost always.
Ralph Breaks The Internet is an animated movie, but it can also double as an observation about society's obsession with our virtual world. It's a kid's movie with plenty of adult themes, and a treat for families to enjoy. And make sure you stay to the very end, as there are two post-credit scene – one in the middle of the credits, while the other is at the very end of the movie.
GEEK REVIEW SCORE
Summary
More heartbreaking than the first, Ralph Breaks The Internet is a movie about recognising your limitations, and how it might not apply to everyone you know. Luckily, the movie exceeds expectations.
Story -

8/10

Direction -

8/10

Characterisation -

8/10

Geek Satisfaction -

9/10