While portable and handy to bring around anywhere, handheld videos come with the inevitable shake and odd jerks whenever you attempt more exciting shots and unless you're blessed with the steady hands of a miniaturist, having a stabiliser in your grasp will definitely come in handy to control these tremors.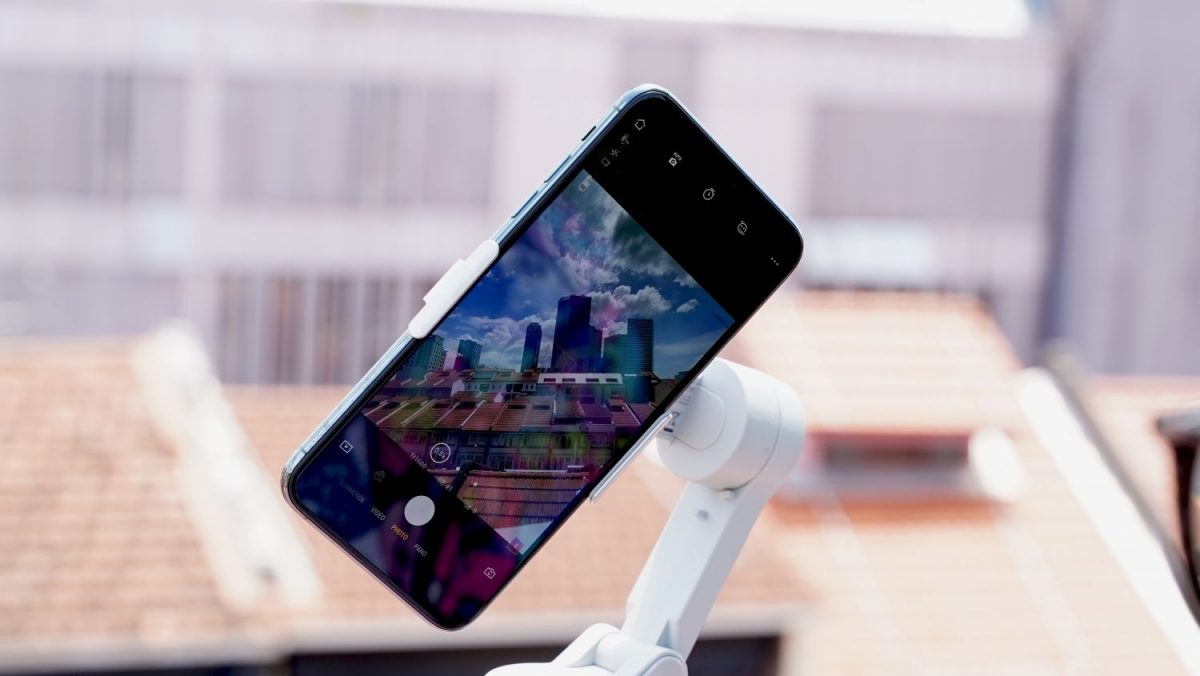 The DJI OMs are one of the most popular gimbals out there and it isn't hard to see why. Lightweight (390g) yet sturdy, the DJI OM 4 gimbal is the perfect balancing tool for all your videography needs. Going beyond stabilising, this is a multifunctional tool that can serve as a tripod stand and even has auto-tracking, camera rotation and other cool capabilities that we will elaborate on below!
Snap on your phones with a satisfying click, via the detachable magnetic phone clamp. One of the biggest gripes users have with gimbals is their inability to accommodate all phone sizes. But with the DJI OM 4, the flexible clamp is adjustable for a snug fit around your device (up to 85mm width). And for extra security, there is an extra sponge included to fit smaller phone models.
Moreover, gimbal users will know how time-consuming it can be when levelling your device. With the DJI OM 4, you won't have to worry about levelling as the innovative magnetic clamp means that the phone is instantly balanced the moment you snap it on. Its easy assembly and foldability also makes it a fitting travelling companion for your vlogging adventures.
The grip of the gimbal feels great. It's ergonomically designed to fit in your hand yet strong enough to hold up the weight of your phone. The motors rotate smoothly when swivelling the phones around allowing for smooth pans. The buttons are positioned all around the stand, allowing for intuitive adjustments.
There's a trigger in the front, zoom toggle on the side and your joystick, power/mode button and record button are found right on top. The body has a nice matte grey finish and feels slightly weighty, but it's definitely lighter than most other gimbals out here. However, your hand may feel sore after moving around for a long period of time.
Turn it on and press the "M" button. Pressing the M button twice will switch the camera from portrait to landscape mode. Pressing it once will toggle between video and photo modes. With the DJI Mimo app, the device can even handle cinematic shots like Hyperlapse and Slow-mo. The new feature will include DynaZoom, which allows you to take trippy dynamic zoom shots.
Toggling your phone around is also made easy with the joystick. You can easily change the direction of your camera from left-right, up-down or diagonally. If you set your app to the Spin Shot mode, you can even create Inception-style videos by toggling the joystick. The only limitation is that the rotation isn't infinite, meaning you won't be able to create full 360° videos as the maximum tilt is from -106.54° to 235.5°.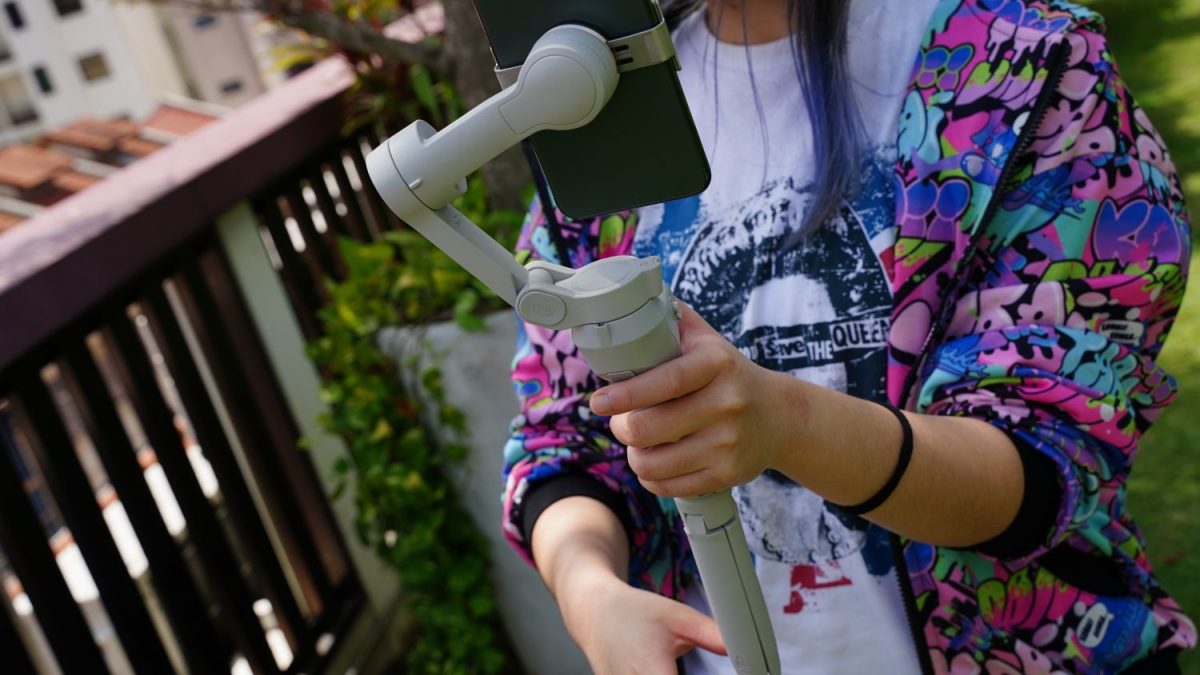 Remember when selfie-sticks were all in the rage (Ok fine, it hasn't been in a while)? With the DJI OM 4, you can take vlogging and selfies to the next level. You won't have to worry about repositioning the camera once you use the Follow mode on the app as it helps to train your camera on your face as you move around.
Furthermore, with the ActiveTrack 3.0, if you want to track a specific object as you film, you simply have to use your finger to drag a box across the screen over the subject. The OM 4 will then automatically recalibrate the angles in order to keep the subject in focus while on the move.
To give you more stability to facilitate tracking, there's the Tilt Lock mode. This means, no matter how you tilt or move the camera around, the film angle remains the same. There's even a Sports Mode that can be activated for tracking fast-moving objects. The only downside is having to keep your finger on the Trigger through the shot (so some sore fingers will be expected).
In order to keep your gimbal from swinging around, hold the trigger to lock your camera at the direction you want it to face. With that, no matter how you turn and swing it around (not too vigorously of course), the camera stays pointing in that direction.
Squeeze the trigger twice and your phone will magically reposition itself parallel to the upright position. Tap the trigger three times to switch between front and rear cameras. These adjustment shortcuts all play into the convenience of using the DJI OM 4.
Another cool mode to play with is Story Mode. You can choose between various edits, camera movements and music to string a uniquely curated video together in the app. But, for some reason, the gimbal can't be kept from swinging even when the trigger is pressed. You'll have to be more careful in this mode to prevent unnecessary jerks.
As a tripod, the DJI OM 4 remains sturdy and doesn't tip over easily even with more vigorous tapping on the phone screen. It's handy when needing to take group pictures without troubling a stranger. The OM 4 can even charge a phone using the USB port on the right side of the gimbal handle.
The gimbal also has a cloning function, which is an extension of the Panorama mode, and will allow you to take panoramas with clones of yourself so that you can create your own Spider-Man memes and is best used when the gimbal is set as a tripod. The Panorama mode itself is amazingly in-tune with the environment and will automatically adjust to take the best photo of the entire stretch of scenery even if you accidentally shake the camera.
With its stability, DJI OM 4 is able to handle you walking while filming time-compressed videos in Hyperlapse mode. The results are almost shake-free without the need for additional specialised equipment.
We also tried jogging and skateboarding with the contraption. For jogging, the video does maintain a pretty impressive track of your subject, however, the bounce is not totally minimised as the gimbal is only a 3-axis gimbal device and not a 4-axis one.
Overtly vigorous swings will also tilt the device off its axis, hence it's best to plan out your shots according to its limitations or have some editing software on hand to correct odd movements. Another limitation is when used in ultra-wide-angle lens mode on iPhone 11, part of the gimbal can be seen at the fringes of the frame.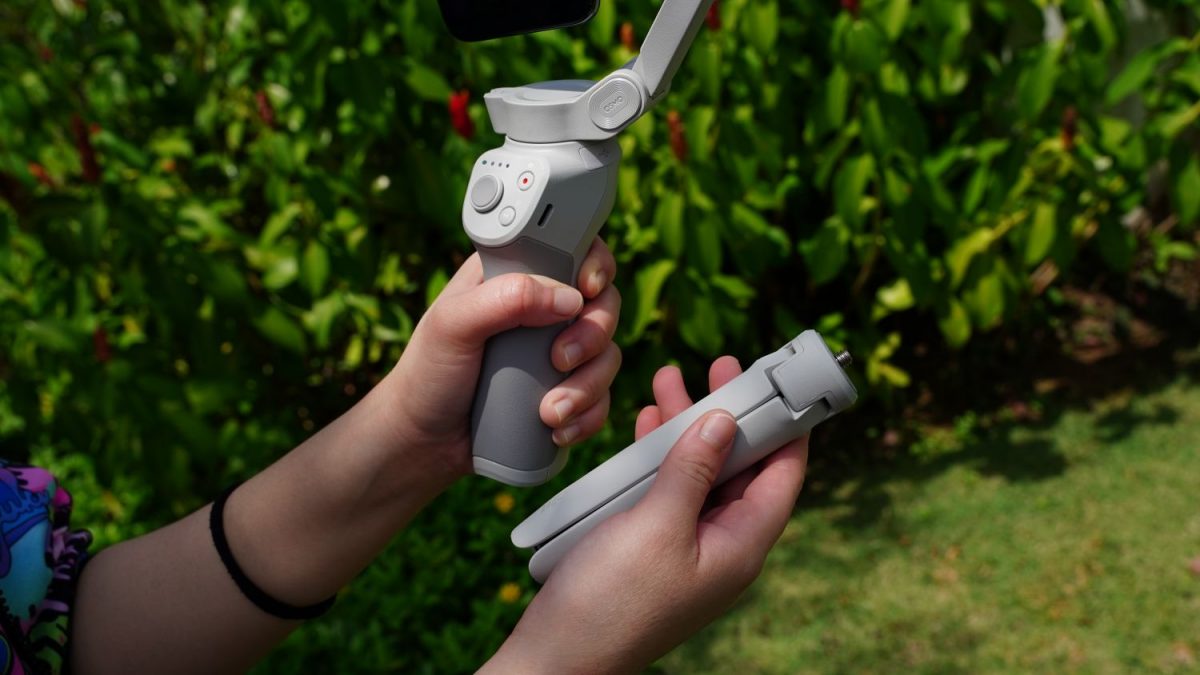 Overall the stability of the DJI OM 4 is pretty impressive. You probably won't have to make much adjustment after filming on the go. This means less time wasted scratching your heads every time your video editing software hangs when you use their stabilisers to fix your shaky-cam videos; allowing for smoother video creations and more freedom to play with creative angles, transitions and more.
The DJI OM 4 even runs on a whopping 12 to 15 hours of battery life. All these perks come at a price of only S$193 (US$135). For such a fun and convenient tool, the gimbal is a real bang for the buck for any camera enthusiast to own.
GEEK REVIEW SCORE
Summary
If you're looking for a way to spontaneously transform your videos, the DJI OM 4 is a fun and convenient tool to have on hand for all your creative endeavours or vlogging needs.
Aesthetics -

8/10

Build Quality -

8.5/10

Performance -

8.5/10

Value -

8/10

Geek Satisfaction -

8.5/10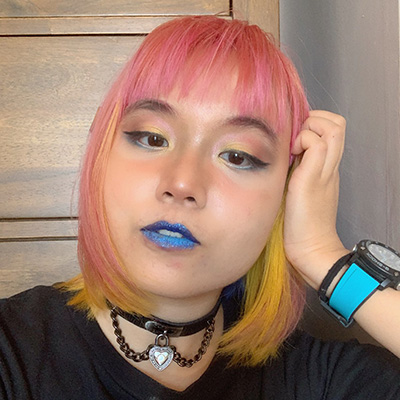 Fumiko is an avid fan of spreading herself too thin and drowning in too many fandoms. She would love to spend all day reading fanfiction at home and crying.
---

Drop a Facebook comment below!