It would be rude to laugh at how silly Oprah Winfrey looks as Mrs Which, one of the three celestial guides in Ava DuVernay's film, which is an adaptation of the award-winning novel, A Wrinkle in Time, by Madeleine L'Engle. Also known as the "Queen of All Media", the very well-respected Winfrey has been an inspiration to many people for being someone constantly focusing on self-improvement and spirituality.
And that's why you won't snigger at Mrs Which's cage-like outfit, glittery eyebrows and towering figure.
You won't.
Instead, you should be awed by her shimmering look whenever she appears on screen. It also helps that Mrs Which has some of the most quote-worthy lines in the film.
"The only thing faster than light is the darkness," she says in a sagely tone.
For those of you who have not read read L'Engle's 1962 science fantasy story, the tale circles around our 13-year-old protagonist, Meg Murry (Storm Reid), whose father, Alex (Chris Pine), has been missing for four years. The tragedy happened just as the scientist made a breakthrough discovery of travelling across space, via something called a tesseract.
And no, despite this being a Disney movie, we are not talking about the Tesserect aka the Cosmic Cube aka the Space Stone, from Disney's Marvel Cinematic Universe.
A series of events leads Meg to an adventure to rescue her father, with the help of Mrs Which and her fellow otherworldly beings Mrs Who (Mindy Kaling) and Mrs Whatsit (Reese Witherspoon). Coming along for the ride is Meg's chatty younger brother, Charles (Deric McCabe) and earnest male schoolmate, Levi Miller (Calvin O'Keefe) aka Meg's love interest.
Needless to say, with Disney backing this movie, you can expect a happy ending with the young characters learning precious lessons that will prepare them for the hard-knock life ahead.
It was just a while ago when everyone got hyped about Ryan Coogler's culturally-significant Black Panther, and with good reason, as he knocked the movie out of the park. Here, DuVernay (Selma) makes history by being the first black woman to direct a live-action blockbuster with a nine-digit budget of more than $100 million.
This is noteworthy decision from the financers, given the recent emphasis on diversity and representation in film. It also helps that for helming the historical drama film Selma (2014), 45-year-old DuVernay became the first black female director to be nominated for a Golden Globe Award, as well as the first black female director to have her work nominated for Best Picture at the Oscars.
With so much hype, does this movie live up to expectations?
Sadly, we have mixed reactions about this.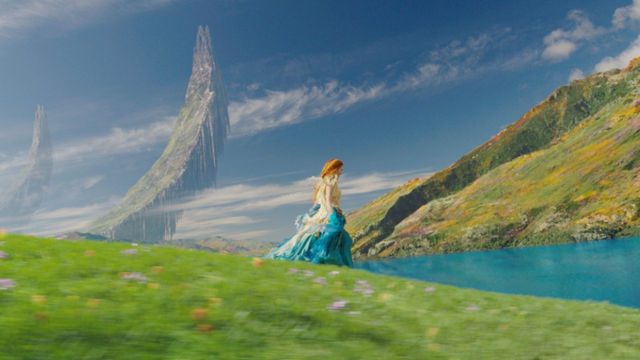 It is without a doubt that you will be mesmerised by the wondrous landscapes visualised by the filmmakers. Thanks to CGI effects, everything looks stunningly gorgeous on the big screen. Lush greenery, colourful flowers and magnificent skies will enchant you, while creepy antagonists, weird universes and intimating tentacles will send shivers down your spine.
The star-studded cast delivers as well. Reese Witherspoon (Sing) and Mindy Kaling (Inside Out) join Winfrey, donning elaborate costumes, heavy makeup and big hairdos. Elsewhere, Zach Galifianakis (Hangover, The Lego Batman Movie) plays a doped character named The Happy Medium, Michael Peña (The Lego Ninjago Movie) portrays a disturbing stranger named Red, while Chris Pine (Wonder Woman) grows a beard and talks about time travel as the missing scientist.
The real stars of the movie are the kids. Fourteen-year-old Reid has enough charisma to hold the show together as Meg, while her male co-stars McCabe and Miller take on secondary roles as the adorable younger brother and the understanding friend.
With these elements going for the movie, there is a nagging feeling that the project is over-ambitious for its own good.
The divine trio spout wise lines like "Be a warrior", "See with your mind" and "Have faith in who you are", but the words feel emotionally empty, no thanks to the distracting overuse of special effects. When Kaling's Mrs Who recites quotes from Shakespeare, Ghandi and Buddha, it is unintentionally funny.
Unfortunately, what may have been an inspiring piece of text in the original novel did not turn out well on screen. You will find it difficult to connect with Meg Murry as she travels from universe to universe because each one seems to be an exercise to showcase the visual effects team's work. Beneath the celebrities' thick makeup, they don't get to do much with their roles.
It is evident that there are positive takeaways for audiences, but they somehow lose their impact in the array of special effects, costumes, makeup and celebrity power. There is plenty to look at, but there isn't enough to feel for.
The movie, which is definitely recommended for its outstanding technical merits, unfortunately lacks an oomph.
We believe that DuVernay has got what it takes to tell an emotionally inspirational story – let's see what she does with her next film, hopefully without the big budget and special effects.
GEEK REVIEW SCORE
Summary
Because of the troubled times we live in, we need a film brimming with hope and positivity. What could have been an inspiring tale of human strength is instead overshadowed by the production's dazzling visual effects, elaborate costumes and fancy makeup.
Story -

6.5/10

Direction -

7/10

Characterisation -

6/10

Geek Satisfaction -

6.5/10