Google is known by all, and remains the ever-reliable companion for information searching, from video tutorials to historical facts. Their efforts to branch beyond a web search engine have seen a new line of products entering the market, including the Google Pixel 2 XL, Google Wi-Fi, and more recently, the Google Home series.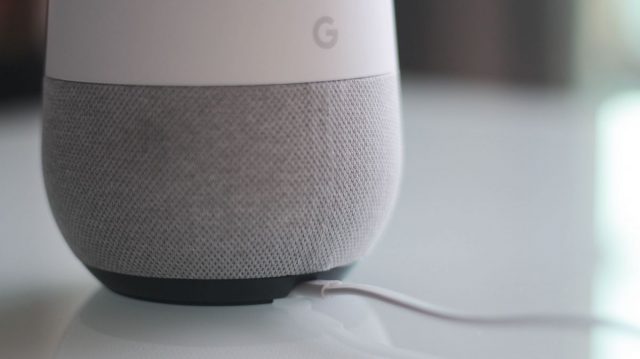 Prior to the launch in Singapore, alongside a local online Google Store, the smart-speaker-slash-home-assistant had already arrived on the shores of the United States and selected countries about a year ago. Product reviews and hands-on sessions are probably old news by now, though the localised version of Google Home sports an extra refreshing element that's unique to the culture of our humble island – the Singlish-supported Google Assistant.
And what more fun way to test its Singlish mettle than taking it out on a Singaporean date? Okay, not really, since it's an object, but more like the re-enacting of a similar setting, complete with a one-on-one setup and all.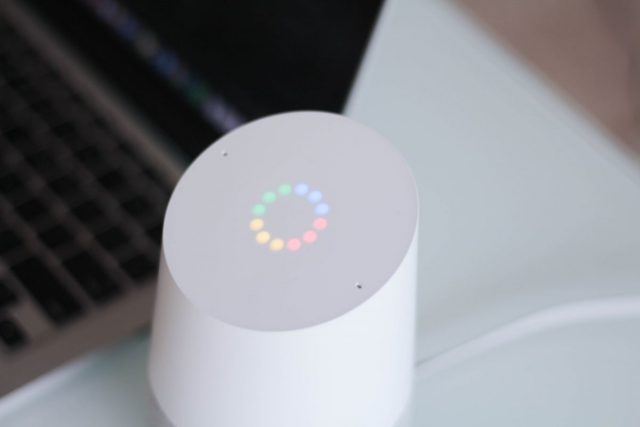 The session started out well enough. When asked "How are you?", Google Home gave the most standard answer one can get, replying "Great, thanks for asking." Checking in for weather updates yielded a factual, perfectly-scripted response that includes the current temperature, the areas affected by rain (if applicable), and future forecast. How about news updates? Living up to the very definition of a know-it-all encyclopedia, it spouted off the latest world news, with the exact time stamp to boot. Hey Google, I interrupted halfway, I want to listen to news from The Straits Times instead, and it switched over almost immediately. It's a pretty neat feature, cleverly implemented by Google Singapore into the device – one could get used to this, indeed.
After testing the waters, things started to become a tad cheekier. Google Home droned out the directions of my house to the nearest eatery, supposedly the place for our pretend date, and as expected, the delivery was very detailed and systematic. Its responses were shaping up to be quite monotonous, though, and half-jokingly I prompted for a quick joke.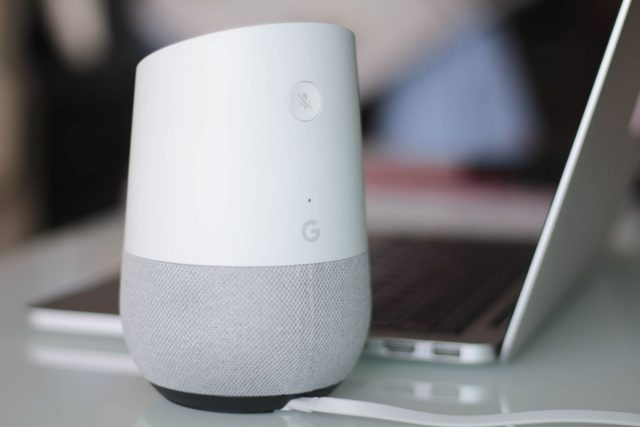 The reply? "The past, the present, and the future walked into a bar. It was tense." Cue an amused snort – it even had the audacity to add in a smug "ba-dum-tss" at the back. Now, that's not something I was expecting after a host of boring answers, but hey, it's a good start.
Rolling with the momentum, I requested for a customary Singapore-based joke, and Google Home certainly impressed my love for dad jokes and bad puns with "Ok can. Why is the chilli crab always cutting queue? Because it's selfish." Ha! That little 'Ok can' is also a much-appreciated nod to the Singlish culture.
The rest of the banter goes by like this:
"Okay Google, what does the fox say?"
" Ring-ding-ding-ding-ding-and-ding-a-wah-a-pah-pah-pah-pah or so I've heard."
Brownie points for that pop reference.
---
"Hey Google, what's your favourite colour?"
"Whatever colours your eyes are."
Aww!
---
"Okay Google, what's your perfect date?"
"You can talk to Date Night for that."
"Thanks, but I only want to talk to you."
No reply, I think I broke Google Home.
---
After the teasing fun, it's back to serious business. What's a date without food, and I prompted it for best chicken rice and prawn noodles stalls in Singapore, peppering a few 'lahs' and 'ah's along the way. As usual, it pulled up a whole list of well-received names, but faltered when I proceeded with local dishes like bak chor mee, rojak, and even Hokkien Mee. In other words, Google Home is only able to understand and speak, to a certain extent, Singlish, but not colloquial Singaporean English, which is quite understandable.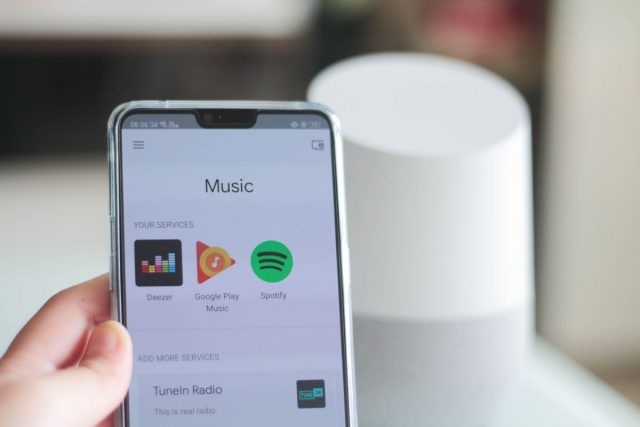 To add some mood to the "date", Google Home pulled up Spotify upon command, and successfully played songs from my playlist. The speaker isn't the best, but it's adequate enough to fill a medium-sized room with sound. The bass is sufficiently meaty, and the audio well-rounded, with a lack of depth and crackling at high volume levels. Still, when Rudimental's These Days came on, I had little to complain, although having the option to connect via Bluetooth would be much welcomed. While everything works smoothly when all Google devices and accounts are linked, the set-up can be a bit of a hassle for those who prefer to keep their inventory separate from one another.
Google Home once again proved to be rather entertaining by means of the following pick-up line: "Are you a library book? Because I'm checking you out." I replied with an even cheesier, "Are you from Tennessee? 'Cause you're the only 10 out of 10 I see," but alas, flirting remains a one-way street.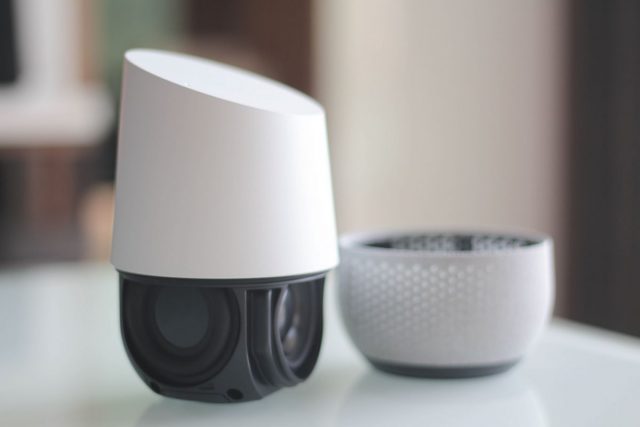 And speaking of the library, it managed to hook me up with the customer service for National Library Board, in the thoughtful collaboration between Google and selected local brands to allow for more efficient communication. Right now, the pool is limited, though more tie-ups are set to come in the near future. Neat, hopefully there'd be the choice of order McDonalds' for lunch…actually, scratch that, that's definitely not the best choice for a date.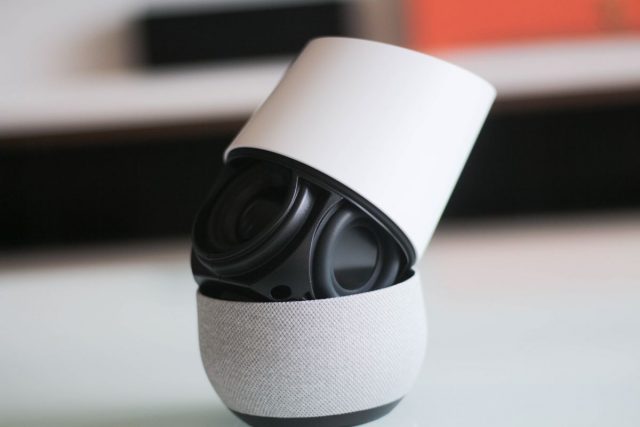 The best highlight of the entire process, however, was when my brother decided to play the third wheel:
Him: I love you.
GH: The Ancient Greeks would call our love a failure.
Cue maniacal laughter from yours sincerely. Here's mine:
Me: I love you.
GH: You have excellent taste.
Hah, take that, brother!
The Google Home can be bought on the local Google Store online, where it retails for S$189.
GEEK REVIEW SCORE
Summary
Google Home is a piece of handy tech that one should consider getting, not just for its features and ease of access, but also because it has more of a sense of humour than Alexa. It comes with some slight flaws, such as a lack of Singlish vocabulary, an air freshener-esque shape, average speakers, and the constant need to stay wired, but those are easily outweighed by its overall smooth functionality.
Aesthetics -

8/10

Build Quality -

9/10

Performance -

8/10

Value -

8/10

Geek Satisfaction -

8/10